Day 51 (August 2, 2019 – Stockholm, Sweden): "Best Meal Of The Trip"
It was about 6am when I awoke to Julie's alarm. Julie didn't get up until almost 7am.
We had until about 10am before we had to catch the boat ride to the Drottningholm Palace so Julie cooked up a full breakfast.
It wouldn't be until about 9:30am when we finally left the apartment ready for the day.
There was already quite a bit of activity going on in Gamla Stan, but we were headed straight for the city hall, which turned out to be in the opposite direction of where most of the tourists were at or where they were going.
By around 9:45am, we were waiting in line for one of the queues going to the Drottningholm Palace. There were multiple lines for different boats, and Julie had to ask around before we finally got the right answer.
The City Hall was actually quite an attractive building, and it was the building that I had been seeing against the setting sun all these times I was parked at the Riddarholmen area. So at least now I finally understood what was where in this instance.
By 10am, we were on the crowded boat, which was quite packed and difficult to maneuver around or take pictures (without other heads in the way).
So it was really more of a relaxing cruise and boat ride with three stops en route to the Drottningholm Palace. It really wasn't much of a meaningful photo op.
Eventually by almost 11am, we finally docked before the Drottningholm Palace, where we promptly got off and followed the shores of the waters alongside some statues before going through the main entrance to the palace.
Inside the palace, we went straight up to the residences since we had already pre-purchased tickets. We then strolled around the complex, where we went from room to room.
Some of the hallways and grand rooms were quite Versailles-like so there was definitely a familiarity between all of these royal buildings; regardless of whether we made our visit in Austria, Germany, UK, etc.
They all seemed to possess Roman or Greek statues as well as medieval portraits with childlike faces on adult bodies.
It didn't take long before we finished our visit to Drottningholm Palace, did a very brief visit to the garden, and then went right back to the boat docks to try to catch the 12pm boat so we could be back in Stockholm in time for a lunch as well as a visit to the Kungliga Slot.
Even though our ticket was printed for 1:30pm, we were hoping to go back earlier so we could at least have a lunch break as well as fitting in the Kungliga Slot visit before they close at 5pm.
Eventually, we were successfully able to take the boat back at 12pm.
Then, shortly before 1pm, we walked through Riddarholmen en route to our familiar square (where we hadd just driven to park the car). We couldn't exclusively follow the bridge all the way to Gamla Stan because of construction work going on.
Thus, we had to go through Riddarholmen.
Finally, after a little back-and-forth bickering between Julie and I regarding priorities and sense of direction, we ultimately decided to take the subway (instead of the bus which had no way of accepting payment on the spot).
It wasn't a cheap subway as we had to pay 45 SEK per adult (though children ride free on weekends and Friday counted as a weekend) so we paid 90 SEK or $10 USD for a single ride.
The tickets we bought didn't have a bar code so we couldn't get in the normal way like other subways. Instead, we had to wait in line to show the info person, who was tied up with long inquiries by people trying to figure out how to use the Metro.
After waiting for what seemed like forever, Julie finally interjected and showed the tickets to the clerk who finally let us through.
Once there, we were finally riding the Metro at 1:45pm, but we had to take a detour because the direct green line to Skanstull was closed due to construction.
So we actually had to take the red line from Gamla Stan to Slussen, then we had to catch the green line from Slussen to Skanstull. It was confusing at first, but it was yet another obstacle that we had to overcome while taking the expensive metro.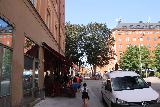 Finally, we got off at the Skanstull stop (thanks to an Asian local who was able to answer Julie's questions about whether we were on the correct train in the right direction), and we ultimately started walking towards the waffle place that Julie had coveted since yesterday.
Eventually at 2:15pm, we finally made it to the Alskade Traditioner, which was basically like a diner establishment that specialized in crispy waffles.
We wound up getting an Eggs Royale (which contained smoked salmon, hollandaise sauce, eggs, and other stuff that was in the Eggs Benedict), Skagen (basically open-faced peeled shrimp in Vegan mayo), and a kid's ham and cheese waffle.
The waffles were crunchy as if they were prepared like toast. In fact, I swore they could have been toast substitutes.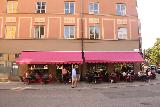 They were said to be gluten free though we suspected that they weren't grain-free since you can't make anything that crispy without some form of grains or corn.
Nonetheless, it turned out that this place was worth the cheat because we ended up eating up our savory waffles with gusto. Nothing was left on our plates.
We also ordered a brownie waffle for dessert, which turned out to be brownie materials made as a waffle with chocolate ice cream, nougat, chocolate sauce, blueberries, and strawberries. I didn't modify the order since I figured that they knew which flavors were best (though I would have preferred vanilla ice cream instead of chocolate ice cream).
In any case, we also ate up the dessert waffles as we enjoyed that as well.
Indeed, Julie finally got her waffle fix that she had been waiting all trip long for, and it took this meal on the last full day of our trip for that to happen. It must have been an orgasmic experience for her given all the disappointments that she had to endure to this point (especially in Copenhagen when the waffle place stopped doing gluten-free waffles).
We certainly thought this was the best meal of the trip, and if this was the last time we were eating out on this trip, it was quite the doozy.
By about 3:05pm, we were done eating and started to walk off the meal back towards the Skanstull station.
By about 3:20pm, we finally were back on the station, paid another 90 SEK for the tickets, and then rode the trains back to Slussen and then Gamlastan.
Once we got out of the Gamla Stan, we then walked right up through the main square (Stortorget), and then finally to the Kungligaslot, where we paid for admission as well as leaving our stuff in the locker.
We only had until 5pm to complete our visit, and it was already 3:35pm. We had to make sure we finished our visit before closing time or else our stuffs would be stuck in the locker and we wouldn't get them out!
So onwards we went as we started with the Treasury, which was a very short visit. No photos were allowed in there, but we did witness a bunch of blinged out trinkets and crowns.
Then, we went straight up to the Royal Apartments, which started with the State Rooms. The lady who checked for tickets gave Tahia a pamphlet to look for animals during our visit. The hint she gave was that the swan was in the current room.
And so began the scavenger hunt that Tahia and I engaged in while Julie was paying attention to the residences and imagining what royal life must have been like (much like the other palaces and castles that she enjoyed visiting throughout Europe).
While the rooms were pretty impressive, I think I occupied most of my time by helping Tahia out looking for the animals.
We wound up finding all three animals in the State Rooms, and then we found all the animals in the Guest Apartments.
But when we got to the State Apartments, it seemed like we weren't very successful as we only managed to find 3 out of 7.
When we got to the Bernadotte Apartments, we managed to find all but one of the animals.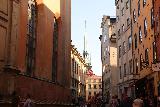 And so in the end, we managed to find 13 out of 18. We weren't going to go back to find the rest as it was getting to closing time.
Finding these animals were quite like looking for a needle in a haystack as some were real tiny and on tapestries or on trimmings or even on objects. They indeed could have been anywhere, but I figured that Tahia had a real strong attention to detail and managed to find some of the stuff that I thought was real hard to find.
By the time we got back to the ticket office, we were the last people to grab our stuff out of the lockers, which we did by around 4:45pm; 15 minutes before closing time.
Finally at 4:50pm, we made it back to our studio apartment. Tahia and I stayed behind so we could pack up, drink water, and get ready to leave tomorrow while Julie went back into town to go grocery shopping for self-cooking for tonight's dinner.
When Julie got back, we just had a simple dinner of curry shrimp and fennel with arugula.
We did entertain going back out to Djurgarden to check out Grona Lund amusement park and spend the rest of our Swedish kroner in cash, but the more we thought about it, the more we realized that it would cost us 360 SEK on admission, another 390 SEK on a 20-ticket ride coupon (probably good for only 2 rides since the good roller coasters cost 3 tickets per person each ride), and we would have the long walk or have to drive and park.
Then, we had to deal with the sleep deprivation since it would be another late night out and we'd have to get up early to get to the airport in time to return the car, take the shuttle bus to the airport, get through all the airport formalities, and then finally go home.
So we just took it easy on this night. And any unspent Swedish kroner, we would have to exchange it back to USD and lose out on the exchange rates and commissions.
Regardless, we had spent enough on this trip (one of the most expensive trips we've ever done), and now we were looking forward to going home to try to earn back some of all that money and savings that we've definitely dipped into.
Still, I know when we look back on this epic trip, we're going to look at it fondly. Once again, we learned a lot on this journey, dealt with the bad weather or non-ideal weather, corrected a lot of the mistakes from our first trip in Norway, and we have loads of content to sort through to put on the website.
In short, it's going to be even busier when we get back at home, but this is a good kind of problem to have.
And we'll have to look forward to the next trip to live life to its fullest within our means…
Visitor Comments:
No users have replied to the content on this page