Days 0-1 (June 12-13, 2019 – Stockholm, Sweden): "Gloomy Beginnings"
It wasn't until about 10:30am when we finally left the house for LAX.
It took quite a bit of time for Julie to get packed and ready to go. But even though we thought we had covered our bases, it turned out that we realized there were still forgotten things by the time it was too late and we were already at the airport.
One of the forgotten things was my stainless steel water bottles, which would force me to use plastic bottled waters as my primary means of hydration (and the subsequent leaching of the plastics into the water, especially for long hikes).
Who knows what else we forgot to bring?
Anyways, we did the usual routine of waiting for the Uber driver at about 11:20am to get to the final leg of arriving at LAX with the luggages.
It was humid and somewhat overcast at El Segundo, and man did Julie pack a lot of stuff in our luggages, which I knew would not be a good thing when in Europe when we'd have to lug all this stuff across cobblestone streets and up stairs in each of the accommodations.
But in her defense, she had to bring along all those supplements and meds as part of her remedies for her persistent gut issues.
Once in LAX at 12pm, we had no issues getting checked in although there was some slight unexpected drama in that they moved one of our seats so we weren't sitting together. Surprisingly, none of our luggages exceeded the 23kg weight limit though one of them was right on the nose.
Apparently, one of the seats were broken and thus we wound up with the situation where I ended up being the odd person out. The flight was too full for the ticketing agent to do anything for us.
That said, at least the lady helped get the TSA pre as part of our Global Entry to be put onto our boarding passes. We mind as well since we already paid for the privilege of going through the whole Global Entry thing.
After seemlessly getting through the security, we sat at the PF Changs at 12:35pm. It turned out that with the Priority Pass from our reserve card, we each got $30 credit.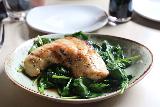 I knew I would have to pay the tip out of pocket, but we figured that might be a better experience than the KAL lounge that we did last time where it was all you can eat, but the food was definitely not compliant and would likely set Julie off.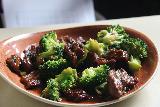 After the pleasant (albeit sugary) meal at PF Changs was over, we then went over to the gate 155 where we waited for our SAS Airlines flight direct to Stockholm.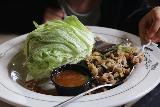 Unfortunately, the boarding was delayed just as we got there at the original boarding time of 1:45pm. And it wouldn't be until around 2:30pm when we finally boarded the plane.
And the plane wouldn't take off until around 3:15pm, which was an hour after the original departure time of 2:15pm, which I knew that that meant that we would have one less hour to enjoy Stockholm and all the other associated delays I'm sure.
The flight itself was fine as far as getting settled in and trying to stay relaxed through the roughly 10-hour flight.
I got to watch Bohemian Rhapsody and A Star Is Born. Then, I tried to get some shut-eye.
I wound up only getting 2 hours of shuteye because at 11pm LAX time, someone was complaining about someone else reclining her seat in front of him. And as annoying as this can be, it was her right to do it.
Ever since that guy was making a big stink about it, I couldn't fall back asleep, and so I had to kill the rest of the time watching a couple of more movies in A Private War as well as Nancy (though we landed and the entertainment was switched off just as it got to the good part at the end).
Eventually 11am, the plane finally landed, but I was feeling a bit bloated no doubt from some of the so-called gluten free meal on the plane (which was far from being compliant nor healthy). In hindsight, Julie should have just let me have the normal meal.
After getting through a very slow passport control line, it wouldn't be until around 12:30pm when we finally wound up at the Hyrbilscenter (the Rental Car Center at the Stockholm Arlanda Airport), where we grabbed a ticket and waited patiently for us to pick up the rental car along with a crowd of other people.
It wouldn't be until about 1:25pm when we finally got the rental car in a frustratingly long wait. Apparently, Hertz Gold Members kept jumping the queue in front of us, and it made me wonder if we did indeed have such membership privileges (that would have saved up an hour).
After some awkwardness in getting used to the car (in the drizzling rain) that we'd be driving for the next seven weeks, we finally drove off towards the center of Stockholm, where we were staying at the famed Gamla Stan (Old Town).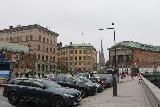 Eventually after some awkward driving around on the island, we managed to find temporary parking at around 2:30pm, which costed me about 26 SEK (exchange rate was roughly 9 SEK to 1 USD) for an hour.
We then lugged our stuff into the familiar narrow lanes and cobblestoned streets that seemed very typical of European city centers, and then we found the Lady Hamilton Apartments. It was definitely quite centrally located.
That said, the apartment was actually at a different spot outside the main reception, which was more like the hotel part. Once we finally got settled in at about 3pm, that was when we realized that there was more stuff we didn't bring – toothbrush, backup USB cable for my Garmin Nuvi, etc.
This always seems to happen no matter which trip we're on.
Next, we returned to the parked car so we could drive over to the spot on Gamla Stan where there was open-air parking with some kind of EZPark app.
Given the amount of pedestrian activity, in this part of Gamla Stan, we definitely succumbed to the impulse to just try to soak up the atmosphere and take pictures as we went.
We knew that we had to spend more time in this area exploring and just soaking up this central part of Stockholm.
We eventually got to the spot at around 4pm after Julie had struggled with getting the app installed.
The parking rates for 24 hours seemed to be about 510 SEK per day or thereabouts. That's about $50 USD, which was pricey, but I guess it wasn't too bad in the grand scheme of things.
Then, we finally walked over to the Stortorget part of Gamla Stan where we promptly walked right over to the Stortorgskalleran (for a much-needed lunner) while watching people go in and out of the main square of the Gamla Stan.
After the meal, we then did some errands by visiting a couple of grocery stores – one by the metro stop and one at a Coop on the other side of the island.
The grocery shopping was Julie was excruciatingly long since Julie couldn't get by with reading the Swedish ingredients list. I had to help her out with my limited Norwegian lessons and making assumptions of the similar words between the two languages.
Nonetheless, the weather remained on the drizzly side, which meant that the weather was likely to be rainy further west in the Norwegian fjords, which made me nervous about the hiking conditions for Kjerag, Preikestolen, and Trolltunga.
So it wouldn't be until about 8pm when we were finally done with the groceries (at least buying enough for the next two nights) and finally doing one last self-tour of the Gamla Stan.
We really didn't have any plans, which I knew was a recipe for disaster in terms of missing out on stuff and wasting time, but at the end we'll just have to see what we'll end up having time for tomorrow.
As for the now, we just walked towards the Kunglinga Slott exterior as well as checking out some of the alleyways of the Gamla Stan.
We fancied visiting this palace first thing tomorrow when they open (at around 10am), but then after finally reading Rick Steves Scandinavia, Julie then suddenly fancied visiting the Vassamuseet and the Skansen. I knew that we probably wouldn't have time to do all those things and still hit her gluten free joints in town.
So who knows how it'll all turn out tomorrow.
Anyways, by about 8:45pm, we had returned to the apartment, and finally crashed for the night to get showered and to get some shuteye to try to overcome the jetlag that I knew we were in for…
Visitor Comments:
No users have replied to the content on this page