Day 2 (June 14, 2019 – Stockholm, Sweden): "Dignitary Impacts"
It was 5:30am when I awoke. Tahia was already awake and she had bragged that she had been awake since 4am.
Little girl even tried to wake us up at 1am in the morning as the jetlag clearly had gotten to her (as much as we tried to get her to respect the new sleep cycle after the flight).
Outside, it was already bright outside, but it was still overcast. It made us wonder if we were ever going to see the sun during our time in Stockholm.
Next, Tahia and I spent some time eating some uncooked breakfast like the Swedish yogurt mixed in with some raspberries and blueberries.
I also got caught up on the blogging from yesterday's hectic pair of days of traveling and our awkward beginnings in Stockholm.
Then, when Julie finally got up at around 7am, she promptly got right to cooking breakfast while Tahia and I were busy washing the dishes.
It took some time and I was worried that the Vasa Museum was going to be very crowded by the time we got there since it was highly doubtful that we'd get there right when they opened at 8:30am. After all, it was already 8:25am when we left the apartment.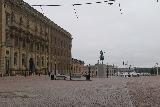 As we were walking towards the Slottbakken to catch a bus to the Nordiska Museet (or at least the Djugardensbrod across the bridge from the desired museums), which was right in front of the Vasamuseet, we noticed a heavy police presence.
They were busy setting up some kind of parade of some sort where it seemed like the Kunglinga Slottet was going to be closed.
We also realized as this procession was about to get started that the trams and buses didn't seem to be running anywhere around the Gamlastan.
So we had to walk across the bridge, then we followed along a nice greenspace area towards one of the main streets (I believe it was called Hamngatan) that had the tram line and bus lines.
When we saw that the tram stop had a cop there, we asked him if it was open today. That was when he told us that it wasn't running today because there was a visit from the South Korean President.
So that explained the police presence and why we couldn't use any of the mass transit. Indeed, we'd have to hoof it, but the predicted 25 minutes of walking along the Strandvagen wasn't too bad.
And sure enough, when we followed the Strandvagen along the waterfront, we were following a wide boulevard that respected both bike traffic as well as vehicular traffic. There was also a large pedestrian street closer to the waterfront with lots of parked boats.
Across the street were lots of classic-looking buildings, which really gave us a sense of deja vu that harkened back to the time we were walking around Victoria Harbor on Vancouver Island. However, in this instance, Stockholm definitely had legitimate old school charm compared to anything we'd find in North America.
So the stroll was a bit pleasant, and we'd eventually get to a bridge where there was a comical sign that said boring people walk to the left and fun people walk to the right. I guess we were boring people on this overcast day.
After crossing the bridge, we then followed the Vasamuseet signs until we eventually got to the pretty quiet entrance at 9:15am. The serenity of this place kind of caught us off guard.
After all, Rick Steves mentioned that unless we were here right when this place opened at 8:30am, it was going to be quite busy. I wondered if the folly of the South Korean President's visit meant that the lack of mass transit availability allowed this place to be delightfully quiet.
Indeed, after paying our 300SEK for Julie and I (Tahia was free), we spent some time taking pictures and walking around before joining the English-speaking 9:30am tour. That was when the tour guide named Emily confirmed that it was unusually quiet because there was no cruise participants but also because of the South Korean President's visit.
During the tour, we learned (also confirmed after reading about it on Rick Steves Scandinavia) that the Vasa was a warship commissioned by the Swedish king.
It was meant to intimidate the opposition, especially the Polish whom they were at war with at the time.
However, this boat was too topheavy and poorly designed, and it sank during its maiden voyage on August 4, 1620. Apparently, it sank in minutes, but due to this folly, we wound up with one of the best preserved historical ships as it was restored and managed to maintain 98% of its original materials.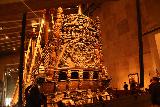 So we could see clearly the kinds of living conditions as well as the symbols being used, especially with respect to the lion, which was the symbol of the Vasa family. That would explain all the lion symbols that we saw in the Gamlastan.
The sinking of the ship also resulted in the deaths of 30 people or so. But regardless, this was the perfect example of how one tragedy or folly resulted in a historically important treasure as well as lesson learned (including how to preserve such a thing) for other such historical monuments around the world.
When the tour was over, we walked around and took pictures of the impressive warship. That was when we noticed that the Vasamuseet got really crowded with loads of tour groups.
So this was what this place would have normally been like!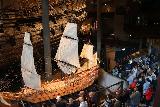 There was an interactive game that let the kids try to steer the ship with a simulator providing feedback on how well you've done. There was a line to use it so we didn't stick around for it.
Instead, we went downstairs to watch one of the movies about the Vasa warship, which chronicled its development, subsequent sinking, then the excavation.
The movie was told in Swedish (at least we happened to catch that) but they always had English subtitles. If anything, matching up the Swedish with the English subtitles helped to confirm how much Norwegian I had learned to this point (as many of the words and the grammar seemed similar).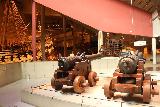 After the movie, it took us time to get out of the museum since both Tahia and Julie were busy in the boutique shopping.
So it wouldn't be until about 10:45am when we were finally done with the visit, and about 11am when they finally got out of the boutique.
By this time, there were busloads of people heading towards the Vasamuseet, and it felt like we got out of there just in time before the madness occurred.
Even though we saw the number 7 tram heading back towards Gamlastan (though we weren't at a stop in time to catch it), we figured that we mind as well walk back alongside the waterfront.
There seemed to be a lot of people waiting for ferries or boat rides, but we didn't bother doing any of those. They seemed to be sold out anyways.
Eventually we returned to the Gamlastan (now I understood it to mean "old town", which was the island we were on) and the line of guards had disappeared at the backside (or frontside depending on how look at it) of the Kungslinga Slottet.
As we walked alongside the Palace, we noticed there were black cars pulling up in front of the Riksdagshuset (The Parliament House) and we happened to catch some dignitaries exiting the car and shaking hands with some people.
We wondered if those were the South Korean President and some Swedish government figures.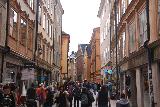 Anyways, we continued to walk back towards the familiar alleyways of the Gamlastan before heading back uphill towards the backside of the Kunglinga Slottet.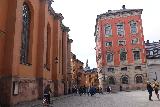 Back there, it appeared that the public still couldn't go inside the main part of the palace, and there seemed to still be guards and rope lining the main entrance. So I had a feeling that it was still closed.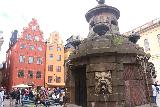 And indeed, when we showed up to the ticket counter, they said that just about all of the rooms except one or two were open. So that would explain why there was no line to enter the palace.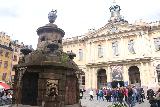 I guess we decided right then and there that we'd have to punt this visit for when we return to Stockholm at the very end of the trip on the first day of August. Hopefully, we don't run into this kind of situation again.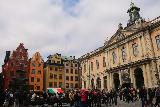 Seems like we always keep running into situations like this. I recalled about 5 years ago in Cardiff, Wales, UK, there was a NATO summit going on with Obama and company in attendance. And that caused the closure of the Cardiff Castle while making the city look like a police state.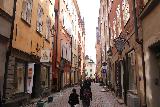 Even when we went to Austin during SXSW, there were lots of police seemingly trying to protect wherever Obama was going to speak.
And in Edinburgh, there was a Royal Tattoo that really impacted our ability to experience the front of the Edinburgh Castle thanks to bleachers being put up to cover most of its front.
I guess such was our luck when it came to main city attractions.
Next, we then walked over to this place called Under Kastanjen, which Julie looked forward to going to due to the fact that they had gluten free Swedish Meatballs.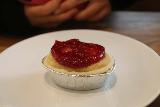 When we got there at 12pm, we managed to snag one of the tables (seating was tight though) and Julie spent around 460 SEK for some filling dishes of the Swedish Meatball in gravy and mashed potatoes. Meanwhile, she also got the Swedish Traditional Plate, which really reminded me of the old Norwegian koltbord breakfast that we had on our first trip to Norway.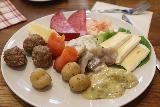 The Traditional Plate also had three meatballs (but no gravy) as well as laks (salmon), cured cod or herring, and more potatoes.
Tahia got some gluten free almond raspberry tart while we shared the mains with her.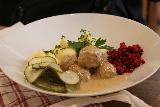 The food was quite filling, and when we returned to the apartment at 1:20pm, we all decided right then and there to crash for a siesta. It was just when the sun was starting to come out, which was the first time we had seen it on our trip.
By around 3:30pm, I managed to get up from my siesta, and it took another 30 minutes before Tahia and Julie finally got up from their long siesta. By this time, the skies appeared to be cloudless and it seemed like the Gamlastan took on a different character as the color of the buildings started to stand out more.
By about 4:25pm, we finally went back down into town to do a little more exploring; particularly this charming pedestrianized street that was right behind the Riksdagshuset.
We went back into the main square of Gamlastan (Stortorget) where the square seemed to be much more photogenic than before though there were afternoon shadows making the colorful buildings trickier to photograph.
Then, we walked down to the street going behind Riksdagshuset, and we followed this street across a bridge and onto a more modern looking pedestrianized street.
There was still lots of foot traffic going up and down this throughfare, but it didn't hold too much interest for us before we turned around and headed back the other way to return to the Gamlastan.
We then walked the main pedestrianized alleyway called Vasterlanggatan, which we slowly explored and crowded amongst the pedestrians also using the alleyway.
Ultimately we returned to the supermarket by the Gamlastan T-banen station, where we then did one more grocery run so Julie could cook for tonight's dinner and tomorrow morning's early breakfast.
Inside the grocery shop, they were giving our free samples of an organic ice cream, which Tahia managed to help herself to a couple of different flavors. So she was on cloud 9.
Anyways, after another 280 SEK of groceries (mostly chicken and veggies), we ultimately returned to our apartment via Kakbrinken (a more direct alleyway approach to the T-banen station instead of going down the Tyska brinken like we did yesterday), and eventually by 6pm, we returned to our apartment to call it a day.
We still had to get organized to get out of Stockholm by early tomorrow (only paid for parking via the EZPark app until 6am) so we had to retrieve the car and have our luggages ready so we don't get cited for bad parking.
For the better part of the rest of the evening, we had a self-cooked dinner. Julie also prepared breakfast for tomorrow morning knowing that there wouldn't be time to cook and spend too much time cleaning due to our early departure and the logistics of the parking and lugging luggage situation.
That said, with Julie's congestion from her incoming cold getting worse, at around 8:30pm she put me on an errand to pick up some more lemons from the local supermarket at the Metro station.
So I used this opportunity for one last bit of solo sightseeing.
I managed to do it right after picking up the lemons, then I walked towards the waterfront on the north side of the island of the Gamlastan.
With the late afternoon lighting going on, the buildings were glowing softly with the fading evening sun.
I managed to walk to the south side of Gamlastan towards Sodermalm though I managed to only get to what appeared to be a stand of people looking towards the sunset with some American music coming from somewhere.
At first, I thought it was some kind of performance, but as I got closer, it was merely a bar.
After having my fill of this part of town (which continued further south into the low-key and less-touristed Sodermalm), I then backtracked to the Stora Nygattan, and then made my way back up to the Stortorget via Kakbrinken.
There, I got one last go at the Stortorget in more low key atmosphere before finally retreating to the apartment for good. Along the way, I noticed the difference in atmosphere, especially at the many bars along the pedestrianized streets.
Even the older people seemed to get into the act as many were well dressed and looking to eat at probably a finer establishment. Indeed, it seemed like Stockholm took on a different character at this time of the evening.
Back at the apartment, Julie was still pre-preparing food for tomorrow morning. However, Tahia noticed on Julie's phone that "something's wrong!"
When Julie looked at her text messages, she saw that some of our bookings were getting cancelled because we didn't have the right credit card information (the old one was compromised and apparently Julie didn't get around to changing some of our advanced bookings to the new credit card info).
So Julie spent the next 90 minutes trying to take care of this (Booking.com's system wasn't the greatest for doing this kind of thing; and some of the accommodations didn't allow credit card updates so we'll have to play those by ear).
When she was done, I was finally able to get back control of my computer, but by then, it was 11pm. I knew that sleep wasn't going to be plentiful on this night.
And so we ended off our first stint in Stockholm a bit on the low key side. There remains lots of unfinished business as well as anxieties about how the weather will pan out when we have to do the long hikes further to the west in Norway.
But like with all of our trips, we'll just have to make adjustments last minute and roll with the punches (just like with the unpleasant surprise about the credit card info needing to be updated on our advanced bookings).
It's how we've always been doing things in our past international trips (particularly in Europe), and this trip would be no different…
Visitor Comments:
No users have replied to the content on this page