Day 3 (June 15, 2019 – Gothenburg, Sweden): "Cutting Across Sweden"
It was about 3:30am when I awoke. The original time I had for getting up was 4:30am, but Tahia managed to facilitate the early wakeup since she had been up since 2:30am while making sure to make some noise or try to tickle me.
An immature child who also happened to be jetlagged was a recipe for sleep deprivation, to say the least.
Still, I figured that this might help us get a head start on the day so perhaps it could be a blessing in disguise.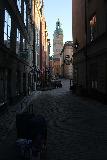 Indeed, Julie and I did what we could to get the pre-prepared breakfast nuked and heated up while I was also busy putting away dishes that were run last night.
Knowing that there was no way things would keep in the car (and that there might not be any chance of refrigeration until much later in the day), we had to empty out the fridge and eat everything we could.
That made for a rather filling breakfast.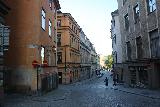 And when all was said and done, it was about 5:05am when we finally managed to bring our heavy luggages downstairs into the quiet and mostly empty Stortorget part of Gamlastan.
Once Julie finally came down with her belongings, we then walked over to the Lady Hamilton Hotel reception (I'm sure making quite a bit of noise in the process as the luggages were rolling against the cobblestone streets and Tahia was talking loudly).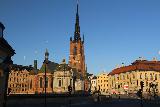 Then, we left the stuff by the reception while I went to walk over to the car park at Riddarholmen.
By about 5:25am, I retrieved the car but not until after I managed to sneak in a few photographs of the attractive church juxtaposed against the cloudless blue skies.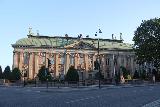 At 5:30am, I finally pulled up to the reception and then we proceeded to load up the car and leave Stockholm. Even though we had some unfinished business on our first day-and-a-half, we planned to return to Stockholm at the very end of the trip for two more nights at the very beginning of August before flying home.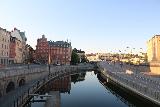 Hopefully by then, we would have accomplished all we wanted to do in this surprisingly well-touristed city. And hopefully, we wouldn't have to deal with the complications arising from having the South Korean President show up.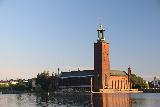 So after a little awkwardness in trying to navigate our way out of the city center, we then drove onto the E4 and eventually onto the E20 as we made our way southwest.
The original plan on this day was to drive straight to Silverfallet near Skovde before heading to Trollhattan to see the dam release of the waterfall at precisely 2pm. And then make the final approach to Goteborg.
However, I decided at the last minute to drive to Stalpet (to save on the amount of driving and stopping on the last leg of our journey), then head up to Silverfallet, and finally make our way into Goteborg.
It was going to be a very long day of driving, but I figured we mind as well get used to that battle rhythm considering we had a lot more driving to do throughout this trip.
And so as we zoomed our way through the countryside, Julie noticed immediately how empty and sparsely developed things were as soon as we left the urban confines of Stockholm.
Indeed, it seemed like a universal thing throughout Europe where we would see dense development and populations in the cities, then practically no development in the rural regions.
Contrast this with the urban sprawl we get exposed to back at home, where it seemed like the attitude towards development was that there must be plenty of land so we should exploit the hell out of everything by being wasteful and not treating the land as a resource to be taken care of.
That was probably the single biggest threat to the whole idea of why the United States has such poor public transportation with the exception of major cities like New York and Chicago. Further to the west of the Rockies, such public infrastructure was practically non-existent (even for cities like San Francisco; though up in Vancouver, they did a better job of this).
Anyways, as we were driving, I couldn't help but notice that we had passed through some exits for Linkoping, which I remembered from my early days at UCLA as the place that had the University of Linkoping, where they had a server running the NannyMUD.
That was a multi-user domain game where people who get on there and play a text-based game though it was really more of an excuse to chat with people from around the world (mostly to try to hit on others).
Regardless, now that we were driving through this very rural area, it definitely didn't fit my preconceived notions of what I was expecting to see regarding more development and less farms and forests out in these parts.
The good weather that we had been seeing was giving way to pockets of clouds and even the odd rain squall.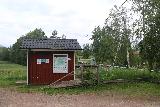 But eventually at about 8:45am, we finally arrived at Stalpet, which was pretty well-signed for the last 3km from the route 32 near Aneby.
This was a roadside waterfall though we found a designated parking spot near the Stalpet Cafe and Handverk.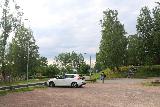 It was a good opportunity to stretch out and go for a little bit of a walk though it was a bit on the muggy side with the overcast skies.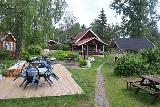 Since it was still early on this Saturday morning, it was quiet here and the cafe was not open. The chairs were folded onto the table tops as we walked across the cafe and onto a set of wooden steps descending into the gorge fronting the double-barreled Stalpet Waterfall.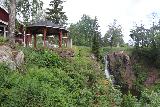 As Julie and I were busy getting ready to take pictures from the picnic table at the bottom (though the view was obstructed by a tree fronting the lookout), Tahia decided it was a good idea to climb onto the wooden railings.
Unfortunately, one of them gave out and she managed to bruise or hurt herself as a wooden beam was driven into her lower stomach as the fell onto it.
She was crying hard, but I figured this was one of those things where she had to just learn for herself the consequences of not considering the low risk approach of not doing such moves.
I hope experience would at least teach her that doing those things was a bad idea.
Anyways, after having my fill of the picnic table view at the bottom, I then went up the steps on the opposite side of the canyon.
That was where I saw perhaps the best overlook behind a fence looking directly down towards the front of the twin falls of Stalpet.
It appeared that Julie and Tahia weren't interested in going up to where I was at, and instead they went through their newly accident-created path beneath the wooden railing and towards some unsanctioned look at Stalpet.
Meanwhile, I explored more of the rim of the gorge around Stalpet getting more profile views before walking onto the bridge just upstream of the falls. And that was where I noticed that this waterfall could very well be regulated as just upstream there was a calm bog and there was machinery to essentially "turn off" this waterfall.
We got back to the car at 9:25am as Julie and Tahia were waiting for me to wrap up what I was doing.
We then drove west on the 49 towards the E4, but that wouldn't last long as we then went north on the 26 (eventually after some detour at a roundabout), where there was some road work going on so it wasn't like we could smoothly take the 26 north to Skovde.
Instead, we seemed to have followed a caravan of cars along some parallel side road criss-crossing the Hwy 26 before finally going onto it well to the north.
As it was getting close to noon, we decided at the last minute to look for a place to eat around the Skovde area. Julie settled on this golf restaurant called Mattias Golfrestaurang since they seemed to have some options for going gluten free.
So we wound up driving a short distance west of Skovde towards some golf course, and that was when we finally pulled up to the Mattias Golfrestaurang at 11:45am. Once inside, it was very quiet as a handful of people were eating outside in the sun.
Meanwhile, we learned that the food served here was buffet, but it was reasonably priced at about 145 SEK per person. And they had plenty of veggie options as well as some gluten-free options regarding the salmon and the beef strips.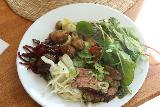 So we wound up having a pretty satisfying meal, and it only costed us 330 SEK for the three of us, we then drove further north towards the Silverfallet. We didn't see any signs for it but we decided to trust the iPhone directions (instead of my GPS) as we followed the main roads before backtracking to the southwest.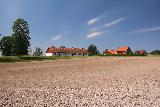 Eventually, we finally saw a Silverfallet sign near the Karlsborg area, which looked like someone's farm. We at first pulled into a very big car park within someone's farm, but seeing that some people continued to drive up the hill, we decided to check that out.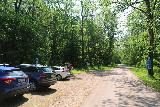 So we wound up seeing at least three more car parks, and we finally parked at a shadier spot with a sign saying the Silverfallet was about 0.5km away from this trailhead.
We finally got started at around 1:35pm.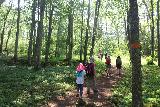 Just as we were getting started with the hike, there was a pretty large group that overtook us and went ahead. Clearly this place was a bit more popular than I had thought.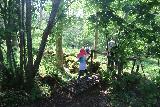 Eventually after a pleasant bit of a walk, we passed by some sign at a junction in Swedish. We weren't sure what it meant, but we assumed that the path on the right was going to the bottom of the waterfall while the path on the left went to the top.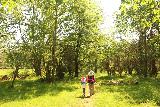 So we kept left but we wondered where that other path went.
It was very sunny on this day so it was also very hot. It was amazing just how quickly the weather and the temperatures turned from one moment to the next.
Anyways, we eventually made it to the uppermost of the cascades of Silverfallet at 2pm. The big group of people were busy chilling out and exploring around this humble spot. However, there wasn't that much water in the stream so it wasn't like Tahia had that great of an opportunity to play in the water here.
Other kids were also trying to do the same thing – looking for an opportunity to play in the water and beat the heat.
Julie and Tahia were a bit hasty in looking to see what other waterfalls were here, and so they backtracked to that junction. However, I pursued a different path that I noticed that followed along the stream in the downstream direction.
It turned out that the I managed to follow some electric fences (what an intersting way to keep people away from the cliff ledges), and after passing by a couple of tiny waterfalls, I finally descended steps and then a steep slippery slope leading down to the stream in front of a very attractive tier of Silverfallet.
I didn't see Julie and Tahia around so I assumed that I might see them somewhere further downstream.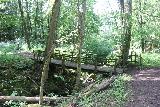 So after having my fill of this spot in front of the falls (and getting a mosquito bite on my finger in the process), I then continued along the trail in the downstream direction before seeing another small but attractive tier of Silverfallet.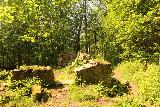 There was like a four-way junction of trails where I didn't bother persuing the trail across the bridge though I did notice some kind of "Alum" sign, which appeared to talk about aluminum extraction.
Meanwhile, I continued downstream past some kind of cattle guard before approaching some kind of ruins fronting another small tier of Silverfallet.
Curious about where this trail went, I continued following it before the forest gave way to an open field with some wildflowers. It eventually got to some kind of trailhead near the red buildings we had seen near the hot and open car park.
So I turned back around and went back upstream in pursuit of Julie and Tahia. I'd eventually rejoin them at around 2:40pm as they ultimately backtracked and went the way I wound up going. So they wound up at perhaps the most attractive of the Silverfallet waterfalls that I noticed.
And we then enjoyed this falls as a family.
I got them to continue going downstream with me to see another tier. Then, we followed a trail that ultimately took us to the handicapped parking and trailhead.
By this time, Julie wasn't up for hiking uphill along the narrow road to recover the car, so I did the deed while they waited.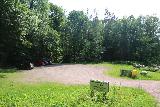 By about 3:05pm, I finally recovered the car, turned on the AC to cool things down, and then, I picked up the ladies five minutes later.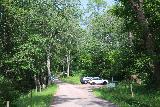 Next, we drove west towards the E20, and then we followed that highway (though they didn't have dedicated lanes so we had to seek passing opportunities to get by slower drivers while not overdoing it as there were plenty of speed cameras in this stretch).
Finally at about 5:15pm, we got into Goteborg, but there was a confusing maze of streets to get around. And it turned out that with some kind of Gay Pride Parade, we weren't able to check in at the Hotel Vanilla because it was within the blockaded zone.
So someone directed us away from where we needed to drive, and we briefly illegally stopped nearby so Julie could go check in and seek further guidance on what we could do to check in.
Eventually, we decided to do some last minute grocery shopping right before closing time at 6pm so we could eat in. But even in getting out to the Nordstan shopping mall, it was an adventure given the sharing of the roads with the trams as well as more police blockades.
It was tense driving, and I managed to annoy some of the cops (including a traffic light that put me in a situation where I blocked a tram because of where I had stopped so as to not run the light).
But hey, I did what I could do given the lack of direction and being unfamiliar with the city (which seemed to be undergoing lots of construction in addition to having the Gay Pride Parade).
But ultimately, we found a random parking spot just outside the Nordstan shopping mall and I stayed in the car with Tahia so she could keep on napping. Meanwhile, Julie went into the shop at 5:40pm and we spent the next 45 minutes or so just chilling out waiting for Julie to do her thing.
Eventually, Julie returned to the car at around 6:30pm, and finally at around 6:45pm, we finally parked on the property through a very narrow corridor before finally stopping the car.
By now, it was drizzling or sprinkling. And we had to lug our belongings quite a long ways into the reception, then through the hallways before going back downstairs to our room, which turned out to be right next to the hidden parking lot we parked the car in.
Oh well, you live and learn I guess (in that we didn't have to do all the hefty lifting and rolling to get here).
And with that, we finally got settled at 7pm.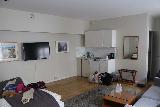 Julie got right into preparing dinner but meanwhile, I wanted to explore the city. So I got my camera and started back towards the reception where I spoke with the receptionist about what I might be able to do for the next couple of hours.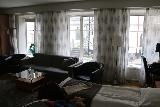 I also asked about whether I would be able to drive in and out of the garage first thing tomorrow morning seeing that we didn't have control of the garage door at the corridor entrance. But I was disappointed to learn that only reception can control that garage and that wouldn't be until 8am.
So much for doing an early start to visit Ramhultafallet waterfall while Julie and Tahia would be sleeping in and having breakfast… That would certainly set us back another 3 or 4 hours I'm sure…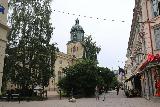 Anyways, as far as touring Goteborg, she recommended that I walk to the Haga and ultimately to the Slottskogen. Even though the weather wasn't the greatest, I figured I mind as well seize the moment and see what Goteborg had to offer the visiting tourist. After all, it wasn't on Rick Steves Scandinavia, and I'm guessing there was probably a reason for that.
Anyways, I followed the Kungsgatan eventually towards the Haga area, which the receptionist said was an attractive old town full of old buildings. So that was my target for this brief seize-the-moment visit in Goteborg.
I had to get through some inconvenient construction zones, but after seeing where the locals were going, I eventually figured out how to get across and ultimately into the Haga area. By now, it was pretty consistently sprinkling, but it wasn't so bad that I needed rain gear.
Inside the Haga area, I was a grid of interesting quiet streets though the main throughfare appeared to be the Haga Nygata where it was lined with closed up shops and quiet cafes.
I ultinately walked as far as the Tredje Langgatan and Linnegatan intersectiono. But I didn't ccontinue any further as I saw there were more shops and cafes, but it was now west of the Haga area.
So as I backtracked through the Haga, I saw a tower that turned out to be the Skansen Kronan. I decided right then and there that I should go up the steps and see what kind of views I might be able to get up there.
After working up a little bit of a sweat, I ultimately made it to the base of the tower. There were some people sightseeing or chilling out around the base of the tower, but there was also an apparent private party going on inside the tower itself.
Anyways, I managed to get some nice views (especially towards the southeast, and it kind of reminded me of the low-key feel I had when exploring around the Graz in Austria last year (though I'd argue that Graz was more charming than Goteborg).
Nonetheless, in that sense, I could see why Rick Steves didn't cover this city, but still, I enjoyed making my own discoveries and not necessarily just doing what a guidebook says to do.
After having my fill of the Skansen Krogan at 8:10pm, I finally headed back down into the Haga, and then made my way towards the Inom Vallgraven district (where the Hotel Vanilla was). However, I kept hearing loud music in the distance, and it drew me towards it just to see what the source of that music was.
So I ultimately found myself walking through what I think was Sodra Larnig or something like that, and then I found myself in a wide open area near Balte-Spannar Parken. That was when I saw what was clearly a crowd of people checking out an open-air concert that was apparently free.
Well, there were also some pretty aggressive UNHCF people who were really pushing hard for spontaneous commitments to donate to the cause of helping out refugees around the world. Unfortunately, I wasn't ready to make that kind of commitment on the spot as I tend to be more calculating in my moves and not giving into just giving money and personal info away to total strangers on the spot.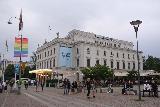 Still, I was very understanding of the cause, and perhaps after looking over the UNHCF website a bit more, maybe I can contribute to the cause on my own time and my own dime but not now.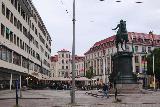 After checking out the pretty bouncy concert, I then finally walked back to the Kyrkogatan, where I then returned to the room where Julie and Tahia just finished their meal, and I finally had my late meal at 9pm.
And with that, I helped Julie wash the dishes and clean up, before cleaning up my sweaty sticky body and finally going to bed at close to 11pm.
It was the end of a rather exhausting day, but at least I planned on sleeping in a bit considering that I couldn't do the original plan of driving out to Ramhultafallet and coming back before Julie and Tahia would be sleeping in and having breakfast.
Instead, we'd have to wait until 8pm to go out there since reception wasn't open until then. So no one would be opening the garage door. I guess this was the forcing function for me to slow down though that would put more pressure on what we can do tomorrow in terms of visiting Ramhultafallet as well as Elgafossen and Sarpsfossen before arriving in Oslo on a Sunday evening…
Visitor Comments:
No users have replied to the content on this page