Day 44 (July 26, 2019 – Aarhus, Denmark): "Readjustments"
This writeup is a continuation of the write-up "Approved By Nature, which covers our return to Fjord Norway leading all the way south to Kristiansand…
It was about 4am when I awoke. It was actually before sunrise, which was unusual on this trip. But it was still clear weather as it was light enough to see the weather.
The rest of us got up as we knew that we couldn't screw up the long ferry to Denmark so we took the early wake-up very seriously.
And sure enough, by 5am, we were all packed up and ready to go and we checked out of the Scandic Kristiansand.
We really wished we could have had their breakfast for one last time on this trip (as we had come to appreciate the Scandic breakfasts in Norway), but we couldn't wait until 7am for that.
By then, the ferry to Denmark would have been long gone.
We were in the car by 5:10am and the quiet streets made for easy driving as we slowly looked for the proper way to show up to the ferry terminal.
Fortunately, the signs were easy enough to follow (and not get misled by the GPS which had us turn on small streets again), and we wound up showing our confirmations at the gate, and then we parked in the correct lane by 5:20am.
It took some time for this line to move so I spent some time in the car catching up on my blogging while Julie and Tahia were getting a few more Zs in.
Eventually, the line moved to get onto the ferry boat, and we promptly got there some time before 7am.
Then, when we got out of the car, we promptly walked up to the top deck, where there was a breakfast buffet that we paid around 350 NOK or something like that for the three of us.
Considering how expensive things were in Norway, this was actually a surprisingly reasonable rate for a buffet, but alas, it was certainly no Scandic when it came to breakfast buffets.
They did have herring and the usual sausages, eggs, vegetables, fruit, and bread. But there was no toaster, no caviar or fish eggs, and limited pastries (basically Danishes).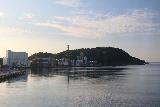 In the end, that was the reason why the prices were as reasonable as they were. But it also bought us the ability to sit comfortably at a table and watch the ferry boat move across the Skagerrak.
At some point during the journey, we all dozed off, but in between those times, I did get some more blogging in as I was way behind given the loaded itineraries that we were adhering to throughout Norway.
By about 8:50am, we were back in the car waiting for the imminent docking of the ferry at Hirtschals.
Once we got off in a pretty orderly fashion, it didn't take long before the Hirtschals road expanded into a freeway.
So we went from around 90km/h to 110km/h, and then it freed up into going 130km/h. I swore that in all the time we drove around Norway, the speed limit never got past 90km/h (or at least I couldn't remember when it ever got to 100km/h).
That just illustrated how curvy and mountainous Norway was compared to Denmark. Plus, there seemed to be many more people and cars in Denmark just based on our limited experience on the highway so far.
The drive occurred uneventfully and we ultimately arrived in the city of Aarhus at 11am.
Julie saw that there was an organic store somewhere in the city so we briefly made a stop to allow her to make her dark chocolate run there.
I also did a brief fill-up of gas when I did the math and realized that even with the poorer exhange rates, the gas in Denmark was still cheaper than what we were paying for in Norway (at roughly 10 DKK per liter).
Eventually at around 11:10am, we finally made it to the Scandic Aarhus, where Julie checked in though we knew that the room wouldn't be ready until later this afternoon.
So we left our luggages behind and parked in the Q-park downstairs, which was actually quite warm.
We then wasted no time in working with the receptionist when she learned where we were going tomorrow and suggested taking the Aarhus to Sjaellands ferry instead of just driving all the way.
So we booked the rather expensive 9am ferry at around 599 DKK for all of us and the car, and we also booked tickets to go to Den Gamle Byen in Aarhus, which was one of the must-do things that Julie had targeted while in this city.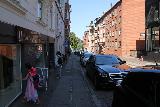 By about 11:40am, we finally started walking around the city.
And on this warm and sunny day we were already walking slowly and trying to stay in the shades wherever we could as we were making a roughly 20-minute walk to get from the Scandic to Den Gamle Byen.
We'd eventually get there at around 12pm or so, and got into the outdoor folk museum. By now, we had gotten used to visiting these kinds of things from the one in Oslo to Bergen to another one in the Viking Town in Gudvangen.
So we came to appreciate how informative and immersive these types of museums could be and really looked forward to doing this one. It also re-opened our minds to visiting Skansen when we'd get back to Stockholm, which we didn't consider doing at the time.
The Old City (which Den Gamle Byen meant) seemed to have a lot of people as well as a lot of buildings with open doors allowing people to go inside and have a peek.
There were also many more people dressed in period pieces while also not breaking character (much of which was in Danish unless they knew you didn't speak the language).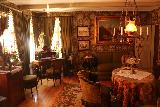 Plus, this place was pretty extensive as we were walking from structures that were recreated or around in the 1800s and it would ultimately get up to the 1970s near the exit.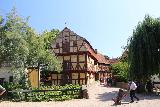 So indeed, this was like a time machine.
We had a basic lunch at around 12:25pm where we welcomed the shade of the tent canopy that we ate under.
And it was conveniently close to some games and attractions for the kids like a standing swing as well as a little merry-go-round that Tahia enjoyed.
There were also a self-help knock-the-cans over with a throwing bag game as well as a couple of different bowling type games.
We then spent the next couple of hours touring the rest of the complex, where we actually backtracked to visit the Mintmaster's Mansion as well as the Mayor's Mansion, which were the highlights of our visit.
When we got to the more modern part of the visit, we saw the Nazi occupation exhibit as well as walked into an electronics store where they were selling big boxy TVs and records by the likes of ABBA, David Bowie, the Beattles, and more.
By 3:40pm, we had left Den Gamle Byen, and proceeded to walk back to the Scandic Aarhus.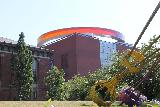 By 4:05pm, we finally checked into our air-conditioned room. And the AC was definitely a welcome feeling after all the time we spent in the hot Summer sun.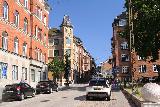 It took some time for us to get settled in the hotel room, but eventually at around 5pm, we finally headed back into town. This time, we were walking in the other direction towards the Latin Quarter and cathedral (said to be the largest one in Scandinavia).
It was pretty much a lazy stroll through Sondergade which was lined with shops and cafes (much like any other outdoor mall in a city center), but the dom was always within sight as we were approaching it.
We also noticed a canal lined with more busy cafes all being used by people having a sip and people watching or having a chat in the Danish hygge style.
We then spent some time around the church and the theater before finally meandering into the Latin Quarter, which was basically a few more alleyways and old buildings along with some restaurants.
At around 6:05pm, we ultimately found ourselves at the Mefisto Restaurant, where Julie liked the menu enough to go there (especially when she learned that they can accommodate gluten free preparations).
While the restaurant started off not so busy when we were there, we ultimately didn't get out of there until well after 8:20pm.
Most of that time was spent waiting for our food as we could clearly see that the restaurant staff was very busy.
We got a fish dish (for Julie's clean eating) as well as some peelable prawns.
I got a three-course meal that included a lobster pot pie as well as a beef tenderloin and some kind of berry with ice cream dessert.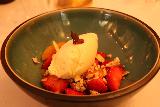 I think that this place was so busy that they even mixed up orders and given us dishes that we didn't ask for. For example, they gave us French Fries which we weren't charged for.
And we also got a second dessert, which we weren't charged for.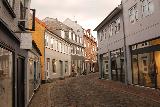 I guess all the excess food was the least we could have concessions for considering we were spending well over $120 USD for this dinner. We were also charged 60 DKK (about $10 USD) for tap water! (just like Germany and Austria all over again)
This experience all but made me want to not want to eat out when we're in Copenhagen tomorrow and the day after.
When we were finally out of the restaurant, I was surprised to suddenly see that we were surrounded by gray skies.
Where did all these clouds come from? It was practically cloudless and hot all day long!
Anyways, with the slightly cooler temperatures, we then did a bit more walking around as we pursued some kind of quaint alleyway called the Mollerstien.
We took a route that walked along the canal to get there, and we also noticed quite a bit of activity going on at the Mollerparken, where a bunch of younger folks were having picnics, having a chat, or playing some social games.
By about 9:05pm, we were finally back at the Scandic Aarhus, where all of us were dead tired from the day's touring.
Still, with tomorrow's commitment for the ferry at 9am, we couldn't sleep in.
Indeed, I sure hoped that the decision to do the ferry would pay off since that would mean we'd head straight east to Frederiksborg Castle instead of making a giant U route through Copenhagen before heading north to Frederiksborg Castle and back.
Ferries have always made us nervous, and here we were going to tempt fate again with another one…
Visitor Comments:
No users have replied to the content on this page