Day 45 (July 27, 2019 – Copenhagen, Denmark): "More Ferry Lemons"
It was 4:15am when we awoke. Outside, I saw clear skies though it was still dark, but it was starting to get bright.
It took us some time to get ready to pack up, check out, and get moving, but at least we had time to at try the Scandic breakfast which started at 7am. Our ferry wasn't scheduled to leave until 9am.
That said, the breakfast turned out to be nowhere near the quality of the Norwegian breakfasts that we had been spoiled with.
This Scandic brekkie didn't have any herring, no caviar, no Nutella nor Nugati, no smoked laks, etc. It pretty much just had standard stuff like scrambled eggs, sausages, baked potatoes or wedges, lots of non-compliant bread, and even non-compliant yoghurt or non-compliant milk products.
So we actually didn't spend that much time at the breakfast here, and we took our time before getting into the car at 8:10am.
In my mind, we still had nearly an hour before our ferry took off, but we were being prudent about getting there early for we weren't clear when the deadline for check-in was.
By about 8:40am, we made it to the ferry terminal, which was very automated. Our reservation was in the system, and it was just a matter of us recalling our confirmation number before the turnstile boom let us through.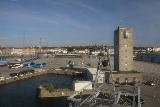 Without incident, we managed to board the ferry, and as scheduled, we ultimately got back to our car at around 10:10am.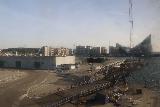 Pretty much in a semi-orderly manner, we got off the ferry when the time came, and we were in a long caravan of cars driving out of the peninsula and towards Copenhagen.
And as much as the GPS wanted us to go south and then around to Copenhagen before going north to Frekeriksborg Castle (the big attraction of the day that Julie targeted), we saw that there was a more direct route going directly east.
However, that would involve yet another ferry that we didn't know that we had to take. And that particular ferry seemed to leave every half-hour.
So we targeted the 9:50am departure one, but there were too many slow drivers in front of us to even make that.
By the time we ultimately made it to the ferry docks between Rorvig and Hundested at around 10am, we saw that there was a reserved line and a no reservations line.
Naturally, we stopped at the no reservations line, which was not moving at all. Instead, the reserved lanes got to go right onto the ferry that was right at the dock at around 11am.
This must have been the 10:50am ferry that we had read about online (and the very one we tried to catch to facilitate our ability to arrive in Frederiksborg Castle in Hillerod without passing through Copenhagen.
The GPS really tried hard to get us on the driving path (which meant no ferries), and it had predicted that we would have gotten to the slot before noon.
But with us apparently not going to be going onto this particular ferry, I was now wondering if we had made a mistake in relying on ferries as clearly we weren't going to make it to Frederiksborg Castle until at least well past noon.
And that would mean that we would have less time to enjoy Copenhagen on this day.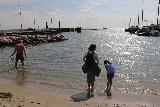 Anyways, the ferry that was docked had already sailed off, and all the remaining cars had to get out and buy the ferry tickets (costing us around 226 DKK or roughly $35 USD or so) to get across.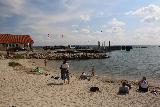 The ferry boat didn't look particularly big, and I was wondering if we would even make the next ferry since it looked like the cars with reservations would have first dibs on getting onto the boat.
Would the next ferry boat arrive an hour later as it said online?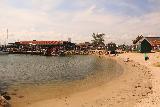 Regardless, it was what it was, and now we were trying to make lemonade out of lemons again. And we had that opportunity to do it by letting Tahia play on a small beach next to the ferry docks.
At first, little girl was reluctant to wake up from her nap, but this was an unexpected water and sand castle play time so she eventually realized what a rare opportunity this was to her.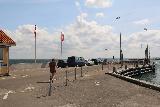 By around 11:20am, the next ferry boat arrived, and the non-reserved line finally started to move after all the reserved cars got to get on.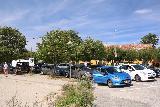 Unfortunately, the boat wouldn't load the car in front of us and we were stopped at around 11:25am. So that meant we'd have to wait for the next ferry after that!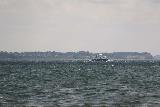 Well, the bright side was that the ferry was apparently every half-hour instead of an hour as feared. However, the lesson learned here was to make reservations for all ferry crossings in Denmark. There were simply too many people here, and this particular ferry was tiny.
That said, we didn't even know about needing this ferry crossing until we today. So that's why we didn't make reservations.
But at least Tahia got another half-hour or so of play time in the strand. So I'm sure she was enjoying herself. Meanwhile, I was having more ferry anxieties as we simply hadn't had very good luck with such modes of transport on this trip.
Another lesson learned here was when in doubt, try to avoid ferries as much as possible unless there was absolutely no other choice!
By the way, with the extra time here, I noticed that there were UNESCO signs near this dock. I couldn't imagine why this was the case, but upon reading one of the tourist literature here, I saw that the bronze-age horse-and-chariot figurine was discovered by a farmer somewhere here.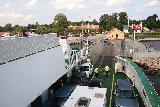 There was also a castle ruins and fort somewhere in the vicinity as well. So I guess that's how this place became under the UNESCO geopark designation, but I'm quite sure that we wouldn't be able to visit any of those things on this day.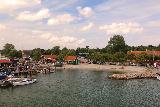 Anyways, by about 11:50am, we finally got to board the next ferry that showed up. This time, we were one of the first two vehicles to get on, and we happened to be lined up right in the front of the ferry.
The ferry itself took off pretty much as scheduled and I wasted no time going up to the upper decks to take pictures.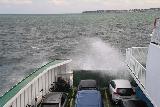 When I was about to head back downstairs to rejoin Julie and Tahia who opted to stay in the car, I couldn't help but notice that there was the sea splashing against the ferry and spraying the cars in the front of the ferry, including ours!
That drew a few laughs from the people looking down at the action taking place, but there was no way I was going to try to get into the car while the seawater was splashing and spraying all the vehicles in the front.
Some people were even taken off guard and got a big drenching as they stood by their cars. And I was hoping that Julie and Tahia managed to roll up the windows as I had left the windows rolled down when I went up the deck.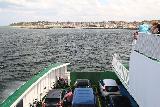 So that was yet another unexpected surprise about taking ferries – that we could get sea splashed by waves that weren't even that big. But I think it was the fact that this ferry was quite small as I had never recalled any of the Norwegian ferries on this trip being this much trouble!
Well, with the ferry dramas finally over when we were let off the ferry at around 12:30pm, we finally got to drive the final stretch to Hillerod and the Frederiksborgslot.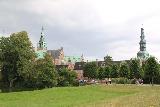 We ultimately got to the grand castle at around 1:05pm, which was about 2 hours behind what it would have been had we just ignored all the ferries in the first place! Again, another strike against taking ferries!
By the time we got out of the car and walked towards the castle, it looked like there were dark clouds that wanted to cause rain on the area. But all that was produced was some light sprinkles.
There was also a wedding that appeared to have concluded at the castle as there were a lot of well-dressed people making their way out of the castle. It looked like there was an Asian person involved in this wedding because we saw that half the people leaving happened to be Asian.
Anyways, Julie learned that the Copenhagen Card was a really good value as it included all the major castles and mass transits. And we wound up paying on the order of 200 euros total for all three of us, which amounted to probably around $300 USD or 1800 DKK roughly.
The question was whether we were going to make this card work for us over the next couple of days, but at least we started to use this card on this Frederiksborgslot visit.
Right off the bat, we were already inspired by the giant towers rising above on the castle surrounded by a classic moat.
Once inside the castle, we then went from room to room where each one seemed to be very elaborately decorated. Indeed, we had read from Rick Steves that this place was like the Danish Versailles, and that summarization wasn't far off!
Julie already thought that this place was one of the great castle visits that we've done in Europe.
They even let you take pictures inside, which was something we couldn't do in just about any of the castles in Germany and Austria.
Perhaps the highlights of this visit included the fancy church (which was closed due to the wedding, but we were able to see it from the second floor) and the Great Hall.
There was even a grand garden in the back of the castle very reminiscent of the Versailles Palace as well as the Schonbrunn Palace.
Of course as I was taking it all in, I couldn't help but wonder if the people governed by the Danish monarchy would resent such concentrations of wealth.
I'm sure these days they make money for the country (something that we should really re-consider how we price the National Parks in the USA), but if life was so hard for the commoners, what makes royalty and associates more deserving of resources and tax revenue than everyone else?
Perhaps the most functional governments wouldn't have such concentrations of wealth as I'm sure resources could be used for more functional purposes. And that's like the classic catch-22 when it comes to displays of wealth versus functional governments.
Yet in Denmark, we never really hear about revolts against the monarchy, and this institution has been around for centuries – perhaps the oldest functioning monarchy left in Europe!
Anyways, by 3pm, we were back in the car. While it was cloudy and threatening rain when we first showed up, it was clearing skies and quite warm weather when we left.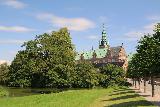 Next, we drove into Copenhagen where we finally arrived in front of our apartment by 3:45pm.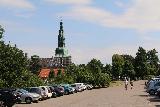 As Julie was getting the apartment key and figuring out how stocked the apartment was, I was studying the parking situation.
Apparently, we could park where we were at right across the street for free starting at 5pm and for all weekend long until Monday at 8am. We just had to pay for the remaining hour to bridge us to the 5pm.
Luckily for us, this was an EZ-Park spot, and we used the app to cover us for our time in Copenhagen.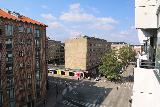 By about 4:20pm, we were all settled in the apartment, which was quite warm. We actually had to open the balcony door as well as the front door in order to get some form of airflow through the apartment.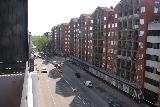 We then went downstairs where there were three grocery stores all next door or across the street from each other. What was funny was that I heard that they were all owned by the same entity as they were essentially Coops.
Anyways, we were done with our grocery run by about 5:05pm, and then we did a self-cooked dinner to avoid overpaying for sit down restaurants after the Aarhus dinner experience taught us that we had to pay for things like tap water as well as for expensive foodstuffs.
So it wasn't until about 6:50pm when we were done with dinner (which consisted of steaks bought for just 15 DKK seasoned with rosemary and some greens).
We were now in position to finally go downstairs and tour Copenhagen.
We first walked towards the Nyhavn area, which was the famous harbor lined with colorful buildings and charming old-school boats. There were also lots of human activity from people having beers along the walkways as well as others trying to soak in the scene at a sit down bar or restaurant.
Tahia and I indulged ourselves each with a waffle cone ice cream from this place called Vaffelbageren.
It wasn't cheap ice cream as I wound up paying about 85 DKK for the both of us, but at least Tahia got her ice cream fix so that kind of pacified her for the time being.
After having our fill of the Nyhavn, we then walked towards some bridge that traversed the wide canal with a view of some happening spots on one side, and an opera house across from some children's theater play area on the other side.
It was right out of a scene from one of the Rick Steves videos that we had borrowed from the library.
Anyways, we had to watch out for the fast-moving bikers who were quick to reinforce their right-of-way against pedestrians who happened to stray into the bike lanes.
We even had to cross such lanes in order to get to some of the better viewing spots on the bridge.
Indeed, we were trying to soak in the atmosphere of this main part of Copenhagen, which was just buzzing with activity on this Saturday evening.
It was very festive regardless of whether we were walking along the canals, across the bridges, noticing fancy spires, etc. Indeed, we last felt this kind of magical feeling of being in the middle of the action when we were first in Vienna.
However, Copenhagen struck me as the kind of place that was very much like Vienna except with wider streets.
Overall, it still felt magical. And yet, we still had another place to go, which was a bit away from the hustle and bustle of the Nyhavn area – the Tivoli Gardens.
Once Julie finally figured out how we were supposed to get to the Tivoli Gardens, we eventually returned to the Nyhavn before finding the bus stop for line 66 at around 8:05pm.
By about 8:25pm, with the aid of GoogleMaps on our phone, we made it to the Tivoli Gardens.
With our Copenhagen card, we were able to go inside the park without needing to pay anything. However, we knew that we'd have to pay for the rides, which we decided to do a la carte since it was already late in the evening and we had no intention of needing to do unlimited rides when the lines were already long to begin with.
Still, as we walked into the park, we were struck by how Disney-like this place was. Actually, it should be the other way around – Walt Disney was actually inspired by Tivoli Gardens and patterned Disneyland off of this place.
So indee, we were now seeing the OG of theme parks.
Anyways, there was still too much light to properly take photographs so we decided that we were going to go on at least one ride to experience this place directly.
While there were lots of rides to choose from, we ultimately decided that we could do at least the Roller Coaster as a family, which costed us 2 tickets per person (or 6 total). And at 30 DKK per ticket, this was adding up to about 180 DKK for the ride, which was like close to $30 USD.
After the ride, which reminded me of a smaller version of Colossus or something that was very up and down where the intent was to get you off your seat and feeling the zero-Gs, we did some more walking around the park before deciding that we needed to do another ride.
This time, we had split up so Tahia and Julie could ride the Star Flyer (the tall sling shot ride) since that had a small enough height restriction that Tahia could get on. Meanwhile, I did the Demon by myself, which seemed to be the park's signature roller coaster with loops, corkscrews, and barrel rolls.
Each of those rides costed 3 tickets, which amounted to 270 DKK total or close to $40 USD.
When we were done with our respective rides, twilight night had hit the park with a magical bluish and purple skies. And the lights were coming on, which created a very photo friendly scene for a fleeting amount of time.
We ultimately captured the pagoda, some attractive lake with some boat rides on it, as well as a concert where a band was playing some kind of jazzy music that people in the front were swing dancing to.
We also tried to capture the Taj Mahal, though the twilight had faded by that time as the skies were turning black.
It wouldn't be until about 10:40pm when we finally left the Tivoli Gardens.
Indeed, while Tahia didn't get to do Legoland at Billund as originally planned (we instead did Aarhus yesterday), perhaps the Tivoli Gardens was the better makeup for that as she clearly had fun and didn't want to leave.
Eventually by about 10:45pm, we waited for the bus 66 to take us back towards the Nyhavn area, by which we then walked back to the apartment to finally unwind this very busy day.
By about 11:25pm, we were back at the apartment, where it took us some time to get cleaned up and finally call it a night. It wasn't until about 2am when I finally went to bed.
Tomorrow we'd have a full day in Copenhagen though Julie would continue to have control of the itinerary as the intent was to visit as many of the castles as we could that was within our Copenhagen card.
In hindsight, I was wondering if we could have used a third night in Copenhagen, but the circumstances were such that the apartment was sold out and we couldn't add a third night without changing accommodations.
So it was what it was. We'll just have to make do with the limited time we have in this magical city…
Visitor Comments:
No users have replied to the content on this page