Day 46 (July 28, 2019 – Copenhagen, Denmark): "Royaled Out"
It was about 6am when I woke up to Julie's alarm. When I looked outside, it was already bright and sunny.
So I went about my business still trying to get caught up with blogging (though I was nearly two weeks behind when it came to reviewing and picking photos from the trip).
However, when 8:05am rolled around, all of the sudden, I saw dark clouds rolling in quickly. And before we knew it, the weather was already turning to light rain just like that!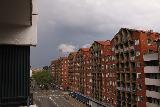 Minutes later, the rains turned heavy as the clouds got darker and we started to hear the roar of thunder.
Then, as we were having breakfast, we saw many flashes of lighting. One was pretty close to us as the gap between a bright flash and the accompanying loud thunder was barely less than a second apart!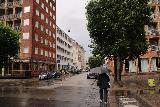 With the weather being as intense as it was, we opted to take our time eating our self-cooked breakfast. Even though the Rosenborg Castle (Julie's first target on today's itinerary) was actually open at 9am, it wouldn't be until about 9:50am when we were finally heading out.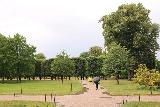 During that time, we walked in the opposite direction of the Nyhavn and onto a pretty extensive park-like yard.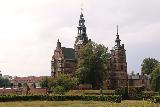 As we were starting to see a grand and tall building before us, it started to rain again just as the weather felt like it was letting up.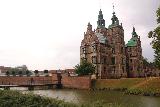 I guess the weather couldn't decide between calming down or pouring down with rain with still thunder and the odd flashes of lighting popping up from time to time.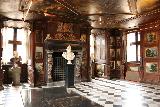 Eventually by about 10:15am, we arrived at the Rosenborg Castle just when the next batch of rain came in.
So as Julie was redeeming the tickets from the Copenhagen Card, Tahia and I happened to witness the changing of the guard, which passed right through the archway separating the ticket and garderobe with the museum shop.
Once we were done putting the pack and waterproofs in the locker, we then proceeded to go into the touring part of the Rosenborg Castle.
We started on the ground floor where we visited a series of rooms including a bedroom, a writing room, a dark room, a garden room, and an interesting marble chamber among others.
We then went on to higher floors where we encountered hallways and corridors as well as other rooms and cabinets full of ornate objects.
When we got up to the highest floor, we encountered the Great Hall, which featured some lion status on one side of the hallway and a throne on the other side.
After having been in the Frekeriksborg Castle, I was beginning to wonder if all of these Danish castles have these Great Rooms or Great Halls, which seemed to be one of the signature features of this royal family and its castles.
We also saw a room full of glass objects as well as a room full of porcelain objects. It seemed that one of the features of royalty back then was that they had the means to travel the world.
And having collections of intricate porcelains from China or speaking multiple languages and being well educated seemed to be a priviledge for the rich.
Once we were done with the Rosenborg Castle part of the visit, we then descended to the basement and the treasury.
Down here, there were a bunch of gold objects from swords to shields as well as all sorts of other trinkets.
In one casing, there was a very ornate singular crown.
In another casing, we saw a pair of velvety crowns sitting side-by-side with each other.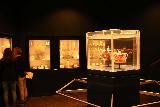 The crown jewels were the highlight of this tour according to Julie, and with the primary purpose of our visit to this castle out of the way at 11:10am, we then pursued some nearby waffle joint that was said to serve some gluten free Belgian Waffles.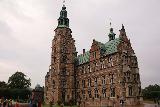 That alone was what prompted Julie to chase down this place as soon as our visit to the Rosenborg Castle was over. After all, gluten-free places were hard to find, especially when it came to Belgian Waffles.
So after leaving the castle, we then used Google Maps to continue walking towards that waffle joint called Social.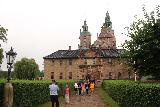 It started raining again just as we were leaving the Rosenborg complex, and we wound up walking several blocks eventually getting past a bridge over a wide river or canal.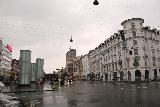 Out here, there were more old school buildings flanking wide city streets (further reinforcing my perception that Copenhagen was like Vienna but with wider streets).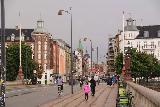 On the other side of the river, we finally found the underground joint called Social, which was actually a coffee shop.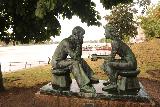 Once inside at around 11:35am, Julie was told that the gluten-free Belgian Waffles were no longer offered there. So it turned out that we had walked such a long ways only to not have what she was after.
I guess this just goes to show you how easy it was to be disappointed if you make part of your trip dedicated to chasing foodie things.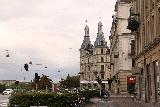 Regardless, Julie was unfazed and instead pursued gluten-free crepes, which was back on the front side of the bridge that we had just crossed.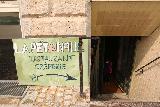 It wouldn't be until around 12pm when we made it to this place called La Petanque, which seemed like a well-hidden spot underground and quite the cozy or hygge spot next to some kind of public square of space that was a little light on people activity.
It was still overcast when we showed up, but we could already see that the thunderstorm had already passed by this time.
Inside La Petanque, we wound up having a filling lunch that included a dozen escargots and a couple of pretty big galettes that reminded us of some of the places we ate at in France (partcularly Paris) last year.
I wound up getting some recommendation that had spicy slices of charcuterie meat in it (almost like a pepperoni) which also had walnuts, blue cheese, and egg.
Julie got something else with eggs and spinach along with bacon.
We also got a glass of hard cider.
It turned out that this was enough food, and we really didn't have the room to indulge in a sweet crepe though the banana flambee looked really good.
By about 1pm, we were done with lunch, and we started to head towards the bus stop that would take us to the next castle or palace of the day – Christiansborg.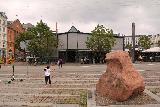 But along the way, at 1:05pm, Julie noticed some kind of Farmer's Market. We started off by going inside some Cleaver's Market, which was full of different butcheries.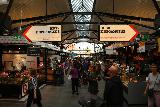 Then, as we left that building, we found ourselves before fruit and vegetable stalls that were outdoors.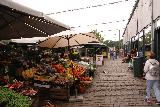 There was yet another indoor series of markets though we didn't go inside that one.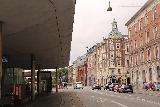 Although we could have lingered here for a while, we still had stuff to do to make use of our Copenhagen Card, and that was what had the priority since most of those paid excursions had deadlines or closing times.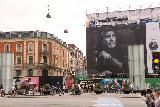 So by about 1:25pm, we finally boarded the 14 bus, which ultimately took us nearby some canals that also served as a moat around part of the Christiansborg Palace.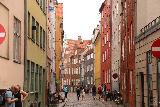 It took a bit of a walk to go through an atmospheric garden and courtyard before getting into the grand dark building.
Once inside that building, we used the garderobe and exchanged our proof of Copenhagen Card payment for tickets to get up to the Reception Rooms, which were the main purpose of our visit here.
There were other things like the Royal Stables and Library that we opted not to do.
Anyways, the tour pretty much took us upstairs where we went from one grand hall, or guest waiting room, or library, or salon to another.
The tour ultimately ended at the very grand Hall of the Giants, which was where the butikk and toilets were.
Perhaps the highlights of this visit was the Queen's Library (kind of reminiscent of something we saw in places like Admont, or the State Library in Vienna, or even Melk) as well as the Great Hall (something that seemed to be a main feature of each of the Danish slots we've seen so far).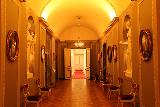 In one instance, there was room full of modern and colorful-looking paintings that kind of reminded us of the grand murals showcased at the Radhuset in Oslo.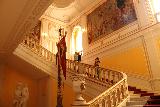 Once again, it kind of showcased what concentrated wealth can do, and so while it was cool to look and stroll through, I kept thinking about the inherent injustices behind such things and how the Danish monarchy managed to avoid a revolution not unlike that of the French Revolution.
Anyways, this place definitely had a more modern feel to it as compared to both Frederiksborgslot and the Rosenborgslot.
We were done visiting the Christiansborg Palace at around 2:25pm.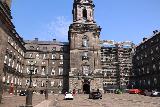 Next, we walked out towards the 1A bus stop after going back and forth and in circles through the Christiansborg complex not quite sure which way to go.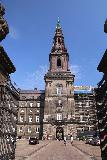 We wound up catching the 1A bus at around 2:50pm, and it turned out that we made a big circle, especially since one of the stops on the way was the Christiansborg Palace's backside, once again!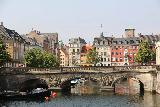 Anyways, it wasn't until around 3:05pm when we made it to a stop near Amalienborg.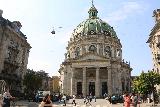 We walked maybe a couple of blocks before we noticed a huge Marble Church or Dome that looked very much like a grand capitol building. We vowed to come back here and have a look when we were done with Amalienborg.
By this time, I was already royaled out, but I was game to check out what was special about this place.
Julie said that this was where the current royal reside though from the absence of flags being flown, it seemed like they were all away somewhere else during our visit.
At Amalienborg, there was a giant square surrounded by more grand buildings with one of the streets leading back to the Marble Dome while the opposite end led to one of the grand opera or play buildings by the grand canal.
Our visit pretty much went from one collections room to another as well as a few study chambers. But by this time, I had already seen so many of these rooms today that these modern facilities and residences seemed like more over-the-top showcases of concentrated wealth.
It was getting quite hot as the sun was now out and the thunderstorms that really hit the city hard earlier this morning and midday were more like a thing of the past.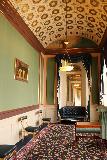 Thus, I tended to chill out by the open windows which actually had some degree of airflow as I was waiting for both Julie and Tahia to be done with their self-guided tour.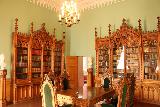 So at 3:35pm, we were finally done with our visit.
Next, we then walked back towards the Dome to see what the inside was like. Admission was free, but apparently, it was possible to climb up to the top of the dome for views at precisely 1pm.
Well, that didn't happen on this visit.
Next, with all the waterproof gear that Julie and Tahia had worn as well as the rain poncho and umbrellas that we were carrying, we decided to head back to the apartment since we were within walking distance from there.
We figured that would at least relieve us from some of the weight as well as the change in the weather.
We ultimately got back to the apartment at around 4:05pm, but it wouldn't be until around 4:35pm when we got to the next bus stop that would take us back towards Christiansborg towards Ved Stranden, where we were going to catch one of the original Copenhagen Canal Tours.
The long gap in times was due to Julie not finding the black phone, which she apparently dropped in the car when Julie tried to change shoes in there.
Anyways, we only realized the inclusion of the Canal Tour during our Amalienborg visit that our Copenhagen Card also included such a tour. And so we had to make sure that we got to do that.
By about 4:50pm, we finally got around to boarding one of the Grand Canal Tour boats, and in order to cover our bases, I sat on one side of the boat while Julie and Tahia sat on the opposite side.
While the cruise was relaxing as it took off and serenaded with a lady giving a talk in multiple languages (English, Spanish, and Danish on our tour), it was a bit awkward to take pictures.
Still, after getting into the swing of things, especially ducking under all the low bridges, we ultimately got our fix as we passed by the familiar opera houses en route, passed between old buildings and popular hang-out spots that we had checked out last night, and even went all the way out past some incinerators fronted by warships as well as the Little Mermaid.
It turned out that the Little Mermaid statue was facing towards the land and was kind of not the greatest angle to see it from the boat.
The lighting was also good in the late afternoon to see it on land. So maybe we might give it a go when we'd get back on land.
Our boat tour ultimately ended at around 6pm.
Next, we tried to walk to a bus 26 stop that would have taken us to the Little Mermaid, but it took a very long time for a bus 26 to even show up. Upon looking at the schedule, it was now once every 20 minutes for the bus to show up as the ever 10-minute interval was between 15-18.
Thus, we ultimately decided to abort our attempts at seeing the Little Mermaid from land, and maybe try to see it first thing in the morning tomorrow when we'd attempt to drive over there on the way out of Copenhagen.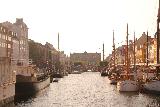 Thus, we took the 66 bus back to Nyhavn, were we then walked the familiar happening new harbor back to a couple of different waffle cone ice cream joints.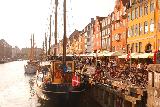 We indulged Tahia for a couple of gelato scoops and a waffle stick at a different joint than the one we did yesterday. However, I went back there to get my fix of cookies and cream in a waffle cone.
So we spent some time getting sticky and indulging our sweet tooth before returning to the grocery stores by our apartment.
By about 7:10pm, we were back at Irma's to buy the necessary produce for our own self-cooked dinner, and by about 7:35pm, we were done with the grocery run and back upstairs in our room.
We were thinking of going back out into town later tonight so Julie could try another gluten-free crepe place in town, but after realizing that she was breaking out in more rashes from all the cheating from today, she decided better to not to do it on this night.
And so we ultimately settled down for the night as we packed and just relaxed given the really long day of royal touring.
I still wasn't sure about whether we really took full advantage of our Copenhagen Card because of how expensive it was, but I had to believe that with 5 or 6 things covered by the card, we must have made it pay for itself, right?
Anyways, we did contemplate doing another Copenhagen activity tomorrow morning before leaving for Nynashamn, but the aquarium that we had targeted wouldn't open until 10am and that wouldn't sit well with a 9-hour drive that included two waterfalls.
So that pretty much nixed that idea.
And with that, we ended this eventful day though we really wished we had a third night in Copenhagen. But alas, things worked out the way they did, and now we had to look forward to the final phase of our trip as we'd return to Sweden to end off this epic Scandinavian adventure…
Visitor Comments:
No users have replied to the content on this page