Day 11: ADVENTURE ON ONE-WAY STREETS
Well, the flights on Malev Air from Thessaloniki, Greece to Zagreb, Croatia via Budapest, Hungary went pretty uneventfully. Even when Julie and I dozed off on the longer 90 minute flight to Budapest from Thessaloniki, the stewardess left behind a couple of cups of orange juice plus a package of nuts and another of some chocolate covered wafers. I thought it was very nice of them to do that.
I guess it's experiences like this that you remember and make you want to be a return customer though I wonder when would be the next time we'd fly Malev Air.
On the Budapest to Zagreb leg, the 50 minute flight was on a real tiny propeller jet plane. It seemed rather small for an international flight, but I guess Croatia wasn't quite high enough in traffic volume between the two cities in order to justify using larger planes.
At 7:15pm, we finally arrived and picked up the rental car from Hertz. The passport control and baggage claim went about as fast as we had ever had to deal with. I'd say it was less than 5 minutes before we were ready to show up to the Hertz kiosk.
Anyways, the lady at the kiosk was giving us quite a bit of straight talk about travel, politics, cost of living, and especially the deal with the Euro (and Croatia's attempts to join the EU). In her mind, cost of living has already gone way up in the last few years (she thinks politicians and banks are stealing in much the same way that our banks and political puppets are raping taxpayer resources). But integration into the EU would make the cost of living even higher as it already had for countries like France and Greece. So she wasn't a fan at all of the idea.
That was just one of the many things she talked to us about in a very matter-of-fact way. Julie and I were quite amused with the dark humor and fatalist views. But she was a very nice person and offered us good advice about foreign exchange ("don't exchange all of it at once," she said. "Just do it as you need it.") and told us about the weather, the Croatia tourism situation (it's their turn now to be the popular destination as Italy and Spain once were), and all the rates for car hire insurance options (in which she patiently let us discuss amongst ourselves before spending the money).
So it wasn't much longer before we left the Zagreb airport and drove into the city center of Zagreb.
The first thing we noticed was that the car we were driving was a Ford. It seemed a bit bigger than the cars we were used to in Greece. But once we got on the road, it turned out that the streets themselves seemed wider and more spaced out than in Greece.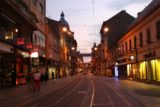 Once we got into the city center, we tried to follow the GPS
directions, but then it started to tell us to go in opposite directions of the one-way streets and even through pedestrian streets where vehicles are prohibited.
It was also bit strange to share the road with trolleys with tracks coinciding with the car traffic. It reminded me of the driving conditions in Melbourne, Australia, except Zagreb didn't necessarily make the trolley tracks exclusively in the middle of the road usually not totally coinciding with the flow of traffic like it is here.
It turned out that we spent over an hour looking for the destination (on our GPS
) while navigating the maze of one-way streets and pedestrian streets.
At 8:30pm, we finally parked at some signposted car park, which was a structured parking lot requiring the use of self-help tickets dispensers. We ended up walking at least 4 or so blocks to finally reach our rather hidden accommodation.
Once we were done with all the check-in formalities, the nice guy at the reception desk informed us that there was a closer car park that was property of the hotel. So he gave us the keys to the gate and wrote on our paper city map where we needed to go.
So once we were all checked in, we took the gate keys and proceeded to walk back to the car.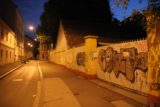 Finally, once we recovered the car, we drove back into town and followed the directions as the receptionist clearly stated. Eventually, we made it to the obscure gate (with graffiti all over it) next to some school.
We had no trouble opening up the left door with the key. However, swinging open the second door didn't prove as obvious or as easy until some passerby saw that we were struggling and took a little time to try to help us out. Eventually, he figured out the slide mechanism that locked the gate on the right side. And once that was done, we parked in one of the limited spots within the enclosed walls of the car park.
Finally, we felt that this bit of mis-adventure was over and now we could finally enjoy the town. It always seems like adventure finds us, and in this particular instance, it resulted in a couple hours of figuring out the one-way streets of Zagreb plus figuring out the unexpected puzzles like that gate.
But this is what independent travel is all about. Sure it's full of the unpredictable, but it's also the most rewarding. For in most places around the world, you get tested in that you have to adapt to the way things work wherever you go (not the other way around). And all these things make you grow and ultimately more flexible, which can be applied back at home (it was always a pet peeve of mine that folks back at home expect conditions similar to home when they travel and refuse to adapt to the circumstances).
After 9:15pm, we went from parking the car to walking in town. Eventually, we'd find this place called Vinodol, which was something our receptionist recommended.
By 9:35pm, we ate at Vinodol. It was Sunday night and we were told most restaurants don't even open on Sunday. So while we were a bit tired and hungry, we mind as well just go for this place, even if the decor looked rather on the high end.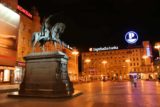 Our suspicions were correct in that this was a fairly high end restaurant. But the truffle sauce beef dish that I got was really good.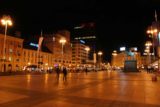 After the dinner, we explored the city center for a bit. First, we noticed a large square area with another statue of a guy on horseback (very Alexander the Great like). Then, we walked further north for another block seeing the tall and impressive church of St Stephen's (LP
says it's now called the Cathedral of the Assumption of the Blessed Virgin Mary).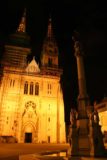 It was a little tricky taking photos in the dark without a tripod (I didn't bring it on this trip so we could pack light), but I guess that was a tradeoff that had to be made since we knew traveling light would benefit us later on in this trip.
So it wasn't until 11:05pm when we concluded our late night walking tour and made it back to the Pansion Jagerhorn. Now it was time to finally get cleaned up and ready to go to bed.
Visitor Comments:
Got something you'd like to share or say to keep the conversation going? Feel free to leave a comment below...
No users have replied to the content on this page