Day 12: SICK
It was 8:30am when both Julie and I got up out of bed. But we could hear from the loud thuds coming one after another that it was still raining pretty hard. So we didn't really feel like we were in any hurry to get up out of bed and do any additional sightseeing in Zagreb nor get to Plitvice Lakes earlier in the day to do some sightseeing considering the real crappy weather.
But perhaps what was more on my mind was having to walk a few blocks in the soggy weather lugging our luggage around risking water damage to any of our electronics. I was practically plotting mentally how to drive illegally on the Ilice Street towards the front archway to our pension/accommodation, load up the car, and then go the way we're supposed to go to get out of town.
Anyways, I resigned myself to the fact that we probably wouldn't be doing any additional sightseeing of Zagreb today nor on the rest of this trip. We were quite glad that we seized the moment and did our touring of the city late last night even at the expense of getting a decent night's sleep.
Sure we could've toured more of the city, but I thought we got a decent flavor anyways, and that now it was time to get onto the main courses of this leg of the trip.
In any case, we had a basic breakfast, engaged in more chatting with the friendly receptionist (which Julie said looked like Waldo with his dark hair, thick glasses, scarf around his neck, and striped shirt), did a little internet surfing since it was complimentary, and then checked out.
Among the conversation topics with Waldo (we'll just refer to him as that even though I'm sure it's not his real name) were truffles (I guess they're also grown in far west Croatia in addition to Italy) and the weather forecast. According to Waldo, today's weather was real bad. Tomorrw was said to be not as bad (30% chance) and then the day after was said to be 40% before it gets bad towards the evening.
It wasn't exactly the news we wanted to hear, but then again, we had no choice but to just roll with it. So I asked Waldo if this was typical weather, and he laughed and said, "No way." It's supposed to be sunny and in the 30C range, which we confirmed by looking at the historical weather data for this Memorial Day after our conversation.
We're not sure if this late season drenching was due to climate change or some strange effect from the ash cloud spewed out by the Eyafjallajokull volcano in Iceland.
The rain had let up somewhat from the downpour of this morning when we were ready to lug the luggage a few blocks to our car. And by 11:10am, we finally left the car park, locked the gate, put the key in the dropbox, and left the umbrella in the secured car park area. So we were good to go even though the traffic in Zagreb seemed infinitely more hectic than it was yesterday (but perhaps that was because yesterday was Sunday).
So the drive out of town was fairly straightforward. Before long, we made it out to the expressway, where we picked up a ticket from a toll collection gate and then exited the expressway to pay the actual amount (ala New York).
Not long after the toll collection station, we saw a place where a lot of locals were shopping for groceries and other stuff called Supernova. So at 12:20pm, we parked the car and went in there ourselves to pick up some fruits, junk food, and cheap bottled water.
It was 1pm when we finally left, and the rain was really coming down.
The drive went on fairly uneventfully until we reached a point where the traffic just stopped completely at around 1:30pm. This lasted for about 10 minutes before we were finally moving again. We suspected there might have been an accident considering the heavy rains and slippery conditions.
I was getting a bit sleepy from the rather long but somewhat monotonous drive. But eventually at 2:35pm, we arrived at the Bellevue Hotel turnoff.
Just as we were about to get onto the complex, some guy beckoned me to stop the car. And when I did, I rolled the window down, and the guy said we were supposed to park the car outside on another lot as this one was for hotel guests only. Of course we were staying here and let that be known, and only then did he let us pass. Strange he assumed we weren't staying here instead of asking.
Anyways, we saw him do the same thing to someone else a few minutes later so I guess his job was to be the enforcer or deterrent for anyone trying to use the hotel parking as general parking for the park.
After getting a little settled at the hotel, we headed back out at 3:30pm. 15 minutes later, we drove briefly over to the Hotel Jezero's souvenir shop to pick up an umbrella (something we were kicking ourselves for not buying at the supermarket/department store earlier today).
Once we got that in hand, we returned to our hotel where we then parked back at our lot, walked across the street to pick up a map as well as pay for tickets, and then walked over to the main part of the park.
It turned out that the receptionist at our hotel in Plitvice said we didn't have to do what we just did. I didn't quite follow him on that point as we weren't sure if admission was part of the room rates or not. In any case, what was done was done. Even if we overpaid, I guess it ought to go to a worthwhile cause in protecting this park.
Not long thereafter, we walked our way down to bus stop #2. There, we caught one of the frequent shuttles over to bus stop #1, which seemed like a fairly significant drive (maybe at least 10 minutes or so), which meant there was no way we were going to walk that in any reasonable amount of time.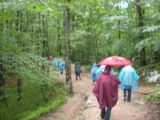 Once we got off the bus, we proceeded to walk along a well-developed path along the upper rim of the gorge looking down at some of the Lower Lakes with a few waterfalls positioned in between these lakes.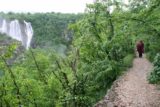 Soon enough, we got near a switchback that turned back on itself as it descended before the Great Waterfall. We were already getting impressed with the sheer size and volume of this waterfall. I recalled the first time we saw a part of it along the trail, Julie exclaimed, "Whoa!"
Then a minute later, we found more openings in the foliage affording us views of the Veliki Slap (Great Waterfall). That got Julie to say "Whoa!" again!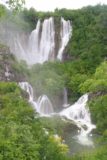 Finally, when we got to the switchback, we saw the main waterfall plus a few others below it. It was at this point that Julie and I said aloud that this waterfall was sick!
It didn't matter that the rain was still coming down fairly hard. The light was still even and the only worry that I had was damaging the camera from the rain.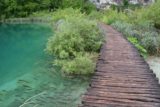 Anyways, the path eventually descended down a couple more switchbacks before it was right at lake level. A boardwalk curved its way across a break in the lake to get to the other side. And during this stretch of the walk, we noticed some fish in the lake.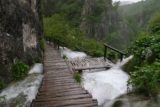 Shortly after that, we took a right turn at an intersection and proceeded to get right up to the base of the Veliki Slap. It wasn't easy taking photos or videos from this spot due to the crazy mist that was being sprayed on us. We couldn't tell if it was rain or the waterfall itself causing the water droplets to rain down from above!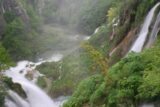 Given the amount of rainfall there had been up till now, a few parts of the boardwalks seemed to have a little water flowing over them. Still, it wasn't bad enough to become anywhere near dangerous, though we did wonder whether we were walking where we should be had it not been for these boardwalks.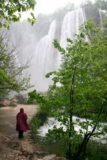 After struggling with taking photos and movies at the base of the large waterfall, we then climbed up some more stairs to get right up to a top down view of the falls. The stairs were pretty relentless though the tunnel the trail passed through was kind of neat.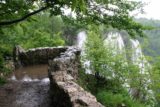 The overlook at the top of the falls was flooded due to the heavy rains. But that didn't stop us since we were wearing gore-tex boots. But even up here where there's a tree canopy, the relentless rain still made photography difficult.
Once we had our fill of the Big Waterfall, we headed back down towards the main boardwalk where we'd continue walking and get up close and personal with some of the smaller waterfalls that we had noticed from the top.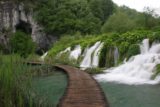 We ended up walking further along the Kaluderovac Jezera right up to the Velike Kaskade. Here, the boardwalk curved right in front of the very wide and attractive waterfall. The path then met an intersection where one path went left up some stairs towards a cave known as Supljara.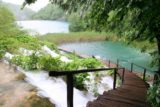 The other path went up wooden stairs alongside the Velike Kaskade's lower tier. Unfortunately, those steps were all wooden and blended in with each other so it was quite easy to miss a step and maybe take a spill right into the waterfall (especially since many parts don't have railings). Definitely something to keep your eyes on the ground and concentrate.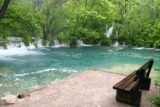 We went about as far as the Jezero Milanovac. But this lake seemed long at first glance and we decided it was time to turn back. So on the way back, I made a brief detour up to the Supljara Cave where I got some decent photographic views of the Velike Kaskade from the mouth of the cave.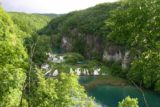 In any case, we were conscientious of the fact that the last shuttle bus back to Stop #2 was at 7:30pm. And when it got a little past 6pm, we were making a little haste to take what photos that we could while not being left behind by the last shuttle.
And just as we were making the climb back up to the top of the gorge, it looked like the rain stopped and even the sun started to come out!
If this keeps up, this might mean we would be in for some decent weather come tomorrow, which would be good news since we intended to see the Upper Lakes where hopefully the colors of the lakes come out more.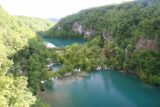 And now that the tour groups seemed to be either gone or well-dispersed by now, we even had some time to notice some awesome top-down views at the waterfalls we had just visited as well as a hint of some of the color in the lakes feeding them.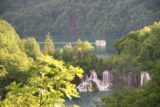 As we got closer to the shuttle stop, Julie and I noticed a waterfall down in the gorge that we hadn't quite noticed before. And it was only then that we realized that perhaps we didn't go far enough along Milanovac to get close to this waterfall. So I guess that meant we had to come back here tomorrow, time permitting.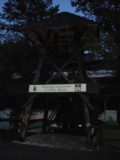 Eventually at roughly 7pm, we caught the next to last shuttle just in the nick of time. And after returning to Stop #2, we all exited the bus and were about to get settled down and cleaned up again. But this wasn't before we made eye contact with one of the Croatian workers who Julie and I both swore reminded us of Kristen Stewart of Twilight
.
At 7:15pm, we were back at our room where we left behind most of the superfluous stuff. Then we got into our car and went for a quick drive out to the Licka Kuca Restaurant. That was when we had ourselves a surprisingly delicious meal (since when did National Parks serve decent food?) consisting of some locally made sausage as well as a local veal main.
It was probably our first main course of the day since we ended up skipping lunch. Nonetheless, we endured this hectic day and hectic weather, and now that our appetite for more waterfalls had been piqued, we couldn't wait to see what tomorrow brings (if the weather holds up).
Visitor Comments:
Got something you'd like to share or say to keep the conversation going? Feel free to leave a comment below...
No users have replied to the content on this page