Day 14: THE ZOO
At 8am we awoke to a cloudy day. At least it wasn't raining hard as we had expected, but we somehow felt that the rain was not far away.
Late last night, we managed to cancel our third night's accommodation in Plitvice and book at the very last minute with the Hotel Skradinski Buk in Krka National Park. Prior to the trip, I had thought we could use Split as a base for Krka National Park or see it in a short half-day trip en route from Plitvice to Split.
But as we spent more time in Croatia and did more reading about Split as well as experiencing Plitvice's waterfalls, I think the reality of what was doable within reason sunk in. Thus, the last minute switch-a-roo with the accommodations was called for.
Anyways, given all that had developed last night, we had to get packed and ready to go. And we managed to do all that was necessary plus have a quick breakfast in time for a 9:05am check out and departure. The only downer was that I once again somehow lost my combo lock for my luggage. Julie made me feel bad about it since it was probably the third or fourth time I had lost such a lock.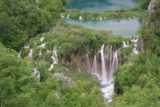 At 9:25am, we had arrived at a place near the overlook looking down at the Sastavci, which we had called the money shot. For it was this overlook that seemed to yield the post card views and we had even seen a copyrighted photo that seemed to be used over and over again in the internet.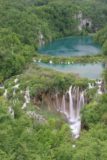 We had noticed that there were cars up here yesterday during our rather long walk so we were determined to come here by car before we left Plitvice for our next night's accommodation. But getting up here wasn't obvious because we head to drive north outside of the park, then turn left and double back up some narrow roads towards Poljanak??? before finally arriving at the familiar car park near the bridge over the river responsible for the Veliki Slap.
Immediately, we got out our cameras and hustled over to the overlook where there was a family of three already there. And straight away, we were taking photos under the cloudy and lightly sprinkling skies. I had lost count of how many photos we were taking up here, but that's real easy to do when you're experimenting with all sorts of exposures, compositions, and even polarizations.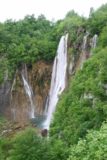 As we were about to call it quits, the father from the family of three told us that there were additional viewpoints – one of the Veliki Slap and another of a frontal view of the Sastavci. We thanked him for the advice (especially since we would've missed those) and then headed straight for those viewpoints.
Sure enough, we managed to get right onto a precarious rock outcrop with a nice view towards the Veliki Slap. And under the even light, we were experimenting once again with various exposures, compositions, and polarizations.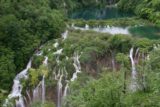 Once that was done, we tried to find the other overlook, which wasn't quite as easy. This one required going through some overgrowth and we ended up with a view that wasn't as open as we had hoped. Then again, maybe we didn't go far enough, but we weren't really in the mood for too much scrambling just for another shot when the money shot was still back at the sanctioned overlook.
It was a good thing we took the photos that we did and that this location wasn't very well-known. That was because we could see in the distance the boardwalks were already crowded with armies of tours and large groups. We sure weren't missing that aspect of enjoying Plitvice.
At 10am, we were finally back at the car. And about 15 minutes later, we headed right back to the Hotel Bellevue for one last bathroom break. Finally, at 10:30am we left Plitvice for good.
The drive south was mostly uneventful except for the fact that the roads were only 2 lanes in opposite directions so we always found ourselves behind a slow campervan or big truck belching out diesel in our direction. And given the curvy roads, it wasn't easy to pass them. Though we did notice one town that had a little speed trap with a cop with an old fashioned radar gun pointed back at passing vehicles.
Once we finally made it onto the expressway, the speed limits went up from 80 or 90km/h to 130km/h. And that stretch of highway went pretty smoothly.
At around 11:30am, we were going through a long 5km or so tunnel called Sveti Rok. The length of this tunnel really reminded me of Norway. But when we finally saw daylight at the other end of the tunnel, there were two more smaller ones we had to get through.
Throughout the drive, the clouds were threateningly dark, but they never really dumped their load on us. Perhaps we were getting so far south that we weren't in the midst of the storms that we felt firsthand the day we got to Plitvice two days ago. However, this still didn't alleviate the worries we had about going to Switzerland with these unusual late Spring/Summer storms still persisting throughout most of Europe.
At least during the drive, we were checking out some Croatian radio stations (as we had been throughout the drive even from Zagreb to Plitvice), and came to realize that there were lots of American music.
Finally at 12:20pm, we arrived at the Hotel Skradinski Buk. The clouds were still above us, but it looked like the sun was doing its best to break through the clouds and make the scene bright.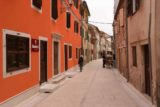 After we were done checking in and settling in our room (this place required lugging our stuff up four steep flights of steps), we headed right into town, which immediately disarmed us with its unexpected charm. Already, we were glad we made the last minute change to switch from a third night in Plitvice to one night in Skradin.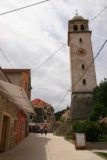 I was beginning to see a pattern here with Croatian towns emphasizing pedestrian-only alleyways and streets. And this town certainly had that. However, this town was a bit quieter and more compact until we got right out onto the harbor front.
The harbor was actually of a large lake and not of the Adriatic Sea. However, it certainly felt like we were bordering some large body of water. There were lots of boats docked as well as cafes and boutique shops facing the water.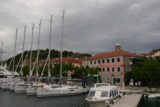 After Julie and I figured out where the tourist info center was, we went there to buy tickets as well as get a map of Krka National Park. Then, we had a 1:25pm lunch within one of the charming small streets right underneath some tall church tower.
We decided to have a meal at this pizzeria, which touted pizzas baked in a stone-fired oven. Well, the pizza wasn't Grimaldi's, but the crust definitely had that texture and taste that it was traditionally oven fired. Julie had some seafood pasta, which was also tasty. Clearly, there was some Italian influence in these parts just like some parts of Greece (Nafplio comes to mind).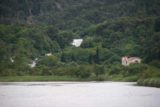 At 2pm, we were done with lunch and immediately headed over to the boat area where we were just in time to catch the 2pm departure boat.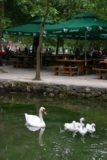 By 2:40pm, we were off the boat and started walking. But after a few minutes of walking, we could hear some noise getting louder and louder as we got into some general quad area with food stands, a pond with some geese, and a large lawn area with a whole bunch of kids running amok. Clearly, this was the source of the noise, and we already had this forboding feeling that there wasn't going to be any peace at Krka National Park. And like Julie said, this place was like a zoo.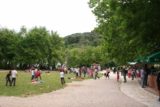 A lot of the stalls and buildings in this quad area also gave me the sense that Krka was definitely more like Disneyland (i.e. more commercialized) than what Plitvice Lakes were like.
Anyways, straight away, I headed over to a long footbridge where I was immediately wow'ed by the wide waterfall before me. Julie knew that I was going to take quite a bit of time taking photos here so she went to one of the food stalls to get herself a chocolate crepe (which she noticed other people eating, which was why she wanted one).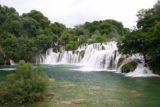 The waterfall wasn't the easiest to photograph given its length. Plus, there was always some shaking going on the bridge since there was always a large train of foot traffic going by (especially from the unruly kiddie groups). It wasn't unusual to have some random kid assume I was Japanese (as if they think all Asians must be Japanese) and shout out, "Konichiwa!" In any case, after maybe a half-hour, we finally proceeded to the other side of the bridge, then climb and start looking for more overlooks.
The next ones started to show a bit more of waterfalls a little further upstream from the main we we had just seen as well as a different angle of the main one itself. Except the overlook here didn't seem official as it involved people hanging onto rails on a wall with lots of foliage in the line of sight.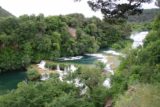 As we continued further up the stairs (following more mega tours and kiddie groups), we made it to another large area where we saw even more waterfalls further upstream from the main one. After taking what shots we could from the quieter side of the quad, we then went back to where there was once a large crowd (at least it wasn't so bad when we got there) to take a few more photos before continuing on.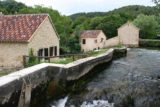 After a few more paces uphill, we then went into an area that felt like a tiny little village complete with souvenir shops, cafes, and even a museum all nestled amongst the waterfalls. We even noticed a few canals and tiny water channels that started to make me wonder whether some liberties were taken to mess with the natural flow of the falls in order to accommodate this little bit of civilization in the middle of the waterfalls.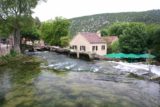 I'm sure it would've been a pretty neat place to chill out and listen and watch the moving water, but we were just content to take photos and movies. At least it seemed like the worst of the kiddie groups had moved well ahead of us so we did have this brief moment of peace.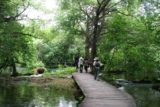 Next, we climbed up some more to the top of this little village. There, we noticed a car park with some parked tour buses. I guess this would've been a place we could've parked the car had we driven (but the boat was part of the admission price so why not take advantage of it?).
Anyways, we next veered left and onto a boardwalk that stayed just above the moving streams and waterfalls below. This part of the walk was very Plitvice-like. However, here the tree canopy kind of made the walkway a bit darker and the water a little less colorful than say Plitvice.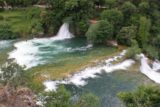 We did have to contend with some more unruly kiddie groups that caught up to us as they ran along in their long lines shouting "Konichiwa!" to us. There were a few that shouted "Guten tag," which was a bit of a change. But for the most part, this section of the walk was more about the experience and the naturesque settings than the camera clicks.
It was also during this walk did Julie mention to me that we'd been getting quite a few looks and stares from other people not just in the park but also in Skradin town. We suspect that was because we were the only Asians here (or maybe it was because we were dressed in hiking attire). We certainly weren't the only tourists here. In any case, this was nothing new to us since we had a bit more of an extreme case of standing out when we were a little off the beaten path in India and even Zambia and Uganda.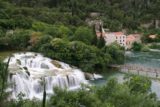 About a third of the way along the boardwalk, there were some detours that took us to some interesting overlooks from the other side of the river of the same waterfalls of the Skradinski Buk network we had seen earlier. We did our best to take what photos we could before the crowds started showing up and inundating the scene.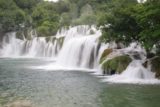 We did likewise for a few more interesting overlooks of the Skradinski Buk, and it was after the overall experience did it start to sink in that this waterfall certainly had the Plitvice-like beauty and certainly had the potential to be on our Top 10 Waterfalls List. But I felt it had a bit too much commercialism, man-made interference, the more lax protection, and the zoo-like atmosphere to really have that experience that blew us away at Plitvice.
At 5pm, we were back at the boat dock waiting for the next boat back to Skradin. But before getting there, we had one last go at taking photos from the bridge of the main falls as well as treating ourselves to one last helping of the killer chocolate crepe at one of the food stalls.
We were a bit tired from the long drive and the touring of the Skradinski Buk so our aspirations of wanting to fit in the Roski Slap (another waterfall further upstream) wasn't going to happen today. This was yet another example of why we were quite happy to have changed plans and spent the night here at Skradin.
Anyways, at 5:45pm, we were finally back in town. Julie made a snide comment about why the other boats to the monastery on an island plus the Roski Slap took so long… "because the boats went as slow as molasses."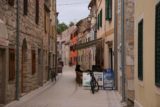 Anyways, we were back at our room at around 6:15pm. I was probably a little more tired than I gave myself any credit for as I dozed off and napped broken by a little bit of Croatian News (the TV was on) showing footage of flooding. In my consciousness, I could only attribute that as relating to the rain storms and threatening rain we had been noticing on this leg of the trip. But it was too bad I didn't understand Croatian because I sure would've liked to have known whether this weather was unusual and if so, whether it was grossly unusual due to Climate Change or the volcanic clouds still in the atmosphere from the Eyjafjallajokull volcano in Iceland.
At 8:30pm, we had a nice (albeit expensive and cash only) restaurant in town called Konoba Dalmatino. There, we actually tried real scampi (not the shrimp scampi you see back at home, which are nothing more than plays on name) which required breaking hard shells (risking cutting the hand in the process) along with tomato sauce. That was delicious, and they even offered grappa at the end of the meal on the house (again, an Italian influence we suspected).
Finally after 10pm, we were back at our room. It was sprinkling a little harder outside, but we were too tired to do anything more for today. So we looked forward to tomorrow…
Visitor Comments:
Got something you'd like to share or say to keep the conversation going? Feel free to leave a comment below...
No users have replied to the content on this page