Day 15: SPLIT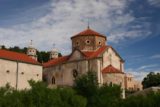 It was 7:30am when both Julie and I awoke. When I first looked out the window, I was relieved to see a little sunlight. That was a little contrary to the dire weather predictions from yesterday. However, there was still that concern that things could go south as the day continues.
Much of the morning was spent packing as well as doing some internetting in the lobby. Eventually at 9:45am, we left the Hotel Skradinski Buk and went north towards the Roski Slap, which was Krka National Park's other main waterfall.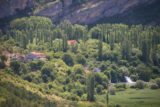 After a fruitless detour towards the Visovac Monastery (it ended up going to some docking area but no photogenic views), we continued north eventually going past a narrow bridge over the top of the Roski Slap waterfall network and ultimately arriving at some car park area patrolled by a handful of Krka National Park employees at 10:25am.
After they looked at our ticket, they told us that we had to buy another one as our ticket was only good for the day even though we had bought it late in the afternoon yesterday. So we had to fork over another 95 Kn per person, which we figured would be kind of a rip off. And that made us regret not pushing ourselves to visit the Roski Slap yesterday despite the late exit from Skradinski Buk and the gradually deteriorating weather.
In any case, what's done was done. We helped the economy by buying another ticket.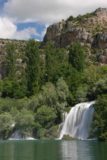 We then learned that they did have boat cruises, but none of them went in front of the Roski Slap Waterfalls. However, they did have boats that continued further upstream from the so-called Necklace Cascades leading to other smaller waterfalls even further upstream in a two-hour tour.
We weren't going to do it despite an employee's best efforts at selling us to spend more money either on the boat tour or on the poster at their kiosk (which was taken from the air by their admission).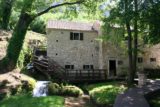 So we wandered about the lower waterfalls, which were viewable from a boat dock near another museum and cafe. We were taking what photos we could of the waterfalls down here, which were nothing like the Skradinski Buk in terms of volume and beauty.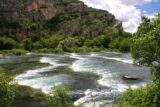 After getting our fill of this part of the falls, we then walked a loop around the so-called Necklace Cascades, which were nothing more than cascades arranged in thin sheets one after another. It wasn't anything terribly impressive, and all this reinforced the notion that perhaps this part of the park should be either free or not even patrolled at all for fee collections.
Besides, it seemed like nothing was being protected here as there were private areas used for farming in the midst of the cascade area.
Anyways, at 11:30am, we were back in the car.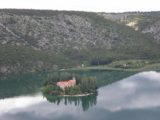 Half an hour later, we arrived at some pullout area with an overlook of the monastery on an island called Visovac. It turned out that the east side of the lake had the best views of the monastery. So we took a few shots from up here before finally continuing on our way to Split.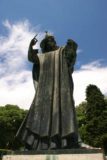 Once we got to Split, we followed some dodgy directions for some parking area near the Golden Gate (which we didn't see as we were driving) of the old Palace. Eventually, we just took a guess that a fairly sizable car park near Vukovarska and some other street was the one we should leave the car at, and then we paid the 5 Kn/hour parking rate. We ended up leaving the car near some church and walking area. We called Irina (who was the owner of the apartment we were staying at these next two nights), and ultimately met up with her as she found us waiting by our car.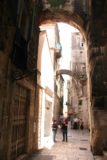 Next, Irina led us through the Golden Gate (of Diocletian's Palace) and towards our apartment for the next two nights. But we didn't enter the city before rubbing the toe of a statue (I think of Diocletian himself) for good luck. We could tell it had been rubbed many times because it was the only part of the statue that was shiny.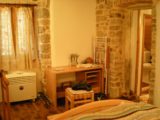 And at 1:55pm, we were finally settled. The apartment was a very charming and traditional room, and every bit of its interior seemed like we were residents within the historical core of Split. Even though there was so much going on outside within the palace walls and on the waterfront, somehow I got the sense that we could just as easily veg inside the apartment. Irina told us about the amount of work that went into renovating the place, and it definitely showed.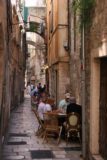 At 2:25pm, we went right around the corner and had a very late lunch at this trattoria (called Konoba Trattoria Bajamont) where Irina knew the owner very well. The dining experience was very charming as we were sitting on this alleyway and tour groups would constantly parade by our table (and others lined in the alleyway) staring at our food and ourselves. I guess it brought new meaning to the saying, "It's like watching you eat."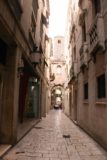 At 3:40pm, we were done eating and tried to walk off the food by walking around and exploring both the palace areas as well as the waterfront. Basically, we were going where the action was.
It turned out that the Palace area within the city walls and gates were quite cozy and small. It didn't take very long before we walked from one gate (which were more like archways) to the other. The ground was mostly this smooth almost tiled surface and they were always flanked by fairly tall buildings.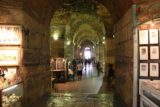 We had spent quite a bit of time just getting tranced and mesmerized by the sheer cuteness and charm of the Old Town. Of course, with these tight quarters, it was also rather crowded as tour after tour would flood this place.
Eventually after walking through the so-called vestibul (basically an underground "basement" area with shops and entrances to a couple of dungeon-like areas), we explored the waterfront which was lined with cafes full of people watchers (and smokers of course) as well as boats and a nice wide promenade.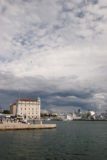 It seemed like the weather remained cooperative for the remainder of this afternoon despite the threatening clouds surrounding us both up and down the coast. It was almost as if Split was the magic spot on this day. And the sun's rays seemed to have this ability to bounce off the narrow walls within the palace and give this strange glow.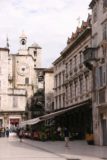 Even though we had only meandered for a couple of hours, both Julie and I felt a little fatigued. So we decided to leave the palace area and go for Mexican food since we were getting a little tired of Croatian food. And it turned out that the food was tasty, but since we were only two hours removed from the late lunch, eating this full meal really made me feel like my stomach was about to explode.
At 6:25pm, we were finished eating the food, and headed straight back for the apartment. At that point, we opted to stay in, miss the sunset, and just nap the arvo away. There were lots of sounds outside making it seem like there was still lots of action outside, but our tired bodies kept us from being part of it for the time being.
I certainly hope the weather holds up tomorrow so we could give it another go at this time, and maybe even catch the sunset…
Visitor Comments:
Got something you'd like to share or say to keep the conversation going? Feel free to leave a comment below...
No users have replied to the content on this page