Day 16: 101 DALMATIANS
At 8am I got up. There was some thumping noises upstairs so I guess it was time to wake up for I certainly wasn't going to remain asleep with the raucous up there. It kind of reminded me of the old dorm days in college or some of the crappier apartments I've stayed in when I started living on my own.
But what really kept me from sleeping peacefully was a constantly high-pitched buzz from a mosquito that managed to get some blood from both Julie and I.
At 9am, Julie finally got up. I was kind of hoping to see the fortress area of Split before the tour buses have arrived, but I think that was all a pipe dream when Julie woke up late.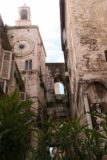 It wasn't until 9:55am when we finally walked into the suddenly busy and crowded town. We decided to eat at some cafe just outside the Iron Gate (west gate) for a quick breakfast while doing some people watching like the Europeans like to do.
It was a little fun to see people from all over the world taking photos of the charming tight quarters that we've now become familiar with. Plus, we could see who weren't the tourists as they were typically fashionably dressed and walking like they're more on a mission that they have somewhere to go.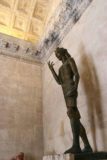 At 10:20am, we were done eating and decided to do a little more exploring of the town that we didn't see yesterday.
First up was this place called the Jupiter Temple. There was a tour group that beat us to it so we trailed behind the suddenly crowded room. There was nothing more than a little money pit in the middle of the dark room plus some statue with a few fingers being held up in the back.
At 20kn per person, this place was pretty much a rip off.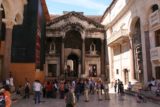 So we didn't spend a whole lot of time there.
Next up, we walked some more back towards the Peristil part of the palace, which was flooded with lots of human traffic (mostly tour groups as usual). And something that caught our attention was that the doors to the upper reaches of the Bell Tower were open now. I guess since Irina informed us that yesterday was a National Holiday, many places (including the Bell Tower entrance) appeared to be either closed or escaped our attention.
After paying the 25kn per person to go up, we headed right up the narrow, dark, and steep steps. The stairs were so steep that you could conceivably climb up on all fours.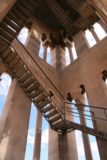 Anyways, after the first few flights of steep steps, it reached a little outside area where there wasn't a whole lot to see, but at least it was light after the dark corridor we had just passed through.
Next, we had to climb up more steep steps before they started becoming metal steps. The metal section started when we had to ascend up and right next to some bells. I don't think this would be the place to be when the clock stikes the hour hand when the bells start ringing. I'm sure at this proximity to the bells, they wouldn't be the only things ringing.
After probably the 3rd or 4th flight of steps as they spiral up along the walls with arches opening to the outside, it was fairly easy to get a little vertigo. This was certainly not one place to take a tumble or for the steel steps to fail.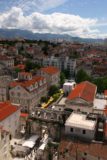 But it also somehow reminded me of the Eiffel Tower scene in the James Bond movie (and Duran Duran song) A View to a Kill
. Don't ask me why. It just does.
Eventually, we got right up to the top of the tower where there was a commanding view of the surrounding area of the city of Split. The weather was quite decent this morning so the lighting looking out towards the mountains and even to the harbor were quite colorful and lively.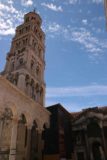 Given the high density of buildings and narrow walkways, looking out from this vantage point certainly made the city below seem like a chaotic jumble of red-tiled buildings. But since we were a little familiar with the palace area, we could at least make out the Silver Gate, Golden Gate, and the Iron Gate.
After having our fill of this "A View to a Kill
" spot, we headed back down a few minutes before the 11am bell would've sounded.
Next, Julie and I did some more strolling looking at the rather quiet northeast section of the palace part of town where there was the Split Town Museum. We didn't go in because it didn't seem open, and we weren't exactly chomping at the bit to do another overrated museum anyways.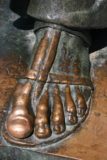 After exiting the Golden Gate (north gate), we had some fun rubbing Diocletian's toe for good luck again. Obviously we weren't the only ones doing this since everyone hears the same story about rubbing the toe for good luck. Besides, the big toe was the only part of the statue that has a shiny sheen to it. I wondered how much bacteria has accumulated on there.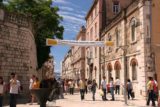 Now that we were outside of the palace, we decided to do a little exploring of the northwest region that was still part of the historic core of Split (just not in the palace). While there, we found a supermarket where we picked up some water (I was a bit tired of overpaying 25Kn for 750mL of water at restaurants when we could buy 1.5L for 5Kn) as well as a few fruits and a cereal.
Once outside the supermarket, we did a little more meandering back down in the direction of the waterfront. But that was when Irina spotted us and said "Hi" to us. She was so eager and excited about our interest in checking out Split that she wasn't shy about letting us know that the part we were in was still part of historical Split while exchanging in more dialog with us about our impressions so far of the town.
Anyways, we arranged to meet up with her at 1:30pm today to take care of some business-related issues (like payment for the apartment) and other things.
And with that, we continued on just meandering around more of Split before eventually having a pizza at some popular local dive. The pizza wasn't the Italian types that Julie was craving for mainly because they used Dalmatian cheese. I guess expecting Grimaldi's in Croatia where they do cheese their own way and not Mozzarella the Italian way was a bit unrealistic.
After the filling lunch, we returned back to the apartment where our laundered clothes were almost dry. So while we were waiting for Irina, we spent the time folding clothes and putting them in our luggage.
Eventually, Irina showed up and we told her about a problem with water that was poured from the ceiling (probably from the person above) that spilled right into our room. We were concerned that something was amiss and that it might ruin her charming apartment.
Anyways, she seemed a bit concerned about this and did some more investigating upstairs. Anyways, we'd meet her again at her store later today to finalize payments.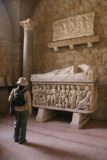 At 2:30pm, we walked back into town.
Going on LP
's advice, we decided to walk a few blocks outside of the historical core of Split towards the archaeological museum. The authors of the book thought it was worth it. But after paying our 20Kn/person and feeling a bit underwhelmed (especially after seeing the Greek museums), we begged to differ.
So we walked back towards the historical core again where we meandered aimlessly towards the waterfront and eventually back towards the Vestibul part of the Palace at the south entrance (i.e. the "Bronze Gate").
While down there, we visited the basement of the Diocletian's Palace, which had a bit of a mysterious and spooky subterranean feel to it. It was hard to believe that this area was once a sewer or waste repository. For the walls and passageways down here seemed intricate enough to feel more like a dungeon. There was even a device down here to make olive oil that was somewhat preserved (not a likely place to have this, if you ask me, since this place also used to store waste?).
As Julie and I explored as much as we could, we certainly got our 25Kn/person worth as this atmospheric dungeon was a little fun to photograph and explore.
However, Julie was a little hasty to leave as she felt a little bit spooked thinking something might just appear or pop out of the next corner (ala horror movies).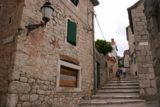 When we were done seeing the basement, we did some more meandering about Split at 4:40pm where the skies continued to look threatening and even starting to cover the sun. I guess we could forget about a sunset on this day.
But at least the city felt relatively quiet as it seemed the town was mostly on siesta as were most of the mega tours overwhelming the city. So that allowed Julie and I to just absorb the scene and let the Mediterranean pace of life dictate our pace.
At 6:15pm, we were pretty much done wandering around and decided to go cheap and local for dinner. First up was this place that made this thing called a cevapi. It was pretty much like a Croatian fast food composed of sausages, onions, and some bland red sauce wrapped in some kind of bun. I guess this was a uniquely Croatian thing (actually in hindsight, it was Turkish in origin) so we were glad to try it.
We were going to do this other place down the street called Hravanin, but they didn't seem open for business tonight. Maybe it was good that that happened since I did feel like saving some money today.
At 6:45pm, we were back at the apartment. There, we heated up some leftovers from yesterday's restauranting. We heated up some Mexican leftovers as well as the gnocchi in truffle shavings from the trattoria downstairs. That was filling as well as simple, cheap, and allowed us to make ourselves feel more at home in the charming apartment.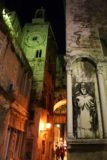 At 9pm, Julie had to tend to some work-related issues back home so while she was taking care of stuff via long distance Skype calls, I headed back out on the town. This time, I was game to check out the personality of Split in the evening, which was something we took for granted yesterday. Then again, it was quite loud and happening last night as it was a National Holiday. It seemed like this evening, it was a bit more subdued even though it was Friday night.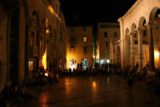 But as I was exploring the now dimly lit corridors, I checked out a performance at the main section of the palace right in front of the Luxor (I think that's what it's called), which was right across from the Bell Tower at a fairly wide squarish area surrounded by steps. There was some duo performance singing a few American songs that I recognized like that Mercedes Benz commercial and some Tina Turner classics. That seemed to have drawn quite a crowd.
And when I wasn't at the main square, I was checking out the Iron Gate, which took on a different personality in the evening (plus the ice cream stand was still open as were the cafes).
In the darker alleyways, I could smell cigarette smoke and hear the chatter from numerous younger folks at bars chatting the night away, doing more people watching, or perhaps hoping to get lucky getting someone in bed.
All the photo taking I was doing while holding my breath (since I didn't bring a tripod on this trip) easily occupied the next hour. And by about 10pm, I rejoined Julie in the apartment content to call it a night now that I finally experienced the flavor of Split in the evening.
I told Julie that she missed out and she knew it. But I guess sometimes you just can't be in two places at once.
Visitor Comments:
Got something you'd like to share or say to keep the conversation going? Feel free to leave a comment below...
No users have replied to the content on this page