Day 17: AND THEN THERE WAS DUBROVNIK…
At 7am, I woke up. It seemed like during my semi-conscious state while trying to stay asleep, I heard parties that were still going on well into the evening. I even heard more lots of shouting at around 4am.
I guess that's the drawback of staying where the action is an old school charming apartment. The walls are thin!
It brought me back to my college dorm days where you could hear thumping from the neighbors upstairs, chatter from just outside your door or window, and practically little to no chance of getting any decent night's sleep unless you're a real heavy sleeper.
I guess you gotta take the good with the bad on this one.
At 9:20am, Julie and I were all packed and ready to go, and we lugged our stuff out to our car. Already at this hour, the tour groups have arrived and the town was already starting to see some heavy traffic within the fortress walls. But the traffic also started picking up outside the fortress walls as well (and we were about to join them).
At our car, the car park seemed a lot more crowded than it was 2 days ago. Some lucky guy was patiently waiting for us to load up our stuff and leave so he could take our spot.
As we left Split, the D1 linking Split with the A1 high speed motorway was closed. That created a traffic jam and it took over a half-hour just to get on the A1, which itself was some 7 or 8km out of Split.
Then, the driving along the A1 went smoothly as expected. The forecast from earlier in the week called for nasty weather when we get to Dubrovnik, but it seemed the weather so far looked to be mostly sunny. We could even see from the temperature gauges on the roads that the mercury was rising.
But the smooth driving on the A1 came abruptly to an end some 80km from Split. At that point, it was 2-lane mountain roads. And unfortunately, that also meant we had to risk our lives doing some daring passing of tour buses who seemed to refuse to use any opportunity to pullout (although in their defense there weren't that many pullouts) lest we breathe their diesel fumes and get to our destination in double the time.
I guess the road etiquette in Croatia wasn't as good as we noticed in Greece where it seemed drivers could understand what it's like to want to pass someone slow (especially one who refuses to pull over or move over to the right to make it easier for the guy behind to pass). Then again, I'm sure the driving in etiquette in Greece wasn't the norm since more often than not, we don't get such driving behavior back at home on the mountain roads.
So for over the next 120km, the drive meandered through mountains before curling along the coastline bordering the calm Adriatic Sea. Irina (the lady who owned the apartment we stayed at in Split) was right on three fronts.
First, she said the motorway from Split to Dubrovnik wasn't complete. Second, she said there would be traffic as she had firsthand knowledge since she used to live in Dubrovnik. And third, the route was scenic.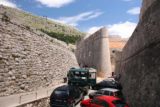 But eventually by 12:50pm, we arrived in Dubrovnik. We were lucky in finding parking right outside the fortress wall. And I must emphasize that we were lucky because I'm sure it's not easy in general finding such parking.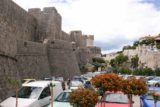 However, our luck in finding a parking space was soon trumped by the fact that we had to deal with a very archaic parking meter. Apparently, they only accepted cash and you had to pay up front at a rate of 10Kn per hour (almost $2USD/hr; ouch!). Since we were going to park for at least the next 44 hours, this was going to cost about as much as a night's accommodation.
But that wasn't the worst of it. It turned out that the machine only accepted notes in 50 Kns or less as well as coins. But we only had 200 Kn notes. Who on earth carries that much change with them if they wanted to park long term?
In any case, no one wanted to give us change. Even the lady at the souvenir shop didn't want to. The parking enforcement guy was also a bit cheeky and didn't feel like helping us in that regard other than to write tickets. So we ended up just paying for an hour (that was all we could figure out anyways at the time). And we'd have to come back in an hour just to feed the meter maid once again.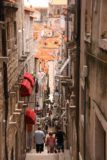 So it wasn't until about 1:30pm when we finally put the ticket in the car, then lugged our stuff up the ramp, then through the fortress gate, and then down the numerous flights of steps before finally getting to a flat surface at the Placa or Stradun (both names of the same main thoroughfare in town).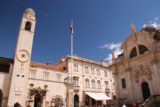 There were heaps of people on this stretch and it seemed this was the obvious thoroughfare as we could see a tall bell tower in front of us as well as another in back of us off to the side.
As we continued walking around the Placa de Luza (the square with a medieval statue, a clock tower, and a cathedral), we then headed towards the harbor area so Julie could compare her notes and photo printout of where the apartment was supposed to be. And once we recognized it, we immediately headed straight for it going up a few flights of stairs and then down a back street.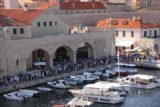 Finally at around 1:45pm, we found another set of stairs to a couple of unassuming doors. It didn't look like we were in the right place, but when Julie knocked and called out Renata, she opened the door and asked, "Julie?"
That was a relief. Because otherwise, I wasn't sure how anyone would figure out that this was the apartment we'd be staying at the next two nights. Julie certainly did her homework on this one.
Anyways, five minutes later, after lugging our stuff up another four flights of narrow stairs, we finally got to our room at the very top floor overlooking the harbor.
The apartment was very homey and quite spacious. Maybe it lacked the old school charm of the place we stayed at in Split, but this place definitely got the job done as far as I was concerned. It even had a separate computer for internetting, which was good so Julie and I didn't have to time share the little laptop.
I'm sure Renata must've thought we were nuts bringing all this luggage (which wasn't much considering we packed for three countries with differing climates and all our stuff could technically all pass as carry-on luggage and personal items on American Airlines). But it was what it was. And fortunately, we didn't pack something even more usual for international trips like the larger luggage we used in China and Japan.
After taking a quick break from all the travel from this morning, we headed back out at 2:30pm. Fortunately, I realized that Julie's ticket was good for only one hour (she had originally thought it would last longer than that) and we immediately headed back to the familiar meter maid to feed another 60Kn (6 hours worth). That still meant we had to return by 8:49pm for another damned trip to feed the meter maid.
It was times like these that I wish they had a more sensible system where you pick up a ticket and pay on your way out. But maybe they didn't want tourists parking so close to the fortress (reserving them to locals who probably need it more). There was a newer car park seemingly quite a ways outside the old town, but we didn't feel like walking the extra distance on the slope and in the heat to carry the luggage was justified (at least Julie was very strongly opinionated on that one and especially since Renata recommended the place by the fortress walls).
Who would've thunk that a parking situation would create so much tension and drama? In one exchange I thought Julie was going to argue it out with the parking enforcement guy who was still being a smart ass and not even trying to be of any help.
Only after about 2:45pm did we finally have lunch at some harborside cafe. Julie didn't like the food even though it was an LP
pick. But at least we managed to get a little more change to feed the meter later.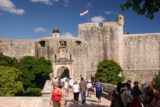 Still, parking drama aside, the charm within the city walls was definitely palpable. I thought Split was pretty charming. And then there was Dubrovnik…
At 4pm, we were done eating our late lunch. We proceeded to walk the alleyway just one short block north of the Stradun. Here, there was a market where we bought a 1/2-kilo of cherries at a pretty hefty price of some 40Kn for a half-kilo. And then we continued walking to its end eventually rejoining the main promenade right next to a fountain and entrance.
There were tickets to walk the city walls at 70Kn per person, but we didn't feel like paying that much this late in the day (we didn't know that this might entail a pretty long and hefty walk around the old city and its walls). So we went outside the main gate and checked out a gelato place. Julie managed to break another 200Kn and get even more change for the parking.
What a big pain this parking situation has become!?!
Not helping our moods were heaps of kids running amok like they were in Skradinski Buk, and it seemed like we constantly heard a random "Konichiwa" from several kids as if they thought just because we look Asian we must be Japanese.
Certainly we don't go up to any Caucasian-looking person, assume they're Italian and say, "Buongiorno!" or assume they're Greek and say, "Kalimera" as if we assumed all white people look alike.
It was annoying to get these from time to time, but at least it wasn't as bad as some of the squint-eyed mockery accompanied by "ching-chong-chang" we got in India and even once Norway (and these were perpetrated by adults and not just kids who didn't know any better). I guess you don't forget those things very easily though we did seem to sense an increased bit of racism towards Asians in Europe (though we hope this wasn't the norm).
Anyways, looking beyond the racism, we strolled some more about the main thoroughfares of Dubrovnik just soaking in the atmosphere.
At 5pm, we were back in our room. We were now chilling out some more and even enjoying the view out our window looking down at the harbor or people watching those who paid to walk the city walls.
Julie eventually took a nap.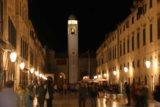 At 8pm, we were finally back out in town. The first order of business was to return to the meter and feed it once again as time was about to expire. So this time with the newfound change we got, we paid another 230Kn so at least now we're good until 7:30pm tomorrow.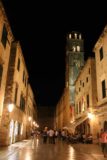 We then went to eat at some vegetarian restaurant called Nishta. And I think this was just what Julie was looking for. After all, we were a little sick of Croatian food or Mediterranean food in general, and we were looking for something different for variety. And this place certainly exceeded our lowered expectations (especially in light of our failed attempts to do the same cross-cultural dining in Greece).
When the dinner ended, night had sunk in and parts of the old town were lit up while still retaining somewhat of a lively atmosphere like in Split. Except, Dubrovnik stayed charming and wasn't as much of a party pit as Split was. I was telling Julie that it was almost as if Split was to Mykonos what Dubrovnik was to Fira or Oia. That was the best analogy that I could come up with when summing up the differences between our experiences within the two popular Croatian cities.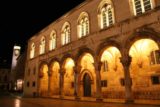 And after having our fill enjoying taking night photos (while practicing how long I could hold still and hold my breath for the photos sans tripod), we finally returned to our comfortable apartment room at 10:20pm.
The winds were picking up outside and making the windows move a bit in our apartment (I could easily envision them slamming shut and even breaking the windows). But we're keeping a watchful eye on that and might have to leave them closed.
In any case, that was it for a pretty long and eventful travel day. I could only hope we take nothing for granted tomorrow as it would be our last full day in Croatia…
Visitor Comments:
Got something you'd like to share or say to keep the conversation going? Feel free to leave a comment below...
No users have replied to the content on this page