Day 1-2 (June 13-14, 2018 – Paris, France): "Nostalgic Indulgences"
The better part of the morning was spent packing and tying up loose ends with printing out confirmations, making sure we got our passports and Global Entry cards, and the like.
I also had to make sure that my contractor difficulties were being addressed since I was having yet another issue with someone hired to help implement functionality on the website migration. That was not exactly something I wanted to be dealing with on this trip. But when it comes to the amount of money I was paying to do the things I didn't have the time to learn and do myself, it couldn't wait. Too bad my trust was undermined yet again.
We left the house at around 11:30am. This time around, we weren't going to use the auto airport shuttle that we had been dutifully using to get from work (where I could park the car under supervision for weeks at a time) to LAX.
Instead, we were giving Uber a try. It was something that a coworker told me that I should try. And after all the pros and cons were considered, it really didn't make any more sense to do the auto airport shuttle if they were charging by the person instead of the car load. Plus, you had to wait for them to circle around the terminal, which often meant waiting around 15-30 minutes (but sometimes more) when we would arrive back at LAX on the return.
Anyways, I dropped off Julie and Tahia so they can initiate Uber, and then I parked the car. Eventually, I re-joined them and sure enough, there was an Uber driver that swung by and picked us up with hardly a wait.
Given the amount of congestion at the airport, we took a bit of a not-so-obvious path to get up to Terminal 1 before making our way all the way to Tom Bradley. We were making pleasant small talk with the Uber driver, who was a really nice young lady, and we were noticing just how many Uber drivers were in and around the airport. Clearly, decent money could be made out here, and I could totally see how conventional taxi drivers would be under pressure given this system.
Eventually, we got to the airport, checked in (though there was some kind of weird bit about us being booked on student fares or something like that), and then dropped off our bags. We then had to go up to the TSA checks where we learned that apparently our Global Entry didn't have the pre-TSA screening (different to what I thought was the case) as apparently that had to be shown on our boarding passes.
I wasn't sure if we messed up by not showing our Global Entry card upon check-in so it would show on our boarding tickets or if we couldn't do anything about it given that we didn't get our Global Entry until a few weeks ago (well after we had booked this flight).
Regardless, after getting through the slow line (made more tense because Tahia had to go potty), we still had another hour to kill before it was boarding time. So we decided to go up to the KAL lounge which was something we had never done in the past. It was something we kept forgetting about since we were Priority Pass card holders from one of our credit cards (Sapphire Reserve) going on at least two years or more now.
We got there at around 1:30pm and once inside, we saw that there was free food as well as quite a few lounge seats with small tables. It was kind of nice, but I was still under the impression that they were creating value out of nothing, and it was something I wouldn't go out of my way for.
That said, they did have showers so I guess if there was an extended stay or series of connections that required a long layover (at least up between noon and 8pm), then the priority lounge might be a good thing.
Eventually at around 2:30pm, we went downstairs with our carry-ons and waiting in line to board the Air France plane. The boarding was a bit delayed (around 30 minutes or so), and then the flight ended up being an hour delayed so we took off after 4pm instead of around 3pm. At least we didn't have to fret over a flight connection.
When we got on the plane, we saw that there was a bit of a seat assignment snafu as we were supposed to be sitting together on the aisle seats, but somehow we were separated with two of our seats being put against the bathrooms by the window side. That didn't sit well with us because we actually paid 20 euros per person to pick our seats.
Well, at least we could go to the toilets without waiting in a standing queue (waiting in our seats instead), but I knew that the seats wouldn't be reclining much so our ability to sleep would be impacted.
Anyways, I spent much of the in-flight watching Sam (some French show about an edgy middle school teacher with quite a few adult themes) as well as another show – The Game Of Thrones. But for the latter, I couldn't really get into it since I never really followed the show like a lot of people I knew had been doing in the past. Without that background knowledge, it was a little hard to follow so I stopped after watching the first episode on the plane (which started from season 7). I was kind of hoping to see some Icelandic scenery since I did know that they filmed the show over there.
Eventually by around 11am the next day, we made it to the Paris Charles de Gaulle Airport. And by 12:55pm, we boarded a Le-Bus Direct bound for Etoile, which was where the Hyatt Regency that we were staying was at for our two nights in Paris. Since we were staying free on points, we were willing to put up with the not-so-great location as we were northwest of the Champs-Elysees.
The bus ride costed us around 46 euros but we were told that taxis would have costed us 50 euros or thereabouts. In hindsight, it might have been better to have taken the taxi and shave off a few minutes since the bus had to stop at other airport terminals before dealing with the traffic to get into town.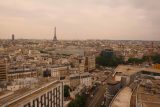 It wouldn't be until about 2pm when we finally arrived at the Hyatt Regency Etoiles. Julie did her thing in checking in, and we got into our room, which was apparently upgraded given our Hyatt status. So we wound up with a room with a direct view of the Eiffel Tower.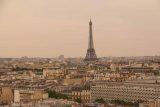 Tahia gasped with glee as soon as we walked into the room as she finally got to see the Eiffel Tower in real life! Her reaction and excitement was the very reason why we wanted Tahia to come along on our trips. The life lessons and the expansion of the possible would for sure serve her well later in life.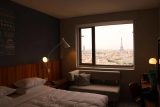 So we spent the next hour or so getting unpacked, brushing our teeth (as our oral hygiene suffered), and trying to fight the urge to want to catch up on sleep due to jetlag and not sleeping well on the plane.
It wouldn't be until about 3:30pm when we finally went downstairs and took the metro to the Tour-Eiffel. It took some time to find the nearest metro stop from our hotel, but we eventually found the Porte-Maillot stop, which allowed us to access the yellow line 1, which we then took to Trocadero for the green line 6, and took that all the way to the familiar Bir-Hakeim stop.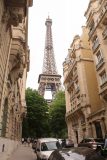 We then walked from there to get closer to the Eiffel Tower. We even passed by the familiar ramp before the Eiffel Tower fronting some hotels that I swore we had stayed in the first time we were here (though it seemed like the hotel name had changed over the years as I didn't recall any of the current hotel names we had seen at this time).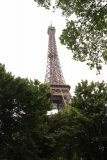 After Julie grabbed an escargot to go along the way, we then got through security to finally access the bottom of the Tour-Eiffel. It seemed like things had changed as there was now a fence surrounding the base of the Eiffel Tower, and they seemed to have re-done some of the immediate surroundings as there were now gardens and ponds.
I recalled there used to be a huge lawn area to just chill out, but maybe there was too much loitering going on there that they had to change things up given the recent terror attacks.
Anyways, we then promptly waited in line at 4:55pm to purchase tickets to get up to the top of the tower.
After lots of waiting in line, buying the tickets, then waiting in another line to get through another security check before going up the elevators to the top, we were finally up there at 5:45pm.
It was quite breezy and cold up there so it was a good thing we brought jumpers. But it was also quite crowded as expected. Nonetheless, we gleefully took pictures as all the buildings and landmarks around us looked tiny. The Seine River was perhaps the most important subject up here as we could see the famous river making its way through the city.
After having our fill at the top, we then took the elevator down to the lower section where we took more pictures as the buildings and landmarks looked closer. And then after having our fill of that, we finally made it back down to the bottom at 6:35pm.
Now, we had to make our way to the Noglu Restaurant since we had made 7:30pm reservations. But it was important that we went there for Julie because she had read about this place as being a good gluten free joint in Paris (a city where gluten-free was quite the oxymoron given things like baguettes, croissants, brioches, etc.).
Eventually after going through more metro stops, we got to the small restaurant at 7:35pm, which was right inside an attractive covered arcade with a very narrow alleyway, which was called Passage des Panoramas. As much as I wanted to explore the arcade a bit more, we had to get to the restaurant to meet our reservation and not lose our place.
As more people were showing up at Noglu, almost everyone had American accents. My conclusion from all this was that the whole thing with gut issues due to gluten must be a mostly American thing. Perhaps it was our tainted food supply. But Julie was quick to point out that it was actually a worldwide phenomenon as apparently glysophates were sprayed on wheat all over the world though it was only recently that the EU decided to ban that practice.
Anyways, we had ourselves a duck, octopus, burger (for Tahia), and a soup du jour consisting of mango with ginger in a cold soup. The food was pretty good though the duck and octopus were a little tougher than we would have expected.
After we had our fill at 8:35pm, we then were about to head out before we decided to seize the moment and check out the Bisou Creperie that we had noticed near the front of the arcade. Even though we already had dinner, we knew that we had to take advantage of dining in Paris since we didn't expect German food to be as varied nor as indulgent.
And so we got ourselves a sweet crepe of cookies and cream with some additional vanilla ice cream and nutella topping. Meanwhile, Julie got a gluten free savory galette.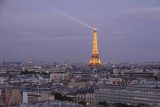 Eventually, we got out of the creperie and then headed back to our room. We got back there at around 10:10pm, which was later than we would have liked (since we were fighting sleep ever since dinner). Yet we were now treated to twilight views of the Eiffel Tower being lit up and sparking from time to time. And once again, Tahia was mesmerized.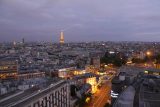 Indeed, it wouldn't be until around almost midnight that we slept. With our alarms set to 6am, it wasn't going to be a deep sleep, but at least it was an upgrade from sleeping on the plane. Of course the challenge now would be to get up so we could have both brekkie and our reserved entry time into the Louvre at 9:30am…