Day 3 (June 15, 2018 – Paris, France): "Fighting Fatigue"
It was about 5:45am when I awoke to the alarm. I wanted to sleep some more, but we had to wake up and not mess around given that we had to seize the moment on this lone full day of touring Paris on this trip. Tomorrow, we were supposed to take the TGV out to Frankfurt to begin the main goal of this trip, which was to visit the German-speaking countries of Germany and Austria.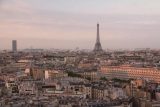 It took some time to get ready, but by 6:55am, we headed downstairs expecting to have breakfast around the lobby of the Hyatt. But when we got down there, apparently they only had a buffet petit-dejeuner, and Julie couldn't go for that given her diet restriction. In my mind, I was thinking that it was probably better that we didn't do that anyways since I viewed it as a waste of time and money.
So we continued out to the metro beneath the Palais des Congres (which was actually a mall as opposed to some Congressional Palace). On the way there, all the shops remained closed as apparently no one was open before 7:15am or earlier. Either way, we promptly got into the metro station and took the subway out to the Musee du Louvre, which still wasn't open by the time we got there at around 7:30am.
We wound up taking a different sortie (exit) up to street level, where we then wandered around until a giant archway caught our interest. It turned out that there was a huge plaza that the archway opened out to, and by the time we got around some of the giant building facades near a roundabout, that was when we realized that we were right in front of the glass pyramids at the Louvre!
Clearly, it was too early to be at the Louvre though there were still a handful of people taking pictures without as many people around. But we had some time to kill before our 9:30am admission time so we continued walking around looking for a place to have breakfast.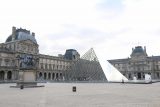 We wound up walking across the Rue de Rivoli, and Julie was following the phone in search of some place called Claus, which was apparently famous for their breakfast pastries. But when we got there at Claus, they didn't have standby spaces as the folks before us already had reservations and the upstairs dining area was closed.
It was suggested that we could walk to a different Claus location another 15 minutes away, but we ultimately decided to walk to one of the eateries we had passed by earlier closer to the Rue de Rivoli. And we eventually settled on this place called the Cafe St Honore at 8:05am.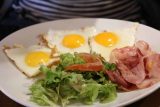 Being the first people here, we quickly had our order taken for a couple of egg and salad dishes (for Julie and Tahia). I ended up with an omelette. We also threw in a foie gras though it was more pate style (and not the smooth grilled types you'd get at the fine dining establishments).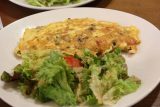 The food was decent for something quick, and it was fairly-priced considering what we had been paying to eat out so far on this trip.
By about 9:20am, we made it back to the Louvre, which didn't have a long line going into the security check underneath the glass pyramid entrance. When we went downstairs, there was the familiar courtyard where we then followed the Denon section as the first target was to see the Mona Lisa.
The Louvre was something that Julie and I didn't do when we were in Paris 6 years ago, but I was kind of interested to see what the fuss was all about this time around. Even though I wasn't much of an art history enthusiast, I was keen to see why this was considered one of the must-do excursions in Paris.
Ultimately, we walked up a few flights of stairs and then made our way to the Denon Wing, where signs for the Mona Lisa made it quite clear that we needed to target the La Jaconde room.
Indeed, when we finally got there, the Mona Lisa painting sat on the wall while fronted by a giant crowd of people taking selfies and other people pictures in front of it behind a perimeter so no one could get too close. There were also other paintings in the same room with its high walls so indeed there was no shortage of works here, but it was clear that the Mona Lisa got all the attention.
After having our fill of the Mona Lisa (whom Julie claimed that it was famous because Mona Lisa was always smiling at the viewer no matter what the viewing position as if this was by some kind of skillful trickery of the brush or by some urban legend), we then walked through the rest of the galleries on the first floor as we headed into the Sully wing before finally arriving in the Richelieu wing.
The Sully section was supposed to have Egyptian exhibits but it was closed. So we had to settle on the rest of the works in the Richelieu section as we were determined to make our way to to the Napoleon III Apartments, which was an exhibit that was beyond the Richelieu Wing. Julie was especially drawn to the crown jewels in there.
At first, we thought that when we got to the escalators overlooking some marble statues down below near the Cafe Richelieu that we were at the end, but when Julie realized after we had gone near the exit that we still hadn't seen the Napoleon III Apartments that we had to go back up and keep going into the Richelieu Wing to check out the desired section.
And when we finally got up there (after a brief futile run at the Angelina Cafe thinking that that was the tea room we wanted to check out over hot chocolate and tea; when it was nothing more than a small convenience shop partnered up with the Cafe Richelieu) that was when we got into the red carpeted halls and rooms that were very ornate and quite unlike the other exhibits of the Louvre that we had visited to this point.
It was a good call on her part that we check out this section because it was probably the highlight of our visit (probably not surprising considering that I was under the impression the Louvre was nothing more than an art gallery going into this; I had never imagined there were apartments to envision what rich people lived like back in the day).
Of course, I also saw all that gold and fine vases and crystal-like chandeliers, and thought to myself that it was also a sign of the power and wealth of the elites to whom such resources were concentrated on. It wasn't unlike what was happening now with the 1% getting all the wealth while everyone else was fighting for scraps, and you have things like the Trump Administration where an ignorant public allowed this divide to accelerate as the world watches incredulously.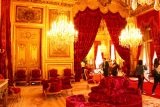 At the end of the day, are all these trinkets and decorations really worth admiring? Personally, that was probably at the heart of why I was never really into all the museums and city-related tourist attractions, but at the same time, it was also an essential part of the European experience since these also told a story of how the world came to be.
Anyways, at 11am, we were finally done with our visit of the Louvre. While we wound up spending around 90 minutes total on our tour, we only circled the first etage (floor), which was actually the second floor since they count from 0.
Heck, we only skimmed the floor we were on. We visited just a few specific rooms and works as we weren't art history buffs like say a Rick Steves would be. Yet, the Louvre actually had a -1, 0, and 2nd floor, which just illustrated how big this museum was!
At this point, we were then headed towards a familiar haunt called Le Souffle, which was actually just north of the Tuilerie Gardens. So we walked that way, and eventually we made it there around 11:45am.
We thought that we were too early since their stated opening hours was 12-2, but we saw one Chinese couple get seated as the door was already open, and so we did likewise. Julie had made reservations at 12pm and at first it didn't seem like it was necessary. Then again, we couldn't forget that the whole notion of RSVP started from the French as that acronym stood for "reservez, s'il vous plait" which also translated to "please, reserve".
We took some time to unwind from all the touring and walking this morning, and we eventually ordered a Degustation Menu, which didn't have any souffles since the only one that wasn't gluten free was the raspberry dessert one, but she wound up getting sea bass and escargots as her other courses. We also got a magret of duck a la carte for Tahia.
Meanwhile, I got all souffles for my meal, with some kind of starter souffle of spinach and salmon, then a savory one of chicken and gravy or something like that, and then the dessert souffle of chocolate with chocolate sauce.
It turned out that Tahia wasn't into her meal since we were quite stuffed on baguette as we used it to soak up the butter and garlic from Julie's escargots. In hindsight, we probably shouldn't have ordered the a la carte dish for Tahia.
Yet it was still a good meal though we were totally stuffed and I couldn't even really think about food anymore. It was also quite an expensive lunch as the extra a la carte dish of the duck put our bill over 100 euros (which was on the order of $120 USD).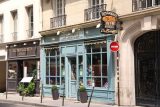 I guess we kept saying to ourselves that we wanted to enjoy French food before we were going into Germany for more functional German food. I didn't think German food would be as bad as we were expecting, but we certainly had that mentality and our actions showed it.
While the restaurant was pretty empty when we started, it was quite busy when we left at 1:30pm. We then decided that we should try to walk off all that food, and we wound up taking the metro towards the Notre Dame Cathedral.
We wound up getting out of the La Cite stop, which took us near the St Germain Chapel (which was known for the stain-glassed windows) but we weren't going to wait in line for that this time around. Instead, we followed the Seine River and eventually got to the Notre Dame Cathedral at 2:05pm, which was very busy.
And since the sun was out, it was also quite hot as well.
So after taking our obligatory pictures of the front of the dual-spired cathedral (reminding me of Royce Hall at UCLA), we then waited in line to go through the security and into the interior, where it was also quite busy. There were lots of American accents in there (and come to think of it, there were lots of American accents throughout the Louvre and randomly on the streets at the Rue de Rivoli) that it was clear that Americans love Paris.
Anyways, we took the opportunity to chill out inside the cathedral on some of the empty chairs to just sit and unwind a little bit. The low lighting made the photos in here a bit on the atmospheric side though I'm sure I wasn't picky about noise from the high ISO auto settings.
Regardless, we then walked around the ornate interior before spending 10 euros to go into the treasury to check out some crown jewels within the small isolated section. It was yet another indicator of how powerful the churches were back then, and how they wielded that wealth and power over large masses of people all the more willing to hand over that power to them (especially of the mind).
We wound up finishing our visit of the Notre Dame at 3pm because Tahia said that she had to go pee again. And it turned out that the nearest ones were right outside the cathedral at a couple of self-cleaning stalls that we were actually free to the public.
However, the self-cleaning toilets were a bit on the slow and deliberate side, so it wasn't until about a 30-minute wait when Tahia could finally relieve herself with Julie going in with her to make sure she wouldn't get stuck and being claustrophobic or alone in there.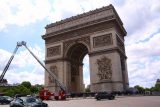 Next, we then went back to the metro where we then took it back towards the Champs-Elysees and the Arc de Triomphe. It turned out that we couldn't go underneath the roundabout and into the underside of the historic building because there was some kind of procession or ceremony going on there.
There were a couple of cranes and some military music going on, but it was hard to see or hear what was going on over all the street traffic zooming about. Ultimately, we got our quick selfies and photos from across the busy street where people were gathered to get their shots, too.
Then, we walked down the Champs-Elysees, which was a grand avenue with lots of shops. We'd eventually get to the familiar Laduree, which was now a tea room spot at 4:25pm. Last time we were here, it was merely a macarons shop in a tent as the building was being renovated or restored or something.
And thus, we indulged in a little afternoon tea with some expensive macarons (two chocolates and two vanillas) as well as an ispahan, which was a raspberry-lychee pink macaron that was actually quite delicious. Plus, the light texture of the macarons once again reaffirmed to us that indeed the French were masters of the art of making macarons and the imitations back at home had nothing on the real deal.
Of course, we also had to be mindful that Julie's gut was going to protest all that sugar even though they were gluten free.
Julie also noticed that there was a Pierre Herme shop (or at least a licensed reseller or partner) across the street so we wound up going there after having our fill of the Laduree indulgence (and expense).
It turned out that the Pierre Herme shop was partnered with L'Occitane. We made it a point to go to the real deal shop when we were to return to Paris at the end of the trip. In any case, we picked up about 5 macarons, and they lady that helped us graciously gave Tahia an extra raspberry one on the house. With each macaron costing 2,2 euros a pop, that was nice of her. I don't know what it was but it always seemed like we'd get freebies with little girl. Still, it was quite expensive, and the jasmine maacron itself was already 4 euros by itself!
Next, we then took the metro back in the other direction towards the Breizh Cafe. However, instead of going to the familiar joint in the alleyway northeast of the Notre Dame Cathedral at the 3rd Arrondissement (it was actually called Little Breizh Cafe as opposed to Breizh Cafe), we ended up at some new location at the 6th Arrondissement. We got there at about 6:05pm.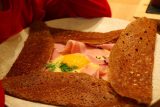 It didn't quite have the old ambience we were hoping to have, but since we were there, we just seized the moment and had looked forward to the galettes for our last meal in Paris for a while. That said, we had to endure the incoming cigarette smoke (my throat was scratchy given all the toxic cigarette second hand smoke) as well as Tahia's fussiness at wanting to sleep as she was now very tired.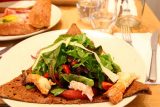 It wound up being her loss as the food was quite good as I wound up getting a langoustine galette with salad, which was light and airy. Meanwhile, Julie got some kind of crab rolls, which were galettes rolled up like sushi. That was pretty unique. And then we ordered for Tahia a truffled ham and egg galette, which she only managed a single bite as she was way too cranky to want to wake up from her sleep as I'm sure jetlag and all that walking got to her.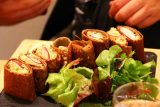 Oh well, it was her loss as Julie and I wound up eating the rest of her galette that was probably the tastiest of the galettes that we got at the Breizh Cafe. We then ended it off with a dessert of chocolate with banana and Madagascar vanilla ice cream scoop plus one non-ice cream cream next to it.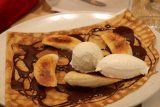 With that, we left the cafe at 7pm, and then we headed back to our room. We decided not to go to the Trocadero view of the Eiffel Tower along the way since Tahia was in no mood to push it.
And when we got back to the room at 8pm, that was when Tahia was no longer her cranky self and got back into playing with her eraser putty and checking out the Eiffel Tower again. Speaking of the Eiffel Tower, the views were a bit more glowy thanks to the late afternoon sun.
Eventually, we'd be packing and getting ready for our travel day tomorrow. And it wouldn't be until after 10pm that we'd finally crash and go to sleep. With the brightness of the afternoon the whole time, it totally didn't seem like it was time to go to sleep. I guess with the Summer Solstice next week plus the high lattitude in Paris, that probably shouldn't have come as a surprise though it did throw Tahia off guard a bit…