Day 4 (June 16, 2018 – Bacharach, Germany): "Howling Wedding Bells"
It was 5am when we awoke to the alarm. Right off the bat, I was wrapping up what I had to do to finish packing. Meanwhile, I also finished blogging about yesterday since I didn't have any energy left to do it before sleeping.
Minutes later, Julie got up and wrapped up what she had to do. We'd eventually get room service omelettes for brekkie since we had to be outta here and at the Gare de l'Est before our 7:20am train to Frankfurt Hbf (Hauptbahnhof, or main train station).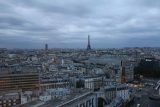 So we spent the next hectic hour or so getting Tahia up, tending to our hygiene, getting dressed, eating breakfast, letting Julie take her meds, and making sure we didn't forget anything before we were out the door.
It was quite overcast outside as we made one last look at the Eiffel Tower before we headed downstairs.
Julie then checked out while we got the Uber app going so someone would pick us up and take us to the Gare de l'Est. It was only said to be about 13 euro via Uber while we were told it was around 20 euros plus or minus if we took one of the conventional taxis that were waiting outside the entrance.
I guess this Uber thing was turning out to be quite convenient, and it made me wonder why we didn't do this more often on prior trips when it came to getting around places that were inconvenient by mass transit or with too much luggage.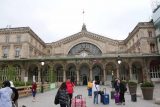 As we were being driven past the L'Arc de Triomphe and then past the Champs Elysees before going on some other side streets to the Gare de l'Est, the driver in his limited English tried to make some small talk. But when Julie tried to ask about the strike situation, that was when I intervened and I tried my French to see if we could get any answer about the manifestations.
That impressed the driver since he didn't expect us being able to get by with some French. And at least we got from him that we he doesn't really know since they made no announcements for end of July yet.
He then went on to do the small talk in French (clearly more comfortable with that language) and I did my best to keep up with his questions about the usual questions of say "where you from?" (typically loaded because we're Asian; so they want to hear if we're Japanese or Chinese as opposed to being from the USA).
It didn't take long before we were right before the Gare de l'Est, and we were promptly dropped off right in front of the station where there were a bunch of Asian tourists posing before the front facade (and we wound up doing the same since we were here).
Next, we had to crowd into a bottleneck as we saw that our train was in quay 6. Once we were scanned, we then had to walk quite a ways to the front train as Julie had us booked on first class so it would be easier to stowe the luggage and be seated comfortably.
Sure enough, the train took off on time, and I was getting a little more confident with my German as I could actually read the signs when the German came up. I guess the lessons that I was self-learning whilst commuting to work was paying off.
This train ride was actually born out of necessity because we were originally supposed to fly direct from Los Angeles to Frankfurt or Los Angeles to Munich (with Germany and Austria being the focus of this trip). Unfortunately, when we saw the airfares back in April of May for these peak season dates around June and July, we saw that they wanted upwards of $2200 USD per person! That was a hard pill to swallow for three people on just the flights alone!
That was when we started thinking out of the box and took a look at a direct flight from LAX to Paris. Lo and behold, Air France only wanted around $1200 USD per person, and Julie also wanted to use her Citi Premiere points (which she paid to keep her credit card alive for) just to have at least one flight for free (though it wasn't really free and probably a loss if you count how much she paid to keep the card alive).
And if you add the roughly $200 USD (or about $66 per person) for the TGV tickets for all three of us going there (all in first class mind you) and say add another $200 USD for the train ride back at the end of the trip, we'd still come out ahead in terms of saving money. Plus, we already got a good experience in the first two days re-experiencing Paris but with Tahia this time!
The only snags to this plan were the French Railway strike that was happening this year as well as needing to add some extra nights to the trip (which we managed to get by with Hyatt points as well as Intercontinental points for the end of the trip). We managed to get lucky on the way there as the planned strike days just so happened to be outside of today. We didn't pre-book anything on the return since we don't know how the strike situtation will pan out at the end of July.
Anyways, it didn't take long before the train was hitting 300km/h and higher (even getting up to 312km/h) so for sure it was getting up to close to 200mph! The gray skies were giving way to partly cloudy skies as the urban jungle was also giving way to rolling green pastures that were more familiar to us on our road trips to waterfalls. It definitely brought me back to those times when we were driving around France and watching the TGV blow past as it was moving faster than we could ever hope to move by car on the autoroutes.
The train was riding quite smoothly and from looking at the map, it appeared that we were heading straight east before making a few stops and finally stopping at Frankfurt. The first stop was Strasbourg, then Karlsruhe, and then Mannheim. I wondered if there was a more direct train to Frankfurt that we should have taken, but I somehow doubted it. Oh well, whatever the case, we had most of the afternoon to drive to Bacharach after getting the rental car and perhaps doing a grocery run along the way.
We'll see how all that plays out. As I'm sure it might be a bit tight to fit in any sightseeing in the Romantic Rhine on this day…
By now, the scenery was of the rolling hills of the countryside, which reminded me of how nice it was to drive around France some 6 years ago in such scenery.
I thought to myself how most tourists think of France as just Paris and claim they've seen the country just by visiting that city alone, but I knew from our three-week independent trip to France back in 2012 that there were many more dimensions to the country, and this glimpse of the countryside was a reminder of such benefits of going off on our own on a trip like this.
Anyways, it didn't take long before we arrived at Strasbourg at around 9:05am, and it seemed like the rest of the first class car emptied out with only us as being the only ones riding the first class car the rest of the way. As the train resumed its journey, I noticed that we crossed a river, then the signs started to look like they were in German. So perhaps Strasbourg was near the Rhine River and now we were officially in Germany and will remain that way for the rest of the way.
At that point, Tahia was busy playing aisle gymnastics with all the newfound freedom while Julie and I were trying to catch some shut eye.
Eventually at 11am, we arrived in Frankfurt Hauptbahnhof where we then walked our way into the train station and then towards the Hertz (and other rental car offices). When we came to pick up at around 11:20am, we were told that our reservation wasn't until about 1:30pm as we were about two hours too early. I guess Julie didn't coordinate the rental car hire with the train ticket purchase so we had to stick around for a couple of hours.
So we took our luggages and then walked into the little walking area just across the street from the train station. That was where we found a pho place, where we then decided to have ourselves a lunch (mittagessen) there.
Once inside, the guy who looked like the owner spoke Mandarin to us, and we promptly seated ourselves and ordered some dishes like a duck noodle soup, a classic pho tai, and then a vermicelli dish with some kind of lotus-wrapped beef.
The food wasn't fancy though it hit the spot. I guess the lotus-wrapped beef with rice vermicelli was different but it felt like it was missing lemongrass, which we'd imagined was difficult to procure in Germany.
Regardless, once we did our deed there and paid (in cash; no credit card) at 12:40pm, we then walked over to a foreign exchange office that also doubled as a jeweler. That was when we exchanged for some more money at a more reasonable rate of about $1.213 USD for each euro, which was way better than the $1.29 USD for each euro or the $1.345 USD for each euro at the airport.
Eventually, we were back at the Hertz at 1pm, where we were still waiting for our rental car to be ready. After another half-hour or so, that was when the lady who was helping us out said that our car (whichever that was) still wasn't ready so she hooked us up with a Jaguar.
She mentioned that she felt bad (for the company) for renting out this car since our hire was for six weeks, but she said we had been waiting long enough for a rental car so she decided to do this for us. I guess that was really nice of her. The only bad thing about this car was that it wasn't a stick shift, which I was really looking forward to using, especially on the mountain roads.
Anyways, the reaction from other rental car agents who were there (from other agencies) was one of like, "You're lucky to be driving this car for 39 days!"
Since the car wasn't a stick shift, which was what I would have preferred, I was concerned that the luxury car might be a bit too large or too baller so it would be prone to break-ins. I also worried about how easy it would be to shift gears and not rely on brakes so much on the steeper mountain roads. But Julie encouraged me to just take what we could get, and we ran with it.
After walking to the parking structure that contained the rental cars (Hertz was on the very top floor), we eventually got into the Jaguar and settled in at 2:05pm. I guess any shot we had of touring before dinner was shot by this time.
It took a little getting used to using the GPS in the car as it didn't seem like it was straightforward to enter the desired address. Instead, I had to navigate some map before it found the nearest accommodation automatically. I guess we'd have to experiment a bit more next time to properly use this device.
In any case, once we were out the door and we had a navigation thing working on both the car as well as my Nuvi we had with us (always a concern since you never really know how well these work until you get there), the drive otherwise pretty smoothly though people were driving quite fast on the expressways.
I wasn't sure if the legendary autobahn without the speed limits was in effect as I still saw speed limits reaching up to 130 km/h, and there was a little bit of minor congestion around Mainz.
But aside from that, we eventually got off the autobahn and then onto the rural country roads bordering the Rhine River as we were now heading north in the Rheintal (Rhine Valley). We had passed by one castle which I think was the Rhinestein or something like that near the town of Bingen.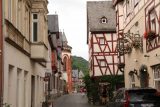 Eventually at 3:45pm, after a little bit of confusion about where to drive to at Bacharach, we eventually found the shop where we were supposed to pick up the keys and parked off the side of the small road. Tahia was a bit cranky as the church bells seemed to be going off like crazy as she was still wanting to remain asleep and undisturbed.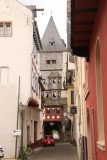 After a few minutes of bringing the luggages up to our apartment unit (going up about three flights of stairs), we saw that the apartment was spacious and nice. But I still had to go back downstairs to park the car in a more legitimate spot.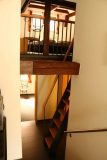 I'd eventually find some free parking spaces that were quite a bit of a walk from our apartment. It was right behind one of the unsupervised train stations where I managed to score one of the free parking spots though I could see that it could easily fill up and not be easy to find at busier times of the afternoon.
I also realized that our baller car wasn't as compact as I would have liked so parallel parking was a bit tricky. I actually had to go a little further to find a spot that offered me a little more space without dinging other cars. The radar beeping at least helped me out when I realized that I probably wasn't going to fit in my first choice.
As I walked back towards the apartment, it was starting to sprinkle but it was nothing that I was worried about. I could see that there was an attractive castle at the top of the hill as well as some chappel ruins, which I knew was a signature landmark of Bacharach. There were also high speed freight trains going by periodically.
At 4:30pm, I made it back up to our apartment where I then finally got settled and used to the place that we'd be staying for the next two nights. Tahia was already claiming the loft though we were a little concerned about the steep steps, which might be an issue if she had to pee in the middle of the night.
At about 5pm, we then strolled about the center of the historic part of town, where we saw the attractive Altes Haus (Old House) in its half-timbered style that we imagined would be how most German countryside houses would be like.
As we continued further along the main street, we then found a supermarket (supermarkt), which was a small local grocer. Regardless, Julie seized the opportunity to pick up some produce so we could at least take advantage of our apartment's kitchen.
That run meant that we had to back up our dinner reservations to 6pm instead of 5:30pm, but the restauranteur seemed to take it in stride.
Eventually after buying the produce, then taking it back up to the apartment, and then heading to the dinner spot, we made it in time for our 6pm reservation at this place called the Stuben Restaurant or something like that. It was actually next to the train tracks so periodically the nice ambience of the Rhine River and small town was broken by the trains whizzing by.
There were also those loud church bells going off once again as the waitress told us that it was not unusually like that. However, it was because there was a wedding (hochzeit) going on that that was perhaps the reason for the bells going off.
We ultimately had ourselves a pretty nice gluten free fare consisting of some kind of variety appetizer (with some goat cheese, pate, ham, and other things on a slate) then some main courses of meats in a kind of stew. Tahia's kiddie meal was actually a healthy fare of salmon and veggies. And the nachtisch (dessert) of creme brulee was quite good.
Eventually at 8:10pm, we were back at the apartment (to grab a jacket), and then we took the time to hike up to the chappel ruins and ultimately to the castle further above. Even though the skies were clearing, it was late enough in the evening to lose the glow on the Rhine River.
Eventually at about 8:45pm, we made it up to the Burg Stahleck, where we couldn't go inside due to some kind of wedding party going on.
However, we did continue hiking up to a lookout that allowed us to look down at the castle with the Rhine behind it. We also saw that there was a different lookout across to the other hillside that probably would have been a better spot to be taking pictures.
Indeed, the views were quite nice and we could totally see that we picked a pretty good spot to settle in and perhaps go back up for a morning view the next day. For sure, we intended to return to the castle to see what it would be like on the inside tomorrow.
At 9:55pm, we made it back down to our apartment. Along the way down, we continued to scout out the hiking path to get up to the better viewpoint. That appeared to be to the north of the old house and up some other side road. It didn't appear to be accessible directly except by walking uphill past the tower and then up a ramp leading up to the desired spot.
The twilight lighting wasn't as romantic nor as glowy as I had anticipated so we didn't linger any longer before settling into our apartment. The internet wasn't working but we were having trouble staying awake anyways.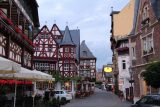 At some point, Tahia started to get freaked out about staying in the loft by herself so I eventually switched spots with her so she could sleep with Julie downstairs. That at least alleviated our fears that she would take a nasty spill in the middle of the night to go pee or something.
And so ended this day as our tour of Germany was about to begin…