Day 5 (June 17, 2018 – Bacharach, Germany): "Fathers Day at the Romantic Rhine"
It was 6am when I awoke to my alarm. As much as I wanted to sleep in more, I was also driven by catching up on my blogging and then checking out the viewpoints in Bacharach with the early morning glow.
It wouldn't be until about 7am when I got out the door and started my morning walk. It was quiet on this Sunday morning so there was a bit of silent atmosphere in the main center of town. There were maybe a handful of people out for morning walks as well. There was also the sound of church bells in the distance going off as apparently some people were doing their religious routines on this day of rest.
Knowing where I needed to go, I proceeded past the Altes Haus then went left on a cobblestoned street just past a small little waterway that was hidden beneath town (yet it was audible). I then followed the donkey signs up the steps and then right up to a sloping path between some vineyard.
When I got up to the base of the tower (a sign here said it was the Sentry Tower or formerly the Cat Tower), I then had to go up and around it as the tower's interior was gated. Yet from already this vantage point, the views back towards the ruined chappel and the church towards the Rhine River and the Burg Stahleck were quite impressive.
I continued taking pictures of the morning lighting somewhat glowing on the Schloss Stahleck and the church and chapel towering over the rest of Bacharach. Yet the lighting was becoming short-lived as clouds were rolling in and starting to obscure the soft morning light.
I ultimately hiked up towards another ruin, which looked like a wall with a tower that was once there (a sign here said it was the Spitzer Turm or Pointed Tower). I actually went past the ruins and all the way up to an apparent unpaved road where a couple of guys appeared to have camped or at least checked out the views (except both of them were asleep).
I then went back down the way I came and took a few more shots before returning back to the apartment, where Julie was in the middle of making breakfast. I returned at 7:45am.
Our breakfast consisted of thick bacon with eggs. We also had to finish off some of the strawberries bought yesterday, which were getting overripened or rotten real fast. I had those to sweeten up the unsweetened yogurt.
And while trying to wake Tahia up, I did notice a tick-looking insect on the pillow next to Tahia's head! When I showed Julie the insect, she immediately had us get rid of it because she told me that that was a bed bug! Yikes!
We then quickly looked at all the sheets and pillow cases and didn't find another one. But that was not to say that there could have easily been another one out of sight but still lurking. We also had to be careful about those critters getting into our clothing in our luggages.
It wouldn't be until about 9:10am when I finally walked out to retrieve the car. Then, I picked up Julie and Tahia and we were off to tour at least St Goar. We figured that we could spend the better part of the morning and midday checking out both the town and the Rheinfels Castle at the top of that town.
The drive north along the B9 was on the western banks of the Rhine River, which had those familiar castles perched atop the hills as well as some island castles in the middle of the river. We also saw the bend called the Lorelei, where freighter ships needed some coordination to ensure shipping disasters didn't happen. I made a mental note to stop at one of these spots for photos, but it wasn't in the cards on this morning.
I recalled from a Rick Steves DVD that these castles along and in the river were actually methods to collect taxes or tariffs from merchants who needed to ship their goods up and down this river. Given the quantity of these things up and down the Rhine River, I couldn't imagine how much of highway robbery it must have been back in the day.
We'd ultimately make it to the Burg Rheinfels above St Goar at 9:40am. I was still getting used to driving the Jaguar but since it was automatic, it didn't seem like it was that well equipped to figure out how to shift to lower gears in real-time to ensure we can go up (and down) steep hills. That got me a bit worried about trying to drive the mountain roads in Austria and other mountain roads, which I knew would be encountered later on in this trip.
It was times like these that I really wished I could drive a stick shift instead regardless of whether it was a luxury car or not.
Anyways, we paid a euro to park for an hour, and then paid 10 euros to tour the castle ruins as a family. We learned that there was an 11am tour though it was to be given completely in German. We didn't have plans to do it, but we figured that it might be a possibility since that tour would go into parts of the castle that apparently the open self-touring couldn't be doing.
Well, we began our self-tour by taking pictures from perches overlooking both St Goar and the Rhine River. Then we went up steep steps leading up the clock tower (Uhrturm). By the time we made it up to the battlements, we found ourselves at another perch with an even more commanding position overlooking both the Rhine and St Goar as well as some of the surrounding hillsides.
We then did a clockwise self-tour as we went by some wells and the front of the museum where we could see one imposing walls and structures that now look like nothing more than windows and walls without a roof. There were a few hidden nooks and crannies like small cellars and the like.
And we even spent a few minutes inside the museum checking out the re-creation of the Rheinfels Castle in miniature showing how impressive the village and fortifications once were.
By the time we were done with our self tour at almost 11am, we then went ahead and did the guided tour (after I took some time to feed the meter another hour). We then followed the same person who also collected money at the door as she was the person giving the tour in German.
There was one other couple who also couldn't process a whole lot of what the lady was saying though I could gather bits and pieces of the narration given my German lessons studied during my commute for the past six months or so.
We were taken into the outer perimeter of the castle as well as some tunnels and corridors that were not accessible to the self-touring public. Having been to many castles in the past, we kind of knew the drill about defense mechanisms from arrow slits to holes where hot oil or poop would be dropped onto intruders.
We then entered the so-called Foxhole where we had to duck and follow long dark corridors. It was quite atmospheric and fun though it was more for the experience and not for the photographs in that part of the tour.
Towards the end, there was one guy selling archery lessons, which a few folks from the group went forward and did while the remainder of the group went into the dungeon, the slaughterhouse, and then the big cellar that we had been at earlier.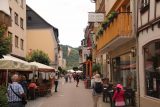 By about 11:55am, we were back at the car. And ten minutes later, we found parking near the main drag through the town of St Goar, where we paid another 1.5 euros or so for around 90 minutes or so.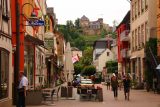 As we walked through the main drag, we settled on this place that served up what seemed like Italian-German food. Julie was drawn to this place because it appeared to be the only place in town that could accommodate gluten free food. We were definitely seeing how hard it was to do that given Julie's diet restrictions and the tendency to do bread in most of the traditional German dishes.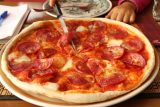 So Julie got some kind of pork chops while Tahia and I shared a pizza that was prepared in the old traditional Italian style with the thin crust and a substitution of mozarella for the cheddar.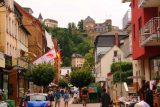 At around 2pm, we were done with both the lunch and the quick tour of the main drag of St Goar.
Next, we drove back towards Bacharach, where we then drove right up to the Burg Stahleck (instead of walking up there like we did yesterday evening).
This time, after going inside and getting a load of the main courtyard area with some umbrellas set up for the panoramic views over the Rhine and the town of Bacharach, we wanted to see other parts of the interior of the castle turned youth hostel, but they were only meant for guests.
So we wouldn't be going up the tower or the higher levels for more panoramic views nor any of the authentic rooms as it was a functioning accommodation. So that kind of made the self-touring experience a bit on the disappointing side.
By about 2:50pm, we returned to the car, and then ten minutes later (after dropping Julie and Tahia off at the apartment), I then finally found parking a bit further to the south of the train station and beyond where I had parked the night before. I was glad that I didn't have to drive again on this day, but I also knew that I'd have to move the car so we can load it up and be on our way to Mosel Valley tomorrow.
Next, I walked back to our apartment where Julie and Tahia and I then made our way back down the steps and towards the Sentry Tower (or Cat Tower) as I had noticed there had been people inside it whereas I couldn't do it earlier this morning since the gate was locked.
That would finally be the opportunity to see the ruined chappel and church perched over the town of Bacharach with Schloss Stahleck still perched atop the hill further uphill of town. We spent a good deal of time soaking in the views while also making small talk with a father-son combo from Nova Scotia who were biking from Amsterdam all the way to Switzerland via mostly the Romantic Rhine.
After having our fill of this spot, we then returned to town where we then made a spontaneous stop at a local joint next to the Altes Haus, where Julie noticed some traditional fare that we ought to try since we're here.
At first, we were soaking in the ambience whilst chilling out in the patio, but eventually the cigarette smoke got to us so we had to retreat to the rooms inside the house. That was where we were sitting alone and we were waited on by a nice lady with braces who made sure we were taken care of.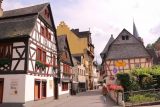 We wound up ordering some kind of really sour and fermented cheese dish drenched in a sour syrup with green onions. That dish definitely had a unique flavor to it, and it kind of reminded me of something Julie and I took to go from Pyengana, Tasmania, where there were some fermented eggs.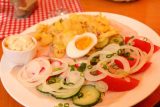 We also got some kind of roast pork cold cut slices on bread with onions, radishes, potato salad, and other toppings. Then, there was a potato dish with some kind of tzitiki sauce and four half-eggs.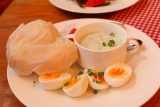 We eventually finished everything though we were a bit stuffed from this supposed snack turned into pre-dinner. Julie still intended to cook dinner back at the apartment, but now neither of us were in no mood to eat.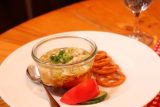 In any case, we got back to the apartment at 5:35pm, where it only seemed like Tahia had the energy to do anything. Both Julie and I were struggling to stay awake. I was certain that this fatigue was caused by our bodies still not fully adjusted from the jetlag.
Eventually, we'd have our dinner some time after 8pm. And so we celebrated our Father's Day dinner while also sharing texts with my folks back at home who also wished the same thing.
The rest of the evening was spent getting caught up on this blogging while also entertaining Tahia's urge to draw about her play house and other things she exercised her creativity and attention-to-detail for. I also took the liberty of planning ahead on the Burg Eltz opening hours so we could be out the door and time our visit to right when they open.
We had a lot to cover on the last of our days on the Romantic Rhine (and Mosel Valley), and so I mentally had this picture of how we were going to execute as we also intended to lunch in Cochem and do some final exploration and dining in Trier, where we'd be spending tomorrow night…