Day 6 (June 18, 2018 – Trier, Germany): "Moseling Around"
It was about 5:35am when we awoke. Although the wake-up felt a bit early, we didn't have much trouble getting up because we heard quite a few cars passing by at this time (apparently, our apartment was right next to a fairly busy street even though it was charming and narrow and cobblestone on the surface).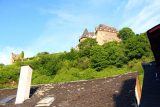 Over almost the next couple of hours, we spent time getting all packed up and ready to go while Julie also prepared breakfast. Although we consumed leftovers in addition to using up some eggs, it still took this long to get ready. I also had to do the fairly long walk out to retrieve the car which was parked perhaps at least a quarter-mile or so (a bit further to the south of the train station and a few meters further from where I had parked the previous night).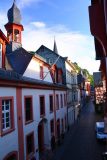 So it wouldn't be until about 7:30am that we were finally all loaded up and ready to leave.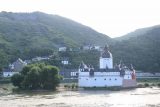 On the way out, we made a brief stop near an island castle on the Rhine River which I had made a mental note to stop for yesterday. So we found a spot next to what appeared to be some kind of stop where there was a homeless person using it as a shelter.
We didn't linger here for too long, but the spot was attractive enough to take several shots even though we were facing against the sun trying to break through the thin layer of clouds.
The rest of the drive turned out to be somewhat uneventful as we were driving some mountainous path towards the A61 once we turned inland on a twisty mountain road from Oberwesel. Once on the autobahn, we then followed the GPS as we remained on the high speed route for a short bit until we got off and followed the brown signs (which eventually became white signs) pointing the way to Burg Eltz.
We then found ourselves following the Moselle River, which was also wide but not nearly as busy and voluminous as the Rhine River. Our drive along this river wasn't for long, however, as we then followed a narrow road that left the river at Hatzenport.
Eventually at 8:35am, we parked at the Burg Eltz, where apparently we were a bit early as we found ourselves parked along with staff that happened to show up at this time. The place was not open until about 9:30am. So we killed some time slowly getting ready while still figuring out how to use the rental car's control panel, navigation system, media hookup, and more.
Then, we finally started the downhill walk along the shuttle bus route though we wouldn't be taking advantage of paying the amount of descend towards the castle. Along the way, we spotted an attractive overlook behind a Jesus statue.
The view of the castle was very Disney-like as this place was pretty isolated within a sea of green almost perched atop a lone hill surrounded by a real stream passing around it. With the circular turrets and columnar skyward profile of the castle itself, it definitely felt as if we were entering some kind of fantasy concoction seen from our childhood days.
At least now, it was becoming more clear to us how things like this were becoming more commonplace in Germany, and we were anticipating even more what other castles we were about to check out on this Germany-Austria trip.
Eventually by about 9:25am, we were wrapping up our descent towards the entrance to the Burg Eltz Castle. By now, there were quite a few other people who managed to make the walk as well as even more people who were shuttled down there after paying a few euro. After paying for our tickets, we were told that the English-speaking tour wouldn't start until 10am so we still had some time to kill checking out other aspects of the castle.
Among them was the Treasury, which was a multi-level section of the castle that featured lots of encased gold artifacts. It was quite impressive that there were that many trinkets and chalices and other things that symbolized the wealth of the Eltz family. There were also weapons, armor, and other things that really made it apparent that this was indeed a medieval castle.
Once the English-speaking tour began, where suddenly there were at least a dozen or so people on it (making this feel more like a Rick Steves led us here kind of moment), we then toured several of the rooms, where the young female guide explained to us that the Burg Eltz Castle was actually three separate living quarters as there were three brothers who inherited the property and had to split evenly with each having their own families and privacy.
We wound up touring two of the three living quarters, which was quite atmospheric and informative as we learned that a good deal of the stuff we were seeing dated back to the 15th century. Seeing anything that was modern (like a few of the family photographs) felt out-of-place, yet this showed that we were indeed in a still-active still-privately-owned castle.
It was too bad that we couldn't take any pictures of the interior of this part of the tour because there was definitely lots to note. Well, at least the English explanations painted quite a picture of what life must have been like living in this castle (unlike the Rheinfels Castle ruins where the entire tour was in German and we probably didn't get a whole lot out of it).
That said, what we saw in this castle was a bit more understated than some of the furnished royal castles that we had visited like those we saw in Scotland (I'm thinking of both the Stirling Castle and the Edinburgh Castle).
When the hour-long tour ended, we then walked back up to the parking lot where there were now a lot more people entering the castle. There were even those who took the 90-minute trail that met up with the road right at the foot of the bridge. I'd imagine that trail came from some neighboring town further down below closer to the Mosel River.
While the uphill hike made us sweat a bit, we got decent exercise out of it as well as a few more looks back at the Burg Eltz Castle with sun still trying to break through the thin layer of clouds.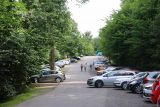 At 11:15am, we were back at the car and then resumed our drive where we followed along the Mosel (Moselle) River for nearly an hour until we arrived at the town of Cochem. After a short bit of time spent figuring out where was the best place to park the car (and mistakenly going into an office area car park that we weren't supposed to go into until a friendly guy who worked there helped us get out), we then settled on this multi-story parking garage at 12:15pm where we paid around 1.6 euros for 2 hours (not bad considering how much we paid at St Goar and its castle, for example).
As we were walking into town, we wound up at Zum Goldenen Fass Restaurant, which was right beneath some imposing gate. Julie settled on this spot when she saw that they took credit card (after rapidly depleting our cash in hand after paying our way through other restaurants on the Rhine Valley that only took cash).
Our fare was an Argentinean fare of steak while I had some kind of fish while Tahia had a bratwurst. With gluten so difficult for Julie to avoid, this was the best she could do. We had to pay a bit for bottled water as this was one of those spots where they refused to serve up tap water for reasons that the Mosel River was too polluted to do so. In the back of my mind, I'm sure they tried to make money off drinks, including water and wouldn't allow tap; as this was the second or third place in the area that did this that we encountered.
After about an hour had passed, we were done with our lunch, and then we finally had a chance to tour the main touristed part of Cochem. That was when we saw that the Akropolis Restaurant (known to be gluten free) happened to be next door though I guess we totally missed it in our haste to find a spot to eat.
The main part of Cochem was quite busy with foot traffic. We even heard lots of American English (again, it was like another one of those Rick Steves brought me here kind of place), including seeing once again a couple from South Carolina that we had spoken with prior to our Burg Eltz tour.
The pedestrian zone area had quite the atmosphere complete with narrow alleyways flanked with shops and lots of people passing in both directions. As we were drawn towards an impressive tower with a gate to pass through at its bottom, it then revealed to us the square at the center of all the commotion, which was the culmination of the charm of the town.
Once we were here, surrounded by half-timbered pastel-colored buildings with some dining tables and shops surrounding the square, I felt like we could have spent an evening here to really take it all in instead of worrying about getting a parking fine for not getting back to our car in another hour or so. Our brief visit really wouldn't do this place much justice.
Indeed, this scene brought me back to how charmed we were in a place like Stein am Rhein in Switzerland where we encountered a similar cute square like this except the buildings had frescoes over there while this one didn't.
With other side streets to explore, we meandered for another couple of blocks encountering other old buildings that appeared to want to lean onto the alleyways. Although there were enticing descents towards the Mosel River and its walkways, we remained in the alleyways and that cute square at the heart of Cochem.
We then got onto the bridge over the Mosel River, where I was able to look back over the river towards an impressive castle as well as the tower overlooking the cute square at the heart of town.
As much as I wanted to linger around here and even check out the other side where the hotels seemed to be, time was running out as it was already about 2:20pm when I started heading back to the parking garage (right at the expiration time for our pay-and-display permit). It's times like these where I wondered if we would have been better off spending a night in Cochem as opposed to a brief afternoon here.
Meanwhile, Julie and Tahia made their way back to the garage before I did, except Julie checked out a historic mustard mill where she bought some stuff that she could use for dressing or something like that that wouldn't contain gluten or other undesirable additives for a mustard.
Eventually at 2:35pm, we were back in the car and resumed our drive towards Trier at the head of the Mosel Valley.
The GPS had us continue on some other inland route until we'd eventually get onto the Hwy 48 then Hwy 1 moving at high speeds into the city of Trier. We didn't continue along the Mosel as I mentally thought I did when envisioning this part of the trip, but it was probably a good thing that we didn't because it was getting later in the day and we still had parts of town that we wanted to visit as time was running out in terms of going inside some of the Roman monuments in the city center.
Eventually at 3:50pm, we parked at the Mercure lot which was said to be 15 euros a day. It happened to be right across the street from the Porta Nigra, which was a well-photographed Roman ruin. After getting our luggages, we then walked around the Porta Nigra, where we then met up with some guy named Ben who was standing right outside the apartment we were staying in, right in view of the Porta Nigra.
He then took the time to show us the apartment as we got settled in at around 4:40pm. Unfortunately, the payment machine ran out of paper so we couldn't complete our transaction on the spot and we'd have to coordinate with him on wrapping that up somehow before we had to check out and leave the next morning for Luxembourg with a couple of waterfalls and a castle to visit.
Ben even told us a little joke about one of the beds that Tahia could sleep in as apparently, it was very close to or next door to where Karl Marx had one stayed or was born (I forget the story). In any case, he said that if Tahia slept with her head towards the apartment wall closest to Karl Marx's old apartment, then she'd wake up communist. But if she woke up with her head away from that apartment wall, then she'd wake up capitalist.
I guess we were in a city where the birthplace of Marxist socialism was very much alive through Karl Marx himself. I never knew that everything here would be Marx this or Marx that, but now that Ben had made it known, I started paying more attention to it.
In any case, once all the formalities were done, we then promptly checked out the main pedestrian zone area of the zentrum of Trier. There, we followed a wide pedestrian shopping lane, which converged onto the Hauptmarkt, which was another attractive square flanked by half-timbered buildings (something we've come to associate with German-speaking regions).
As much as we wanted to chill out here and soak in the ambience and scenery, we saw the St Peter Cathedral (Dom St Peter) off to one alleyway, and we quickly went in there knowing that the last admission was 5:30pm (it was around 5pm by the time we got there).
Once we went inside the grand interior, there was some organ music playing and we promptly took our pictures. Having seen so many cathedrals throughout Europe, we didn't linger here too long. Instead, we tried to make our way to the Throne Room that Ben had told us about, which we realized was at the Konstantin Basilika.
So after making our way there, we happened to get in at around 5:20pm. This was even more understated than the Dom we were at as it was a large room also arranged like a church except it was essentially large rectangular box-like arena. We went up to look backwards towards the organs, and we didn't linger for too long.
Legend had it that this large room was where commoners would complain to Caesar about civic stuff, but the room was so big and it literally took 15 minutes or so before they got to the emperor that they would forget why they came there in the first place after making it across this room.
Afterwards, we then walked back in the direction of the Hauptmarkt except we then noticed an organic grocer called Bio Gate. There, we spent a pretty solid half-hour or so getting some goods that we had trouble finding elsewhere in the country so far.
It wouldn't be until about 6:25pm when we returned to the room to put the food in the fridge. But this wasn't before we soaked in more of the ambience of the Hauptmarkt as well as the fussgangerzonen (pedestrian zone) along the way.
Once that was done, we then went back out onto the streets and went back in the other direction for Julie's dinner spot, which was some place called Brasserie (with "Bitte ein Bit" scrawled on all of the umbrellas and in the framed posters inside the restaurant).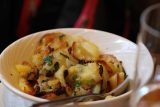 We wound up getting gluten free fare (at least for Julie's sake) as she got some kind of veal liver dish while I got the venison steak. Tahia got spaghetti as we didn't want her to fuss and get too picky with her meal this time around. We also supplemented our meal with sauerkraut (cooked) as well as other high-carb things like the usual bread as well as Spatzel (which was like an elongated gniocchi).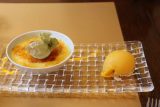 We ended it off with a creme brulee with mango sorbet dessert though Julie was breaking out again from having too much sugar (I guess it was hard to turn these down when there was so much to experience and taste and the body telling you that you couldn't).
The dining experience was made easier since the waiter spoke very good English so Julie could explain her food allergies. Apparently, the waiter was from Namibia, which was why he had such a command of English.
After the dinner was done at around 8:30pm, we then did some more touring of the Hauptmarkt as well as the Dom square. With all the activity dying down (but still happening) from earlier in the day, the whole experience took on a different kind of ambience yet still atmospheric.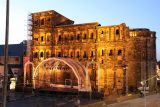 The sun was also breaking through the clearing in the clouds as we also managd to squeeze in some blue skies behind our buildings shots as some of them were getting an afternoon glow (which was crazy considering it was now around 9pm at this point). Even the half-moon was rising above one of the attractive towers overlooking the Hauptmarkt.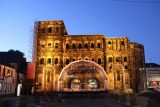 Eventually at 9:45pm, we were back in the room to conclude our whirlwind tour of Trier. Sure it would have been interesting to check out the Imperial Baths and the Archaeological Museum, but they either weren't open on Monday or they were too far to reach in our limited time.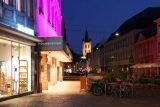 Now, we had to get cleaned up and try to get some shuteye knowing that we had a pretty full day tomorrow, exacerbated by trying to meet up with Ben to arrange to pay for our stay. I didn't even have time to try to follow up with the situation about my website contractor snafu that was really weighing on my mind…