Day 7 (June 19, 2018 – Luxembourg City, Luxembourg): "Flipping Back to French"
It was 5am when I awoke. So far, it had been quiet out in the square as the area in front of Porta Nigra seemed to be devoid of people and cars. I was hoping that with the hectic morning ahead of us that we would be up and out of Trier pretty early so we wouldn't have to contend with too much city traffic during the rush hour.
However, it ultimately wouldn't be until 7:30am when we finally made it to the car with our luggages and started to head out. Ben came by to give us a receipt to sign at around 6:30am. And we made sure not to forget anything nor leave the place messy when we left (especially washing the dishes and placing them on the drying rack).
Next, we followed the GPS towards Saarburg. The parking for the night in Trier was a relatively mild 15 euros though we had to pay in cash. We were kind of hoping that the Mercure Hotel would allow us to pay by credit card since cash was becoming in short supply given all the unexpected cash expenses on our first few days in Germany so far.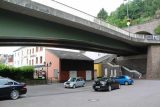 Eventually we managed to find parking in Saarburg at about 8:20am somewhere beneath a road bridge next to the Moselle River. We had driven through what appeared to be forbidden pedestrian-only areas but it was still very early with hardly a pedestrian around. Eventually, we had found a place to stop the car at what seemed like a not-so-obvious designated parking area.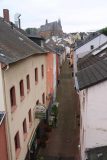 With Tahia napping, Julie and I quickly headed out to find the Saarburg Waterfall as we weren't quite sure where it was. At first, I went up on the road bridge and managed to get a view over the Moselle River towards Saarburg. However, I still couldn't see the waterfall from there.
So I went back down to the alleyway that we had driven through and then we made it to a junction where a narrow and steep path (also that we had illegally driven through at the GPS's urging) was where we were to walk up next. Eventually, we could hear the waterfall and we spotted a viewing spot that yielded a nice direct view of the waterfall.
Now, I could finally say the trip had started as we had seen the first waterfall on this trip.
I spent some time savoring the visit as I was also visiting the cafes and the scenery further upstream of the falls. I probably lingered here for another half-hour, which was a little more time than I had anticipated given my low expectations for a heavily-man-modified waterfall.
But my visit was eventually done as a whole bunch of school kids started to inundate the views of the Saarburg Waterfall.
I returned to the car at 9:05am. Julie wondered why I took so long as she had already returned to the car about a half-hour earlier. But I told her that I was too caught up in trying to savor the moment as the Saarburg Waterfall took me by surprise, and I guess it just showed how starved I was to see a waterfall on this trip.
Next, we drove towards the Schiessentumpel Waterfall, which was a waterfall that we were made aware of from a guest visitor to our website named Ruth Williams from Bath, England. The GPS had routed me through a lot of rural side roads, which made me wonder whether I was being misled again as I would have expected a more significant highway to get to the Mullenthal, which was apparently the valley containing this waterfall.
Eventually, we arrived in some obscure forested area where I saw signs for Schiessentumpel/Mullenthal, but then it appeared that with no obvious car park nor signage, we kept driving until we left the Schiessentumpel/Mullenthal and the GPS kept taking us around in circles. We started to suspect that there was some brown signs before a visitor center area in Mullenthal, and that that was the place to be.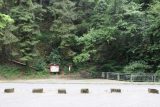 There was also another car park in a more understated forested area, and after looking at the signs there, it appeared that the other side of the trail leading to the Schiessemtumpel Waterfall was closed due to flood damage. Apparently, this area must have been hard hit some time in the not-too-distant past.
So we drove back to the brown signs near the center of Mullenthal, where there was plenty of parking. We got there at about 10:25am, which was about 30 minutes after the predicted arrival time as we had gone on a bit of a half-hour wild goose chase.
Anyways, once we put on hiking boots, we then walked towards a junction where it appeared that we could go one of two ways for 0.9km to the Schiessentumpel Waterfall.
However, we noticed that there was a visitor center nearby, and we decided to go in there first since I wasn't sure if some of the trails were closed.
Well, it was a good thing that we asked the visitor center person about the trail conditions because she told us that the trail we were about to go on was closed. So we backtracked and then walked pretty much along the road as we passed by a private camping area before eventually passing by some bridges with closure ribbons and fences to block further access across the creek.
Eventually, we'd reach the Schiessentumpel Waterfall, which was quite a small waterfall. But for a waterfall in Luxembourg, where we wouldn't have expected to see one (except for a Ruth submission that made us aware of it years ago), we took what we could get. At least we got a good dose of Nature, which was something that was somewhat lacking on our trip up to this point.
At 11:30am, we were back at the car. We then decided to drive towards the Chateau de Vianden, which once again seemed to involve some more driving on side roads until we eventually got to some highway that ultimately got us to arrive in Vianden.
Along the way, I managed to fill up on cheap diesel before we started to see the castle perched high up on a rocky foundation. We tried to drive as close to the castle as we could, but we ultimately turned back around a nice panoramic view of the castle.
Then, we eventually parked in one of the free parking spots not too far from the turn right before the ascent to the castle at about 12:35pm. We then walked down into town where we went to some place called the Cafe du Bruxelles or something like that, where the person working there spoke only French.
So I had to muster my not-so-great French to get by, but at least we had ourselves what we think was a gluten free meal of chicken, entrecote of beef, and some escargots.
Once we were done with the lunch, we then made the uphill walk up to the Chateau de Vianden. We'd eventually get there some time near 2pm, and then we proceeded to pay and enter the facility. The TripAdvisor reviews led us to believe that this place was going to be a quick visit where only two rooms or so were furnished.
However, we were pleasantly surprised by our visit as it turned out to be around 90 minutes long, and it included some 22 rooms, where most of them were furnished (just the way Julie likes so she doesn't have to try to imagine too hard what life was like back in medieval times).
The tour mazed us up and down several rooms and lookout sections, but eventually we got castled out, and it was time to return to the car and check into our apartment in Luxembourg city. The walk back wasn't too bad as it was mostly downhill with the slight uphill at the end to get up to our parked car.
However, we were glad that we didn't bother with the chair lift as it took people way high, then they'd have to walk down to the castle, and probably continue their walk downhill into town after their castle visit.
We got back to the car at around 3:40pm, and then we proceeded to drive the 34km back south towards Luxembourg City. After dealing with quite a bit of roundabout traffic, and then some parking woes as we tried to drop off luggage near our accommodation, we ultimately gave up on that as there were no temporary parking spaces at the time.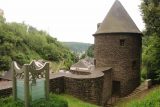 Instead, we tried to find this place called Parking Martyr, and we'd eventually get there and stomach the nearly 35 euro nightly fee to park. We ultimately got our stuff out of the car and started walking to the Hotel d'Italia at 5:05pm. The lift only took us to the -1 level as we had to lug our luggages up a couple of short flights of steps.
We were then deposited at some garden surrounded by some interesting buildings. But we then wasted no further time as we walked some short pedestrian street before returning to the Rue d'Anvers and eventually to the Hotel d'Italia, where we finally got to check in.
At 5:45pm, we got settled in the fairly spacious apartment. After spending about a half-hour letting my phone get charged while we were figuring out what we should do the rest of the evening, we eventually decided that we should go downstairs and do a grocery run to see if it would be feasible to make dinner for tonight instead of paying a lot more money (and time) to eat out again.
At 6:15pm, we made our move, and eventually found a Mono Prix supermarket though this one was small since it was almost smack in the middle of Luxembourg City.
We'd eventually pick up some fruits, a kefir, and a water. We also found a rotisserie chicken, where we figured that Julie wouldn't have to cook dinner as long as we had this meal (like how we managed on our road trips involving stops at Whole Foods).
And by 7:05pm, we were back in our room once again to get started on the quick dinner.
It wouldn't be until about 8:30pm when we finally headed back downstairs into town as we pursued the Chemin de la Corniche as well as Le Grund. The walk took us along some of the streets of downtown Luxembourg before crossing over a high bridge overlooking what appeared to be a village flanked by tall walls.
Eventually at about 9:05pm, after walking past the biblioteque with a nice panorama over another lowered part of the city of Luxembourg (possibly in the direction of the Grund), we finally arrived at the overlook at the Chemin de la Corniche, which Julie saw on TripAdvisor.
It was really nothing more than a lookout overlooking the Grund down below. There were some historical churches as well as some aqueduct remnants. However, in my mind, it was the walls holding up the chemin that we were on that was the more interesting part of this part of town.
We were told by the person who checked us in at the apartment that Luxembourg had an interesting history as a sunken city in a pit where the inhabitants had a strict curfew during war times. So I kept envisioning that this chemin we were on was a way to look down upon the trapped residents below.
After having our fill of the chemin (we didn't really go that far as we were already content with our views to this point), we then walked down to the Grund. But it turned out that it was nothing more than a series of bars in a short but tight alleyway flanking some stream passing through the city.
So with nothing really to hold our interest down at the Grund, we then followed some underground tunnel towards a lift that took us right back up to the biblioteque. From there, we walked back towards the street, and then across the bridge on the sidewalk opposite the side we took in.
Eventually at 9:50pm, we finally returned to our room. At this point, we were about to call it a night.
However at around 11:20pm, as I was in the midst of getting all the photos and files onto the hard drive via the laptop, apparently the power plug that plugged into the laptop appeared to be physically broke. I guess I was finally paying the price for not having the exact power plug after the original ASUS one stopped working.
Well, now I was in a real crisis as I was real worried that I wouldn't be able to record and report on the remaining 5 weeks left on this trip once the laptop dies out (or has no more power).
I sure hoped that there would be a computer or equipment store somewhere in Colmar or Friedburg (where we were staying tomorrow), but I also had to resign myself to the possibility that I might not have a hard drive anymore if I'm not successful finding a means to keep the laptop alive (mainly the juice that keeps it running).
In the worst case, I suppose I could buy a replacement laptop but I'm sure I was screwed in terms of the apps I'd have to get back that I didn't readily have the install files and/or credentials for.
And so ended this eventful day though the losing of the power plug on my laptop was definitely not-so-great news. And so I was mentally already in the mindset of finding a stop to find such replacement parts (if they still exist)…