Day 9: COSTA TRANQUILA
It was 7:25am when both Julie and I awoke. Neither of us had a very restful sleep as Tahia was sharing a pretty small bed with both Julie and I. And she tended to toss and turn and kick both of us throughout the night. She even woke us up sometime around 5am complaining that her doll went missing, when in fact, it was hidden under the sheets. Neither Julie nor I looked forward to having to spend another night like this.
It was about 8:30am when we went downstairs for the brekkie that Julie insisted we have through the hotel. The breakfast was a very simple affair of a few pastries, bread, sliced hams, cheese, and a hard-to-pour tomato "jam", which was really crushed tomato salsa acting as a spread.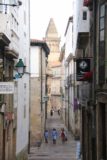 Obviously, it was way on the basic side, especially when compared to the NH breakfast we had yesterday that was by far the best brekkie of the trip.
So it didn't take long for us to finish our brekkie at 9:05am. About ten minutes later, we headed down for a quickie tour of the town. We ultimately decided to go for the Museum of the Cathedral, which we wound up doing another ten minutes later (9:25am). We were looking for something similar to the Ieronimus experience in Salamanca, but when we bought the ticket, a closer inspection of the signage there said that the tours taking us to the Tribuna and the rooftops were separate tours, and the only one we could self tour was just the museum itself.
So that already brought our expectations down, and it costed more than the 3.75 euros per person to go up the Ieronimus while this one costed us 6 euros per person. To make matters worse, most of the museum exhibits could not be photographed. Basically if there were rooms where people were standing guard, you couldn't take photos.
Perhaps the only places we could take photos was of the impressive courtyard in the middle of the complex as well as a balcony overlooking the Praza do Obradoiro. Once again, the scaffolding completely covering the second tower of the front facade of the Cathedral of St James was a real eye-sore. Meanwhile, we could see pilgrims making the long voyage on the Camino Frances essentially taking photos of each other or straight up congratulating each other on their accomplishments.
Anyways, we went through the various rooms pretty quickly. And by 10:30am, we had left the cathedral. Julie and I both agreed that we probably could've done without this visit, despite Rick Steves giving this two triangles.
At 10:35am, we had returned to the room so Tahia could potty again. Then, when she was done with her deeds, we then headed back downstairs to check out the Mercado de Abastos. It was only a couple of blocks up the hill from our accommodation. And at 10:45am, we were there.
This was basically a combination of tented fruit stands just outside of the buildings, while the buildings themselves house mostly butcheries containing fresh seafood as well as fresh meats. Other rows contained other produce like fresh fruits as well as fresh veggies.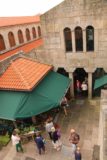 What made this market kind of neat from a sightseeing standpoint was the presence of old buildings juxtaposed with all the stands. But aside from that, we had bought some white nectarines as well as some rainier cherries for on the go.
At about 11:15am, we returned to our room at the Hotel Montenegro, but we were interrupted by the receptionist saying that they're offering to move us to a larger room so Tahia could be accommodated in her own bed free of charge. Apparently, one of the receptionists said that she took a second look at Julie's email and said that it was their mistake they misunderstood or overlooked Julie's original request.
So they said that all we had to do was to pack up our stuff and be ready to allow them to move our stuff when the room was ready. Meanwhile, we could go out and about and do our stuff. They were gonna move us up to the 4th floor, which also meant that we'd be a little further removed from the noise from the streets as well. Naturally, we accepted and obliged.
By 11:40am, we started walking to the car. Once we were back at the car park, I walked up to the manned cashier on the first sotano and showed him the stamp we had gotten from the Hotel Montenegro. That essentially reduced our two-day fare to 20 euros total (instead of 16 euros per night). Plus, he rigged our ticket so we could go in and out of the car park for the next two days.
Anyways, we wouldn't be leaving the car park until 12:05pm. That was when we could finally be headed out of Santiago de Compostela and towards the seaside town of Ezaro for a bit of a break for something off the beaten path.
The drive out was interesting in that it was actually raining for a bit while we were driving near the town of Noira. I think that might have been the first legitimate rain we had seen on the trip since Ronda (on our very first full day of touring in Spain). Anyways, Julie was lamenting that we hadn't brought any umbrellas or rain coats on this day trip, so whatever was gonna happen out at Ezaro, we'd just have to suck it up.
The GPS had us drive on some local mountain roads to cut right across to the town of Ezaro. I thought that it might've been nicer to take the coastal route, but since we had committed to the GPS route, I just stuck with it. However, I kept a mental note to follow the coastal route along the A-550 when we were to return to Santiago de Compostela.
Eventually, we'd get to the Mirador do Ezaro at 1:25pm. While we were up at this mirador, I was fighting the strong winds and did a little rock scrambling to get even higher up. The rocks up here seemed to have some interesting formations like potholes, curvatures, and other pac-man-like formations. And to boot, I was able to get some nearly 360-degree views that included the dam, the gorge carved out by the Rio Xallas, the bare rock cliffs opposite of where I was standing, and of course the two sections of attractive parts of the town of Ezaro.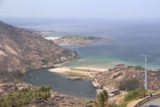 We also noticed that there was a lower overlook with picnic tables that also seemed to be a little better than the sanctioned upper overlook platform. In between the two sanctioned overlook spots and car parks, we noticed a hydroelectric facility that was off limits to visitors.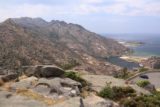 Eventually at 1:45pm, we showed up to the other mirador. There were a handful of other people visiting as well. Though most of the folks already here had left, we had a few minutes to ourselves at this overlook.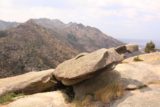 From both overlooks, we could appreciate the close proximity of Ezaro to the ocean, which had hints of nice blue-green colors when the sun had showed itself.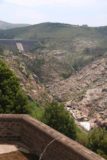 About ten minutes later, we all were back in the rental car, then we made our way down towards the town of Ezaro. Along the way, we saw a signposted turnoff leading to the hydro facility at the base of the falls as well as access to the base of Fervenza Rio Toxa itself. And given the volume of water on the falls, it was certainly impressive even from as far as we were while looking for a parking spot.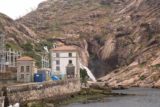 Eventually, we got as far as the blockade allowing only authorized vehicles to proceed further. So instead, we turned around and found a non-shady spot to park. There were actually plenty of spots but the most sought after spots were in the shade of trees, and those were clearly all taken up.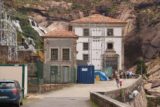 So at 2pm, we were at the car park. Then, we proceeded to walk along the road until we got to some building where the continuation of the path descended down some narrow steps before getting onto a walk affording us some partial views of the falls. But as we kept going further, we could see that there were steps leading down to the rocks surrounding the plunge pool of the impressively gushing waterfall.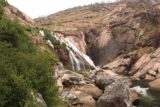 In a bit of a first of this trip, I managed to finally make use of the tripod we had been carrying all along. So we spent a bit of time taking family photos as well as sightseeing photos of the Fervenza Rio Ezaro. In addition, we had another first of the trip as we anticipated spending time at the beach here (which we had seen from the miradores earlier on). This would be our first time spent on the beach on this trip as well.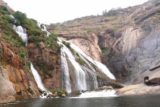 While we were chilling out here at the falls, I also noticed an otter scurrying on the other side of the river. I wasn't able to get a decent photo of it, but I did see them and capture them in video footage of the falls. With the falls gushing as much as it did, Julie and I felt like this waterfall was deserving of at least a 2.5 but no more than a 3.
It was about 2:50pm when we had returned to the car. In another five minutes, we were driving towards some place in the town of Ezaro that would be willing to serve us food regardless of which table got most of the sun (or lack thereof). Indeed, Ezaro was a pretty sleepy town and it appeared that most restaurants had already been closed for the siesta.
While I was driving towards town, I saw a more distant view of the Fervenza Rio Ezaro from somewhere near the boats. This was where the view of the falls was more comprehensive though I definitely needed all the zoom that the camera would allow.
Eventually at 3:10pm, we finally settled on this place called Pension La Morada. It was the only place we could find in town that was actually open for a late lunch. We were also hoping that we could capitalize on its location so when we were done eating, we could head right to the beach so Tahia could enjoy playing in the sand a little bit.
The food itself was a simple affair of bread, Mediterranean salad, a pasta, and some kind of local fish. It was plenty of food. The ordering of the food was almost completely in Spanish so it was good that this particular meal worked out.
Finally at 4:05pm, we were done eating. The food was fresh and delicious even though they were simple. Now, we walked onto the extensive sandy flats, which I think resulted from the fact that this beach happened to be at low tide as the extensive sandy flats seemed to have recent evidence of being wet earlier in the day.
So Tahia and Julie were busy by the water as their feet felt cold from the very cold temperature of the water. Perhaps that was the reason why this beach wasn't that popular. Still, the fine sands, the serenity, the lovely scenery (as bare rock mountains backed the colorful homes of Ezaro), and some rock stacks nearby made this a very tranquil and peaceful beachgoing experience.
In fact, it seemed like our European beach excursions tended to be this quiet and secluded. It was a very stark contrast to the crowded and expensive (for food and parking) beach experiences we tended to get back at home.
Anyways, we could see that it was starting to become high tide and the water was starting to creep further up the sand with each passing minute. So it was time for us to leave. By about 4:50pm, we were back at the car.
As we drove back to Santiago de Compostela, I opted to ignore the persistent Nav and GPS (which once again advocated that I take the twisty mountain approaches) and instead go with the A550 route that followed along the coast. It was actually a very charming and relaxing drive as we'd pass by town after town with beaches, dunes, and coves. And Julie was busy comparing our Ezaro experience with how the other beaches and towns turned out (some were quite busy but the water looked less clear than at Ezaro).
Eventually at 6:20pm, we had returned to the familiar San Clemente car park where my parking ticket still worked (as the clerk had said I'd have in and out access for the next two days), and then by 6:35pm, we'd finally be back at the room to unwind, chill out, and wait out for a place to eat for dinner.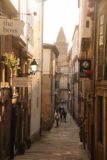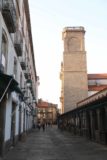 In the mean time, Julie and Tahia skyped Julie's mom so Tahia and Julie's mom could converse with each other for the first time on this trip (a period of nearly three weeks so far). That said, we were enjoying the new room, which was definitely more spacious (there were actually two rooms) so Tahia could have her own bed again. The only drawback was that this room was definitely warmer than the previous room. But with the silence and the spaciousness, we could live with its shortcomings for our last night in Santiago…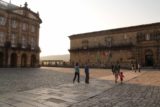 It wouldn't be until about 8:30pm when we headed back out in search of dinner. We headed out this late because Julie thought that the target restaurant called Casa Marcelo wouldn't open until 9pm. But when we showed up in front of the restaurant at 8:50pm, there was no indication that it would be open today.
We could've waited another ten minutes to see if we'd be the first ones to be served by them, but if there was no activity going on ten minutes before opening time, that would mean there wouldn't be enough time to prepare anything decent for any of the restaurant clients.
Then, we noticed that some people were coming in and out of this other restaurant called Restaurante Las Huertas. There was this Swiss guy standing outside suggesting that we should give this place a try. And since we didn't want to go on another futile restaurant chase, we finally decided to take this guy for his word and go inside to be seated.
So after getting seated at 9pm, we were handed menus that were only in the local dialect called Galician (or Gallego or Galego). In any case, we couldn't really make much sense of Gallego so the waiter ran down the list of menu items translating them in real time into english, which was very helpful. In the end, we picked up various tapas dishes as well as a salad and a main.
We had a couple of blue fish dishes as well as pork ribs that were pretty much fall-of-the-bone.
We also had a bonus tapa as well as some truffle-infused oil and fresh olive oil to be spread on our tasty salad and/or bread. The dinner took nearly 110 minutes because everything was made fresh.
Eventually, we would leave the restaurant at 10:50pm. When all was said and done, we considered the meal we had at this restaurant to be the best we've had in Spain so far. And since we've had at least 2 weeks to evaluate all the foodie places we've been, saying that this dinner spot was good (probably the best, which was definitely saying something about the quality of this brekkie.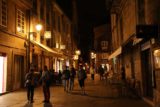 As we left the restaurant, the weather really turned from being hot and humid to being intensely cold with gusty wind chill winds. None of us were prepared for this turn in the weather as our cold weather clothes remained in our lesser-used luggages.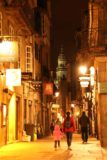 Julie and I were actually ready to call it a day, but Tahia wouldn't let go of an obscure promise we had made. So after putting on jumpers and long sleeves, we headed back down to the main part of the Old Town at around 11:15am, then we walked right towards the gelato place we had seen yesterday evening. Unfortunately when we showed up, the door was closed.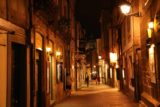 And so with that, we didn't feel the need to linger in Santago de Compostela since the street ambience was pretty much gone. Tahia, however, was really disappointed.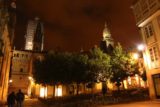 At about 11:30pm, we were back at the hotel empty handed. I guess we'll have to make up for it on the way to Ribadeo, which was where we were going tomorrow. That pretty much concluded today's happenings, and now we had to get all cleaned up then prepare our luggages for the haul to our parked car and then before heading out of town on the autovia…