Day 10: FROM 10K to 12
It was about 7am when both Julie and I awoke to her alarm as well as to some church bells that we could hear outside (probably from the Santiago de Compostela Cathedral). It was a typical get up and go kind of day so I made the first go at loading up the car once our luggages were packed and ready to go. This didn't happen until 8:05am when the larger suitcases, my backpacks, and some bags full of fruits, food, and water were all loaded up. And this followed a roughly ten-minute hike through the city streets of Old Santiago through the start of what looked like another busy day in the city for the locals.
It was about 8:15am when we finally left Santiago de Compostela. We didn't have time to stick around for the 8am breakfast, but the lady at the hotel was nice enough to let Tahia grab a yogurt free of charge.
The drive out of Santiago de Compostela was pretty uneventful as it was mostly on autovias (a small stretch was toll road). Eventually, we'd show up in the town of Mondonedo, which I knew was the nearest town to the waterfall excursion of the day at Salto do Coro. However, I was having a hard time finding any signs indicating the presence of the falls while in town.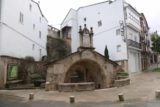 So the next best thing I tried to do was to look up the Oficina de Turismo, which I managed to find a directional sign pointing one way, but when I followed it, it seemed to have disappeared and I found myself turning around at a couple of dodgy-looking streets.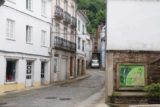 So at 10:20am, I stopped the car at some car park (though it didn't seem like a public one), then walked around in search of the visitor center. Something that got my attention was some kind of fountain as well as a small sign showing Salto do Coro. However, that sign indicated it was a 9.5km walk, which there was no way we were going to attempt that.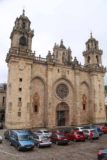 Next, I walked into a car park next to some cathedral. I'm sure the building was grand and it was probably a main attraction of the town of Mondonedo, but that wasn't what I was looking for. Indeed, as I started to give up hope on finding the office of tourism, I asked a couple of ladies having a smoke near the Praza da Catedral. She told me in Spanish that it was just right around the corner to my left.
I didn't follow everything she told me, but it sounded simple enough to just hang a left and look carefully. Sure enough, I managed to find the tourism office, which had a really small and unassuming door with an even smaller sign. It was so easy to miss that there was no chance I could've found this place by driving (as if the narrow streets and dead-ends wouldn't have stopped me in the first place). In any case, I practiced my Spanish some more and ask about the Salto do Coro. That prompted the clerk to give me a map as well as explain to me (in Spanish) where I should be able to reach the Salto do Coro by car.
He explained that I pretty much had to go straight up towards a bridge crossing before I should be able to find signs pointing to the falls. Unfortunately, there were no such signs inside the town itself (unless he was referring to the info sign by the Fonte Vella). In any case, I thanked the man, then I promptly walked back to the car.
So at 10:40am, we resumed the search. Now, I wasn't totally oriented where I was from where he was explaining where I was on that map. I just latched onto him saying "todo recto" from the cathedral. However, after about another 15 minutes of a futile search, I backtracked, and it turned out that the road I should've taken in the first place was the one next to the fountain pointing to Barrio Dos Munios. That was the key.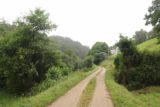 Once there, it was pretty much as the clerk at the tourism office said it would be. Once I saw the signs for the falls, it pointed me onto a pretty dodgy single-lane road with grass growing in the middle of the lane. There was quite a bit of overgrowth on this real narrow road and I kept hearing the underside of the car brushed by these grass.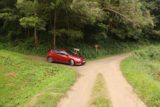 Finally at 11:15am, we made it to the car park for Salto do Coro. There wasn't any real car park spot to begin with, so we just parked at the real narrow trailhead, where I'm betting that it could only fit one or two cars tops. Another sign here said it was only 10 minutes walk from here (which echoed what the visitor center guy had said).
I started the walk while Julie and Tahia would catch up to me at the falls. The walk was defined but quite overgrown. Once again, it was very green around here, and with the threatening rain (it definitely rained lightly on the drive to get to Mondonedo from Santiago), I kept thinking we were in a different climate (like that of the Pacific Northwest) from what we had been experiencing in the rest of Spain.
At 11:35am, I finally made it to the Salto do Coro after going up some overgrown and slippery steps. The falls was much smaller than I was hoping for, but at least now I have a waterfall excuse to talk about things like As Catedrais Beach as well as Mondonedo and even Santiago de Compostela.
Indeed, it seemed like a lot of trouble for such a tiny falls (maybe 10m high or so), but the one thing this waterfall had going for it (besides the naturesque scene) was that it was quiet and peaceful here.
Julie and Tahia made it up to the falls a few minutes later. And with that, we took some people shots as well as documented the experience through photos and videos. Now that we had the waterfalling excursion out of the way today, we could pursue going to Ribadeo so we could drop off our luggage, then figure out what to do to kill time before we could check out the sea arches and caves at As Catedrais Beach.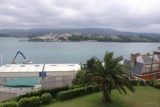 At 12:45pm, we arrived at the Parador de Ribadeo. While the accommodation seemed to be a bit away from the old town of Ribadeo, it was convenient in that there was a dedicated car park. Anyways, we were inside our room at 1:05pm, and we wouldn't be leaving the room until about 1:45pm as Julie was TripAdvisoring what would be good lunch places in town.
Well, when we headed out, we decided to drive. However, the car park that we found in town was just as far away from the old town as the Parador was (if not more). So it was like the car parking here was kind of useless to us. As it was 2:05pm, we were running out of time for having lunch at a reasonable hour, so we just decided to drive off and not force the issue in Ribadeo itself. We figured that we could check out the Old Town later in the evening around dinnertime when we'd come back from As Catedrais Beach.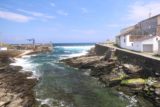 So we drove off towards the beach, but then along the way, we saw there was a place called Rinlo, which was said to be known for good restaurants. And so we spontaneously disobeyed the GPS and took the Rinlo turnoff from the N-524 before seeing that there were a couple of busy restaurants with people in them in town.
After crossing a narrow bridge, we managed to find impromptu parking alongside the narrow road, which seemed to be informal yet convenient for the restaurant Julie had targeted called Cofradia, which was just on the other side of the bridge from where we had parked.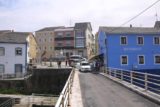 At 2:25pm, we found ourselves in the busy Cofradia Restaurant, and we promptly went upstairs to the comedor. Most people were downstairs having tapas or just having drinks and chatting. It was much quieter upstairs, but that peace and quiet quickly went away when a busload of people showed up and sat at other tables.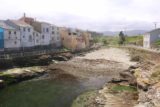 It turned out that this place specialized in fresh seafood. And the dish to get was some kind of Seafood Rice Stew that we saw pretty much every other table around us having. According to Julie's TA research, it confirmed that in this restaurant, that seafood stew was the must have dish here. We also got some langostinos cofradia (which turned out to be giant prawns) just to make it easier for Tahia to have her lunch. Both Julie and I didn't think she would want the big seafood stew that was real popular here.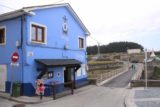 When all was said and done, we finished our dinner at 3:45pm. It turned out that our lunching experience here was much better than expected as the seafood stew not only contained shrimp, but also big lobster pieces as well as clams. The rice was infused with the seafood broth so it was a very fresh and very fragrant paella-like dish though it was a much wetter stew than the Valencian dish.
After paying for our bill and getting back to the car, I decided to just follow the Ruta das Praias, which was basically the Beach Route. Since the As Catedrais Beach was only 6km away from where we were at, we mind as well take our time and enjoy the coastal drive past some farms as well as other beaches and coves.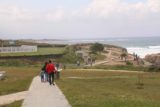 Finally at 4pm, we made it to the car park for As Catedrais Beach. It was a very busy car park, and just as we had parked, we saw a tour bus drop off a big group of people.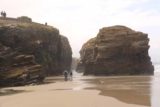 The tide table said that the lowest tide was slated for 5:34pm today, but it was still a little over an hour early here. And when we went onto the beach, we saw where there was a significant amount of water inundating the route to get to the triple arches that made this beach so famous.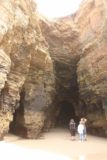 While we made this observation (essentially making Julie realize that her and Tahia probably weren't going to make it to the arches given how rough it was), there was a nearby cave where I had heard bagpipes coming out of a cave. Sure enough, there was a bagpipe busker inside it, and apparently she was taking full advantage of the acoustics of that cave.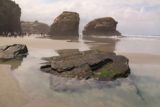 As more people were crowding onto the beach (from other tour buses just arriving), it was pretty clear to me that she knew what she was doing to earn some propinas. Nonetheless, the striking thing about this observation was that there were even bagpipes at all!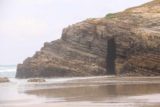 Now while I did do some reading about bagpipes in Galicia, it was still a trip to realize that this was part of Galician culture, which was something I'm sure most visitors to Spain wouldn't even realize existed let alone observe in person!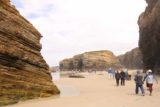 I wasn't sure what the Celtic connection was to this region of Spain with places like Scotland and Ireland, but it still felt special nonetheless to experience this something unexpected.
With Tahia in tow, we turned back and went up to the cliffs instead, hoping that the lower tide might make the scramble easier. So at 4:25pm, we were back up at the cliffs, then we followed the cliffs until we could confirm the location of the triple arches. That said, we saw there were other impressive arches and caves along the way though they were hard to photograph from up here.
At 4:55pm, Julie, Tahia, and I realized that even with the lower tides, getting to the best part of the beach would require getting wet. Julie and Tahia wasn't going to do it, but they were going to watch me from the cliffs. So I unzipped the lower part of my pants, gave my wallet and keys to Julie, and then was on my way down. The only real sensitive thing I was carrying with me was my DSLR camera.
It didn't take long before I made it down to the bottom, then out to the part that turned us around. Now, it was pretty dry here, but there were still people slowly trying to scramble across the slippery and wet rocks. Since I was in Chacos and shorts, I was undeterred by getting my legs wet.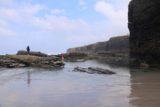 Beyond this, I saw there was a really nice arch (possibly on the verge of collapsing since its top was so thin), which I gladly photographed. Julie and Tahia also saw this arch from the top of the cliffs.
Next, I continued onto the next hairy part of the scramble. This time, there was a bit of a longer and more involve wade through knee-deep tide pools and rocks. Again, since I was prepared to get wet, I trudged forward.
Once I got past this obstacle, I was now only one of maybe a dozen people (out of hundreds) that have made it to this point. It was nice and quiet, and now I found myself in front of a few surprise arches as well as the triple arch that made As Catedrais Beach so famous.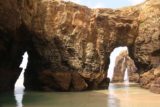 Indeed, for a few minutes, I would wade towards the cove behind the first of the triple arches as well as another arch with a view of the thin arch in the distance through its span. And so I took what photos that I could for as long as I could before a handful of people started showing up.
I conversed with one guy who told me that this beach tended to have 10,000 people here at one time in the months of July and August. The fact that there was so few people right now, made this a very memorable and photogenic experience.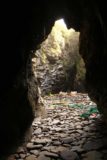 Since it was now about 5:30pm, I knew that we only had a few more minutes before the tides would start rising again. So I did what I could to seize the moment.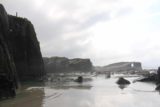 Eventually at about 5:40pm, I headed out. And at 5:45pm, I had scrambled past the obstacles again (watching other people taking a spill on the slippery rocks), and I had rejoined Julie and Tahia in the "safer" zone. The sun was definitely out at this point, instead of the ominous overcast skies that were here when we first showed up.
There were also many more busloads of tourists here. In fact, when we got back to the car at 6:10pm, we saw at least a half-dozen tour buses (possibly more). Some tour buses just showed up, which I knew was probably too late for some of their clients to get to the best part as the tides would continue to rise for the next six hours and essentially be inaccessible until nearly 12 hours later.
At 6:25pm, we were back at the Parador, where we changed our clothes, and chilled in the room for a bit before we were ready to head into the Old Town of Ribadeo. This would be the first time this day that we'd finally get to check it out…
At 8:05pm, we finally headed out of our room and into town. We pretty much meandered about as we crossed the Plaza de Espana, which basically featured a park backed by some impressively old school buildings. They seemed compelling enough to linger around, and they seemed to hint at an even more interesting old town behind them.
However, Julie was on a mission to find this restaurant that she found on TripAdvisor. And so she kind of turned a blind eye to the attractions around town, and ended up crossing the Praza do Espana in the wrong spot. Eventually, we'd get oriented and find the road we should be taking, but that for the most part skipped much of the old town as we headed towards Restaurante La Soldana.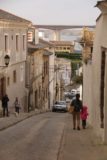 I wasn't sure if we were going to regret not passing through the Old Town on the way here, but Julie didn't seem to show the least bit of interest as far as Ribadeo was concerned.
At 8:20pm, we got into the Meson Soldana, where we were the only ones in the restaurant who weren't working. We pretty much indulged in a dinner consisting of very fresh langostines (really giant prawns) as well as some kind of fish that was a substitute for this dish that Julie saw on a TripAdvisor report on her iPhone.
The food was simple yet very fresh and tasty. We capped off the very filling dinner with a little chocolate lava cake flanked by a couple of whip cream mounds. It was a very satisfying meal, and it was similar in spirit to the one we had at Rinlo in that it was very seafood focused. However, Julie thought this place here had fresher seafood.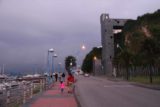 It wouldn't be until 10:10pm when we finally left the restaurant. Instead of walking through the streets of the old town of Ribadeo, Julie wanted to walk along the waterfront on the way back to the Parador. I wasn't sure if we were going to regret not checking out the most charming part of the town as the walk along the waterfront was mostly industrial.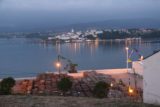 Anyways, at 10:45pm, we made it back to our room. We learned that the supermarket in town was already closed at 10pm. So I guess to stock up on supplies (especially water), we'd have to find a place to buy food and water along the way from Ribadeo to Cain de Valdeon. For the priority of tomorrow for sure will be the Cares Gorge…