Day 11: CARING FOR CARES
It was 6:55am when we awoke. I didn't have a very restful sleep because it seemed like all last night there were mosquitoes buzzing around my ear making things unnerving. I probably ended up falling asleep at around 2am so I didn't exactly feel like I was in good shape when I finally did wake up.
We did the usual routine of getting our stuff all packed up and ready to go, and by 8am, I had loaded up the car.
Next, since Julie had read good things about the breakfast at the Parador in Ribadeo, we decided to stick around and do the brekkie, which began at 8am. It turned out that the breakfast was pretty much as advertised. There was a lot of variety in the buffet that was there. So we got jamon, tomato spread, all sorts of breads, fruits, pastries, and even a churro (not hot chocolate fudge though). There was even freshly squeezed OJ as well as eggs, spanish omelette, sausages, and more.
It probably beat out the NH in Salamanca for the best brekkie of the trip. And so the 12 euros per person (Tahia was also charged) was probably worth it in this case. We pretty much stuffed ourselves silly so we didn't feel the need to have a lunch. So if we were running behind on time, we could still get into the Cares Gorge hike immediately upon checking into Cain de Valdeon. The Cares Gorge hike could take a long time as it would be 24km round trip if I traversed the whole 12km distance from Cain to Poncebo and back.
So finally at 9am, we were done with brekkie, checked out, and got into the car. We left town at 9:15am. Now this was a later start than I had planned for given that I anticipated a five- to six-hour drive to get all the way to Cain. But I also knew that it tended to stay bright pretty late into the evening so if I was somehow caught out late, I'd still have enough daylight to see where I'm going.
However, the bigger threat was the weather. The clouds looked dark and it appeared that it was going to rain, just as the receptionist at Santiago de Compostela had predicted. Given that the Cares Gorge was not only long, but it had a lot of dropoff hazards, the potential for a lot of rain could make the trail both slippery and riskier.
Anyways, the drive out of Ribadeo went right onto the A8/E70 autovia, which had us zooming eastwards out of Galicia to Asturias, and then we'd head south into Castilla y Leon in the mountains known as the Picos de Europa. I had followed the car's navigation, and somehow it had changed its mind on the route to take (as opposed to what I had planned earlier when we should've gone south of Gijon then east from Oviedo instead of further east of Villaviciosa).
So after our last gas/toilet break at 10:45am, we headed south into the mountains, and the AS-260 road the nav system had us take was narrow and steep. Not only that, it took us into the clouds where visibility was poor. It was yet another instance where either the GPS or nav system had failed us. And I was kicking myself for not trusting my instincts and taking a more tamer road south from Oviedo.
Thus, we were forced to go at a more deliberate pace. The 12:30pm estimated arrival time was definitely not going to happen. We'd eventually get down to a busy town called Cangas de Onis, which looked like a busy and full-fledged tourist town. While passing through the town, we then followed the N-625, which was a much more reliable road. However, as we headed south, even this road started looking more like the AS road so there was no way we were going the 90km/h that the GPS said we could go.
The weather started turning into more consistent rain as we headed south. We'd eventually get to a signposted turnoff leading to Posada de Valdeon and the Picos de Europa. The access road was surprisingly wider than the N-625 road we had just taken. But once we got into the picturesque Posada de Valdeon, the last 9km of road leading to Cain was back to being narrow, steep, and scary.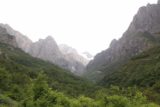 That said, the scenery at Posada de Valdeon was like something out of the Swiss Alps. There were giant peaks looming over the town with its stone buildings topped with those reddish Spanish tiles. If we weren't in such a hurry, I really wished I could've stopped and taken some photos here because it really was Sound of Music-like.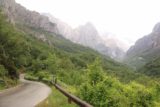 Anyways, we continued on the road to Cain, which had bumpy stretches, but I had seen worse roads than this. We did make one stop that looked into the valley containing Cain de Valdeon, but other than that, we made a beeline for Cain until we finally managed to get into the small hamlet at 1:20pm.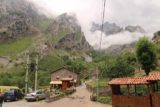 At first, we were going to park in one of the spots signposted for parking. However, there was a dude there that wanted 3 euros for us to park there. And since we thought our accommodation had dedicated parking, we declined. Then, Julie found that I could squeeze between a lamp post and someone's van (a very tight spot), and we did that so we managed to park free of charge.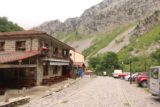 Finally at 1:40pm, we lugged our stuff up two flights of stairs before we got into our cramped little room. I guess when you're out in the mountains like this, you have to make do with basic accommodations more often than not. The guy who showed up the room said there was no dedicated parking spot for the hotel so it was a good thing we did manage to park for free.
Anyways, I loaded my day pack with water, a couple of bread rolls we had swiped from the Parador Ribadeo's brekkie, and then at 1:45pm I was off on the hike after giving Julie and Tahia little farewell kisses. Indeed, I was going to do this hike solo while Julie and Tahia would go about the hike for a much shorter distance and at their own pace.
It looked like the weather had significantly improved now versus the drive in when it was raining. So some of the peaks were showing themselves amidst the shroud of clouds. Anyways, finding the hike was pretty straightforward (though there was a British couple who asked me if I knew where the trailhead was earlier when we were checking in). But since I knew the general direction, it didn't take long for me to find the right trail, cross over the bridge over the Rio Cares, then be on my way working my way north from Cain.
One interesting thing about this hike was that the Rio Cares flowed northwards from Cain to Poncebos. However, according to the signs, the hike I was doing from Cain to Poncebos (or somewhere near it) was mostly uphill (albeit gradually). Then, when I'd return, it'd be mostly downhill from there.
I pretty much hiked then stopped frequently to take pictures. Normally, I consider myself to be a pretty fast hiker, but on this day, it seemed like I was the slow one as people (including elderly types) were passing me. That said, it was difficult to capture meaningful photos without subjects on the trails for scale or even just nature shots as there was simply too much to take in.
The first notable section was a dam with two artificial waterfalls rolling down the dam wall. The trail then went through a bunch of tunnels as it went further from the dam.
By about 2:30pm, I had reached La Puente de los Rebecos, which featured an alcove right above me as well as the bridge spanning the gorge. Five minutes later, after seeing an artificial waterfall fed by canals, I had reached the Puente Bolin.
Speaking of artificial waterfalls, I was hard-pressed to find the natural ones. Most of the waterfalls were caused by overflow of the canal banks. So these waterfalls didn't count even though many were in pretty scenic spots and could easily be photo subjects if the photos of the gorges and peaks became a bit much.
After the Puente Bolin, I started seeing a thin but more real waterfall. I wasn't sure if there was yet another canal on the other side of the gorge, but this falls certainly seemed more legit than the ones I had seen before it.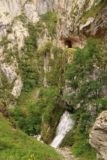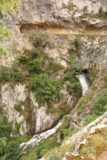 Next at 3:10pm, the trail then passed by yet another waterfall spilling out of a canal. In this case, the canal spillage left a opening in the cliffs. So when photographed together, it created the illusion that this waterfall was coming out of a cave or hole (which was clearly not the case here).
At 3:45pm, I saw some people chilling out near a house. Speaking of houses, I think this was the first building that I had noticed since the buildings near the dam.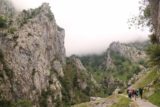 The trail continued to pass through more tunnels, hug alcoves and ledges, and a few more suspension bridges. The gorge seemed like it was getting deeper the further north that I had gone. At this point, most of the scenery was pretty "featureless" except for the odd building here and there.
That said, though there was plenty of gorge scenery even though clouds were threatening, the gorges and cliffs started blending into each other for me. As it was getting later and later in the afternoon while I was still on the lookout for a natural arch in Cares Gorge, I'd finally reach the natural arch at 4:45pm. I was really glad that it was there at this time because I had a hard 5pm deadline so I wouldn't keep Julie worrying about me.
Anyways, with my mission accomplished, I opted to head back the way I came. There were still some people who had made their out here and continued past the arch going up the switchbacks then back down to Poncebos. I was really glad that the arch was present without me having to do the arduous climb that I could clearly see from my lower vantage point on the trail.
So I had my little bread break along with some water before heading back to Cain. The weather was now producing some very light drizzle though the clouds here were definitely threatening. Even though I was still taking photos on the way back, I was moving along at a comfortable pace.
By 5pm, I had made it back to a house near some irrigation canal as well as a small stream going under a bridge here. I was starting to notice people going the other way (towards Poncebos) also happened to be some of the same people I had encountered near the start of thike.
At 5:50pm, I had made it back to another house near a junction with Covadinga (sp???). Nearby this house, I saw a trio of goats along the trail that I believe were the same goats that I had photographed earlier in the morning.
At 6:30pm, I was back at the Puente Bolin, where now there were condors soaring high up on the cliffs.
Finally at 7:20pm, I had made it back to the hamlet of Cain. The town was very quiet now, and I had noticed that the tight free parking was now mostly free of space. I was really glad that we didn't pay the guy 3 euros because that would've been a waste of money.
At 7:25pm, I rejoined Julie and Tahia at our room, where Tahia was pretending like she was camping. And so ended a pretty crazy day of long driving, then long hiking. Still, I managed to see all the things that I had intended to see on the Cares Gorge hike, and so I felt like it was a good and worthwhile bit of exercise.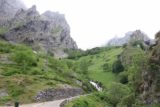 After our 8:15pm dinner downstairs (the trout was really good), we were back in our room at 9:30pm. It was pretty much the earliest that we had been back at our room intentionally all trip long. Maybe, just maybe, we could leave early since tomorrow was going to be a packed day consisting of Cascade de Nocero, Leon, and Burgos.
Indeed, the vagabonding part of the trip was well underway…
Visitor Comments:
Got something you'd like to share or say to keep the conversation going? Feel free to leave a comment below...
No users have replied to the content on this page