Day 12: OMG
It was 6:30am when Julie's alarm went off. As we woke up, I was able to see through the window on the roof of our tiny room. And as I looked, I momentarily saw some silhouettes of the peaks that we had missed out on yesterday due to the cloud cover. Anyways, this momentary parting of the clouds didn't last because then the clouds covered up those elusive peaks.
Since we had pre-loaded much of the loose stuff in the car last night, we only had to get Julie's big luggage together before I could finally lug everything down the stairs for a couple of flights then load up the car. By 7:15am, we were leaving Cain.
We the relatively early start, I was more conscientious of deer dashing out on the road than I was on the curves and steep inclines. Even then, there was one local who was gunning the roads so we pulled over and let him pass.
As we were leaving, I was hoping to make some quick stops at some of the lookouts that we had noticed on the way in. We didn't stop for them given that we wanted to allocate more time to do the Cares Gorge hike, but it turned out that when we reached the Mirador de Valdeon at 7:45am and the Puerto de Panderruedas at 7:50am, there were too many clouds obscuring the sharp peaks that we had momentarily seen yesterday.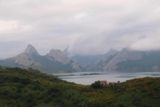 The drive out of Picos de Europa seemed to be much straighter and easier to drive than the road we had taken yesterday. We even passed by some pretty scenic small towns, including this one by a man-made lake called Riano, where there were Torres del Paine-like exposed sharp peaks backing the lake.
At 9:05am, we had arrived at an unsigned trailhead for what I believed to be the Cascada de Nocedo (at least according to the GPS waypoint that I had put there). Given the unsigned nature of this excursion (it was not signed at all even as we drove up through Valdepielago to the trailhead), I wasn't even sure if we were in the right place. But there was infrastructure like the fairly large stone pullout along with bridges that were built that made me believe that there was indeed something here.
Julie and Tahia didn't think anything of it so they stayed in the car. Meanwhile, I put on my hiking boots and scouted out the trail. It turned out to be a very short trail bridging the creek a couple of times before the grated footpath went into a narrow chasm. As I rounded the corner, the sound of falling water grew louder as I saw the small but pretty waterfall before me.
Since the mist had nowhere to go but out my way, I had to be cognizant of that mist getting onto the lens. Nonetheless, the falls was definitely something I was sure Julie and Tahia would appreciate. So I took my photos and documented the falls in a video (showing that indeed there was a natural bridge spanning above this falls), and so I wasted no time in getting back to the car and showing Julie what I had captured in my camera about 30 minutes after I had gotten started.
Sure enough Julie and Tahia put on their shoes and went to the falls. And they managed to see the falls, take people shots, then get back to the car at 9:55am. Now, we could head over to Leon for a brief half-day tour before continuing on to Burgos. Indeed, I had anticipated this to be a pretty busy day, but it seemed like we were making good on time.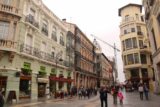 It wasn't until 10:55am when we finally found parking near the Plaza Santo Domingo. This was after spending about 20 minutes or so circling the city streets of Leon in search of a car park that wouldn't result in too much of a hike to get to the city center. Fortunately, we pulled out Rick Steves just in time so we knew to park somewhere near the Santo Domingo Square. Luckily, we happened to find the underground parking even though I knew that it wasn't going to be a cheap lot to park in.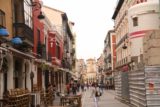 After parking the car, we then went upstairs where we found ourselves in the Santo Domingo Square. There were some interesting buildings surrounding the square, but we saw a sign pointing to the cathedral so that was where we went. After a few more minutes of walking through what seemed to be a pretty busy street flanked by restaurants, cafes, and shops, we then found ourselves in an open area before one of the sides of the Cathedral of Saint Mary. There were also tents set up as there was apparently some kind of market going on as well.
Naturally, we wasted no time going into the cathedral, paid the 10 euros for Julie and myself (Tahia was free), and then we marveled at the dark interior highlighted by all the stained glass windows adorning most of the upper reaches of the cathedral.
Even though Julie and I were already pretty cathedraled out at this point, the unique aspect of this cathedral being very decked out in stained glass windows and moody lighting kind of set this one apart. I was glad that we did the detour out to Leon as well as the Cascada de Nocedo because this wasn't on our original itinerary.
Eventually at 11:55am, we were done with the Catedral de Santa Maria. Julie had read good things from Rick Steves about the Basilica de San Isidro so that was where we were going next.
As we slowly meandered about the busy street Calle Ancha, we made a brief stop at this dessert place called Valor. I guess the pictures of chocolate con churros kind of renewed our craving for this unhealthiest of desserts. But when we stopped in there at 12pm, we got ourselves a small helping of the churros as well as a fruit crepe. Upon eating the indulgences, the churros was pretty average. However, the crepe was terrible. It was like a pancake mislabeled as a crepe. I can't recall the last time we had crepe that bad.
Anyways, we were out of there by 12:15pm. About ten minutes later (after having walked by one of Gaudi's buildings, which looked ordinary compared to the pictures of his famous works in Barcelona), we made it to the Museo San Isidro de Leon.
We paid for the admission, but then we had to wait. Apparently, they controlled entry based on time, and I guess we were on the 12:30pm tour. With every passing minute, it seemed like the waiting area got busier and busier especially with what appeared to be a large Spanish tour group inundating the waiting room.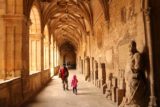 We wouldn't get in until 12:35pm. That was when we went up some spiral stairs leading up to some treasury room. The larger group followed us soon thereafter then one of the employees gave the tour in Spanish. One other employee asked if we wanted to listen to the Spanish tour or not. When we said we weren't good enough with our Spanish to follow along, she then allowed us to tour the remaining rooms before they'd get to it.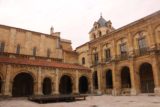 That was nice of her.
So we then checked out more treasures and other artifacts. No photos so we could only gawk and take mental notes.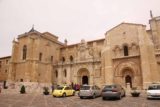 Then, we went downstairs where we then went into the so-called Pantheon. That was where we saw a room full of sepulchers with frescoes on the ceiling. Apparently, these were the original frescoes though I was curious why the frescoes on the ceilings were better preserved than the ones on the upper walls. In any case, they wouldn't let us take pictures of these impressive frescoes.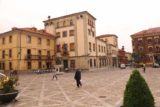 That said, we were able to go onto the courtyard adjacent to this room where we could look towards a tower that now housed a replica of a golden rooster sitting atop the tower. There was the original golden one sitting in a glass case in a separate room accessed from this courtyard.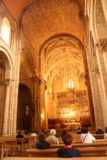 So this pretty much concluded our visit of this museum, when we left at 12:55pm. Before we went for a lunch spot back at the Calle Ancha, we did make one brief stop in the basilica next door to the museum. People were seated there quietly as if anticipating something was going to go on. So we discreetly took photos until we saw a white robed man head up to the podium and the audience starting to stand. That was our cue to leave.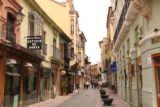 Back at the Calle Ancha, we headed back in the direction of the cathedral. We had no real agenda for visiting Leon so chances were that after lunch, we'd be headed back to the car then head to Burgos.
We ended up eating at this place called La Trastienda del 13 at 1:15pm. We chose to eat indoors since they (and other places) charged an extra 10% for sitting outside. But since we were one of the few people eating at this hour, we were still able to somewhat people watch as well as checking out the cathedral from our vantage point.
We ended up with a simple but expensive lunch that consisted of a salad, a small cut of cochinillo, and some kind of tuna tartare salad. Julie was really trying to force the issue with some kind of fusion food since she was really tired of Spanish food at this time. We ended up paying over 50 euros for this lunch, which kind of reinforced this theme where food was noticeably much more expensive the further north in Spain you go. I recalled being pretty well fed when we were in Andalucian Spain.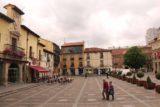 In any case, we were done eating at 2:15pm. And by 2:30pm (after paying over 6 euros for the parking), we were back in the car and ready to go. For the next couple of hours, the drive out of Leon and towards Burgos (opposite the general direction of Camino Frances) was pretty uneventful and featureless. It was that way because we could clearly see that this corridor was nothing but long stretches of farmland. It was kind of like the drive up the Central Valley of California along either the I-5 or the CA-99.
This stretch lasted for over 150km, and now we could appreciate why some people doing the Camino Frances by foot would opt to skip this stretch.
Anyways, we'd eventually get into Burgos city center by 4:35pm. Along the way into the city, we saw that there was some kind of a huge celebration going on. We weren't sure what this was about, but they did close one of the access roads into the city center that ultimately would've made it pretty direct for us to get to the Hotel del Cid near the city center.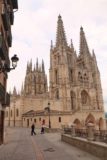 Once we found the parking garage, we were buzzed in after Julie contacted the intercom, then we found ourselves in yet another tight garage. Indeed, I still contend that parking garages in Spain were amongst the most hazardous places for rental cars. Anyways, Julie helped me navigate through the tight turns before we finally got to our assigned parking spot.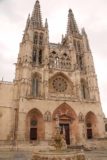 Ten minutes later, we dropped off our luggage in our room, and then a few minutes later, we went downstairs and towards the reception to finish our check-in. Immediately after that, we headed right to the Burgos Cathedral, which was conveniently next door to our hotel. Now it looked dead on the hotel side, which made me wonder whether we might get shut out again due to a holiday closure or something. However, when we continued going down the steps into a large plaza flanking one side of the impressive cathedral, that was where all the action was regarding the people traffic as well as the tourist entrance to the cathedral, which was still open!
At 5:15pm, after we had bought our two-adult-admission at 14 euros for Julie and I (Tahia gratis), we then went around and up the steps into the entrance. That was when we walked the self-guided maze that took in the bright interior of the cathedral. Like Leon, it also featured its share of stained-glass windows (though not nearly as many as Leon's). But unlike Leon, this one was much brighter and cheery than the dark mood lighting in Leon. This cathedral also let us look into other rooms as well as a lower area where there were more corridors and displays.
"Oh my God!" said Julie as she was wondering whether we should've bothered with both Leon and Burgos' cathedrals. Clearly, she was really cathedraled out, and she felt that our trip could've been cut by a week had we skipped both Leon and Burgos as well as Santiago de Compostela.
Well, I guess she was getting homesick, and having already seen both the Alhambra and the Mezquita, these medieval cathedrals felt pretty ordinary, especially since we had seen cathedrals in other parts of Western Europe.
We'd eventually leave the grand Burgos Cathedral at around 6:05pm. Another five minutes later, we had climbed back up to our room where we chilled out for a few minutes as Julie was looking into TripAdvisor for places to eat in Burgos city center.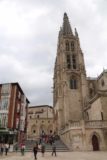 Julie eventually found this place called La Quinta de Monje, which was one place with a lot of TripAdvisor reports. Once she had her mind set on going to this place, we headed back down at 6:55pm. I was glad that this place was on one of the restaurant alleyways near the Plaza Mayor. So this gave us a chance to see a little bit of the most happening parts of the city center before calling it a night.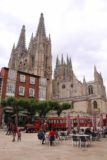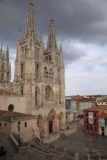 Indeed, when we got to the Plaza Mayor, we saw that it was a charming open square. I'd argue that this was even more charming than the Zocodover Plaza in Toledo. In any case, we'd eventually find La Quinta de Monje and eat there at 7:20pm.
Once we saw the menu, we saw all the creative tapas that were on offer here. And then we went nuts ordering up all sorts of dishes as well as getting a bottle of sangria. In hindsight, we probably overordered, but we realized as we were trying out all the different tapas that they had that this was probably our most satisfying tapas experience in the country to date.
This was probably as close to the Jose Andreas Bazaar experience in Spain that Julie and I seemed to favor the most. And so we left fully stuffed but very satisfied at 8:40pm. Indeed, we had pork cheek burger, ox tail burger, tender T-bone steak "monk" style, cod and prawn tempura, some anchovies dish, beef steak topped with foie gras, and many other things.
When we left the restaurant, it seemed like the cloudy weather made a turn for the worse as it was now drizzling outside. Yet even still, this didn't stop the locals from having their evening paseo as most of the lanes and alleyways were busy with people. It was the kind of post-dinner atmosphere that we were becoming accustomed to during our month-long stay here (we were into our third week now).
Plus, the drizzle didn't stop us from trying having an ice cream on the go as well as strolling around a bridge near the ornate gate opposite the square from the Burgos Cathedral.
Ultimately by 9:10pm, we were back in the room. I guess the early dinner (not many restaurants would even open before 8pm) meant we could go to sleep a little earlier as well. And as we were chilling out in our room, we could see outside that the rain really started to come down a bit. This prompted Julie to comment how the weather up here in Northern Spain was very much like the rest of our European trips, except in this case, we had largely avoided rain for almost the entire time we had been touring Andalucian Spain. So much for the warm weather and the sunshine…
While the timing of our return was practically perfect, we were concerned about Bilbao and San Sebastian in the coming days as the forecast called for chance of rain in each of the next three days. That might ruin Tahia's anticipated beach visit in San Sebastian. I guess we'll have to play it by ear. That said, some of the other waterfalls might be doing better than they had been doing in the recent past like Nacimiento de Rio Ason, etc.
As evening faded into night, I took a few more snaps from the convenience of our hotel room. We had a nice view of the cathedral being lit up first with late sunset glow (albeit faintly) then with city lights under twilight.
And so ended this rather successful day…
Visitor Comments:
Got something you'd like to share or say to keep the conversation going? Feel free to leave a comment below...
No users have replied to the content on this page