Day 13: SEEKING SHELTER
It was 7am when we awoke. Although it had been raining last night, this morning looked cool and moist, but there was no rain. So we did our now-usual routine of getting ready for the day, then getting all packed before lugging our stuff into the garage to load up the car by 8:05am.
Then, we headed back to the reception area of the Hotel del Cid so we could have a brekkie. It was now Julie's MO to stick around for the brekkie since she knew that when we were on the road, the munchos in the car weren't good enough to fuel us for the day. Plus, there were no guarantees that we'd find something good anyways.
And so we had the brekkie, which included some cooked stuff like spanish omelette (basically eggs mixed with potatoes) as well as scrambled eggs, bacon, and an assortment of breads that we could toast. We tended to gravitate towards the cured ham to put atop the toast though there was no tomato spread at this place.
The sweets and pastries were definitely fully stocked at this place. There were plenty of chocolate-covered doughnuts (one that was both chocolate covered as well as having nutella filling) as well as a churros sprinkled with cinnamon sugar (almost like the way you see the Mexicans do it at carnivals or parks) though there was no warm chocolate to dip that in.
Anyways, we once again left brekkie fully stuffed so that meant that lunch was optional. And it would need to be given the full spate of activities that we were planning for today.
At 9:05am, we were back in the car and headed out of Burgos.
The drive north into the mountains didn't take long though we were struck by how some butte-like formations totally reminded us of something we might see in Utah except there seemed to be a bit more green in this area (probably because it sees more rain) than what we'd be used to seeing in the deserts of the American Southwest.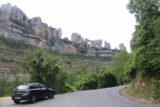 Eventually by 10:15am, we'd enter the village of Orbaneja del Castillo. Just as we had crossed a bridge fronting an attractive waterfall (and there were already a handful of people enjoying it), we noticed a pullout with a view of a natural arch across the gorge but atop the cliffs above us, which was where we seemed compelled to stop the car. Just as we did it, there'd be a few more cars packing this pullout that might have also acted as a car park for checking out the town.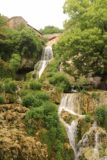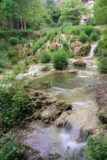 I was nervous about seeing broken glass on the pavement (a sign that this place had a history of break-ins), but when a local was setting up some kind of stand to sell stuff, I had confidence that we could park our car here (especially with our luggages and stuff in it).
Anyways, we immediately headed towards the bridge crossing over the stream containing the falls. When we looked upstream, we could see an attractive main tier of the falls followed by some cascades over travertine formations. There were old-school buildings flanking the upper portions of the falls giving this place a bit of a very unusual feeling to it since it's not often that you see waterfalls running through charming old villages like this.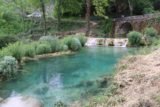 As we looked downstream from the bridge, we saw more attractive blue-green pools before tumbling over more tiny cascades. It was almost like the Plitvice experience again. With the sun mostly concealed behind thin clouds, the colors of the pools were apparent but it vascillated between being pronounced by the sunlight or just bright by the haze of obscured sun.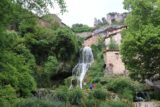 After taking what photos that we could of the falls (it wasn't easy since it was tall enough and wide enough that we couldn't get the whole thing on our cameras), we then walked up the steps alongside the falls and up between some of the village buildings above us. It appeared that was some kind of accommodation alongside the falls, which made us wonder whether this would've been a real relaxing place to stay to hear the sound of the water as we'd doze off overnight.
Anyways, we'd then get to a break in the stairs where we were pretty much at the top of the falls. There appeared to be some kind of water control valve flanking the channel responsible for the falls. And it was here that I wondered whether the big travertine falls was here to begin with, but then during the history of the town, they built around the stream then decided to control it so the village would stay intact. I doubted that they diverted the stream to create an artificial falls through town as it seemed like too much trouble to do that here.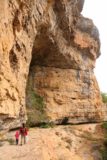 Once we were at the top of the climb, we were in the center of the tiny village of Orbaneja del Castillo. It looked like no tourists could drive up here so we did the right thing in parking down there and walking up. In usual European style, it was charming just to meander about the small alleyways here as well as walk along the source of the stream, which seemed to go towards some excursion here called the Cueva del Agua (Water Cave).
It wasn't open when we showed up (which was still before 11am when the sign said they'd open) and we weren't really leaning towards doing this excursion anyways as we had seen plenty of caves. Further upstream, it seemed like the stream was coming from somewhere, but we couldn't tell from where. It was clear that this stream was fed by an aquifer running through these Water Caves I'd imagine.
Since I was motivated by our internet research prior to the trip to find a good overview of Orbaneja del Castillo with the buttes and arches as the backdrop, we continued to follow the local road between a few more buildings that climbed higher above town. The first turnoff steeply went towards some alcove against a steep cliff that offered some more views over the village though the tall trees in the foreground kept it from being a sublime view.
We then went back down to the local road and continued a few paces further up it before we reached some hiking signs. From there, we decided that we probably were going to get as clean of a view over the village towards the rock formations across the gorge above the cliffs. And that ended up being where we'd take some people shots then turn around and head back down.
If we had more time, we probably would've had lunch and chilled out in this town for a bit before continuing on. But we still had a bunch of things to do on this day so by 11:35am, we were back at the car.
By now, there was a tour bus parked at the big pullout we were at, and when we looked for a place to turn around and head back to the main N road, we saw even more cars parked up the road where there were more signs as well as a ramp that went up to the village though as I had suspected, it was locals only.
The drive out of Orbaneja del Castillo and towards Puentedey meandered between more interesting cliff formations before momentarily flattening out. There were some huge birds (were they some kind of brownish eagles?) that were near the road at one point, which caused one of the cars in front of us to stop so as to not hit one of the birds swooping across it.
There were a handful more of these really big birds, and I wished that we could've photo'ed them just to show how huge they were (kind of like the black eagles that we saw in Western Australia back in 2005 and in Tasmania in 2006), but that wouldn't be possible while driving.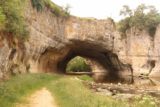 Ultimately, we'd arrive in the village of Puentedey by 12:30pm. Parking was tight, but we managed to secure a spot across the bridge (where there was also a view along the stream from there towards the natural bridge that we had targeted for a visit). What made this place stand out in our minds was that this natural bridge also supported parts of the village of Puentedey above it.
We wondered how stable having buildings and infrastructure above a large natural bridge like this would be, and I even noticed some vertical lines in the cliffs above the span of the bridge suggesting that some fractures where water and ice could get in to expand and contract the fracture had already been forming.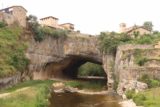 Nonetheless, this strange juxtaposition of charming European village and natural attraction was in itself a worthwhile diversion. The only tricky thing to our visit here was that it looked like the rain was starting to come down as we were nearing the village. At least the rain somewhat let up as we were taking pictures and doing our brief visit of the natural bridge.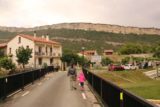 Now there was also a sign saying something about Cascada la Mea here. So after doing the Puentedey Natural Bridge, at 12:45pm we then continued driving on the narrow road we were on for parking. Then, after a few more minutes of going a short distance out of the village, we'd find a pullout with a real tiny sign indicating that it was the trailhead for Cascada la Mea. There were still some room to park the car even though there were already two other cars parked here.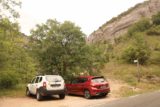 And so at 12:50pm, we stopped and went ahead and did the walk since the sign said it was 270m away.
It turned out that the walk was on a pretty established but somewhat narrow path. The path was also climbing a bit so it wasn't as trivial as we had hoped. It was not a good sign that we didn't see the creek below us having any water, and a few minutes later, we were at the falls, which was only trickling at this point.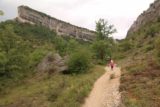 There was another family here, which we had a good time learning Spanish and conversing with them. Unfortunately as far as the falls was concerned, it was like the Yahoo Falls experience in Kentucky and Slave Falls experience in Tennessee all over again.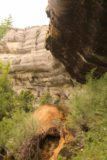 One interesting thing about this falls, which featured a free fall over a lip leaving behind an alcove, was that there was a stalagmite at the bottom of the falls where the water struck. It showed that there was a lot of calcium carbonate in the water, and that the stalagmite would grow as long as the water deposited its minerals. Not only that, but as the mound grew, it seemed like the freefalling part of the falls would shrink over time. I don't think we had ever experienced such a falls that could shrink its plunge over time in such a way before.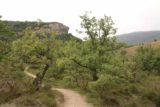 So after documenting the falls, we then headed back down to the car (noticing now the windmills atop the hills in the distance), where we'd return at 1:15pm.
Next, we drove towards Pedrosa de Tobalina seeing how we were making pretty good on time before settling in at Bilbao today. The drive now was through some rain as we were leaving Puentedey. The rain got even more intense (complete with lightning and thunder) as we reached the town of Medina de Pomar, where Julie noticed a big Mercadona Supermarket and decided to make a spontaneous stop there so she could pick up some supplies at 1:45pm.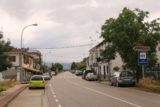 Ten minutes later (leaving at 1:55pm), we continued driving in the heavy rain until we'd eventually make it to the tiny town of Pedrosa de Tobalina. Fortunately for us, not only did the weather seem to let up in this town, but there were also obvious signs near the town center along the main road showing where the falls were as well as having a lot of parking alongside the main road. So we pulled over at 2:25pm, then Julie and I took turns checking out the falls while Tahia was napping in the car.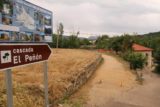 The Cascade de Pedrosa de Tobalina (which also seemed to be called Cascada El Penon) was basically a wide horseshoe-type falls though it wasn't tall, and during our visit, it seemed like the thunderstorms didn't affect this watercourse as the falls was pretty much split into to falls with a lot of bare rock between them.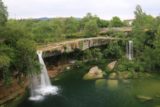 I'm sure under higher flow, this falls could've been the impressive mini-Niagara Falls that some of the best shots seen on the web had shown.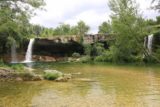 I was back at the car at 2:40pm, then Julie made her turn, which included a stop at a tavern to pick up a bocadillo. She told me that the bar was very happening with generations of families crowding within just enjoying each others' company. She even said one guy kissed a waitress on the cheek while being served the food. Indeed, it was that kind of place where it seemed everyone knew each other and the family-orientation of the Spanish was on full display here.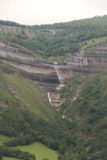 Julie and I didn't notice such a pronounced family orientation in the UK on last Summer's trip though we were there when all the Brits were out and about in August with their families. So perhaps it was just a timing thing or something. But when it came to just random Spanish folks taking to Tahia, we surmised that the family orientation had a lot to do with it. We definitely weren't getting that warmness feeling with Tahia from random strangers in the UK last Summer.
At 2:45pm, we left Pedrosa de Tobalina and we were headed for Bilbao. It seemed like the weather out in this part hadn't really been touched by the looming thunderstorm just to the west of here. So the drive was quite smooth. However, we were distracted by an attractive falls leaping off of some cliff just as we were leaving a tunnel not far from a waypoint I had pinned for Cascada de Penaladros on my pre-trip markings on the GPS.
Fortunately for us, there was a pullout where we stopped at 3:10pm to take in the falls as well as the valley down below. We didn't know if this falls had a name, but it was attractive and too significant to ignore. Even Tahia noticed this falls when she awoke from her nap.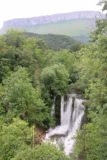 Minutes later, I saw a brown sign for Cascada de Penaladros, which veered to the right. So figuring that we mind as well do this falls to get it out of the way since it was already on the way, I just made the turn and followed the narrow road for about 4km into the quiet village of Cozuela before we'd finally see a couple more signs putting us on an even narrower road near Las Cabanas de Penaladros (which looked like someone's accommodation).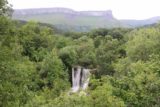 Just past las cabanas, the road seemed like a single-lane driveway descending then ascending towards who knows where. The road was so narrow that I wondered what you would do if there would be a car going the other way. Who'd back up? And how skilled would you have to be to back up on such a narrow road looking for a pullout? Luckily for us, we wouldn't have to find out.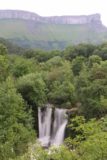 When I realized that I had overshot the falls (after seeing that on the GPS), we then backtracked where there I finally saw the falls as I was driving. There was no obvious sign pointing out where to stop the car, but there was a very rough and rocky pullout besides the single-lane road. So that was where we stopped the car at 3:35pm, and then got out to get our views.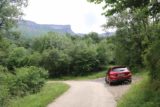 This falls had a pretty healthy flow, but what really made this one standout was the interesting cliff formations backing the falls. While there was a lot of vegetation around the falls making it somewhat non-trivial to capture and enjoy (especially since there were some insects gravitating towards us here), we got our views briefly, then headed back up. The haste was partially because we wanted to get all the way to Bilbao as well as the uneasiness of being on this single-lane road with the potential of someone going the other way.
Finally, we were back in the car and headed back up to the N road where we then continued on into Basque Country (we could clearly see the non-Spanish signs in the place names), and then we'd eventually be going into Bilbao where we were slowly navigating our way through the city streets until we'd get to the easy-to-miss car park by the Hotel Arriaga (since we were staying in the Old Town where there was no vehicular access).
We'd get there at 4:40pm, and as Julie was figuring out what to do as I was in the car, a lady came out and helped us out. I guess she happened to be the parking attendant. Anyways, she opened the garage, then both her and Julie helped me navigate the tight corners before we finally got into our parking spot. And like other car parks before, this one was definitely a hairy one to both park and navigate through so I appreciated the help from both people.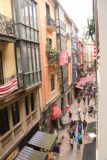 Finally at 4:45pm, we parked. Then at 4:55pm with our luggages in tow, we arrived at the Hotel Bilbao Jardines as we walked a couple of narrow alleyways (that were happening at this time) en route to the hotel. Then, after checking in, we finally got into our room at 5:05pm. And now we could finally get into our city clothes and do some touring of the city for the rest of this afternoon and evening.
It wouldn't be until about 5:30pm when we left the hotel for some late afternoon touring. The big item on our itinerary was to go to the Guggenheim Museum, and since it was the only excursion we had targeted (as well as the only site with closing hours), we made sure to hit this one first. The rest would be icing on the cake.
We'd first head over to a tram stop so we could take the Euskotran for a few stops until we'd get to the Guggenheim. After buying single-use tickets for each of us, I had read from Rick Steves that you're supposed to validate these tickets even though they had already been bought. But we didn't understand how you're supposed to validate these tickets since it wasn't obvious to us where you were supposed to do this.
So the tram showed up, and when we got on, Julie spent some time walking back and forth trying to figure out whether you do the validation up here. She was unsuccessful, and eventually we got off at the Guggenheim stop at 5:45pm or so. Fortunately, no one asked to see our tickets.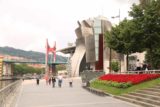 Anyways, we approached the Guggenheim Museum, and at 5:50pm, we were at the main entrance. We then paid for the entrance admission to check out the art exhibits inside. It turned out that the featured artist here was some guy named Jeff Koons. There was a bunch of modern everyday stuff like appliances, toys, etc. And it was really helpful to read some of the interpretive verbage shown on the walls.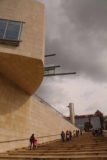 At least reading those things helped me to better understand what we were seeing as we went from room to room. Otherwise, I really didn't have a clue.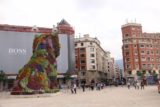 I think Julie and Tahia really enjoyed this art exhibition, but Tahia really enjoyed her visit because she could identify with all those oversized toys or pieces. I personally didn't really understand what I was seeing, but I did read those interpretive signs, which helped. They also allowed us to take pictures of the various exhibits as long as none of the pictures was going to be used commercially.
After having gone through all the rooms of the second floor, we then went downstairs where we checked out the remaining rooms, including a large maze.
Meanwhile, we also went out the door where we could take a few photos of the pool between the public walkway and the one in the paid admission area. We also heard quite a few American accents while strolling around. So indeed, Bilbao also seemed to be on the tourist radar (as we had previously thought this was going to be a quiet late afternoon self-guided city tour).
It was about 7pm when we left the paid part of the Guggenheim. Now that we were out, Tahia finally got to get her playground fix as there was one nearly in a part near the visitor center. Meanwhile, I walked in front of the Guggenheim towards that familiar spider fronting one side of the main building. This was going to be part of a longer loop that crossed two bridges and straddled the river.
In the distance, there were dark clouds practically looming over parts of the Guggenheim building. So now it was a race against time to try to get as many decent photos in before the storm would be completely over us and drop its buckets of rain.
I managed to get across to the other side of the river when the dark clouds finally delivered its load. It was a squally rain where it was easy to get drenched without shelter. I saw Julie and Tahia waiting at the playground across the bridge, but I wasn't sure how much longer they coul just stand there while the rain was coming down.
Meanwhile, I made a quick run towards some tree cover until I saw a larger group of people already waiting under the bridge for some more reliable shelter. It was about 7:25pm when I was under the bridge waiting out the now heavy rain. There was no way I was going to cross over the unsheltered bridge like this so I had to wait out the rain.
It wasn't until about 7:35pm when the rain had finally let up and I was able to quickly make my way back to rejoin Julie and Tahia. Julie's red jacket looked drenched as it took her some time to get to the shelter under the bridge on the opposite side of the river from where I was hiding.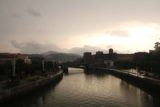 Anyways, we took the Euskotran back to the Old Town of Bilbao, where by 8pm, we were finally back to our room. The tram ride back was quite busy as I'd imagine most of the people who were out and about were caught in the rain, and no one had any interest in walking all the way back from the Guggenheim while the weather was this unstable. It was still raining at this time, but at least it wasn't pouring like it was earlier when we were seeking shelter from the rain while we were at the Guggenheim.
By 8:25pm, we went back downstairs from our hotel in search of some place to eat as well as perhaps a twilight self-guided tour of the charming Old Town area. We ended up going to this place called Gorbeia which was just a few paces from our hotel on the exact same walking street.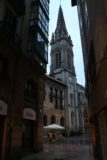 It turned out that this restaurant was really hit and miss. The garlic prawn dish we got was very tasty. Since prawns was something Tahia liked to eat, neither Julie nor I would be able to have as much shrimp as what we'd normally be getting from the restaurant.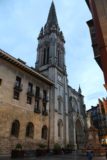 However, the mains were ordinary and not very good (despite the fact that they were the most expensive things on the menu). That said, we still had ourselves a pretty expensive dinner at nearly 70 euros total, and this became perhaps our most expensive dinner of the trip so far.
Anyways, after dinner was over at 9:40pm, we then did our twilight tour of the Old Town as planned. There were mostly empty and dead streets but we happened to stumble upon the handful of streets packed with people. Most of these folks were just outside having a smoke, a drink, as well as some good conversations. We initially thought the food must've been excellent at these places, but in the end, these folks weren't even eating in the first place!
We'd eventually find ourselves at the small plaza before the St James Cathedral before we meandered about a couple more alleyways. It wasn't until about 10:20pm that we were finally back at our room. And while our hotel was quite centrally located, it was also pretty close to the noisy action. Yet even though it wasn't exactly the quietest room in the hotel, we were so exhausted from the day's touring that we crashed in bed anyways.
Indeed, it wouldn't be until the following day before we would wake up again…
Visitor Comments:
Got something you'd like to share or say to keep the conversation going? Feel free to leave a comment below...
No users have replied to the content on this page