Day 1: DON QUIJOTE Y EL GRECO
It was 5:45am when I awoke. Julie got up at the same time too. We were spurred on by a sense of urgency that we wanted to maximize the amount of time available to us to visit Toledo. Since we were spending one night here, we wanted at least the half-day in the afternoon to do some sightseeing, then do some twilight sightseeing after dinner. We'll see how it all plays out though as this trip has demonstrated that plans tend to change (and not all of the changes are voluntary).
It was about 7:25am when we loaded up the car and started to leave Cordoba. It felt like the city was already started to come to work somewhat bleary-eyed I'm sure. Julie and I still can't figure out how Spaniards could stay up so late every night then come to work so early in the morning. Now we've heard about how siesta time would be the time to catch up on sleep, but we've also read about how siesta time could also be used to socialize and cherish time with loved ones and friends (thereby not addressing the apparent sleep deficit).
The drive out of the city was pretty uneventful and straightforward. Given the wide streets of Cordoba, it was just a matter of listening to the GPS, then getting onto the autovia going back the way we came yesterday.
At about 9am, we were back on the autovia going north-south between Madrid and Jaen amongst other cities. Julie made a phone call to the Hotel Santa Isabel to book a parking space so we wouldn't be screwed out of a spot when we arrived (per the hotel's suggestion).
We were somewhere not far from the Aldeaquemada exit (the one we took to go to Cascada de la Cimbarra a few days ago) when we went to pump diesel while Julie also picked up a breakfast on the go.
In particular, there was a jamon with fresh tomato spread on top of a toasted baguette-like bread. It turned out to be the breakfast of champions, and we had to discipline ourselves to not have more. But for sure, this was what we were going to look for from here on out when it came to Spanish brekkies.
After another poo break at 10am (Tahia was having an unsettled stomach like I was), we'd finally get off the autovia for another one headed towards the town of Consuegra. And at about 10:55am, we weaved through the city and ended up at the top of the hill where we were surrounded by a line of molinos (windmills) and the castle.
We were pretty castled-out so we had no interest in going into the castle though I'm sure it would've been interesting. However, we were trying to catch those classical Don Quijote (Quixote) fighting-the-windmills kind of shots though the race was on to get the shots as busloads of kids were on the march and it was only a matter of time before the peace would be disturbed.
In any case, the late morning sun was quite high on the horizon and it seemed like most of the windmills were against the sun. Only a few of them were lit up in the right way but harshly. Plus, the views of most of the windmills were too close (to fit into the camera frame meaningfully) given how big each one of them were.
Still, it was scenic given the windmills set in a backdrop of flat farmlands on one side of the hill as well as the town of Consuegra on the other side of the hill.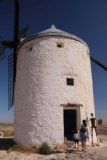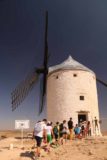 After having our fill of meandering about photographing windmills in the main area atop the hill (and trying to stay cool amidst the heat out here), we then went inside one of the windmills, which was converted into a shop and exhibit. Upstairs, they showed the machinery responsible for grounding wheat using wind power. There were also views out tiny holes towards adjacent windmills.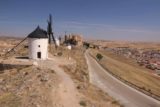 We had our fill of the windmills as more people were showing up and another group of kids had inundated the already cramped shop and exhibit. So at 11:50am, we left Consuegra and headed for Toledo.
The drive from Consuegra to Toledo was almost totally straightshot. In fact, it was so straight that I was starting to fight road fatigue again. Fortunately, we'd be into the city of Toledo where there were signs pointing to Hotel Santa Isabel. Then, we found ourselves on some very narrow streets in the Old Town, where we folded our windows in for good measure (i.e. more margin for error) before we'd finally arrive at Hotel Santa Isabel. Clearly a car in the Old town of Toledo would not be useful nor would it be much fun to drive as our experience had just demonstrated.
There was another couple also going to the same hotel. And when we showed up, we both had to squeeze in the very limited and tight parking space right beneath the hotel. I swore, it was parking garages that seemed to be the most dangerous for the health of rental cars. With the help of both the proprietor and Julie, the car managed to make it unscathed for the time being. I'm sure it'd be tight going back out.
Ultimately at 1pm, we got into our room and dropped off our luggage. It was a relief to make it to the room, especially given how easy it is to scrape or damage the rental car as our Cazorla experience attested to.
At about 1:25pm, we got back out of the room. But before going all the way down and into the Old Town, we actually went up for a few shots from the very beautiful rooftop terrace of Hotel Santa Isabel. It was from this vantage point that I could understand why people liked Toledo. After all, we could clearly see the grand cathedral, the royal alcazar (or military museum now), and more.
A few minutes later, we got our fill of shots but vowed to come back here later in the afternoon when the lighting wouldn't be as harsh.
Next at 1:50pm, we then walked around to the next street, where we entered the restaurant called El Brocal. At this restaurant, it was the first time on this trip that I had to order completely in Spanish. We weren't sure if we were going to have exactly what we wanted, but at least it was an opportunity to try something that only locals would have (though we had our doubts as we were the only clients in the restaurant when we showed up).
Well, it turned out that the menu del dia was pretty decent as our starter was gazpacho (always refreshing on a hot day) but the main was some kind of merluza fish, which was wonderfully prepared. Julie got some kind of smoked salmon salad, while we got a bonus appetizer as well. They had neither agua del grifo nor sangria so I just settled for white wine as my bebida from the special.
It wasn't until about 3:15pm when we finally left the restaurant.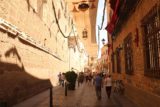 Next, we headed towards the cathdral. But before getting there, we checked out the Plaza del Ayuntamiento, where it looked like they were setting up a stage. It was kind of in a hideous spot so we couldn't get clear views of the cathedral from the square. There was even a gross-looking basin behind the stage that could've been a subject of photos as well.
Well, we were wondering where all the tourists were in the city as our hotel and lunch spot were pretty devoid of tourists. But we definitely found them around the cathedral.
After getting a little confused about where to enter the cathedral, we went to a pharmacy where we picked up some ointment for me ailing left knee. It didn't do anything though but for 8 euros, it was worth a shot I guess.
The pharmacist eventually set us straight, and from there, we paid the 16 euros for Julie and I (Tahia was free), and then we entered the big cathedral, which was adorned with giant arches stretching all the way to the tall ceilings. Meanwhile, the main altar looked blinged out, and there were stained glass windows adorning a strip of the cathedral near the ceiling.
On the back side of the cathedral behind the altar, there looked to be some kind of scene that I might have confused for something we might find in the Sagrada Familia in Barcelona (at least based on the pre-trip research).
Now, while the lady at the ticket desk told us that a bunch of rooms were unavailable to us for the visit, we would find out later that those rooms were indeed available. So I figured that there must've been some kind of function going on, but now, it seemed like there were crews cleaning up and next thing you know, there were indeed open rooms to the Sacristy of Jesus, the treasure room, and the New Kings Room. The only thing that wasn't open was the Cloister.
That said, Julie thought after seeing the Mezquita in Cordoba, this cathedral was kind of "meh" even though Rick Steves gave this the highest rating of three triangles. Nonetheless, this cathedral was still grand though I'd have to say that Julie and I were pretty churched out at this point.
At 4:15pm, we left the cathedral. It was pretty hot outside, but fortunately, there were a lot of shady spots to walk in.
As we meandered about looking getting oriented and trying to scope out places to eat, we'd eventually find the main throughfare leading to the Plaza de Zocodover. And on the way there, we found a bustling and charming commercial street flanked with lots of shots and also lots of visitors.
Once we were at the Plaza de Zocodover at 4:45pm, we just found a spot to chill out and enjoy an ice cream that we brought along the way. From there, we were just people watching, then we found ourselves in a pleasant conversation with a senior couple from Houston. They were also carrying Rick Steves, and I could see that he had quite a following amongst American audiences (even amongst a college friend of mine who was in Barcelona, then Cinque Terre in Italy, then the Swiss Alps).
It wasn't until about 5:45pm when we left the Plaza de Zocodover. We had intended to try to go all the way to the Monasterio de San Juan de los Reyes at the other end of town (closing at 6:45pm), but Julie and I ultimately decided not to do it because we were just too churched out. Instead, we just headed back to the room to chill out until dinner.
By 6:30pm, we were back in the room as we had picked up a granizada and some cold waters to cool off. Even though it was now 29C (not as bad as the 40+ C in Cordoba yesterday), it was still hot enough for us to want to take a brief break before doing some twilight touring after dinner later on tonight…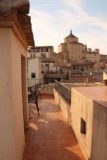 At about 7:50pm, we left the room after I took a brief half-hour nap while Julie was busy looking up TripAdvisor for places to eat tonight. Apparently El Cuatro Tiempo Restaurant that she had coveted was closed on Monday nights so we were SOL with that one. However, she found this other restaurant called Adolfo Coleccion that was the backup plan, especially since it was pretty close to the cathedral and thus it was close to our accommodation.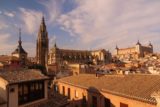 But before going downstairs, we went back upstairs for another look at the cathedral and alcazar from the rooftop terrace of the Hotel Santa Isabel. We figured that perhaps the lighting at this time wouldn't be as harsh as it was earlier in the day.
As we were walking before the cathedral again, we could see that the stage that was set up on the Plaza Ayuntamiento just so happened to be for some musical act. Some guy was on there with a guitar trying out the microphone levels so it'd be ready to go when it would be time to get the show on the road.
At about 8:10pm, we entered the Adolfo Coleccion restaurant, where the waitress was very friendly (especially with Tahia) and we pretty much went with her recommendations on what were both popular and local to Toledo. So we ultimately got some tasty salad with prawns, a patridge main, pork stew (I forgot the Spanish name for it), and some complementary appetizers, which I'm sure Tahia really appreciated.
Finally, the dessert was really good, and Julie and I got the impression that the chef working here must be an understudy of an incredible chef. For all of us liked our dishes and nothing was left behind.
In addition to the waitress who was really friendly, now there was a waiter who was also smitten by Tahia. He called her "muneca", which he said was like "top model." That was some serious praise for our little girl, and it just seemed like no matter where we went, the reaction to her was universal.
It was about 9:15pm when we were done with the food, and then we continued to walk towards the Plaza de Zocodover. Just when we left the restaurant, the tower of the cathedral had a nice glow to it, so I knew that sunset was pretty much over by now.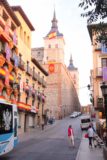 As we were headed to the busy plaza, we could see that mostly locals were out and about doing their evening paseo on Calle de Comercio. Once we got to the square, Tahia and Julie had to use McDonalds for Tahia to go poo (again), so I guess the controversial restaurant in the square (note that BK was next door) definitely helped when it came to Tahia's emergencies.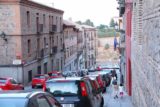 Next, we descended down towards the Old Bridge traversing the Rio Tajo at the bottom of the east side of town. Once we got onto the bridge at 9:50pm, we could see there was a full moon looking away from the city as well as nice twilight views of the lit up Alcazar at the top of the hill.
Looking in the other direction, we could see strands of red clouds from the post-sunset lighting. I always contended that clouds were what made sunsets, and in this case, it didn't disappoint though I did with there was some nice famous building benefitting from the twilight magic hour.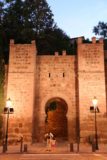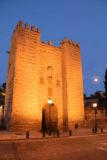 As it was getting dark, we left while making some haste to climb back up to the Plaza de Zocodover then ultimately back to our hotel. We then walked the familiar Calle Comercio before turning left near the side of the cathedral where upon fully descending the road here, we could see there was a loud concert going on in that stage that was being set up to kind of ruin the views at Plaza de Ayuntamiento (Town Hall).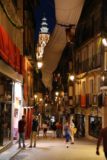 Now, there was a big crowd blocking the entire road we had to get through to get back to our apartment. In the mean time, the speakers were ear splitting and there were quite a few people even dancing and rocking over some beers to a rock band that appeared to call themselves Asfalto. They actually sounded pretty good, and I was digging some of the songs.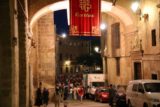 In my younger days, I totally would've just chilled at the scene and just take it all in. But everyone was tired, including Tahia, and getting back to our apartment was the top priority. And with the music being so loud, I wondered if we were going to be able to go asleep with all the noise.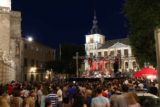 When we returned to the hotel at 10:35pm, I learned from the female receptionist about the band Asfalto. She said that they were together for fourty years! The male receptionist who might be her husband said that he had never heard of this band. That said, it seemed like Asfalto was fairly well known in Spain, especially if they've been together for 40 years.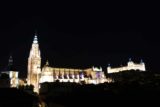 Meanwhile, the male receptionist also told me to go up to the terrace now that the important buildings have been lit up. It might also be a place to listen to the muffled sounds of the concert while the lights were on and the full moon was showing itself in the opposite direction.
At 10:50pm, I finally returned to the room. Tahia was pretty much out, and Julie and I dozed off for moments as we were trying to shower and tend to our oral hygiene. And so ended this eventful day that saw us spend most of our time going back and forth from the cathedral to Zocodover, but the rest of the city was pretty much ignored. I sure hoped that we didn't miss out on anything we might regret.
Oh well, that's life sometimes…