Day 2: DEJA VU
It was about 7:25am when I awoke. Julie was the first to wake up. Needless to say, there really wasn't a sense of urgency on this day since it was about an hour's drive to go from Toledo to Madrid. The real challenge to the drives were to get out of the tight alleyways of Toledo, then to deal with the maze of traffic and city streets in downtown Madrid.
After getting all packed and ready to go, we then headed downstairs to the cafeteria within the Hotel Santa Isabel for a Spanish Breakfast. After having the toasted sandwich with jamon and tomato spread in between earlier in the trip, we wanted that same experience again. So we were in the mood to fork over 5 euros per person in the hopes that they'd have this in the brekkie. Besides, we thought it was worth it in this case since we don't often get a breakfast like this when we're on the go.
The satisfying breakfast came with the aforementioned jamon with bread, but we also had some fruits (kiwis and apples) as well as tea and freshly squeezed orange juice (no added sugar, which was good).
It was satisfying, and by 9:30am, we had loaded up the car as we were taking our time. Eventually at 9:45am, we had gotten out of the car park after Julie had checked out. Both she and the receptionist helped me to get out of the tight garage without causing damage to the rental car, but then once we were out, we still had to navigate some narrow streets before making it out of the old town.
The alleyways were still tight enough for us to feel compelled to fold in the side mirrors until we were back on what looked like somewhat decent roads.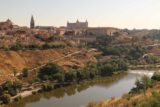 Eventually by 10:05am, we had stopped at one of the Ronda de Toledo overlooks on the other side of the Tajo River Gorge opposite the old town of Toledo. It was already pretty warm outside and we had doubts that this was the right place to pull over and take photos. So we didn't linger here long.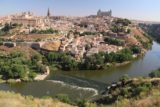 Sure enough after a couple of minutes, we then found the real mirador, which was long and could accommodate many vehicles on the clockwise side of the Ronda de Toledo. There were also at least a half-dozen buses from the public transport variety to the private group tours.
In any case, we could clearly see that this was the more open and compact view of the old town of Toledo complete with Alcazar and Grand Cathedral. We had spent quite a bit of time up here along with throngs of tour groups and public transport folks, and we could definitely hear quite a bit of American accents out here.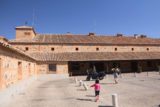 We then continued driving, when we realized that there was another chance at yet another view of the old town of Toledo from the Parador above us. However, the road accessing it was only one way, which caused us to backtrack towards the proper orientation before stopping at one of the self-parking spots a short walk from the property itself.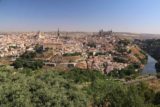 From there, we promptly walked right through the lobby and then onto the terrace, which offered quite similar views as the miradores down below. However, we were from a higher vantage point. But if we wanted to see more of the river, it seemed like we would've had to have stayed in one of the upper floors.
Eventually, at 11am, we left the Parador, and then headed north towards Madrid.
The driving out here in the city was pretty straightforward (at least in terms of following the GPS to our apartment), and we'd eventually get to the proper address for the Eric Vokel Suites in downtown Madrid. Just given the sheer amount of time and distance we were covering since we had gotten onto the way to the Parador, I could see that Madrid was indeed a sprawling metropolis (given how it seemed like lots of development well into the outskirts of the city) as opposed to a compact charming old town like in Toledo.
By about 12:10pm, we had finally parked the car in the tight garage (though not as tight as the one in Hotel Santa Isabel in Toledo), got our belongings, and then promptly checked into our room by 12:30pm.
We had spent quite a bit of time recuperating from earlier in the day as well as figuring out how to use the self-help laundry in the apartment. So it wasn't until about 2:25pm when we finally left the apartment and did some sightseeing of the main part of Madrid. We had targeted the Cathedral and Royal Palace on this day.
So we walked over to the Atocha Rail Station, which actually turned out to be a bit of a longer walk than we had anticipated. We then sought out the metro inside the station, where we then promptly took it towards the familiar Puerta del Sol.
We paid about 1.5 euros per person for a single trip (not trusting the 10-use combo ticket), and when working out the math, it didn't seem to save you that many euros against buying single-use tickets a la carte.
Eventually at about 3:15pm, we were up and out into Puerta del Sol before we then showed up to a familiar money exchange on the way to Plaza Mayor. It was the same pedestrian route that we had taken at the very beginning of this trip, when we were laying over momentarily before retreating to the airport in anticipation for Morocco.
Well, that was then. We had gotten a decent exchange rate of around $1.14 USD for every 1 euro desired. However, this place seemed to charge a fairly high commission, which kind of negated that decent exchange rate.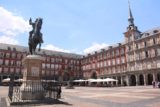 Then, we meandered through the Plaza Mayor, which was much more wide open than it was on the day we had arrived. The key difference now was that the hideous stage didn't dominate most of the open space of Plaza Mayor.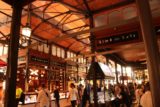 After passing through the square, we then went back to the familiar Mercado San Miguel, which was still bustling even this late in the afternoon. We tried all sorts of fish dishes on bread as well a cider, white sangria, and some bread and butter red sangria.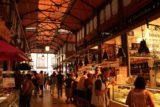 Unfortunately, securing a seat wasn't easy. We'd eventually have to bring Tahia up to the table before we were eating together. There were practially no open seats where could borrow from adjacent tables or neighbors as they were all saving seats for someone. So we just made do with what was available to us.
After about 4:25pm, we were done eating. We then continued onwards towards the Cathedral and Royal Palace complex. We started with the cathedral where we felt like midgets against such a grand interior.
There were quite a bit of stained-glass windows at the top as well as a golden altar. Now while we thought some of the churches in Granada or Sevilla were better, there was no denying the grandeur of this cathedral, which Rick Steves gave three stars to.
The visit was brief so by about 5pm, we had left the cathedral, then we went up to the adjacent Royal Palace. At about 10 euros per person, it was a pretty steep price to pay. That said, Julie and I were looking for some shade and indoor AC, and we thought doing the tour through the Alcazar would be just what the doctor ordered.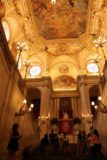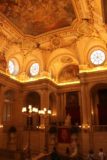 We saw there were huge lines queueing up at about 5:10pm. However, most of those kids in line could visit for free between 6-8. It only applied for EU and Latin America citizens so we didn't apply. Thus, we went straight into the visit, and promptly walked into chambers where photography was not allowed.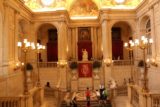 The self-guided tour path took us through ornate throne rooms, living quarters, mess hall, etc. The way the rooms were furnished, it really made it seem like we could put ourselves in the shoes of those who lived here for real. Julie really enjoyed the experience because she finally got to see how the royals lived in places like this.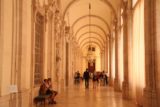 I still didn't find it that worthwhile if we couldn't capture any of the experience in photos.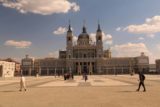 Anyways, as we went from one bling room to the next, it was very apparent to us that a lot of this show of wealth was what I'd characterize as a MuoF (mis-use of funds). Such was the case whenever we saw such concentration of riches, but I never found it practical. In fact, I was never one for endorsing royalty or this institution of man-made grandeur, and I'm sure the money earned here would cause the authorities to walk their way all the way to the bank.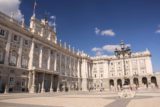 Finally at 6:15pm, we were done with the Royal Palace, which was grand and kind of reminded us of the Palace of Versailles in France. We then ambled about in the direction of the Metro stop at Teatro, and that was when Tahia saw a playground.
So while she was busy playing with the apparati in the sandy playbox, I walked around more of the square we were in for a few more photos. But I saw that it didn't amount to much out here so we then let Tahia play around a little more the playground before we then continued towards the Plaza Isabel la Catolica. That was when we decided to take the metro back to our apartment.
Once we got off the Palos de la Fronterra stop, we then headed back to the apartment while buying groceries along the way. Eventually at 7:20pm, we were back at the room. We were hot and drank cold water from the refrigerator. Tahia was really looking forward to swimming in the pool so we headed downstairs hoping to do just that.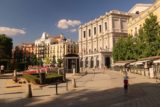 But when we got down there at 8pm, we saw that the pool was covered. So I tried to figure out how to undo the cover so Tahia could play in the pool. That was when the receptionist told us that the pool had been closed since 6pm, which royally disappointed Tahia and made her cry. I guess we'd have to make it a priority tomorrow.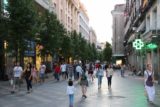 Eventually at 9pm, we'd finally head back down and metro our way back to Puerta del Sol. From there, we randomly walked the familiar busy street before settling on this Thai Restaurant at 9:45pm. Julie and I were sick of Spanish tapas and though this would provide a good change of pace. Unfortunately, the food was pricey for what we were getting. That said, the pad thai was good, the green mango salad was good, but the drinks were overpriced.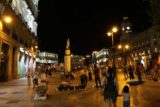 When all was said and done, we had spent about 34 euros just for two dishes. At 10:30pm, we walked right over to San Gines for the familiar chocolate con churros. This time, the service was much quicker than the first time around, so by 10:45pm, we were done with the churros and took the metro back to our apartment.
By about 11:30pm, we were back in our room, where it was time to call it a day. I wasn't sure what our itinerary was going to be tomorrow, but I knew that at a minimum, we should visit Retiro Park as well as allocate the after-lunch siesta time for the swimming pool. I'm sure Julie would want to fill in more of the dead time with other things to do, but I guess we'll just see how it all plays out.