Day 3: LESS ABOUT SIGHTSEEING, MORE ABOUT EXPERIENCING
It was 8am when I awoke. Knowing that there really wasn't an agenda for today, I took advantage of being able to sleep in a bit. So both Tahia and I awoke at the same time, which was a rarity on this trip. Julie had been up earlier.
With no real sense of urgency of doing anything other than perhaps visiting a museum, then going to Retiro Park, and do all this before returning to the apartment so Tahia could finally enjoy the swimming pool, we took our time getting ready for the day. Julie had poached some eggs with the electric stove and with the sunflower oil that we had bought from the local mart down the street on Paseo de las Delicias.
With the eggs, we also had croissants and an included (with our booking) pastry from downstairs. We also had frozen the water overnight so it should last us all day today when we're out and about sightseeing.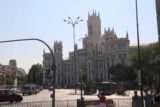 It wouldn't be until 10:05am that we had finally left the apartment. By about 10:25am, we were at the familiar Palos de la Fronterra stop, and we took this all the way to the Banco de Espana stop, which we got to at around 10:45am.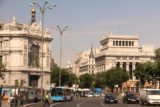 From there, we walked across the busy street towards the Palacio de Cibeles, which was a building with a grand facade. It was a bit too much to take in from close up, but it would be harder to take a photo from further away given how busy the roundabout here was as well as all the other obstacles that got in the way (other cars, trees, light posts, etc.).
It wasn't until we figured out that we had to walk a short distance north towards the Library, but the Archaeological Museum (MAN for short) was on the backside of the building. So it wouldn't be until about 11:05am when we would finally set foot into the museum and its relatively air-conditioned confines.
This exhibit was actually quite interesting in that they talk about early man, in which the Iberian Peninsula seemed to have played an important role in terms of evolution and migration patterns. Modern day Spain was actually easily entered given the relative narrowness o the Strait of Gibraltar between that and Northern Africa. The rest of eastern and southern Africa was where it seemed like the early people had evolved from primates like apes and chimps.
That story was played out on the 0th floor. We then went upstairs and checked out an exhibit on the history of money before skipping up to the 2nd floor to check out Egyptian exhibits since Tahia was impatient about seeing mummies.
We ended the self-tour with a visit to the middle floor, which talked about both Greek and Roman history as well as a bit about Andalucian history.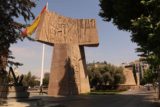 By 12:15pm, we were done with the visit. We then caught the metro to take it from Serrano to the next stop at Retiro. From there, we would be in the Retiro Park at 12:45pm.
As we had expected, the park was grand, and it was very Central Park-like in NYC. While the sheer size of the park could be overwhelming, we saw that the most interesting part of our visit was this area with lion statues and some dude on horseback at the very top of this seemingly Roman monument at the head of the large green water basin. This was probably roughly a five-minute walk from the Retiro train stop.
After checking out this monument, we continued walking to the other side of the basin, where we saw there were some outdoor cafes. We opted to chill out at one of these random cafes, where the food sucked and the granizado was fluorescent green with an overly sweet and artificial lemon flavor.
I guess this random stop couldn't be counted as a culinary stop, but we just weren't in the mood to walk a long ways in a search for a foodie place. Indeed, it seemed like our Madrid dining experience was an exercise in trying non-Spanish cuisine as we were already pretty tapas'd out by now.
So we lunched at around 1:10pm, and the shade and laid back atmosphere was just what the doctor ordered. We had an angled view of the impressive monument on the western side of the big basin near the heart of Retiro Park. There also seemed to be some filming of someone speaking in front of a camera that probably belonged to some local news here.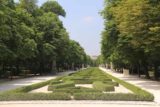 By about 2pm, we were done eating. The people watching was enjoyable, but this dude sitting on a table behind us took it upon himself to just talk aloud to himself. It wasn't easy to tell if he was talking to us or just talking aloud incomprehensibly.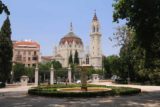 Finally at 2:40pm, after a slow amble back towards the metro (as well as a futile exercise in figuring out how Tahia could access the playground that was enclosed by fences), we caught the next train back towards our apartment. We'd eventually make it back by about 3:05pm.
Five minutes later, Tahia and I were dressed in stuff we could get wet, and we then went downstairs by the reception office so we could finally let Tahia have a dip in the pool.
At first, we were the only ones there, but eventually four folks from what I think the UK also went into the pool area. They didn't go in the water while we were there, but they were relaxing on the reclining lawn chairs.
Tahia was so happy being in the water (though it seemed like she had forgotten all her swimming lessons as she was content to splash and wall walk) that she seemed to have skipped her usual early afternoon nap.
Julie joined us (not in the pool though) a little after 4pm. It wasn't long after that that both Tahia and I went out of the water, and I managed to doze off for a little bit while reclining on the outdoor lay-down chair. Finally at about 5pm, we were back in the room to rinse off all the chlorine.
We were still trying to figure out what to do with the rest of today. Some of the suggestions we had juggled about were the Gran Via, Museo del Prado, and Museo de Reina Sofia. It turned out that we could visit the Museo del Prado for free between 6-8pm while the Museo de Reina Sofia was free from 7-9pm.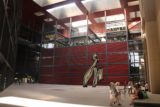 Since Julie was only interested in seeing the Guernica work by Picasso, we opted for the Reina Sofia Gallery, but since we ultimately left the apartment and showed up to the Reina Sofia at 6:10pm, we had about 50 minutes to kill. I told Julie that perhaps it would've been better to visit the Museo del Prado before Reina Sofia given that we could've gotten into Museo del Prado right away. But Julie decided that we should only pick one between the two galleries.
Tahia dozed off and took a nap some time shortly after we started to fifty-minute wait. Unfortunately, one inconsiderate young dude decided to sit next to us and go chain smoking thereby forcing Tahia to involuntarily breathe in the second-hand smoke.
Eventually after 7pm, we carried Tahia and our stuff together so we could get into the Reina Sofia Gallery. We made a beeline straight for the Guernica piece, and we'd finally see the surrealist work that was said to evoke powerful memories of the atrocities that happened when Francisco Franco might have allowed Nazis slaughter Basque people near the town of Guernica.
When Tahia was fully awake, she saw Picasso's other works, and she found them to be so disturbing that she was scared of them. I guess she just wasn't used to the idea that Picasso's surrealist art was intended to be distortional. But Tahia saw these distortions as being so out-of-place and scary that she wanted out of the gallery. Oh well, at least we were glad that we didn't have to waste money on the art gallery, especially since we weren't art aficionados anyways.
I guess it was good timing because we then walked over to the exit, where we were back out on the street at about 7:20am. Next, Julie thought we ought to try to go over to the Prado Museum before they closed. When we showed up at around 7:40pm, we were turned back by the guard. I guess we were too little too late even though we had shown up somewhat well before they're supposed to be closed before 8pm. So no baby strolling or child carrier in the post dinner twilight as we'd head back to our apartment.
When we accepted the fact that this stroll from Reina Sofia to Prado was kind of fruitless, we then tried to head over this pizza place called Reginella, which Julie found on a tripAdvisor review. The problem was that it was open pretty late (at 8:30pm) and that it was pretty far bit away from the city center.
But given how much more walking we had to do just to get to the nearest metro stop, then take several stops to get over to the Ministerios Nuevos stop, it just so happened to be about 8:30pm when we would finally arrive at Reginella, which indeed was a bit of ways away from the hustle and bustle of the tourism crowd as it sat well north of the city center.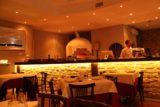 Well, it turned out that the pair of pizza wheels plus an ensalada pretty much hit the spot. We also got a tiramisu for dessert given that the food quality was good, and Tahia actually did pretty well eating the pizza.
We learned that the authenticity of the Napolean style pizza was due to the fact that the entire staff on hand today had roots in Naples, Italy. We even heard Italian widely spoken within the restaurant though they also had a good command of Spanish.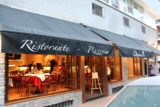 At about 9:35pm, we were done with the excellent pizzas and capped it off with a tasty tiramisu. Next, we by 10:30pm when we'd finally make it back to the apartment to finally call it a day. That was pretty much it for this somewhat relaxing day in the city.
Indeed, this was a day that we focused more on experiencing the city as opposed to sightseeing it. On top of that, it seemed to be a good day for Tahia. I didn't have to carry her and risk jeopardiging my knee any further, she got to visit an archaeological museum, she got to play in the pool, and she even finished her lunch and especially her pizza dinner.
This relaxed state and mood would change tomorrow when we have to do a long out-and-back day trip to both Nacimiento del Rio Cuervo as well as Cuenca before returning to Madrid. And on the following day, we have to make a very long drive to Segovia via Monasterio de Piedra and Chorro de Somosierra.
Until then, we ended off the day pretty relaxed, and glad that we had time on our side for a change.