Day 4: CHANGE OF PACE
It was 6:15am when I awoke to Julie's alarm. When I went to the restroom, I was surprised that I had diarrhea. Was it the tap water from last night?
Anyways, we once again took some time to get ready as we were having a croissant and poached egg breakfast with milk as well as some fruits (all bought from the grocery store last night). Then, we had to wash the dishes and start the laundry before taking off for the day.
Before all was said and done, it was about 8:10am when we got into the garage and started leaving. The car park here was tight, but not as tight as we had seen in other garages (especially in Andalucia). So there wasn't as much drama leaving this car park as before.
Then, we navigated our way out of the city center of Madrid, and headed east towards Valencia. Eventually, it was pretty smooth sailing on the autovia though we had inadvertently gone on the toll roads on the way out. But once we rejoined the main autovia, we could see that the highway was much busier than we had ever seen it as there were even pockets of congestion.
Eventually, we'd get onto the A40 autovia, which had also a 120km/h speed limit most of the way, but this one was mostly straight shot (as compared to the earlier autovias taken to this point), and so we were cruising along pretty fast eventually getting to the Cuenca vicinity before 10am. Then, we followed the mountain road towards Tragacete, and eventually after another hour of mountain driving, we'd ultimately make it to the car park for the well-signed Nacimiento del Rio Cuervo at 11am.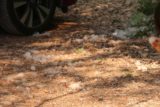 There was a cafe right across from the turnoff for the waterfall excursion, but we just went straight for the fairly busy car park by the trailhead. Then, a few minutes later, we started walking where some twenty minutes later, we'd finally start to see what was left of the waterfall.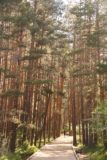 The walk was only five minutes long in each direction (according to the signs), and we saw that there were even ramps set up near the falls for wheelchair and stroller access. In other words, this was a very family friendly excursion.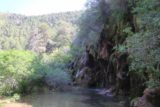 Unfortunately, the waterfall itself lacked volume and we were looking somewhat against the harsh sun. So with the dark shadows, the falls were hard to see let alone photograph. Plus, the falls itself was a mere shadow of itself when we had seen in the web that there should've been a larger wall of water percolating through the vegetation (kind of Plitvice or Jiuzhaigou style).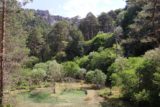 For all the trouble it took to come up here, it was a bit disappointing. So far, we only did the five-minute boardwalk to the Cascada del Rio Cuervo. There was a longer path that continued past the waterfall towards the actual birth of the Rio Cuervo. Yet with the low flow, I didn't even bother to linger longer than we needed to here.
Well, earlier on while on the way to Rio Cuervo (passing through in Tragacete), there was another birth of a river at Nacimiento de Rio Jucar. There was even a photo of a waterfall for that one.
So it was decided that we would at least scope out that other waterfall just to see if it was a drive-to waterfall. Anything much longer than that meant we'd be missing out on touring in the town of Cuenca and/or the city center of Madrid.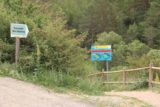 So at 11:50am, we were back in the car. A few minutes later (12:05pm), we stopped at the signage for Rio Jucar and the cascade while passing through the town of Tragacete. When we saw that the road leading to the falls was drivable, we too went for the drive. Why not? It was only 5km from the city center.
Eventually, we'd get to the trailhead for the Cascada del Molino at 12:05pm. Then, we promptly followed the sign, then descended across a bridge over the river before going by a picnic area then finally climbing up to the base of the main part of the falls.
The waterfall itself seemed more impressive when partially viewing it on the same side of the road. Plus, it seemed like the further away from the falls we were, the better the apparent angle and photography parameters.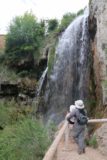 In any case, we were at the falls at 12:30pm. Next to the falls, there even seemed to be either someone's house or someone had left it abandoned. Had it been open, the view of the falls might have been better. But instead, a lot of the most impressive view of the falls were blocked by foliage.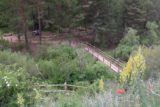 In fact, our experience at the Cascada del Molino was much better than the Rio Cuervo experience. Yet it was the Nacimiento del Rio Cuervo that seemed to get the majority of the larger signposts as well as more frequent occurances of Rio Cuervo distance and direction signs. I wondered why this was the case, but perhaps it was the percolating nature of the Rio Cuervo Waterfall that was its downfall in lower flow, whereas the Molino Waterfall was more classical and didn't need as much waterfall to show off itself.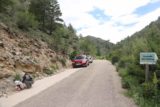 That said, the Rio Cuervo Waterfall had far greater potential, and thus we could understand why it had the infrastructure.
At 1pm, we were back in the car. On the way back, we saw another family parked by us and picnicked at one of the handful of tables near the bridge. Clearly we weren't the only ones just finding space to park where it probably wasn't sanctioned, but who would want to walk more than they needed to if there was a road shoulder with room?
Next, we drove back to Cuenca (nearly 80km from where we were at) with the intent of having lunch and a late afternoon self-tour there. But on the mostly uneventful drive back, we saw a large gathering of cars. It turned out that there was a little area for car parking for what was signposted to be the Ventano del Diablo.
There was simply too much commotion to ignore so we pulled over ourselves at 1:40pm, and then we went ahead and did the short walk to what turned out to be a small double arch with nice panoramic views through each of its openings. There was some degree of doubt as to whether there was some man modification going on here (for the path leading to it), but we just rolled with it, took photos (which wasn't easy to do given the harsh lighting of the day), and enjoyed the nice shade within the arches themselves.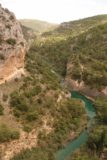 When looking upstream down below, we could see that people were canyoning. There was also a well-situated house high up on the cliff overlooking the impressive gorge. On the other side, there were views out to farmlands as well as some alcoves or semi-caves on the cliffs, which made us wonder if there was a history of cave dwellings or something in there.
Nevertheless, we continued on our way to Cuenca at 2pm, and it didn't take long before we were back down the mountain and into the town of Cuenca itself. Now, it took a little time to figure out where was the best place to park, but we'd ultimately wind up at a car park a short distance beneath the cliffs supporting the Hanging Houses (Casas Colgadas), which seemed to be the town's main claim to fame.
It was 2:40pm when we finally got out. Then, we took a guess as to where to go, and we wound up walking up this steep road where we saw other people walk. We could see there was also a bridge that pedestrians could cross, but we weren't sure how far up the road to the Parador that we had to walk (in the hot sun), so we opted for the shadier and steeper path.
Eventually, we found ourselves beneath the Casas Colgadas, and really it seemed like there was only one of them that had was noticeably right on the cliffs edge with balconies draped over the vertical dropoffs. There might have been one or two other houses adjacent to it, but it seemed like the rest of the buildings in the old part of Cuenca just happened to be buildings on cliffs that were more set up and thus seemingly ordinary compared to other similarly situated buildings in other towns throughout parts of Europe.
The unfortunate part about the most scenic house was that next to it was a bunch of construction artifacts. It was almost as if they didn't want you to take photos of the house. The scaffoldings and high fences kind of ruined the view, and I guess there was this sense of false advertising given the circumstances. That said, it seemed like the obvious truth of the matter was that the hanging houses probably weren't that sustainable at all (despite it being built in the 14th century), and I guess it figured that they'd have to bite the bullet and do some maintenance on these cliffs and buildings to keep the cash cow going so to speak.
After a brief climb continuing further up into the old town, we'd eventually find ourselves at the Plaza Mayor of Cuenca. There, we saw there were a bunch of open-air cafes on one side of the triangular square with a trio of arches, while the opposite side was even more spacious with a cathedral facade. In between were colorful buildings that I'd imagine were homes or residences on the higher floors. The ground floor was mostly businesses and restaurants.
At 3:15pm, we just randomly picked this spot to eat called Restaurante San Juan Plaza Mayor. The food was mostly local Cuencan dishes with other classic tapas type stuff, and the curt service along with persistent second-hand cigarette smoke (despite this being open-air) kept the experience from being enjoyable. Still, the Morturuero (sp???) was very tasty, and it kind of hit the spot since we hadn't had a full meal since our brekkie earlier this morning.
Eventually at 4:20pm, we were done eating, then we decided to go on a little DK tour (Rick Steves didn't cover Cuenca), where we walked up a narrow lane leading to an old Arab Tower as well as a church. As we proceeded closer to the impressive tower, we could see that there was fencing all around it so there was no way we could walk up the tower for nice views.
Instead, we settled for the nice panoramic views on the viewing areas over what seemed to be a car park underground. In any case, the views along the river were impressive due to more vertical developments alongside the cliffs flanking this river looking both upstream and downstream. They looked like they were still part of Cuenca, but we didn't recognize which part was he New Cuenca or whether this was some other town adjacent to Cuenca.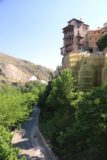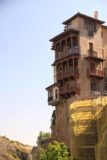 So we took our photos in the intensely bright sun, then left the nice panoramas at 4:55pm. As we returned to the Plaza Mayor some ten minutes later, we could see the cathedral there was open. We briefly went inside, which was refreshingly cool, but when we saw that they wanted 3 euros to proceed further, we kindly stepped back out (we were pretty churched out and didn't need to spend more money on this cause), then headed back towards the car park where we had left the car.
On the way back, we saw there were a lot more people coming into town at this time. Clearly, siesta time was over. Then, we crossed over the San Pablo (I think) Bridge, which was a pretty scary bridge spanning the gorge while affording us views of the Casas Colgadas on one side and more of Old Cuenca on the other side with another church off to one side.
Now, as we looked back towards the Hanging Houses (again, it was more like 2 or 3 houses that were "hanging"), we were essentially looking against the sun. And as we descended the road to the Parador (not going to the Parador itself), we'd eventually be back at the car park at 5:45pm. There, we paid the pretty exhorbitant 5.65 euros (far more than any other car park where we parked for only 3 hours), and we could now understand why other folks parked somewhat illegally to try to avoid paying this hefty toll.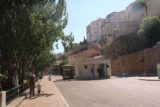 Nonetheless, this Cuenca and waterfalls side trip was just what we needed as we were all getting pretty tired of Madrid at this point. And indeed, this was the very thing that waterfalling benefits us with – the off-the-beaten path excursions that helped to balance the busy with the laid back and naturesque.
Anyways, we were cruising our way back to Madrid where the highways were a bit less crowded than they were in the morning. Plus, we avoided the toll road to boot. And by 7:45pm, we were back at the Erik Vokel Apartments, where lo and behold, our little parking spot was still there!
There were a couple of other cars parked in the structure at the same time as us, and when we were getting ready to head back up to our room, we were conversing with one of the folks who happened to be another American discussing the "craziness" of how tight the car park spots were. Of course, we regaled him with our own little horror story of Cazorla where we knocked off and dangled the passenger mirror, and we drew the conclusion that parking garages were surprisingly the most treacherous spots for rental cars, we reckoned.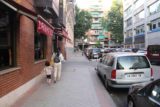 Anyways, with that, we were back in our room at 7:55pm. And at about 8:50pm, we got on our street clothes and walked back down into town for dinner.
On this night, we were going for a tapas crawl spelled out in Rick Steves book. By 9:20am, we'd ultimately start at our first tapas bar in Calle de Jesus called Cerveceria Cervantes. It was the first restaurant mentioned in Rick Steves' tapas crawl.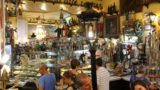 Well, after paying nearly 24 euros for a single racion of garlic shrimp, a toaste with spread on it, and a huge glass of sangria with an included tapa of anchovies and olives (disappointing), we then bounced and headed further down the street for another tapas bar.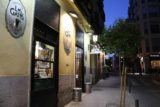 We'd ultimately wind up at this place called Taberna de los Gatos, which had some little spreads out on display, and it caught Julie's eye. So we went in there and grabbed noodle-like whitefish along with another one with smoked salmon.
It was good, but both Julie and I were getting pretty full by now, and we still wanted to bounce to one more place before calling it a night. We didn't linger long and we insisted on standing up at some of the narrow counters (even with Tahia) so we wouldn't feel compelled to stay much longer than we needed to.
Finally, while Julie was scoping out the last spot called Taberna Maceira (which Rick Steves said would be the best of this small tapas crawl), Tahia was happy playing in a playground at a street corner. So that helped her get her fix, and when Julie returned at 10:25pm (so Tahia had 15 minutes in the playground), we opted for this crepe place called Le Comptoir de la Crepe instead of Taberna Maceira.
By now, we were pretty tapa'ed out and having this authentic crepe place seemed to be the thing to do to cap off our crawl. Of course it wasn't the way anyone would draw up a tapas crawl, but it seemed like when it came to Madrid on our trip, doing things that weren't Spanish seemed to be surprisingly good experiences (like the Napolitano pizza last night).
Well, tonights Brittany cider and savory galette capped off with a beautiful sweet crepe really hit the spot with everyone. Indeed, we made room for it, and learned from the proprietor that he was from southwest France though his folks were from Brittany (hence the authenticity of the food).
While casually conversing with the proprietor, we also asked about how he copes with the Spanish schedule. He said that he eats dinner well after midnight and opens his restaurant at 1pm though he has to be in the kitchen preparing at 11am.
Indeed, you have to go by the Spanish schedule or you don't survive in the restaurant business, we reckoned. And with that, we left at 11pm, and eventually got back to our room at 11:30am. We stopped by the Reina Sofia for night photos on the way back.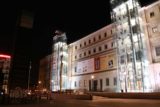 As we made our way back to our apartment, we made a brief stop at the plaza besides the Museo de Reina Sofia. There was a fairly open square here, which allowed us to take in the modern exterior. And even though it was almost midnight, there seemed to be a lot of activity no matter where we went in the city, including this square!
Anyways, once we were back in the room, everyone was tired and we all crashed knowing that we have to be outta here for another very long day of touring and checking into Segovia tomorrow…