Day 5: THE MINI-PLITVICE
It was 6am when I awoke to Julie's alarm. Knowing that there was a long day ahead of us, I got right away to wrapping up the packing duties.
Eventually by 7:35am, I was loading up the car. Julie and Tahia eventually followed thereafter. And then, we were headed out the garage with keys dropped in the drop box for early checkout. As we were leaving the garage, someone from the staff also happened to be opening up the garage so she kind of saved me the trouble of dropping off the garage key in a box. We just gave it straight to her as we were leaving.
Next, we were navigating the city streets as we were headed onto the autovia bound for Zaragoza. Going through the city streets wasn't easy (especially in tunnels where it was too easy to miss turns given the small signs). But ultimately, we would get onto the desired autovia and then it was pretty smooth sailing from there.
The long drive included one stop as Julie wanted to have another one of those bocadillos with ham and tomato spread (which seemed like a typical Spanish breakfast). Eventually, we'd have one of these though it didn't come from a restaurant popular with truckers like last time.
It wouldn't be until about 10:15am when we finally made it the Monasterio de Piedra, which was the first waterfalling objective of today. It couldn't have come at a better time because I was getting serious road fatigue after driving for nearly three hours. This place was about 3km uphill from the town of Nuevalos, and the autovia exit was near the town of Alhama de Aragon where signs for Monasterio de Piedra were showing up thereby making it easy to navigate there.
It was already busy by the time we parked as there were multiple tour buses plus a bunch of self drivers. Clearly this place had a bit of a reputation. And we were about to find out why.
After paying 30 euros for our admission (fortunately, they counted Tahia as under 4 years old so we didn't have to pay 11 euros for her), we then followed the suggested route, which brought us down a hill into a forested lawn area (complete with sprinklers to boot). Right off the bat, it felt as if we had stumbled onto some manicured park, and we were wondering if this waterfall was genuine or somehow contrived. We did see a reservoir on the way to the park, so we speculated whether the waterfalls here might be sourced and controlled by this dam.
Anyways, it didn't take long before we started to see and hear cascades. A sign said something about Diana's Bath, which was the plunge pool of some small cascades, but we could see through the trees that there was an even bigger waterfall just upstream.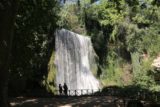 And so we continued on going up the steps until we were right in front of a very large waterfall called Cascada la Caprichosa (I think). It was the very waterfall we had seen in a waterfall submission years ago to our website. And now we finally got to see it in the flesh.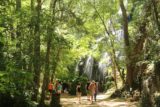 Given the waterfalling disappointments of the last few days that mostly took place in the east-central part of Spain, we were quite surprised to see how much water we were seeing in the waterfalls so far at this park.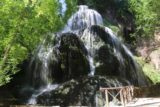 Yet even as we noticed this large waterfall, there was another waterfall with "character" just past some grottos. So we spent some time trying to capture the gracefulness of this so-called Cascada la Trinidad. If the Monasterio de Piedra park contained just these falls, we would've already been pretty satisfied with our visit.
Then, we went up some steps above the grottos where we found ourselves atop the big waterfall, and then we followed its stream further upstream towards more cascades with a bridge running across it. On the other side of this bridge, the trail then started descending but not before following yet another series of cascades running alongside the developed trail.
When we got to the bottom of the descent, we saw yet another graceful cascade called Cascada Iris. At this point, we now thought the waterfalling experience was pretty over the top. But then we saw that there were other trails going away from the exit trail. And with some exploration of where these trails were going, it became apparent that we were not only on top of a very tall waterfall below us, but this trail going through some tunnels were actually part of a larger loop!
As we followed the trail down some steps into a tunnel, there were some openings where we could see the very tall Cola de Caballo (horse tail) waterfall. As we descended the dark tunnel more, we could see a bit more of the falls as its height became more apparent to us the further we went.
The trail also presented a very tall and reddish narrow gorge, and we had this kind of deja vu feeling based on our Mooney Falls experience back in 2002. Except in this case, the trail was still well developed as opposed to the one at the Havasupai Indian Reservation, which was more of a wilder experience.
We then descended into yet another tunnel where it now took us behind the Cola de Caballo in a pretty large cave. Most of the light for the cave was coming from the backside of the falls and the daylight filtering through there. We could see there was a spur trail leading to spectacular views back at the falls along with a lot of dripping water coming down like mini waterfalls.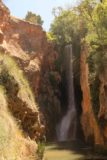 We then went through a long tunnel that took us well beyond the wet chaos of the backside of the falls. At this point, it was much quieter and it didn't take long before we were back alongside the stream where we crossed over a bridge and were afforded a frontal view of the Cola de Caballo.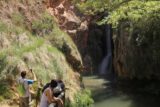 Even from as far away as we were from the falls (pretty well downstream from the narrow gorge), we could still feel spray coming from the falls. Plus, we could see that the very tall falls was dwarfing people doing down the very trail that we had gone down earlier.
After having seen this falls, now Julie and I were getting that giddy feeling like we did when we went to the Plitvice Waterfalls in Croatia. In fact, we were starting to think of the Monasterio de Piedra as a mini-Plitvice with the many cascades and impressive falls that started inducing waterfall fatigue in us.
Continuing along the route, we were now alongside a stream full of what appeared to be man-modified trout pools. There were heaps of trout in the pools, and we had a fun time checking them out. The trail then meandered along the bodies of water until it reached the Lago de Espejo, which was an even larger body of still but clear water backed by reddish cliffs against blue skies with plenty of green at the base.
It was the kind of photo op that started making me wonder if this place was too good to be true. I mean, we had two giant waterfalls, countless graceful character waterfalls, and now photo ops from this reflecting pool against seemingly red-cliffed backdrops? Such a place can naturally exist? Or did someone do some manipulation here?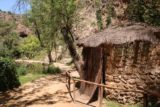 It was hard to tell. But one thing's for sure, it seemed pretty difficult to contrive the flow such that all of these falls could flow the way they did over all of these cliffs with karst-like characteristics.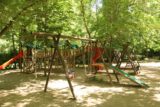 After the lake, the trail then went by an old house before reaching an area of rest. There was playground here, and we decided to let Tahia have some time there at 1:15pm. We hadn't counted on our visit taking three hours so far. But we were glad we allocated enough time for this visit even though we knew there was another waterfalling excursion on the way to Segovia. Would we have enough time on this day?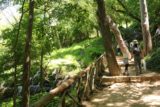 Next, we climbed up a series of steps and switchbacks that weren't too terribly steep. The trail went by more graceful cascades before passing before the Cascada de los Chorreaderos. This one was kind of like a spring and something we might be seeing at Mossbrae Falls if we're ever fortunate to see that one. Nonetheless, this was a pretty neat falls in its own right though we were looking against the sun so our photos probably didn't turn out now.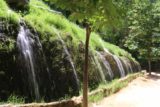 Beyond this falls, we went through another long tunnel near some aseos, and then we found ourselves back at that confluence area by the Cascada Iris. Now, we took the path leading to the exit (ignoring the additional route, which seemed to head back to the Horse's Tail in a different route) and passing by yet another falls called Cascada Sombria.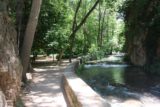 We're quite waterfalled out at this point, and we really sensed that the 15 euros per adult was well worth the price of admission. In our experience, places that have charged this much per adult usually disappointed us and were kind of rip offs. But not so at the Monasterio de Piedra. Now, we could see why there was a hotel here, for this place certainly had a lot to take in.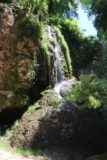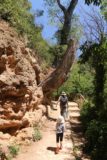 It was 1:45pm when our tour pretty much concluded and we got ourselves a couple of different bocadillos (kind of like subs with different toppings but much better and fresher). We didn't bother checking out the monastery that was here given that we still had more to do in terms of driving back towards Segovia.
At 2:05pm we were back at the car, which was still in shade. And at this point, we embarked on a very long drive that ultimately took us back towards Madrid before heading north towards the small hamlet of Somosierra for our next waterfalling excursion.
The nuvi GPS had us going across some mountain roads, but we didn't buy that the estimated time there would be accurate. So instead, we opted to stay on the autovias (including a toll road that went around northern Madrid to avoid congestion), and we'd ultimately find ourselves passing through Somosierra after getting off the highway. But we somehow missed where we had to go to reach the falls so we had to resume on the autovia looking to find a way to circle back.
Yet while on the highway, we could see glimpses of the Chorro de Somosierra (Cascada de Litueros) Waterfall against the cliffs, and thus we knew that we had found the right place, but now we'd have to figure out how to access it. So after driving a few more kilometers backtracking to Somosierra, we then found ourselves at a gas station right next to the onramp for the autovia leading to Burgos a little after 5pm.
We weren't sure if we were in the right place, but upon asking the attendant there, he told me that I should take a road just before getting onto the autovia, and the trailhead access would be there.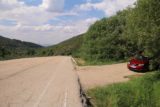 So without further adieu, I did just that, and we found ourselves on what seemed to be an old road with worn out lines. It was wide enough to support bi-directional traffic, but it didn't seem like this road was very well-used.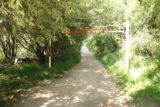 Then, we saw a pair of cars parked next to what appeared to be a trailhead at 5:20pm. So we stopped next to them in the limited parking space, and asked one of the people if this was the falls. He confirmed it that indeed it was the falls, and that we were supposed to get to the second creek crossing in order to access the base of the falls.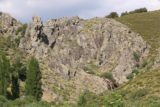 So the two cars that were here had left and we pretty much had this trail to ourselves. Of course, there was an air of unofficialness about this "trail" as we were walking on sort of a 4wd road where I thought I saw something about the road being "privado". So were we trespassing?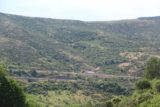 Yet after going through a pedestrian gate on the side of a road gate, we then walked in the open air up to the first stream crossing as the guy had said. This one was easy to rock hop to get across. Then, we reached the second stream crossing, but from there, the trails that followed the stream up to the falls seemed very overgrown and I wasn't comfortable proceeding.
But I did recall seeing a climbing path on the hill adjacent to us between the two streams, and so we went back to there, did the climb, and there was some mild overgrowth but the path was relatively easy to follow. Clearly, there had been a few people that had passed by here before so we were essentially on a trail of use.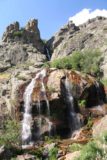 At 5:50pm, we finally made it to the front of the Chorro de Somosierra! And like the pre-trip research, it was as advertised with a tall tier followed by a three-pronged lower tier flanked by cool rock formations next to it. Getting up to a satisfactory viewpoint was a little bit of a scramble. In fact, there was nothing signed about this waterfall at all! It was pretty much a locals attraction.
Julie and Tahia eventually made it up here a few minutes later. But Julie didn't feel like doing any people shots here. It was also a bit hot and the sun was bearing down on us in our exposed position. I saw there was a short scramble down to the pool at the base of the falls, but I was a bit nervous about leaving our car at the trailhead (with a lot of stuff in there since we were in transition between accommodations), so we didn't linger here for too long before turning back while avoiding getting sunburnt.
We were back at the car at 6:10pm. Just as we were getting the GPS set up, another car pulled up and it looked like they (looked like a trio of ladies) were about to enjoy the falls with a dog. Clearly, this place was not unknown in these parts despite the unofficial nature of it.
Then, we followed the N-110 southwest to the city of Segovia. As we were driving up to the Plaza Mayor, we could see the impressive Roman Aqueduct towering over people, cars, and a few buildings on the approach. Then, there was a very busy roundabout in front of the aqueduct where a lot of cars had to wait for pedestrians thereby clogging the roundabout itself.
Once we were past that, we then drove through the restricted zone until we finally found the Plaza Mayor and the Hotel Infanta Isabel. There, we promptly got our stuff out of the car, then checked in, dropped the keys for the valet service, and we were in our room by 7:30pm.
The room was actually quite spacious, and it commanded a nice top down view of the bustling square of Plaza Mayor. On one side, there was an impressive cathedral. Meanwhile, there were other old-style buildings surrounding the plaza. The sun was against the cathedral so it was hard to photo in that direction.
There was also a band with some dancing girls (probably all college age) entertaining and busking on one corner of the plaza. It provided for a festive atmosphere as it seemed like the square came alive with locals and tourists alike doing their evening paseo. And we got to see it all unfold before us down below.
At 8:15pm, it was finally our turn to join the paseo. However, we strolled down the Calle de Isabel la Catolica (turning into Calle Juan Bravo), which itself was also a bustling pedestrian lane of lots of people walking back and forth on their paseo. Eventually at 8:45pm, we'd reach the target place to eat called Meson Candido, which was right next to the impressive Roman Aqueduct.
There was a bit of a late afternoon glow on the aqueduct though there were also shadows. We took our time just soaking in the ambience of the moment before it was time to go in for a dinner, which we knew we were gonna have the cochinillo asado, which was the specialty of the Segovia area.
It was a very pricey meal (about 56 euros for everything, including 4.5 euro bread), but we figured we were paying for the aqueduct view and the reputation (since celebs apparently were here before).
When we left the restaurant at 9:50pm, we were now out and about trying to capture twilight photos of the ambience of the evening paseo along with the attractive aqueduct itself. And we pretty much just basked in the magic of the Spanish twilight in Segovia as we slowly made our way back to the Plaza Mayor amidst the evening paseo.
Julie and Tahia were back at the room while I was going to scout out the Alcazar while there was the last bit of twilight before it went completely dark. Actually, the walk to get there was fairly long by Segovia standards, and it was very quiet. Clearly, hardly anyone comes out and about in these parts this late at night.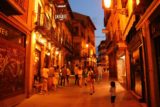 When I finally got to the Alcazar, I was disappointed by the views as I wasn't getting the Disney view I was hoping for. It seemed obvious at that point that we'd have to drive back out of the old town and look back at the Alcazar from the bottom in order to get that view of the Fantasyland Castle.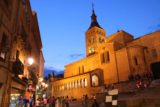 To add insult to injury, my nose was also starting to bleed quite a bit while I was photographing the Alcazar (or what little of it I could see through the trees). So I was trying to keep my head up while walking back to the Plaza Mayor so no more blood would be dripping down my nose. I guess I was suffering from dehydration from the saltiness of the food plus the lack of water.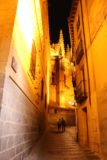 Finally at 10:50pm, I was finally back at our room. It was definitely bustling outside, but fortunately our windows were double-paned so that did a lot to filter out the noise. Meanwhile, we all showered and slept as we were exhausted from the long but successful waterfalling day. We can't wait to explore and experience more of Segovia tomorrow…
Visitor Comments:
Got something you'd like to share or say to keep the conversation going? Feel free to leave a comment below...
No users have replied to the content on this page