Day 6: SERENDIPITOUS TIMING
It was about 5:15am when Tahia woke me up because she said that she had poop in her pants. I knew that she was battling a bout of diarrhea, and when I dragged myself out of bed to go check, it was pretty clear that it was sludgy and mostly liquid.
Disgusting as it was, I had to do the duties since Julie was too tired to get up. Once I had washed off the stains from Tahia's underwear, I then tried to hang it up to dry while taking down the already dry clothes. Unfortunately, one of the hangers got stuck, and when I had to stand on Tahia's standalone bed to reach for it, a few of the planks holding up her mattress gave way and I crumpled to the floor.
Breaking my fall was my left arm, but I think I had jammed my shoulder in doing so. Fortunately, I didn't dislocate or break anything, but that mishap pretty much got Julie awake. We then spent the next few minutes trying to fix the plank on the standalone bed, but we weren't successful. We just rested the planks across the bed to support her.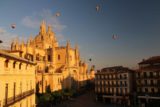 It was now about 5:30am and I thought I could just wake up for the day, but Julie didn't want to hear the keyboards clicking so I eventually just gave in and went to bed even though I wasn't really feeling like sleeping anymore. That said, I found myself back in bed and asleep for a couple hours more before Julie woke me up at 7:40am.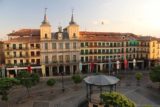 As we got up out of bed, Julie had started to notice hot air balloons over Segovia. When I finally looked out our window, I noticed many more of them. I don't think I had ever seen that many hot air balloons over any place at one time let alone the old town of Segovia.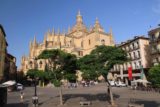 At about 8:30am, we went downstairs for our brekkie that Julie paid extra for. We knew that these types of brekkie came few and far between. But we at least looked forward to the baguette-like bread with tomato spread and jamon on top.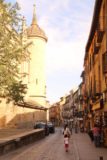 Eventually, when we were done with our pretty full breakfast, we then went back upstairs to get ready for the day. Then by 9:55am, we were now in our touring garb ready to head straight for the Alcazar.
Now, Julie and Tahia got to do the walk that I had scouted out late last night. It was still pretty quiet, but we could see some shopkeepers were starting to set up shop. By about 10:15am, we made it past the gate and towards the front entrance of the Alcazar. From this side of the building, we didn't get any of those Fantasyland castle views, but we did see an interesting turreted tower.
Promptly thereafter, we went into the Alcazar, which was delightfully quiet. As we went from the courtyard to the room-by-room self-guided tour, we could really sense the medieval feel of each room even though we knew that the rooms and hallways were recreated after a fire gutted the place in the 19th century.
There were lots of models of knights in shining armor as well as elaborate tapestries on the side walls and even frescoes on the ceilings. In some of the rooms, we could see dining tables as well as bedrooms, throne rooms, guest rooms, etc.
This was the type of experience that Julie embraced so she could envision what life was like inside these walls. We knew that Rick Steves wasn't a big fan of the Alcazar giving it only a single triangle, but it seemed like he had set our expectations low so we could be pleasantly surprised by our visit.
Eventually, we'd get up towards the outside where we could see there was a garden maze on one of the terraces (probably a Moorish influence) as well as other artifacts of a Mudejar or Moorish past with intricate woodwork, Arabic arches, and the courtyard with fountain that had become so familiar to us in Andalucian Spain as well as in Morocco.
By about 11:05am, we had concluded the Royal Palace part of the tour (good thing we had the early start because now the huge tour groups had shown up), and now we were going up to the top of the tower.
About five minutes later, we had ascended the 152 steps, and now we were on the hot and exposed top where we could see all around us in relative peace as the tour groups hadn't made it up here yet. Indeed, this Alcazar was on a very strategic location where a gorge pretty much prevented access to the castle on three sides, while the only access was from the fourth access through the old town.
Still, we knew that the Disney view of the castle would be from down below, and from our lofty vantage point, it was clear to us where we needed to go later on in the day.
At 11:25am, we were done visiting the Alcazar. Next, we continued the loop walk along the southern streets towards the Plaza del Socorro, where there was a cute gate there.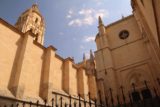 Then, we walked up towards the backside of the Cathedral, and eventually we'd make it back to the Plaza Mayor. By 11:55am, we had the bandwidth to go check out the interior of the grand cathedral that was pretty much staring us in the face since we'd arrived in Segovia yesterday.
Inside the cathedral, it was the usual tall arched and cavernous main hall with some side rooms that were available for looking as well. In one particular side area, we got to go around another courtyard where there were more rooms showing treasures and other interesting artifacts, but we couldn't take photos there.
While the cathedral was said to be elegantly simple, we were pretty cathedraled out by now. So we left at about 12:20pm and we decided to have a lunch just to enjoy the ambience of the Plaza Mayor over the meal.
We ended up eating at this place called Meson Mayor at 12:30pm. We went there largely because this other place called Concepcion was crowded. We knew that if it was that busy, it would mean no service, and we'd be sitting there forever. I guess that was the Rick Steves effect. The other restaurant we went to only had a few people, and it turned out that we were pleasantly surprised by the food, which consisted of a roasted pig salad (with garlic), solomillo, gazpacho, and sopa castellana.
We were done with the lunch at about 1:20pm. Julie made a good call to go with this other restaurant. Though we still paid nearly 36 euros for the whole meal, which would've constituted a pretty expensive dinner when we were in Andalucian Spain. It seemed like the further north we went, the more expensive things became…
At 1:50pm, after getting ready to drive back out of the old town for the afternoon, we showed up to the lobby as we waited for the valet guy to show up. At 2pm, we finally got the car back, we notified the receptionist of our early departure tomorrow, and then we drove out of the plaza though we had to navigate through a lot of pedestrians as we slowly made our way out of the Old Segovia town.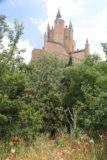 At about 2:15pm, we made it down to the road going alongside the river across from the hill containing the old town. We eventually found a pullout yielding a pretty nice view of the backside of the Alcazar looking very much like the Disney-inspired castle that we imagined it would be. However, the lighting was a bit on the harsh side at this time of day.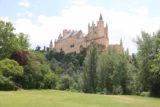 A few minutes later, we then parked at a large lot near the Iglesias de San Marco. There were a couple of wedding couples taking photos before the Alcazar here, but there was plenty of space on the lawn to take our own photos.
Once that was done, we then got back in the car and immediately drove towards La Granja for a visit to the Palacio de la Granja de San Ildefonso. We'd eventually get there at 3pm after driving less than 15km of local traffic roads. It took some time for us to find parking though as the free lot closest to the Palace and the old town was very busy.
We actually had to make a few loops before finally stalking a handful of people headed in the direction of the car park hoping we'd get lucky. Ultimately, we'd finally find a spot though one guy went the wrong way to try to get it while we were waiting for another car in front of us to wait for yet another spot that had just vacated. If we didn't act decisively, we could've lost out to the guy going the wrong way!
At 3:10pm, we had just walked under the nearest gate and onto a pretty happening market flanked by a lot of tented stands selling various things. However, what really made this place atmospheric was that there were many people on the street between the stands, and many of the folks were actually dressed in period clothes.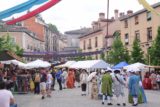 Julie thought it was as if we had stumbled onto some kind of Renaissance Fair, except this one seemed to feel a bit more authentic than the ones we're used to back at home. There were even people playing instruments and marching as if they were in the medieval period.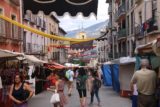 Since Tahia was napping, I had to carry her without a child carrier until we eventually made it to the Plaza de los Dolores. There, we found a tented teteria, and decided to just chill out there over Moroccan tea and some sweets. Tahia slept no longer while at the teteria, and she especially got up when she saw one of the sweets had chocolate topping on it.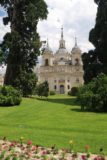 We had left the teteria about 20 minutes later, then I looked around for the tourism office. When I found it, the office was closed, but there were print out copies of town maps, and we grabbed one. From there, we then followed a different street towards the Plaza de Espana, right in front of the Palace. The street we had walked was also atmospheric with more shops and people dressed in period garb.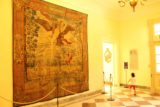 At 3:35pm, we eventually entered the palace. We had to use the consigna to drop off the safari bag though so we only had one bottle of water to share between us. Meanwhile, most of the Royal Palace rooms didn't allow for photographs so it wasn't like we could take home any memories of the place. That was a bummer, but I guess there were some tapestries, frescoes, and lots of bling that I guess they didn't want to random pictures to spread on the internet.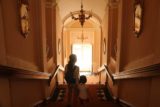 Once again, Julie was digging this palace part of the visit as she got to gawk at the accumulated wealth of royalty or aristocracy. Like with the Alcazar, she felt like she got to envision what life must have been like here.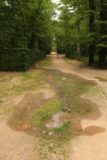 It wouldn't be until about 4:10pm when we were done with the royal palace part of the visit and then entered the extensive garden. After reading about seeing the Chorro Grande from the gardens at La Granja, I was on the lookout for the waterfall from the complex. However, I wasn't seeing it in the general direction of the falls so I finally asked the guard about it.
She said to keep going straight past the fountains towards the far eastern end of the garden. I wasn't sure if she misunderstood me for the waterfall up in the mountains versus fountains or something else, because she mentioned something going on at 5:30pm later today.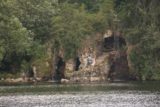 So with that, we walked through the really huge gardens in the general direction that she said. The fountains here were quite attractive, and there were like one fountain and pool after another. Those alone could've easily distracted us and kept us happy snapping photos.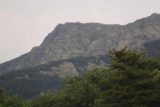 But we kept going. The path gradually went uphill as we went past the fountains, then we walked past what looked like a spring leaking onto the trail. There was water bubbling up out of the ground, but if it was a real spring, I'd imagine some infrastructure would've been put around it. Instead, it could just be a broken pipe that was now bursting up water through the ground by pressure.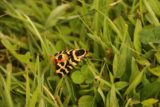 Eventually at 4:45pm, we ended up at a lake where there were open views past trees towards the mountains to the left (north). At that point, I drew the conclusion that the Chorro Grande must be at the rocky part, and when I took a photo of it in the best zoom that I could, then I zoomed in on the capture to see if there was anything there, I did notice a thin stream in the groove of that rocky part of the mountain. That must be the falls, but it wasn't that visible to the naked eye.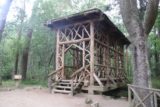 Indeed, it required a spotting scope or telescope or something to even notice it. So that was kind of disappointing, and I guess I'm on the fence about whether to even make mention of it on the website.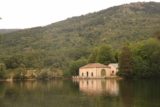 To round out this part of the trip, I had noticed that there was a small pair of waterfalls spilling between some grottos on the other side of the lake. So I walked over there to investigate whether those waterfalls were real or man-made.
When I got to the gruta, it was obvious to me that the falls were fake. There was no way that the feeding creek could be below the height of the falls, which was the case. I didn't see any telltale pumps or anything, but it was pretty obvious to me that the falls were fake.
At about 5:15pm, we left the lake and headed back the way we came towards the fountains again. When we ultimately got back to the fountains, we were surprised by how many people were surrounding some of the fountains now. It was crazy! But it didn't take long for us to figure out that there were employees by some spigots on the ready about to turn on the fountains.
So that was what the guard was telling me about that was going on at 5:30pm. Sure enough, right on time, the fountains were activated. And next thing you know, there were a bunch of fountains going off at the same time spewing like geysers. That seemed to delight the huge crowd of people surrounding all the fountains here. I was still incredulous that you could have hundreds or even a thousand or so people show up just to watch a contrived fountain go off.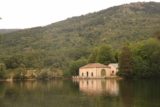 Different strokes for different folks, I guess.
Then, the crowds were dispersing trying to improve their views as the fountains were going off. But ten minutes after the fountains went off at 5:30pm, the fountains started to stop and gurgle.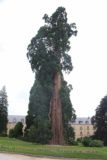 It wasn't until about 6:10pm when we finally came back to the consigna to pick up the left bag. When Julie and I were at the courtyard near the consigna, we noticed the same rocky outcrop in the distance from here. So technically speaking, we didn't have to go all the way to the far eastern end of the garden to see the Chorro Grande (or whatever was left of it).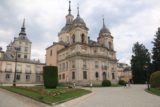 At this time, we slowly made our way back to the happening streets, where signs indicated that this was the Mercado Barroco (Baroque Market). In any case, it was even more happening now at the market than it was when we first showed up a couple of hours before.
We really wanted to linger here a while longer and soak up more of this ambience. We even stopped for a real tasty crepe filled with nutella. And it turned out that it was amazing!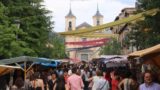 But we still needed to get back to Segovia where we were determined to get another aqueduct view as well as a dinner at Jose Maria's since we had read that it had the best cochinillo asado in town. Plus, we didn't want to stay out so late that it'd be too late to return the car with the valet courtesy of the Infanta Isabel Hotel. I guess we couldn't be in two places at once.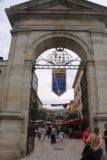 At about 6:50pm, we finally made it back to the car. The drive back was pretty uneventful though the GPS had us go on a route we hadn't gone on before. We ultimately made it back to perhaps the best Sleeping Beauty Castle view (which was less formal than the lawn area by the San Marco Church), and this was where we got a few more snaps of the Disneyland-like Alcazar before continuing on.
I noticed a dead snake near the lookout (worrisome since I was wearing Chacos and poisonous snake bites would be bad), but other than that, we took our people shots, but didn't get the late afternoon glow we were hoping for thanks to the persistent thunderstorm clouds muting the colors. Plus we wouldn't be staying out here for twilight either.
So at 7:45pm we were back at the hotel, but the GPS had us take a different way back to the Plaza Mayor. This seemed to be a more direct route though there was a narrow alleyway that we had to negotiate to get back to our hotel near the big cathedral. At least it wasn't as bad as it was in Toledo, but it did scare us a little.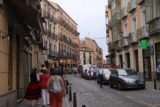 After getting ready for dinner and hopefully a twilight tour of Segovia one last time, we finally headed down at 8:40pm. We went straight for dinner at Jose Maria's five minutes later. At first we thought we might have shown up pretty late due to how crowded the bar in the front room of the restaurant was. But it turned out that there were tables in the back so we were promptly seated.
The food of cochinillo asado as well as duck foie were too much. I bet they'd easily feed four people instead of two plus our picky daughter. Add to that a Mediterranean-type salad, and this was simply way too much food.
We thought the roast suckling pig was a bit heavy on the skin and fat and light on the meat so we didn't like it as much as the place yesterday. Plus, this place was even more expensive at nearly 64 euros!
It wouldn't be until 10pm when we were finally done with the dinner. But not before Tahia got yet another free spontaneous gift from a stranger. This time, it was a piggy bank (instead of candy) from one of the waiters.
With it being a bit late now and a looming early wake-up to get to Salamanca and Pozo de los Humos Waterfall, I decided against getting twilight shots of the aqueduct again. I guess our aqueduct viewing was yesterday and our alcazar viewing was today. And so ended our busy yet satisfying tour of Segovia.
Indeed, we did it right by spending two nights here. Our original itineraries had us not spending any nights here and doing it as a day trip from Madrid. Boy were we glad we opted to spend a couple nights here. It made the experience more relaxing and atmospheric. Plus, we were already tired of Madrid, and driving through the city streets of Madrid were no fun either.
Hopefully, we will have done Salamanca right tomorrow, but it all starts with an early start…
Visitor Comments:
Got something you'd like to share or say to keep the conversation going? Feel free to leave a comment below...
No users have replied to the content on this page