Day 7: NEW MEANING TO CORPUS CRISTI
It was 6am when I awoke to Julie's alarm. I had woken up groggy, and it seemed like it had been a while since I had had at least 7 hours of uninterrupted sleep. And as I was getting my stuff together, I noticed that the Plaza Mayor still had quite a few people meandering about probably coming home from all night parties or clubs. No kidding about the Spanish being night owls.
Julie and Tahia had gotten up much later. So I knew that getting out of Segovia by 7am would be a pipe dream at this point. I wasn't sure how this would impact our ability to tour Salamanca, especially since I was worried about closures to key attractions on a Sunday. That said, the typical schedules for both the Old and New Cathedrals and the Salamanca University meant we had nothing to worry about as they'd open continuously until early evening. However, you never know if there's some kind of celebration or mass or something that might conspire to mess things up.
It wouldn't be until 7:30am when we finally loaded up the car, checked out, and were ready to go. Unlike the previous times I had driven in the Old Town of Segovia, today was indeed a Sunday so I didn't have to contend too much with congestion or squeezing through tight streets in bi-directional traffic.
The drive out of Segovia passed by some grassy hills where it seemed like hot air balloons were parked. After having seen these things yesterday morning, it seemed like this was a pretty common occurence in Segovia in the early morning hours when the air would typically be cooler (perhaps to improve the life of hot air balloons).
Afterwards, we zipped along mostly autovias on the way to Salamanca. Once again, we were rolling between fields of what Julie thought were mature olive trees. And these farms seemed to be everywhere in rural Spain.
We actually passed through Salamanca at around 9:30am, but we knew this was way too early to drop off our luggage then continue touring. So we held onto our stuff, kept on going towards our waterfall trip of the day at Pozo de los Humos, and essentially head towards the border between Spain and Portugal without actually crossing it.
In my pre-trip research, I couldn't tell which trailhead we were supposed to choose – Masueco or Perena de la Ribeira? We had a 50/50 chance of getting to the mirador with the frontal view of the falls (which was the more desirable one). And I ended up routing to the town of Masueco, hoping there'd be further guidance on getting to the trailhead from there.
When we got to Masueco, there were signs that helped point us the way to Pozo de los Humos. Unfortunately, the access road from Masueco to the trailhead for Pozo de los Humos was on a pretty dodgy unsealed road. I guess as long as I took my time squeezing between the sides of the narrow roads, or trying to dodge or minimize the impact of potholes and/or ruts, I knew we'd eventually be there. I just hoped that this road wouldn't cause us a flat tire.
Sure enough by 10:30am, we finally made it to one of the car parks for Pozo de los Humos. When we got out of the car, we could hear voices. But since we were the only ones parked here, we wondered whether there were other folks that hiked here from town. And from what we could tell, there was no one on the trail nor at the overlooks below.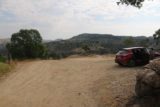 Speaking of the overlooks, that didn't seem promising as the viewpoints were only near the top of the main plunge of the waterfall. When I scanned my eyes further up across the gorge (suspecting that the other viewpoint was the one yielding the frontal view of the falls), that was when I saw a group of folks checking out the falls from where we probably should've been in the first place had we known better.
That was when I realized that the voices that I had heard came from those folks across the gorge! Given the relative silence of this place, it was amazing how clearly we were able to hear them!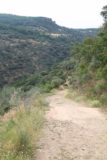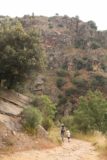 And so we all walked past the barricade then went down a couple of switchbacks along a pretty wide 4wd road. Given how long and steep this descent was, we knew it was going to be an ass-kicker on the way back up.
It was about 11:25am when we finally made it down to the mirador. There were some clearly designated overlooks that turned out to be mostly partial views of the waterfall. Perhaps the most somewhat satisfying view came from a platform that was literally hanging over the abyss that was right below us. The two drops of the 50m waterfall were visible, but they were really awkward to try to capture in photos.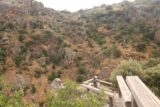 While the views were awkward, they were also butterfly-inducing and scary. We definitely had to keep a close eye on Tahia even though there were railings and barricades. We also noticed that there was some kind of stone hut that was also here near the overlooks. We weren't sure what it was for, but there was something written in Spanish that I figured I could translate later on.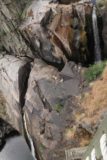 Anyways, this pretty much confirmed my suspicion that we needed to somehow get to the other side of the gorge for the more satisfying frontal view of the falls. All the effort it took to look at the waterfall from the Masueco side was pretty disappointing.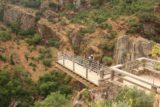 We didn't take long before we decided to head back up to the car park. Just as we were doing the long climb back up, the somewhat overcast conditions started giving way to the hot and intense sun. So by 11:50am, we were quite the hot and sweaty mess.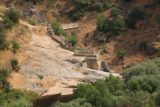 We encountered a few more people coming down to the overlook so we were no longer the only ones on this side. In fact, there were three other cars that were parked here when we had returned. Now, it was time to figure out how to get to Perena de la Ribera, which I knew was the town providing signs for the other access to Pozo de los Humos (Well of Smoke – though it was a far cry from a smoking waterfall on this day).
The road back from the trailhead to Masueco went in a slightly different direction thereby forming a loop. The route was equally bad (if not worse and even scarier than on the way in) thanks to the even narrower road with vegetation brushing up against both sides of the rental car while continually negotiating potentially tire-popping rocks and some potholes and ruts.
As we finally went through the sleepy town of Masueco, we then saw that there was a signposted turnoff that headed towards some other towns. It didn't explicitly say it was for Perena de la Ribera, but I took a punt and explored it anyways. Julie was already antsy about going to Salamanca at this point, but we still had to complete our Pozo de los Humos experience since it remained incomplete. Had we started with the alternate viewpoint, then I wouldn't have felt compelled to do the scarier route from Masueco.
Finally after reaching Perena de la Ribera, we saw brown signs for Pozo de los Humos. I figured the brown signs were always a good thing because that pretty much confirmed in my mind that this was the more popular and sanctioned (and probably easier) way to experience the falls.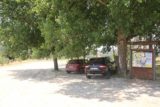 Sure enough, the road going from town to the sanctioned and shaded car park was much easier going than from Masueco. Even though the road was still unpaved, it was wider with fewer potholes, big rocks, and ruts. Eventually by 12:30pm, we parked the car, but Julie and Tahia decided to stay in the shade given their energy was already pretty much exhausted from our little adventure from Masueco.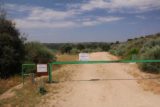 So without further adieu, I headed out solo. After walking past the vehicular barricade, I was then on a trail that went downhill, but in a much less steeper grade than on the Masueco route. I was pretty much walking in complete exposure to the sun as there was hardly any shade. Plus, it seemed like I was walking on a continuation of the road we had just used to drive in.
After walking beneath a couple of stretches of power lines, I noticed there was some kind of private residence that looked like it was unoccupied. I wondered if this road must've been made to accommodate whoever lived at this house, or if was to help the workers gain access to the power pylons. Whatever the case, there was still no shade and I was a pretty hot mess already.
At about 12:50pm, not long after this house, I noticed what appeared to be the original car park for this hike! Now, it became obvious to me that this hike shouldn't have been as long as it was. It should've only been 400m in each direction! But upon closer inspection at those persistent signs I kept seeing regarding the restricted access, I now worked out the translation such that it was saying that the route was closed to vehicles to protect endangered species from February 15 to June 30!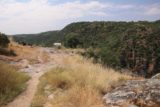 So that pretty much explained it. I guess whenever the falls would be flowing, you could pretty much count on doing the longer hike and not the easy and much shorter walk by using the closer car park given this restriction. Oh well, it was what it was.
At 12:55pm, I had finally gone the last 400m, which descended a little more steeply than the gradual road I had walked to this point. Now, I found myself nearby a power pylon that connected across the gorge with a power pylon that was probably closest to the car park from the Masueco side. Speaking of which, I was able to see both that car park from this vantage point (though I was also able to see Masueco from much of the trail as well).
As expected, the view of the falls from here was much more satisfying albeit distant. Given the struggling flow of the falls, it certainly wasn't a well of smoke (which was how Pozo de los Humos was said to be translated). Instead, it was a stringy two-tiered falls, which the lower falls and plunge pool being much more impressive.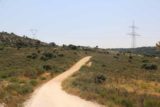 I pretty much had this overlook all alone, and it wouldn't be until about 1:10pm when I finally left this spot and headed back up to the trailhead.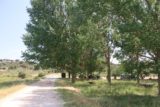 Again, the non-trivial hike (probably about 2km in each direction) was totally exposed to the sun. Now, the return hike had the additional challenge of being somewhat uphill than the way in.
It wouldn't be until 1:30pm when I finally returned. Julie was waiting and knew that I had gone on a longer-than-expected hike. That was when I explained to her about those signs that actually lengthened our excursion. So now with this out of the way, we could finally head towards Salamanca albeit a little later than we would have liked.
Both our Nuvi and the car's built-in nav had me go on some obscure route in the middle of nowhere that took me through some sleepy towns (one was Cabeza). I knew from the twistiness and narrowness of the road, this was not the better way to go, but it was too late and we had already made the commitment. In hindisght, we should've gone back the way we came, then take the more straighter shot roads into Salamanca.
To make matters worse, in one of the towns, we had to drive through some kind of farmers market, which complicated things in terms of reaching the SA-302 road that was more significant and straighter than the unnecessary twistiness that we had encountered to this point.
Finally, it wouldn't be until 3:10pm that we'd ultimately get to the car park for the NH Hotel. We were concerned about reading about how difficult it was to find the car park so our mindset was to find the hotel first. However, it turned out that we wound up finding the car park first! On the way in, we somewhat followed the yellow signs. I guess we were lucky to have found the car park first, because now we didn't have to concern ourselves with finding the hotel.
It wasn't until 3:35pm when we got into the room. The receptionist said that the last admission to the Old and New Cathedrals was 7:15pm typically, but he caveated that by saying there might be some kind of celebration going on today.
Anyways, it wasn't until 4pm when we finally were ready to walk into town. Upon passing by the ornate cathedral entrance, we noticed a paper sign saying that the tourist visiting hours were reduced from 10-15:45 today due to some kind of Corpus Cristi celebration! What?!?!
That pretty much screwed us out of visiting the cathedral as we had missed our window of opportunity by a few minutes!
So we started looking for alternative sights immediately to fill out our afternoon, and that was when we also learned that the University of Salamanca was also closed at 2pm today! Double whammy!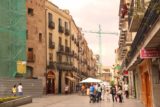 Well, we couldn't do anything about those things right now, but now it really felt like everything's timing was off by a few minutes. There were plenty of "if only" scenarios playing in my head now – from the 30-minute delay in our departure of Segovia to the 50/50 chance that we started with the wrong overlook to the GPS improperly putting us on a bad path on the way to Salamanca.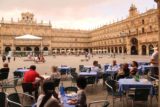 Now, the word Corpus Cristi had a whole different meaning to us. I guess it was supposed to mean Body of Christ and not necessarily the name of that town in Texas. It was more about this celebration that was going on this moment on the Sunday that we happened to show up. Funny how our trips always have mistimed moments like these, and it was the thing I had feared when we moved our itinerary back a day to accommodate the flight to Morocco via Iberia instead of Royal Air Maroc at the very beginning of our trip.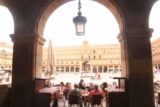 Anyways, we then walked to the Plaza Mayor, and found this random place called Restaurante Gonzalo at 4:25pm. Like the Plaza Mayor in Madrid, this one was surrounded by old-school buildings. But it seemed like the Salamanca one had a bit more character to it. Perhaps it was the plethora of arches on each side of the square.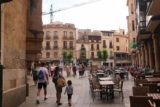 The food was pretty creative tapas, which was what we tended to prefer. The traditional tapas seemed to be heavy on the salt and bread, we thought. So while we weren't filled for this lunch, we at least got to try things out that were a bit different than before. And that was welcome because we were getting tired of Spanish tapas at this point.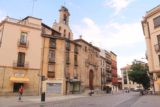 At 5:15pm, we were done eating. While we were trying to figure out alternatives, we noticed that the Ieronimus experience by the cathedral was said to be open until 8pm so we decided to look for that one. But we were fearful that it was closed because it was attached to the cathedral so we weren't counting on it. Perhaps the only thing available to us on this day was the Scala Coeli (at the Torre de Clerecia).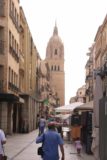 As we were eating, we could hear distant thunder from the dark clouds that were budding above us. We tried to soak up the ambience and figure out how to take photos of this place before we headed to those towers.
While on the way to the towers, we cluelessly bought some Jamon Iberico from this place called Viandas de Salamanca. That was when we learned that the best part of the ham was the rump, which was typically called jamon. Other parts of the ham were from other parts of the pig, and those were given some other name that I forgot.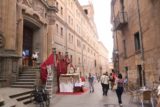 So we paid some 11.75 euros for a pretty small package that underscored the priciness of those slices of pork. Julie was hoping that we could try a fresh one at the time, but I think the language barrier kept that from happening.
At 5:50pm, we finally arrived at the Scala Coeli. We paid the 3.75 euros per adult, then walked up the creaky wooden steps up to the twin towers that were both accessible. Indeed, the views over the city from here were quite nice, and it actually included the big cathedrals next door from where we were staying at the NH.
There were definitely those butterfly-in-the-stomach views for sure given our lofty vantage points!
At 6:40pm, we had our fill of these views (still disappointed we didn't get to see the main attractions of Salamanca and having the terrible dilemma of delaying Santiago de Compostela over this if we do decide to wait until they re-open tomorrow).
Then, we noticed that there was a lot more commotion going on in the Rua Mayor now. Quite a few of them were headed to the Cathedral whose doors were now open again. So we went inside at 6:55pm, took a look at what was going on (it was busy with some clerics doing chanting and involved in some ceremony), and I was discreetly taking photos even though signs were saying tourists were not supposed to be here.
Clearly I wasn't the only one doing this, but I figured that this kind of salvaged a half-assed visit to the New Cathedral. We wouldn't be seeing the Old Cathedral at all on this visit.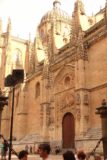 It was 7:10pm when we were back outside. It looked like the outside of the cathedral was still quiet on the side (not the front) so we looked for the astronaut and the ice-cream eating dragon (or devil), which seemed to be out-of-place. It was funny to see them.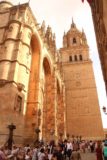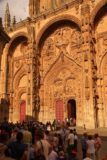 At about 7:25pm, we were back at the room, but I noticed that the door to the Ieronimus (which happened to be right in front of our NH Hotel) was partially open. When we poked our head inside, we learned that it had just closed! The worker said it was closed since 7pm. So this was yet another instance where we screwed ourselves out of a visit thanks to this whole Corpus Cristi thing as well as a little bit of our ignorance of what's where and when they closed. None of this was well advertised until we showed up at the door.
At 8:15pm, we had our rest, and now we were headed back out into town. We first walked out to the Roman Bridge, which had fine views back towards the Old Town of Salamanca. It was interesting but muted thank to the overcast skies of the threatening thunderstorm.
At 8:35pm, we left the Roman Bridge and headed back to the old town. As we passed by the cathedrals, we saw that there was still a large crowd but it was now at the side door where there were the out-of-place astronaut and dragon. And apparently we happened to show up right when the ceremony was about to conclude and the people were dispersing.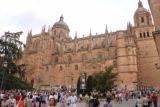 Again, the timing couldn't have been worse because now every restaurant was busy. And while Julie was busy chasing specific restaurants, they all came up empty, and it wouldn't be until about 9:30pm when we finally settled on the Don Mauro Restaurant back at the Plaza Mayor. Even this place was busy, but they accommodated us.
This was said to be a Michelin restaurant, but the T-bone steak that I had was way too raw and chewy. Julie's cod was tender though. I guess we should've stuck with medium instead of trying to figure out how to say medium rare in Spanish. This was one instance where the menu translator that a coworker gave me for this trip would've been beneficial.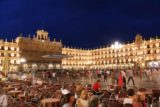 We happened to be sitting next to large group of American students learning Spanish. So I guess that kind of reinforced the somewhat American uni vibe that we got while being in this university town.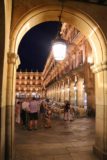 It wouldn't be until 10:30pm when we finally left the restaurant. We were hit by yet another 54 euro dinner (like about $70USD). I wondered how many more of these pricey dining experiences that we could take for the rest of the trip…
At this point, I seized the moment as the fading twilight magic hour was just about to conclude at the Plaza Mayor. I did this while Julie and Tahia were headed to the Carrefour Express on Rua Mayor to stock up on stuff. But I knew the window was closing so I managed to get a few snaps before I rejoined them at the grocery run.
We dropped off our groceries in our room at 10:55pm, and it was only then that our night tour of Salamanca had begun. As we were strolling about the city, we could see that there seemed to be an element of the city being well-designed as the historic buildings were well-accented with lights and they seemed to be strategically popping up around one corner after the next.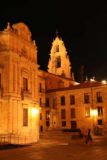 That was when Julie figured out that what made Salamanca a pleasure to tour by night versus other cities we had been to was the lights. They seemed to have strategically placed them in all the alleyways and roads throughout the old city. And then the important buildings were accented with even more intense lights so they'd show up in night photos.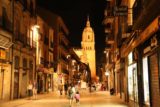 Indeed, it was a real treat seeing the city at night. And we just meandered about intentionally getting lost (we weren't as concerned about getting mugged thanks to the presence of these lights) before we found our way back to the Plaza Mayor again. Without the twilight glow, it wasn't as magical as before, but it was still charming and bustling this late in the evening.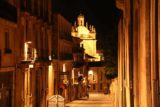 Finally at 12:05am, we were back at the room. Exhausted from today, we went right to bed. Since we had already paid to have brekkie on this day, we mind as well sleep in a bit to recover from this night of near misses…
Visitor Comments:
Got something you'd like to share or say to keep the conversation going? Feel free to leave a comment below...
No users have replied to the content on this page