Day 8: PILGRIMAGES
It was 7:15am when I had awoken to Julie's familiar iPhone alarm. Funny how it had a greater effect on me than it did on Julie because I think she snoozed or turned it off and then stayed asleep for a little while longer before she finally woke up.
We took our time knowing that we mind as well wait out the opening of the Ieronimus attraction since we had narrowly missed out on it last night. So it wasn't until about 8:45am when we had our paid breakfast, which turned out to be the best brekkie of the trip so far.
We basically pigged out on an assortment of fruits, cured hams, cereal, and even cooked egg omelettes. It was all buffet style so we could pretty much have as much as we could handle. And since Julie anticipated not having a lunch given the long drive from Salamanca to Santiago de Compostela, we mind as well pig out and treat this as a brunch.
The brekkie took us to about 9:55am when we finally had enough, and then we retreated to our room to wrap up on some last things to pack before I started going down to the garage to load up the car. By about 10:15am, we were done loading up the car, and then we promptly headed upstairs and right out the door of the NH (saving the check out for when we return) and right to the Ieronimus entrance.
After going in and paying the 3.75 euro per person (Tahia was free), we then proceeded to go up the stairs and onto the start of the self-guided tour.
Right off the bat, we were led to a room (I think it was the Governor's Room) which displayed some artifacts, but more importantly, it led us to a balcony high up on the Old Cathedral where we could look down at the main chapel looking towards the ornate altar. I guess it turned out that by doing this excursion, we pretty much didn't feel the need to pay to go into the Old Cathedral (another one of the things we had missed out on yesterday).
After visiting this room, we then went up some more steps until we were led up to the rooftops of the Old Cathedral. Up here, the morning sun was right against us as we looked towards some of the ornate pillars and ornate roofings as we walked the catwalks towards a different re-entry point.
Upon re-entry into the cooler indoors, we then found ourselves atop a very high balcony overlooking the New Cathedral. Upon looking down at this impressive look at all the main parts of the interior of the main cathedral, Julie and I couldn't help but wonder what a spectacle this place would've been had we managed to get in while the mass was about to start. That was because I'm sure the atmosphere would've been remarkably different with the plethora of people gathering around the altar with some of the ministers doing their thing around the altar in celebration of Corpus Cristi.
We were also able to pay more attention to some of the decorations closer to the roof that we would otherwise not really pay much attention to had we been down at the bottom. Indeed, this was a perspective of the cathedral that I don't think we had ever been able to experience in our past visits to other cathedrals. Even the blinged out one in Granada at San Juan de Dios didn't let us get this high.
After that, we went to a different part of the roof of the New Cathedral this time, where we got some different impressive vistas of the Old Town of Salamanca. We could even see across towards the Clerical Towers, which we had ascended yesterday.
Then, after obeying some traffic lights, we went up some more steps that eventually led us up to the Bell Tower at 10:55am. Up here, it was impressive, but there was netting on all the openings so it wasn't really conducive to taking photographs of any panoramas up here.
Eventually, we would go down the spiral steps (especially as we noticed some kiddie groups started to show up) and ultimately leave Ieronimus at 11:10am. Indeed, Julie and I thought that this visit pretty much made our Salamanca visit during the daylight hours. For the night visit we did yesterday night was also a different highlight.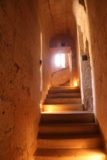 About five minutes later, I was in the car while Julie was checking out. And by 11:20am, we could finally begin our long journey to Santiago de Compostela.
The long drive was kind of like a mini-pilgrimage if you will. I knew that Santiago de Compostela was typically the end point of the nearly 500-mile journey from the French-Spanish border on the western side of the Pyrenees, and that was the Camino Frances that many people did on foot as the typical pilgrimage that had been done centuries before. There was also the similarly lengthy Camino de Santiago though I wasn't sure if that was the same thing as Camino Frances or not.
Of course in our case, we'd cover probably about half that distance in a span of four hours or so. And indeed, we were cruising along a couple of long autovias, which was something I wasn't expecting because my pre-trip research made it seem like we were in for a long six-hour drive.
Thank goodness for the autovias (though there was one stretch of going on the N-631) where we pretty much gunned it at 120km/h. The drive pretty much went uneventfully with a little break at 1:50pm (lasting for about 10 minutes near A Gudina) before we got off the AP-53 near Silleda. Then, we followed the N-525 Road towards the town of Bandeira, where we then took the local PO-204 road when we started seeing signs leading us to Fervenza do Toxa.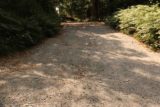 The road ultimately degenerated into an unsealed road with some ruts and potholes. We got down to one switchback that had a really deep set of ruts (looking almost like craters) that I didn't think the rental car would be able to clear. So I backed up into a pullout at a previous hairpin turn. And from there, we would go on foot. The time was now 3:45pm.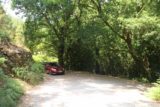 As we got out of the car and did the walk continuing along the road, we started to notice how humid it was down here. Not only that, but it was also much greener here than in another other place in Spain that we had been to. We even noticed there were ferns growing alongside the road while some of the trees had moss growing on them!
Were we all of the sudden in the Pacific Northwest?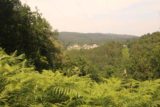 Well, the mugginess was already wreaking havoc on us as we were pretty much sweating bullets. And even though we were mostly in the shade, I couldn't imagine how much killer it would've been had we been exposed to the sun at the same time!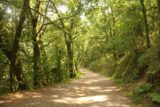 The walk itself was longer than I was hoping, and it was probably on the order of 1.5-2km in each direction. At about 4pm, I finally managed to arrive at the official trailhead though I wasn't sure where the car park was supposed to have been. There was a vehicular barricade for those vehicles that would make it down here (obviously that didn't apply to us).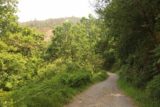 Then, for the final fifteen minutes, the trail descended a little more steeply and even had a few steps until finally I managed to get to a small area with a handful of picnic tables as well as a view of the impressive Fervenza do Toxa Waterfall. The falls was much taller than I had anticipated and so I wasted no more time getting right up to the base of the falls.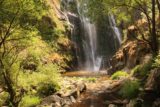 The path looked like it could've led right up to the plunge pool, but it looked like the water level of the plunge pool was a little bit higher so some of the stone steps were under very shallow water (only enough to leave some stones dry so we could rock hop a little to get up to the edge of the plunge pool itself).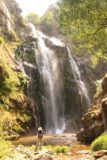 Julie and Tahia would join me about ten minutes or so later. Julie told me that Tahia encountered a snake, and now she was scared. Fortunately, nothing came about that incident, but it would have to serve as a reminder that we were back in Nature, where we would have to be cognizant of our surroundings.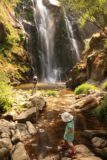 It was too bad that the late afternoon sun was in a terrible position as it was almost on top of the waterfall. I think this falls had to have been at least over 50m or so tall. It wasn't easy trying to get the entire falls in a single frame. Plus, there was a lot of foliage above us conspiring to obstruct the view of the falls thereby forcing us to get closer to the falls and risk not getting it all in.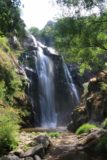 At about 4:30pm, we had our fill of the impressive waterfall, and now we had to make our way all the way back up. With the humidity, we knew this was not going to be an easy slog. And sure enough by 4:55pm, we were back at the parked car a sweaty mess.
Well, at least now, we could drive the remaining distance to Santiago de Compostela.
It wouldn't be until about 5:45pm when we managed to find the car park San Clemente. We entertained the thought of driving all the way to the Hotel Montenegro to drop off our luggage and have the receptionist tell us how to get to the car park, but we figured it would be easier to just park the car and walk the rest of the distance with our luggages.
We had a feeling that driving in the Old Town wasn't going to be fun.
And sure enough, as we were getting oriented and finding ourselves in a happening lane full of restaurants, we then followed the advice of the Tourism Office person, who ultimately led us to the correct lane containing the Hotel Montenegro. It was a bit of an uphill walk, especially with all the luggage I was carrying, but we'd ultimately get to where we needed to be at 6:10pm.
It took some time for the busy receptionist to tend to a previous client before getting to us, but we'd ultimately get to our room by 6:30pm. There, we found out that we had a pretty small room and all three of us would have to share a bed (kind of like what happened in Ronda).
At about 6:55pm, we were pretty much settled in and then we decided to tour the town. As we were walking the pedestrian lanes, we'd get to one of the plazas (or prazas) surrounding the cathedral of Santiago de Compostela, and once we went inside the free cathedral, we could see there were some hanging botafumeiros (incense dispensers).
I wasn't sure if we happened to miss the show of this thing swinging or not. But it was still impressive to see this thing hanging over the altar area. Anyways, this cathedral was pretty simple and since Julie and I were pretty cathedraled out, there really wasn't anything all that special about it from what we could tell.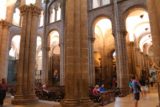 That said, we did manage to go into an area where there was the tomb of St James as well as another area where we could embrace a statue facing the altar. Other than that, it didn't seem like the mass that was about to happen would have the botafumeiro swinging. Oh well, maybe a tour group might fork over the 300 euros to do it tomorrow…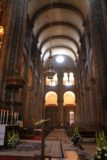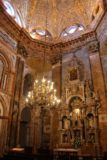 We got out of the cathedral at around 7:30pm, where we checked out the remaining three plazas surrounding the cathedral of St James. We'd finally then check out the grand Praza do Obradoiro, where we then finally saw the grand facade of the cathedral. Unfortunately, half the facade (including all of one of the towers) was completely covered in scaffoldings, and it was a real eyesore.
That was a real shame because this cathedral looked to be one of the more decorative and ornate ones from the exterior. Even Tahia could see for herself how ugly the scaffoldings looked.
Then, I noticed people going in and out of an entrance at the bottom of some of the scaffoldings. It turned out to be the Museum of the Cathedral, but we were turned away from it at 7:50pm as we were told it was too late for a visit at this time. So we made a mental note to come back here when it opened at 9am tomorrow.
Next, we just meandered about the giant plaza while Julie was looking for a place to eat. When that came up empty, we ultimately decided on a whim to eat at this place called Bodega Enxebre, where we noticed that there were quite a few Americans eating here. We knew they had to be Americans because no one on the Spanish schedule would've started eating before 8:30pm and it was 8:10pm right now.
It turned out that we had a bunch of Galician dishes (including octopus and soup with fresh seafood in it), and I also preoccupied myself trying to decipher some of the Galego words against the English menu.
During the course of the dinner, we happened to converse with a group of four Americans who happened to be sitting next to us. It turned out that they had just completed the long Camino Frances, and they were celebrating their accomplishment. In fact, they had just met each other while doing the Camino Frances, which underscored the people element of the long pilgrimage.
It kind of made our little motorized pilgrimage seem like cheating compared to going by foot while carrying your own pack. Come to think of it, I was actually surprised by how many Americans we had heard and seen in this town. It was as if Spain was a pretty popular place amongst Americans.
Anyways, we were out of the restaurant at around 9:30pm. There was still quite a bit of daylight outside, which I suspected that since we were further north, it would get darker even later than it had been while we were touring Spain's more southerly regions.
So we meandered into the happening restaurant row that we had chanced upon while we were lugging our luggage from the car park to our hotel. This time, we meandered far enough to get to this gelato place that served up a nice quality gelato and sorbets that brought us back to the time we were in Italy a couple of years ago.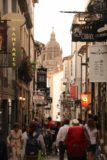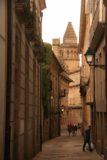 And as much as I wanted to continue our twilight tour (though it hadn't gotten to twilight just yet), Tahia had to poop. That meant we had to go back to our hotel to get that deed done. And only then continue on our twilight tour.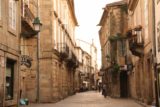 Well, when we got back to our room at 9:55pm, we all chilled out on our bed together. Then, it wasn't until about two hours later when at least Julie and I woke up. With it being pretty much midnight, I guess that nixed any plans of continuing our twilight tour of town.
We'll have to see if we're up for doing a twilight tour again tomorrow evening, but that would happen if we could come back from Ezaro, which we planned to visit as well. Santiago de Compostela's old city center seemed to be quite compact so I couldn't imagine that we would need to spend all of our time in the city tomorrow. Hence, the Ezaro visit, which would also include another waterfall…
Visitor Comments:
Got something you'd like to share or say to keep the conversation going? Feel free to leave a comment below...
No users have replied to the content on this page