Day 28: ANTICLIMACTIC
At 6:30am, we awoke. The clouds outside looked threatening, which didn't bode well for us in that we wanted to see a tall waterfall for this our last full day in Switzerland. So after the usual routine of freshening up and then having breakfast, we boarded a train to Ziegelbrucke at 8:35am.
This train seemed to move quite slow as it made many stops en route. But eventually at 9:40am, we arrived at Ziegelbrucke Bahnhof. But despite what LP
said about it being a 15-minute walk from here to Weesen, I saw a sign indicating it was 3km, which could not be covered in 15 minutes by foot. Plus, we talked to a pair of friendly ladies at the ticket office who told us to take a bus from here to this stop called Fli Seestern at 10:04am.
So as it was lightly sprinkling right, we were standing at the bus station at 10am. And when the bus pulled up, the helpful driver confirmed that this was the bus we wanted to take. He seemed to know that we were going to Seerenbach Falls so he had us pick up a brochure near the entrance door and then when he got to the Fli Seestern stop at 10:15am, he told us to get off at the stop.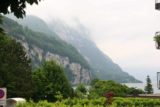 I was amused that the brochure indicated that we were now in "Heidiland." However, we weren't exactly sure why this was the case out in the Amden-Weesen region. This didn't seem like the alps scenery we saw in the Bernese Oberland area (that was etched in my subconscious since I was little) until we saw a semblance of that memory for real a few days ago.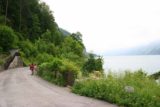 And once we got off the bus, we followed the street called Betliserstrasse, which went past a scattering of residences before it became a narrow cliff-hugging road always near the lake. It was a relatively flat path and mostly paved so I could see why some of the literature mentioned that this was a good mountain biking excursion. But we also saw a handful of cars taking this path as well (though we suspected they're residents or hotel guests).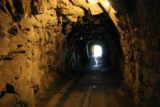 The path even passed through a couple of tunnels with one being fairly long and dark. Again, this brought back memories of Norway where we saw plenty more tunnels for both vehicles and pedestrians.
The views across the lake I'm sure could've been gorgeous, but the dark low hanging clouds conspired to make the views rather ho hum. And there was always that fear that the Seerenbach Falls would be difficult to see as clouds would obstruct the views.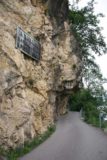 At 11am, we reached a junction where the left path went uphill and the lower path went downhill. Fortunately, we had already started picking up a little bit of basic German when it came to reading signs plus we knew to follow the path to Walenstadt. So despite our desires to go downhill to the right, we had to go uphill to the left.
Eventually after passing a scattering of remote residences and even a restaurant and hotel, we reached a signposted spur trail that went up into the grassy paddock with basic rope fences to segregate the grazing dark sheep from the wanderweg.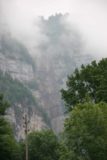 Along the path near Betlis, we noticed a wispy but tall waterfall high up on the cliffs partially shrouded by the low hanging clouds (that we had feared) at the moment. It was also lightly raining so pointing the camera up at the sky to capture the photos inevitably resulted in water spots getting onto the lens.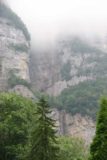 At first I thought this couldn't be the falls as it was so disappointingly wispy. We would be very surprised that a waterfall that got as much love as this one would be such a disappointing performer considering we're in the middle of June at the peak snowmelt period on a year when many parts of Europe were wetter than normal (including severe flooding in Poland and even Croatia [which we experienced firsthand] as well as France).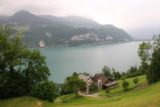 But eventually after examining the detailed map from our Heidiland brochure, the realization started sinking in that indeed this disappointingly wispy waterfall was the Seerenbach Falls. Unfortunately by the time we walked past Betlis, the clouds were hanging lower and obscuring what seemed to be the tallest tier.
At 11:45am, we then walked uphill past the paddock area and the sound of the waterfall seemed to be louder than its wispy light-flowing nature would've suggested. And then the path traversed through a forested area towards its end where there were signs as well as a red bench. It was here that we saw the source of the loud noise, and it was a lower 45m waterfall called Rinquelle according to the German sign.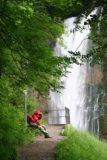 From here, we couldn't really see the 2nd tier, which was supposedly 305m tall. And the one clear tier we did see was said to be 190m tall though photographing it still meant getting water spots onto the camera lens as we'd point the lens up at the sky where it was shedding water.
As Julie was busy resting here and taking a few more photos and movies from this spot, I decided to explore up the slippery steps just to see where else this path was going. But eventually, I got to a point where the path was closed due to unstable earth though there was another faint footpath going around it. Still, that footpath only ended up at disappointing views looking down towards the Rinquelle while the overgrowth pretty much wetted and muddied my hiking pants and boots.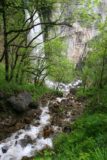 The path started to hug some fairly steep dropoffs while remaining slippery and wet, and that was when in my judgement that proceeding on to be not worth it. So I headed back and then went down another signposted path that was labeled Quinten.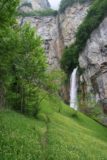 As I descended this series of steep and slippery steps, I found a detour that went through a blooming field of flowers eventually leading to a pretty satisfying view of the Rinquelle along with the 3rd tier of the Seerenbachfalle. The 2nd tier I was hoping to see was nowhere in sight, and that was probably because I was too close to the falls to see its upper tiers. But the weather seemed to have deteriorated even more while I was here despite noticing that the sun seemed to have wanted to break through the clouds.
After having my fill of this beautiful spot, which I'm sure would've been even more appealing under less rainy conditions, I continued to descend the path eventually reaching the main thoroughfare, which was now pretty much vehicle-free I'm sure as the pavement was replaced by gravel.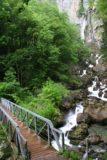 The path ultimately led to a footbridge over the stream where the waters from both Seerenbachfalle and Rinquelle joined together, and it was here that I got a few more looks at the Rinquelle feeding the stream ultimately ending up in the Walensee.
And when I had my fill of this spot, I headed back up to the rejoin Julie who patiently waited for me. And by 12:45pm, we started heading back towards Weesen. There were a handful of other hikers heading towards the falls, so I guess even under these crummy conditions, the falls remains somewhat popular.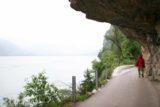 So as Julie and I were walking back under the now fairly-heavy rains requiring rain ponchos, we started to let our minds wander about whether the Seerenbachfalle should receive the kind of love that the signs here indicated due to its former title of the country's tallest waterfall.
But given its disappointing flow which I'm sure will probably go dry within a few weeks unless there's a sudden revival of its flow (and this was at a time when Europe has had record precipitation and we're in the midst of the peak snowmelt period), I began to wonder if the stream feeding the falls suffered from human alteration. After all, we saw on one of the signs that there were towns (perhaps comprising the Amden region) further up this cliff. And maybe the waters were being diverted or collected for drinking, washing, and even agriculture.
In any case, it seemed that it was the 45m Rinquelle that was the permanent waterfall and the 585m Seerenbach Falls that wasn't really a major waterfall. Still, I wondered if it used to be a more reliable performer (and thus major waterfall) in the past.
And so even though the 2nd tier of the falls was 305m, I doubt we could include it in our Top 10 Tallest Waterfalls based on cumulative height and Top 10 Tallest Waterfalls based on tallest vertical leap lists because it wouldn't pass our volume and longevity tests (see What Makes A Waterfall A Waterfall?).
As we continued to look back at the waterfall while walking away, that desired 305m tier 2 of the falls remained shrouded in clouds even more so than when we first saw it in disbelief. So I guess this last bit of waterfalling was rather anticlimactic, but that happens in life sometimes. Things don't always roll your way, though it seemed we got the raw end of the stick from a luck standpoint throughout much of this trip.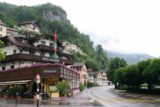 Eventually at 2:15pm, we walked all the way to a bus stop right in front of a Trattoria in Weesen. After Julie saw the menu that was in nothing but Italian and German, from what we were able to decipher, we didn't feel like having another Italian meal after having a heavy one last night at the hard-to-find pizza place.
As we were waiting for the bus, we noticed a fountain going off in the lake at 2:30pm. We don't know if this was a waste of energy nor if this fountain goes off every half-hour. In any case, after noticing it initially, we stopped noticing it as the rain came down even harder and some of the water was dripping through the tree canopy above us.
Soon enough, the 2:45pm bus showed up. And at 2:55pm, we arrived at the familiar Ziegelbrucke Bahnhof where we noted a 3:01pm train will return to Zurich. And sure enough, the train took off on time.
During the train ride back, I noticed something itching on my left knee. And when I pulled up my pants to see it (and to scratch it), I stopped short of scratching as I noticed a darkish thing with legs lodged in my skin. I knew right away that it was a tick.
Julie immediately took out her tweezers and pulled on it. I was worried that its head would remain in the wound thereby infecting it, but it seemed that she managed to get the tick out intact despite its best efforts to hang on. Now whether I'm still at risk for a tick-born illness, I guess I'll find out when I return home starting tomorrow and going on into the weekend…
At 3:50pm, we arrived back in Zurich. This train seemed to have run much faster than the one we took earlier in the day to Ziegelbrucke for we were napping when all of the sudden the train station we arrived at had signs indicating Zurich! We swore it must've gotten here in nearly half the time it took to go the other way this morning.
Anyways, we were dodging the usual gauntlet of cigarette smokers and second-hand cigarette smoke as we were leaving the station. It all kind of reminded me of some Simpson's episode where one obstacle after the next comes right into view and then passes by you going the other way. Then, we walked into the fairly heavy rain ultimately arriving back at the Hotel Montana at 4pm.
Julie and I checked for more ticks on each other, and fortunately we didn't find any more. But Julie was tired and took a nap. Even though we didn't intend to siesta, I guess we still had that Mediterranean biorhythm, and I'm sure this will be hard to break when we get home tomorrow.
During this time, I heard some shouting and cheering out on the streets, and from overhearing BBC news which was on TV, I learned that there was a World Cup soccer match between Spain and Switzerland. Apparently Switzerland scored the first goal.
By about 7pm, Julie awoke and we were headed back into town for one last dinner in Switzerland. And since I had my heart set on one last cheese fondue, we went to this place called Raclette Stube.
And on the way to the restaurant, the frequent cacophony of car horns, vuvuzelas, and other makeshift horns blowing randomly and nonstop along with shouts and cheering filled the streets. By the time we went through the main rail station and out to the main thoroughfare, we could see a giant crowd (some waving giant red Swiss flag banners) going crazy and blocking the mass transit.
In one instance, some idiots tried to flip one of the stopped trolleys but wasn't successful. Apparently, the Swiss did pull off the monumental upset against Spain.
But Spain hadn't been eliminated yet and Switzerland won only one game. I'm sure for the young and immature, they look for any excuse to go nuts, drink themselves silly, and "celebrate." I wondered if this was any serious reason to celebrate the way they did since Switzerland only won one game and still had a long ways to go to even win the World Cup.
Anyways, we had somewhat subpar cheese fondue (as it was quite runny) at the Raclette Stube. The raclette seemed like nothing more than burnt cheese with some sides of pickled items next to it, and the service seemed especially bad. Again, on a day where the last thing we would do in the country seemed rather anticlimactic (like the Seerenbach Falls), I guess so it was with this place as well.
The celebrating continued but not as concentrated as it was at the station earlier. When we walked back to our room, we passed by the scene of the chaos and noticed that police have prevented traffic from getting there so clean up crews can get to work with the mess that was left behind.
This reminded me of the time when UCLA won the national championship for college basketball back in 1995. But this Swiss celebration was for only one game in the World Cup that may or may not even be consequential to what happens next.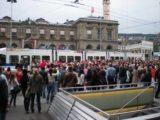 As I was busy taking photos of the mess by the station, one guy came up to me and tried to get into my photo. He insisted that I take a photo (blurry as it may) of him, and then asked the usual questions of where you from? Japan? Korea?
I told him that I was from the US, in Los Angeles, and he then tried to explain to me that what I was seeing was how the Swiss celebrate their soccer team beating the supposed #1 team in the world in Spain. He then said, "Don't be scared."
That drew a chuckle out of me. I knew there wasn't going to be anything real messed up going on. For we have hoodlums back at home that find any excuse to loot or get violent in a gang sense back at home (and if the Lakers win tomorrow, I'm sure that would bring them out for sure). So there was clearly nothing to fear here.
By 9:20pm, we were back at our room. The horn blowing still persisting, and both Julie and I were wondering if we were going to be able to sleep tonight. If not in bed in our last night of Zurich, perhaps we might be able to sleep on the long plane ride.
Indeed, this wasn't the storybook ending or bookend moment to another epic international trip. But perhaps this might be a hint that this won't be the last of our grand international travels (I sure hope so). In any case, we were a bit homesick, and for better or for worse (back to life, back to reality…), we're headed home tomorrow…