Day 19: SWISS BLISS
We arrived in the Zurich airport at 3pm. It didn't take much time to get the luggage, exchange some of the Euros we had for Swiss Francs (though I think we got a little ripped off but not as much as in Greece), and get our Swiss Rail Pass stamped.
By 3:15pm, we were on the train bound for Bern.
There was a decent amount of room in the train and it moved smoothly. Both Julie and I were having flashbacks of our train-riding experiences in Japan. So I guess it didn't come as a shock that we napped probably for about 30 minutes or so before waking up about 15 minutes before arriving in Bern.
I think this level of comfort might be a little dangerous as it's conceivable we could miss a connection or stop on one of these trains.
Anyways, at 4:35pm, we transferred in Bern to the train bound for Interlaken. This train was a bit more crowded, but eventually as we got past Thun, the amount of seats opened up and we eventually were able to sit close to our luggage again downstairs near the door.
At 5:10pm during the ride between Spiez and Leissigen, we noticed a fair-sized waterfall across the lake. I wasn't sure if it was possible to visit this waterfall later in the trip as part of our intended day trip to Bern so I guess we'll just have to play it by ear.
Under the gloomy overcast conditions, the lake didn't seem as impressive as the LP
descriptions indicated. But then again, it might just be the absence of sunny weather that both subdued the colors and concealed the peaks.
At 5:30pm we arrived at the Interlaken West Station. And after gathering up some free literature and getting some advice from the railway info office, we then checked into our accommodation for the next 6 nights at the Hotel Lotschberg. The long stay at the accommodation was a hedge against bad weather, hoping that at least one of these days, we'd have decent enough weather to see Jungfraujoch and at least another of these days, we'd have decent enough weather to see the Matterhorn in the south of the country.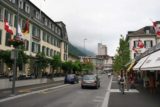 During the 10-minute walk to our place (which was longer than necessary since we took a wrong street), the first thing we smelled was the smell of manure from either a donkey or horse. But after seeing a horse-drawn carriage pass by on the main street, I think we got our answer on the source.
After getting settled, Julie and I headed back into the main part of Interlaken between the West and East Train Stations. Ultimately, we settled on this place called the Belvedere Brasserie, which was a bit of a walk from our place.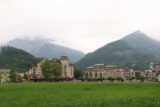 But perhaps the walk was nothing compared to the sticker shock of seeing how expensive everything was (including basic groceries like water and even chocolates!).
In any case, we went right for getting authentic Swiss foods at this Brasserie. Aside from the salad, we got fondue and rosti (which we later figured out was nothing more than hash browns).
The fondue was really good as it was melted cheese which we dipped and stirred with forks stabbed into small pieces of bread. One of the two people performing Swiss songs and instruments actually demonstrated how we were supposed to do it in between songs. So based on that, we learned how to get the most cheese onto each piece of bread.
As for the rosti, it was a heart stopping dish of bacon, sausage, cheese, potatoes, plus sunny-side-up egg on top. I think it could give a Hawaiian loco moco a run for its money as a recipe for a heart attack. I thought we were supposed to also have veal in there, but neither Julie nor I tasted it.
We both agreed that it might be a while before we give another traditional Swiss dish a try at this rate. Not even a few bites into both the fondue and the rosti, both of us were feeling guilty already.
Towards the end of our dinner, Julie and I were trying to figure out how to put out the flame that was heating the fondue bowl. One of the yodeling performers actually went over to our table and put out the flame with a cap lying on the table in mid-performance! Now that was some talent on display there!
Eventually, the performance became interactive as I was brought in front of the restaurant to blow into a long horn that was just used for one of the songs being performed. I had never played any horns so just getting a sound out of the horn was an accomplishment for me.
But the show didn't end there.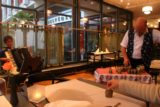 Julie was then given a cow bell of a particular tone after one of the guys was playing a Swiss tune with a whole series of cow bells being rung. On the next song, Julie and one other volunteer would ring the bell as the guy pointed to them on cue to complete the song.
By the end of the dinner at 8:20pm, Julie and I wore smiles on our faces as we left as we felt like we had a bit of fun that was old fashioned and not very common in our travels. Already we were feeling like we have gotten into the swing of things.
By about 9pm, we took the bus back to Interlaken West (apparently the accommodation gave us free bus and rail passes for the immediate area) where we returned to our accommodation and crash for the night. But not before having one of the chocolate mousses we bought from the supermarket earlier in the day.
It was definitely an exercise in overindulgence and quirky bliss…