Day 20: THESE ARE A FEW OF MY FAVORITE THINGS
I awoke to my alarm at 5am. When I looked out the window, it seemed like there were minimal number of clouds. Unfortunately, only one webcam was actually updating (i.e. it didn't have yesterday's date), and that one webcam showed scenery that looked quite nice. There were a few strings of clouds stirring about, but it was about 5:30am when I woke Julie up and decided to seize the moment. Who knows what tomorrow's or the rest of the week's weather would be like?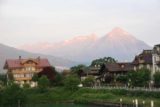 So after hastily getting up and ready for the day, we immediately walked to the Interlaken West station to catch the 6:14am train to Interlaken Ost. And while waiting for the train, we managed to notice some hints of alpenglow on some peaks backing the bustling (but mostly quiet at this hour) tourist town.
So continuing on with the train rides, we boarded the train bound for both Interlaken and Grindelwald at 6:30am. We decided to continue taking this train all the way to Grindelwald instead of getting off at Zweilutschinen to transfer to the train to Interlaken.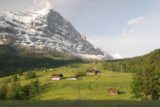 On this leg of the train, we could already start to see those Sound of Music
-like scenery as we approached Grindelwald. The early morning light on the charming alpine towns backed by snowy mountains with triangular shapes really made everyone on the train go crazy finding a way to squeeze into one of the window seats looking west.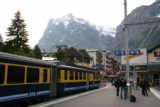 At 7:15am, we then transferred trains at Grindelwald and were now going to the Kleine Sheidegg stop. And for such an early train (the earliest we could take from Interlaken West, but not the earliest if you stayed deeper in the alps), it seemed quite busy.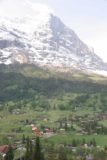 And on this stretch of the train ride, the hits kept coming as we saw even more lovely alps scenes with charming alpine villages fronting towering snowy mountains softly lit by morning light. Again, it was hard not to keep snapping away at the scenes.
At 7:50am, we arrived at the Kleine Sheidegg Station where we changed trains once again for the final ascent up to the top of Europe – Jungfraujoch.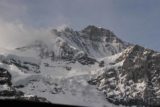 Given all these train connections, they seemed pretty well coordinated so we never had to wait long.
Plus, this train was even busier than the ones we had taken prior. Thus, the desired seats on the right side of the train were difficult to secure. And this made it a bit difficult to take photos with the freedom that we had been taking up to this point.
In any case, the train took off and shortly entered a long tunnel. And by 8:25am, the train stopped at Eigerwand for 5 minutes where we were allowed to look at views looking back downhill from the way we came through windows. But these windows were such that having a polarizer for the camera seemed to make the visibility worse (by amplifying some of the glare effects instead of reducing them).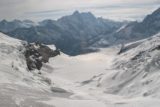 Anyways, the train then continued to the next stop at Eismeer for another 5 minutes. And once again, we got similar top-down views through windows before getting back on the train. However, Julie and I started to notice some shortness of breath, and since we were continuing to go up higher, this was a concern.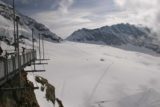 Finally at 9:05am, we arrived at Jungfraujoch. And after making our way over to a shopping area at the so-called Sphinx platform, we could see straight away that the views looking further south were mostly whited out. This was something we couldn't have anticipated as all signs pointed to fine weather and views. But this nasty surprise kind of put a damper on the experience up here.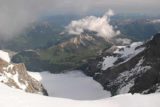 Nonetheless, I tried to capitalize on us being here and took photos in the clear looking northwards. However, all views towards the Aletsch Glacier were disapointing and mostly whited out. We certainly weren't getting the views shown in the postcards or some of the posters and vending machines. We definitely didn't get those Rick Steves
views or Samantha Brown
views as shown on their shows.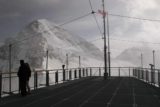 I'm sure if I see a webcam in the next two days showing fine weather up here, I'll probably be wishing we timed things a little better. But it was what it was, and we weren't coming back (and spending the $120 Swiss Francs per person) to make it happen.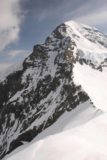 When I went outside to take photos, it was quite windy (45km/h) and freezing (-0.3C). My hands didn't take long before becoming a little numb. And also, the clouds were brisk as they were rushing quickly from the south and ultimately started to obscure even the side that was clear.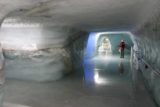 So with all that taking place, Julie and I went over to the ice palace. There, we had a little fun checking out the ice sculptures and ice tunnels. But it didn't take very long before we were done exploring it.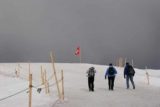 We were fine with this because Julie and I were about done hanging out up here. We were both getting light-headed and dizzy as a result of the altitude. So we made an effort to catch the 9:30am train back down. Unfortunately, we just missed it by a few seconds.
So we spent the next half hour having a hot chocolate and instant noodle. Unlike the homogeneous foods of Greece and Croatia, we embraced the Asian food, which was quite a bit of a change to the foods of the last two or three weeks. And we were fine with this even though we were no fans of instant noodles.
Finally at 9:55am, we were waiting for the 10am train to return to the Kleine Scheidegg stop. For most of the stretch in the tunnel, Julie and I dozed off.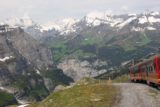 But once we left the tunnel, the sudden brightness woke me up and I tried to take photos that we couldn't take earlier this morning. Unfortunately, the lighting was a bit harsher at this time of day.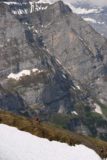 Nonetheless, I noticed some people taking advantage of the fair weather on this side of the Alps by going for a hike. Even though Julie and I were on the train, I could only imagine the liberating feeling it must be walking amongst the mind-blowing scenery.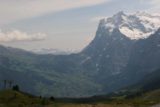 Then, at the Kleine Scheidegg station, we had some time to wait for the connecting train leading to Lauterbrunnen. So I rushed over to the far side of the platform through the train tracks to get some fleeting photos in the mean time.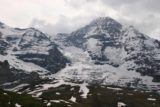 Next, we caught the train headed towards Wengen and ultimately to Lauterbrunnen. En route to Wengen, we caught glimpses of more snowy white alpine views looking towards the big peaks of Eiger or Monch. Not being too familiar with the landscape at the time, I couldn't really tell which peak was which.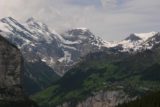 As the train continued to descend towards the next station, we could see up ahead that the views towards Lauterbrunnen Valley continued to improve. We could even glimpse some towns hanging above the last bit of cliffs leading down into Lauterbrunnen Valley while backed by more snowy white peaks. How on earth could we absorb all this visual stimulation?! Indeed, the hits kept coming and coming…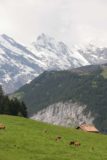 There were even farms fronted by grass-fed cows backed by the impossibly stunning scenery. I sometimes wondered if the cows were aware of the scenery around them. I'm sure the farmers were aware. Of course, I'm sure they also have to milk and slaughter the cows while ensuring their fields produce good cow products.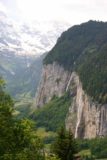 When we got to Wengen there were some incredible top down views looking down towards Lauterbrunnen with Staubbach Falls and a pair of other waterfalls further down the valley all backed by snowy white mountains rising sharply.
In hindsight, I think we should've spent some minutes checking out this place before continuing on the train back down. Instead, I was hastily taking what photos I could for the next few minutes.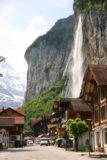 Nonetheless, even on the final leg of the train journey between Wengen and Lauterbrunnen, we were still treated to more incredible views as the Lauterbrunnen Valley drew closer and closer during our descent. I knew with all these photos being taken that I had my work cut out for me at the end of the day.
By 11:55am, we were finally down at the Lauterbrunnen Station.
With all the sightseeing we had been doing this morning, we were both a bit tired and were ready for lunch. So we walked deeper into Interlaken where we went to have lunch at the Hotel Oberland.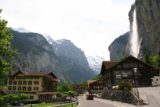 While there, we had another go at fondue and rosti. However, the fondue here was accompanied with some spices and herbs and was quite tasty and cheaper than the place we ate at last night. As for the rosti, we had a so-called Indian rosti which wasn't nearly as artery-clogging as the classical one we had last night.
Another thing we learned while having lunch here was that we never needed to buy bottled water again. The water here was fresh and getting tap water was sufficient (ala Iceland). So I'm sure that would save us a good chunk of wasted money in water.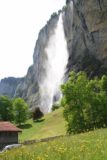 Finally at 1:10pm, we were done having the delicious lunch and walked closer to Staubbach Falls. During the walk, it was very easy to get carried away taking more photos with Staubbach Falls framing the Yosemite-like glaciated valleys along the way.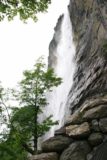 At 1:30pm, we were at the start of the walk to the backside of Staubbach Falls. Signs here indicated that the falls was measured to be 297m, which I'm sure would change our tallest waterfalls list based on vertical drop. In any case while here, I went up solo as Julie wanted to rest in the shade.
The walk was up a steep series of switchbacks before entering a tunnel, which then ended up at stairs leading further up through tunnels and overhangs sheltered from most of the wispy spray of the water from the falls.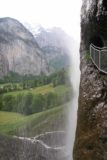 The ground was slippery due to the constant moisture, but I never had to use the rain poncho I brought along with me.
At 2:15pm, I rejoined Julie, filled up our bottles with the freshly cold water from the drinking fountain there, and headed back towards the Lauterbrunnen Station.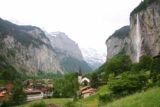 We took our time going back to the station as we walked closer to the river, which offered different views towards the head of the valley along with Staubbach Falls. I think when we come back here either tomorrow or the day after, we'll try again to take photos from here from the better light of the morning.
At 3pm, we were back at the Lauterbrunnen Station, where we called it a day for touring. And by 3:45pm, we were finally back at our room in Interlaken West. Both of us were tired and decided to take a bit of a siesta (ala the Mediterranean way) before heading back out on the town later this evening.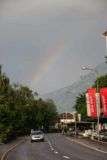 At 6:50pm, we headed back out of the hotel after waiting out a rather sudden and violent thunderstorm in which the rain was hard and the lightning flashes were frequent. But when it ended, the sun came back out, produced an attractive rainbow, and added the potential for a gorgeous sunset.
We ended up walking quite a ways to the LP
-recommended Little Thai Restaurant, which was quite popular despite its cramped space.
But the papaya salad (som tam) was delicious and brought us back to the som tam we had been eating during that trip to Thailand back in 2008-2009.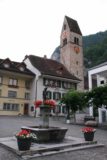 We were done eating the food at 8:15pm and walked all over Interlaken town while also exploring a little bit of Unterseen. The intent was to scope out this traditional Swiss place that we might have for dinner later on in the trip. We also wanted to see if could witness what Rick Steves
and Samantha Brown
saw as communicated by the DVDs we saw.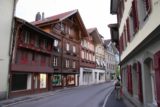 While in Unterseen, it seemed like it was much quieter than the neighboring Interlaken. There were also pockets of traditional Swiss charm within this neighborhood, and Julie and I had a pleasantly quiet stroll through this part of town before rejoining the commotion at Interlaken.
At 9:25pm, we returned to our room to finally call it a day.