Day 21: HEIDI HIGH
After the very early wake-up yesterday morning, we slept in and didn't wake up until 7:45am. We didn't take too much time getting ready for the day, and so by 8:30am, we went downstairs for the complimentary breakfast before heading out at 8:50am.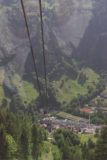 By this point, taking the train became quite familiar to us so we wasted no time taking the train from Interlaken West to Interlaken Ost, then transferring to a train that went directly to Lauterbrunnen. And we arrived there at 9:30am.
Next, we walked to a nearby cable car, where our Swiss Pass still worked. And so we took that cable car to Murren.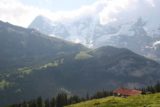 We got off the cable car within a few minutes where we then rode a small train that took us to somewhere near Murren. And at 10:15am, we walked through the quiet town of Murren all the way to a cable car station for Shilthorn after about 10 minutes or so.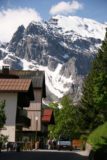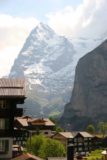 It was a forced walk, but it was a charming one as I spent a good deal of time taking photos (albeit against the sun) of the impressive big 3 snow-covered peaks (Eiger, Monch, and Jungfrau) across the Lauterbrunnen Valley below.
I can't recall how long the walk was because I was too busy taking many photos while Julie was way up ahead of me. But I simply couldn't help myself as it seemed with each passing minute, there were vistas that just beckoned me to continue clicking the shutter.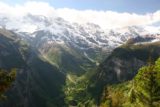 The walk eventually passed through the main part of the Murren village, but at this fairly early morning hour, it seemed like a very, very quiet town with hardly anything open (not that we were going to sit and stay as we were making a beeline for the next cable car to Schilthorn).
But as we passed through the town, it was apparent to me why these villages perched above the Lauterbrunnen Valley could be considered charming and simply classic Swiss Alps scenery. For the snowy peaks that constantly commanded attention with their imposing height and sharp shapes loomed large above the charming chalets of Murren.
Call it what you will, but all the stereotypes and Disney cliches apply here. Heidi
. The Sound of Music
. The hits just kept coming.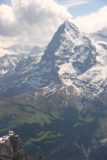 By 10:35am, we were packed in pretty tightly for the cable car up to Shilthorn. There was a stop at an intermediate station at Birg, but all we did there was to walk immediately to the next cable car, which continued further up to over 9000ft for the Shilthorn Station.
Up here, the air was thin and once again, Julie was laboring to breathe. My ability to breathe wasn't as bad as it was at Jungfraujoch yesterday. However, we still wasted no time getting right out onto the lookout platform to take what photos that we could.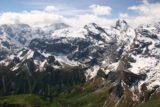 But despite the sunny weather, the winds were blowing hard bringing the wind chill factor with it. So as I was busy taking photos, my hands went painfully numb.
Still, it didn't stop me from taking what photos I could since how often could we ever be up here again under these fair conditions where we could see tall peaks (albeit somewhat cloud covered) across the valley while looking in the opposite direction, there were more white-covered peaks below where we were standing.
At 11:40am, Julie and I had had enough of the thin air and the elements, and were waiting for the next cable car down (perhaps a bit too early). So we waited there for over 20 minutes before we were finally jammed together with other tourists also itching to go back down.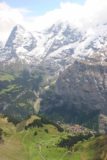 When we arrived at the intermediate Birg Station, I couldn't help but to quickly jet out to the overlook platform there and hastily snap what photos I could before the next cable car took off for Murren. It was a shame we couldn't stay up here for a few more minutes, because neither Julie nor I wanted to wait another half-hour for the next cable car to show up.
Eventually, we made it back to the station near Murren before catching a connecting cable car that took us to Gimmelwald.
Something that confused both Julie and I was when our Swiss Pass counted and when they didn't. Apparently, only the Schilthorn cable cars required additional payment. The others (which included other cable cars) seemed to be part of the Swiss Pass. Not bad.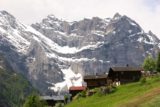 Julie had looked forward to visit this quiet town after seeing something about from a Rick Steves DVD, but when we got there at 12:30pm, I somehow didn't think it was as charming as Julie had hoped for.
Nonetheless, this place certainly was quieter than most spots we had been to and I guess if we weren't on a waterfalling agenda, perhaps we could've lost ourselves while hiking here like Rick Steves recommended.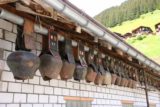 I think (perhaps wrongly) that we came to Gimmelwald looking for some of those giant cow bell performances in traditional Swiss style. And, well, we did manage to see one particular house lined with these giant cowbells. For that was all we would see of these things on this day apparently. It's just that they weren't put to use. In fact, there was hardly anyone around when we were there! Peaceful? Or just dead? I'll let you decide.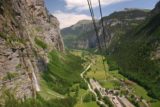 Anyways, by 1:05pm, we finally made it to the Lauterbrunnen Valley by arriving at the Talstation Shilthornbahn, which was in between Trummelbachfalle and Stechelberg town. I guess we were supposed to take a bus to get out of here in a timely manner or just go for a walk.
But as we landed (and even during the ride down), Julie and I were mesmerized by a fairly substantial waterfall tumbling alongside the cable car as well as some tall cascades across the valley falling towards what I think was the Stechelberg town.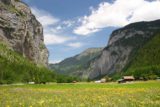 On terra firma, we saw the steep-walled valley framing flowery meadows sprinkled with some charming Swiss wooden chalets as well as other wooden buildings. It was very reminiscent of Yosemite except there was a greater deal of infrastructure for public transport (i.e. support pylons and steel cables) and even habitation whereas Yosemite was much more of a protected nature sanctuary.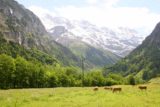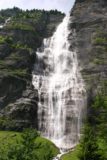 The sign at the waterfall indicated that Murrenbach Falls was 430m tall. However, from looking at the falls itself, the claims that this 430m waterfall (which disagrees with another sign saying it's 417m) should be counted as one big vertical drop doesn't seem to hold merit. We still think Staubbach Falls' 297m free-fall height is more legitimate and Murrenbach Falls' 430m is more of a cumulative height. In any case, it's tall and impressive, and it certainly drew lots of camera clicks from us.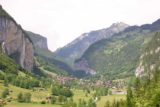 Eventually, at about 1:42pm, we caught a bus (which was also part of our Swiss Pass) headed to Trummelbachfalle. And when we got there at about 1:50pm, Julie and I felt like having a quick lunch before visiting the waterfall itself.
The "cheap" food ended up being about 25 Swiss Francs, which I guess was the best we could do in Switzerland since everything's almost Iceland-like or Norway-like expensive.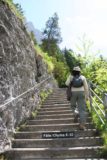 Well, at least the bratwurst was pretty tasty.
Anyways, at 2:25pm, we were done having our lunch and headed right up the paved walkway towards the gate where we spent our 11 Swiss Francs per person to visit the Trummelbach Falls.
Some of the signage indicated that the falls were mostly fed by the combination of the melting glaciers of the Jungfrau, Monch, and Eiger all draining into this slot canyon. So power was something we expected with this rather subterranean waterfall.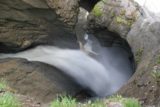 We could see straight away from the signage that there were 10 main chutes. But there was also a little funicular ride that took us up to the 6th chute. From up here, we had to walk up to the 10th chute, but we could also descend back down to the 2nd chute where the funicular ride entrance was. Finally, there was also another set of steps leading to the first chute.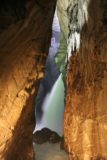 So first up, Julie and I walked from the 6th to 10th chutes after getting out of the funicular. And straight away, we entered what seemed to be a slot canyon accompanied by loud rushing water alternating between mostly hidden plunges, whirlpools, and rapids. The walkways were always safely above the action below us, but we could certainly hear the rumbling and maybe even feel a slight tremble in spots.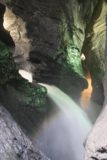 For some of the chutes, it was real misty making photography very difficult. In most cases, there wasn't very much light so we really had to exercise stillness when taking long exposure photographs while also setting the ISO real high.
Once we were done visiting the upper 5 chutes, we then descended down some more steps passing by the mostly hidden chutes of 5 through 2.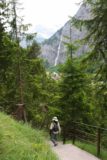 This stretch seemed like it was more accessible to daylight as artificial lighting didn't seem to be as relied upon as for the upper 5 chutes. But it certainly felt like this stretch of the waterfall had an even larger chunk of its length hidden in the narrow and curvaceous slot canyon.
In one particular spot, there was a signpost indicating "Corkscrew Falls." But when we got there, there wasn't anything that special about it except I thought I saw some kind of fast-moving whirlpool within the rocky confines of the slot canyon.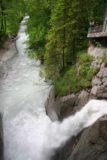 Finally, we checked out chute 1 where there was a bridge that went over the turbulent stream between chutes 2 and 1. Some of the waterwheel on chute 2 from time to time directly spilled onto the bridge itself.
A few paces beyond the bridge between chutes 1 and 2, we were at the dead-end where we could look down at the final drop of Trummelbach Falls plunging visibly and audibly to the rushing stream below as it made a beeline towards the main river running through Lauterbrunnen Valley in the distance.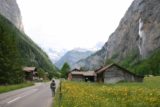 At 3:40pm, we were done visiting the falls. But during the 2km bus ride from Schilthornbahn to Trummelbachfalle, there were views that I was hoping to recapture by walking. So we walked from Trummelbach Falls towards the Schilthornbahn Station in the direction of Stechelberg.
Unfortunately, cloud cover was heavier at this time as we embarked on the walk. Then again, I guess that was to be expected since we learned that afternoons tended to be cloudier than mornings.
Furthermore, initially the path we took followed the main road, and there didn't appear to be any shoulders or sidewalks alongside the road. Apparently, we missed the entrance to the walkway, which skirted the side of the valley instead of right down the middle like the road we were walking on (all the while trying not to be road hazards to traffic passing by us).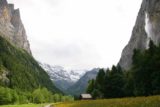 After about 15 minutes of precarious walking (probably where we weren't supposed to be walking), we eventually found a path that cut through a camping area and ultimately re-joined the pedestrian path on the side of the valley. Of course, it wasn't exclusively for pedestrians as we had to yield to a passing tractor.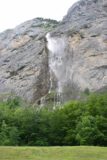 It turned out that the Yosemite-like views I had thought were to be had by walking this stretch tended to be interrupted by power lines (I guess the extensive public transportation had to come with a price) as well as private farms and buildings.
Julie criticized me for suggesting this option as a waste of time, and maybe she was right. But one thing that was good about this walk was that we also saw a sign giving a name to the wispy waterfall between Murrenbachfalle and Staubbachfalle. That name was Agertenbachfalle.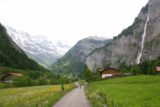 Eventually at 4:30pm, we made it back to the familiar Schilthornbahn stop. We were a bit tired, but we still had to satisfy our curiosity about what Stechelberg was like. In hindsight, we should've taken the bus there before going to Trummelbachfalle since the weather was still agreeable at the time and less overcast. These overcast conditions have now obscured the tallest peaks towering above the area.
Still, what's done was done, and now we weren't going to be denied our little quickie to Stechelberg.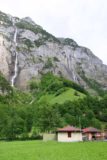 At about 4:50pm, we finally made it to a stop in Stechelberg. Apparently, we didn't make it to the last stop, which turned out to be the Stechelberg Hotel. Nonetheless, I seized the opportunity to take photos of the tall waterfall I noticed earlier, which had a sign by its stream that said Mattenbach.
But there were other smaller cascades tumbling nearby the town as well as others at the head of the valley, which were mostly hidden.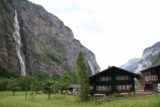 By 5pm, we were done with Stechelberg and caught the bus back to Lauterbrunnen. And from there, we caught the crowded Interlaken Ost Train and eventually the short hop back to Interlaken West via train.
By 6:10pm, we were done with the sightseeing and returned to our room. We changed into more comfortable shoes and then headed back into town for some Korean food to continue Julie's Asian food craving.
It wasn't the greatest food (not like the Thai restaurant yesterday which was surprisingly good) nor was it cheap as it was close to 50 Swiss Francs (almost $45USD). I'm sure we could've better spent that dinner money on better quality food, but Julie wasn't going to be denied on this one.
And so after the dinner, we were right back at our room to call it a night. So far, the weather had been holding up for the most part. We hope tomorrow will be more of the same. However, we will change gears and visit a different part of the region this time.