Day 23: EINSTEIN'S TIME
At 6:30am I awoke, but that was probably because I dozed off last night at around 10:30am. So it wasn't like I was groggy when I got up.
But once again, we took our time getting ready. Except this time, we designated today as a day to take a break from waterfalling and nature by visiting the Swiss capital of Bern.
So it wasn't until 9am when we had our brekkie, and it wasn't until 9:40am when we left the hotel. And finally at 10:06am, we caught the once-an-hour train to Bern from the Interlaken West Station.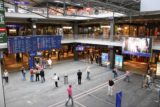 By 11am, we were at Bern. But the size of the train station kind of surprised us, and that was when some rail volunteer got in touch with Julie (I guess he noticed we weren't quite sure where we were going), and ended up walking us to the main part of the train station including the information center where we picked up a city map.
That was very nice of him to do that.
As a matter of fact, Julie thought this was the nicest Swiss person we've come in contact with as it seemed he bent over backwards to help us and make sure we were in good hands. That was much appreciated.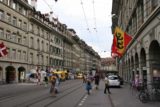 Once we were done collecting a city map as well as some advice on what to see today at the tourist office, the helpful guy flagged us down again just as we about to leave the station. This time, he handed us some mints. Again, this guy really overdelivered and it was something we definitely remembered with a smile.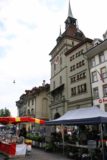 So then, Julie and I went about walking right towards the older part of the zentrum (centrum) of Bern. Straight away, we could see the cobblestone streets with rails for the city trolleys (which has CO2 neutral painted on its bodies) all lined with charming facades of buildings all along the main thoroughfare.
We barely started exploring the city when we ran into a pretty bustling open area in front of some clock tower (though according to the map, this wasn't the old one that supposedly inspired Einstein's special theory of relativity) where there were street stands selling fruits as well as takeaways like crepe and even tacos.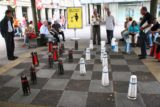 So at 11:45am, Julie and I were sampling some of the foods here while watching some people playing giant's chess. This was definitely not something you see or experience every day.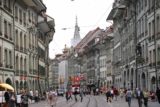 At a little after 12:15pm, we were done eating and proceeded to walk beneath that nearby clock tower and continue towards another more antique-looking clock tower. And it was that clock tower that we could see on the map that was the famous one.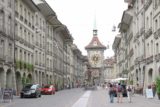 Again, the whole walk along this stretch seemed very charming and at the same time very 19th or early 20th century. Julie and I speculated that this centrum was well preserved and managed to keep its character because it managed to avoid getting shelled in wars (where neutrality does have its benefits).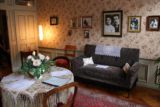 By about 12:30pm, we entered the Einstein Haus. Actually, it's his former apartment when he worked on developing hisspecial theory of relativity. That clock tower en route that we walked under was said to maybe help him come up with linking time and space, and after going that route, we can totally envision how his environment couldn't have hurt his imagination on that front.
We also saw a bit more about his personal life as it was situated in this apartment's 2nd floor. Julie was especially interested in Einstein's first wife and the nursery right next door to the working area. And in one of the blurbs, it seemed that his first wife could've very well been a critical help (or maybe even originator?) of the special theory of relativity as they were working together on it.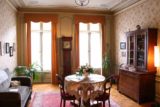 After checking out the displays on the 2nd floor, we then went up to the third floor where there was a movie chronicalling his career, life progressions, and accomplishments.
The movie was more like a timeline rather than a documentary so they didn't get too much into the latter stages of his career where his refusal to accept probability while failing to acknowledge the breakthroughs in quantum mechanics led to his ultimate failure to come up with a unifying theory of everything after his breakthrough special relativity (something that ended up consuming the latter half of his life right to his death). That was when he and Neil's Bohr had legendary debates and spats with Einstein coming up with his famous quote, "God does not play dice" (in reference to his refusal to accept uncertainty; perhaps the Heisenberg Uncertainty Principle).
Anyways, we then checked out the last displays on the 3rd floor, which was full of blurbs about his career (whereas the 2nd floor focused more on his personal life). And after having walked through there, I have to admit that it certainly did feel like we were present in a very important and historical place. And it totally jived with our speculation that not much had changed in Bern since the turn of the 20th century as if time stood still for the most part since Einstein's Time here.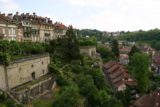 At 12:55pm, we left the Einstein Haus and continued to walk the charming thoroughfare. My feet were really aching noticeably causing me to limp more. I guess that was what I got for running down the hill in Chacos coming down from Reichenbach Falls yesterday in an effort to make sure we were able to catch one of the infrequent boats to Giessbach. And now I'm paying for that sacrifice.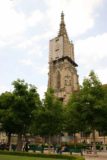 About 20 minutes later, we took a brief detour to the Munster Promenade where there were a bunch of benches to just sit back and chill as the Munster Cathedral loomed over us, and there were top down views of the river below as well as other charming 19th century buildings below.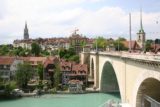 By 2pm, we were past the main promenade at the centrum and were on a bridge over the river where a large group of people were gathered on one side.
As I was busy taking photos on the other side of the bridge of the buildings and the river, Julie beckoned me to cross the street and take a look at what she and hordes of other people were looking at.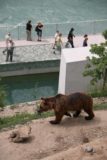 And when I got there, it turned out that there were bears below the bridge in some pseudo-habitat. They separated the sow and cubs with the lone male adult by a fine cage. And basically people were able to see these bears from above or from below in an attraction that was all free though they did welcome donations.
Personally, I wondered about the legitimacy of captive bears in the city as they didn't look terribly healthy. And these bears looked like grizzles with the familiar hump on their upper back or behind their neck, which seemed like they belong in the wild than a city captive.
Nonetheless, they entertained visitors oblivious to their predicament and became popular photo subjects.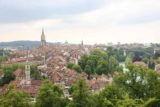 After the bears, we went up a fairly steep cobblestone ramp which made us sweat. At the top of this ramp was the Rosengarten (Rose Garden), which was basically an open area with roses bordering a large lawn area.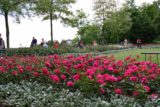 We noticed what appeared to be a small wedding party chilling on chairs around a table on one side of the lawn. Nearby was a cafe with lots of people just chilling out. And within the lawn itself, there were people doing various things like practicing for dance, kids running around, and even a shameless couple dry humping for the public to see.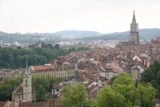 But the real reason why we were up here was to check out the view of Bern. Up here, we could see the jumble of slanted rooftops with the odd clock tower and cathedral protruding above the jumble.
By 3:25pm, we had our fill of the Rosengarten and headed down. And during our descent, Julie and I were conversing amongst ourselves about why Swiss websites had the .ch at the end of their address. And that was when a Swiss lady overheard us and excused herself to us as she explained that the "ch" stood for Confederation Helvetica in Latin.
She said this was the case because Switzerland consisted of four main nationalities and languages in German, French, Italian, and Romantsch. So to not show favor to any one ethnicity (in true Swiss neutral style), they came up with Confederation Helvetica to remain neutral in this sense.
So that explained a lot, and we thanked her for the explanation. The lady smiled broadly and continued on with her son.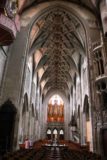 Once we got down to the base of the ramp, we continued our walk along the rest of the blue route highlighted on our city map given to us at the info center back at the Bern Train Station.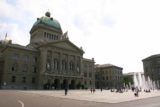 Julie thought this way was rather dead compared to the main thoroughfare so after visiting briefly the Munster Church and then the Parliament Building a few minutes later, we returned to the action on the main thoroughfare.
Finally at around 4:50pm, we arrived at the large and very busy Bern Train Station. On the large screen, we saw there was a train bound for Interlaken Ost at 5:04pm on Gate 5. So we first went there and waited as patiently as we could while enduring cigarette smoke, which was totally unavoidable down here.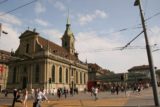 Then the PA announcer said there was some special train at 5:10pm on Gate 2. We weren't sure what was meant by "special" but perhaps it was one of those express trains that didn't make stops at the smaller stations. So we decided to move over to Gate 2 where there was briefly a little less smoke before more people showed up and lit up.
We saw the Gate 5 train, which was a pretty modern and smooth double decker but looked real crowded.
Finally at 5:10pm, we sat on the train, which was mostly empty. However, this train was similar to the dingy and dated one we took here earlier this morning. I guess this was what was meant (sarcastically) by "extrazug" which was stated on the sign prior to boarding this train.
Anyways, Julie and I were tired and practically napped a little throughout the train ride. But then at around 5:45pm, the train stopped for what seemed to be several minutes. I wasn't sure if there was something wrong with this train, but I began to regret not taking the earlier train even though it was busier.
During this time, a lid from a beer can flew over the seat and right in between Julie and I. I don't know what it is about us sitting near idiots on trains. For the pair of dudes sitting behind us were busy drinking and laughing about their calamity. Yesterday, there was a larger group of juvenile delinquents mixing drinks, playing music, and being loud. Obviously they didn't bother reading any signs or exercise any etiquette.
Finally at 5:52pm, the train moved again. Apparently, we were just waiting for another train going in the opposite direction to pass us since I guess this part of the train tracks was shared.
And finally at 6:15pm, we were back in the room to offload our stuff. By this time, my left foot or ankle was totally killing me. I didn't want to go back out, but on Julie's insistence, we eventually returned to Interlaken Ost to have wannabe Chinese food (that's 3 overpriced Asian dinners in a row except the Thai one on the first day was by far the most authentic and even somewhat reasonably priced by Swiss standards).
After the dinner, we left behind the chaos of boozing youngsters, backpackers, and hostellers and walked along the main street towards Interaken West. We made a stop at this chocolatier place called Schuh since we were interested in trying their chocolate fondue.
But after having it (which consisted of melted dark chocolate) while dipping the chocolate in fruits (some of which were a bit awkward like the apple, orange, and pears), we paid for the overpriced dessert and limped (in my case) back to our room.
I understand that "schuh" means "shoe" in German, and I honestly associated our disappointing chocolate fondue with eating shoe leather. I guess now that we know what it's like, we're probably sticking with the cheese fondue, thank you.
Finally after around 9:30pm, we were back in our room to call it a night.