Day 24: THREE BLIND MICE
At 6am I awoke. I did some catching up organizing and naming photos before we had breakfast and finally headed out at around 8:15am.
It was raining here in Interlaken, but we recalled the lady at the Reichenbachbahn telling us that if there's bad weather in Interlaken, there's usually better weather at Zermatt. We sure hope she's right today as this was to be our last full day while staying at Interlaken, and thus we were down to our last day left at trying to see the Matterhorn.
We could tell during the breakfast, other guests staying here had their heart set on visiting Jungfraujoch, but the foul weather made that impossible except for the indoor stuff like shopping and the ice palace.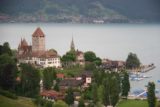 Anyways, we boarded a train bound for Spiez and arrived there at 8:55am. Unfortunately, the next connecting train to Visp wasn't until 9:36am so we had quite a bit of time to kill. I guess we didn't mind the train from Interlaken to Spiez being five minutes late as well, which we thought was strange considering how much pride the Swiss take in being precise.
When 9:36am finally came around, the train for Visp still hadn't showed up. And it wasn't until about 9:38am when the delayed train finally showed up, and it didn't leave until about 9:45am. So that made it two trains in a row where there were delays. And Julie and I couldn't remember a time when any of the trains in Japan were delayed. Considering the coverage and size of the country, that was no small feat! So perhaps that's a statement about how top notch the Japanese Rail System was.
The ride to Visp was pretty smooth and even went through a very long tunnel which lulled us to sleep. Fortunately, we awoke when we got to the train station at around 10:08am, but the connecting train for Zermatt was scheduled to leave at 10:10am. The tight connection was because of the delay of the train to get here.
Luckily, we got on in time and I guess they stomached a slight delay to accommodate all the passengers on the delayed train bound for Zermatt.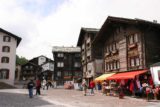 As the crowded train took off and headed further south, we could see the weather steadily improving. So it would seem that the lady at the Reichenbachbahn was right.
When we finally made it to Zermatt at 11:15am, we could see there was still a fair degree of cloud cover, but the sun was getting more intense and it seemed that things were starting to clear up. That seemed to be good news for our desires to finally see the iconic Matterhorn.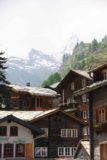 So while we waited for the clouds to disperse, Julie and I walked around Zermatt looking for a place for lunch to kill some time. And after an hour or so of aimlessly wandering around looking for the recommended places in LP, we finally found a pizzeria that was open.
For there were three other restaurants that went up dry for us. Two of those restaurants were closed for June. And one was no longer there. We weren't sure what was up with that?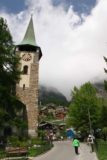 Plus, I myself didn't know what's up with the church bell ringing three tones in succession that sounded very much like "Three Blind Mice."
The pizzeria we ate at finally had what Julie was looking for in a pizza – mozzarella cheese plus basil along with the obligatory tomato sauce in a wood-fired crust. I guess this shouldn't be too surprising since Zermatt was, after all, very close to the Italian border. But since this was the first Italian-style pizza on a trip where Italian (or more accurately Venitian) influence was all around the Mediterranean (especially in Greece and Croatia), Julie was both relieved and happy to have this experience.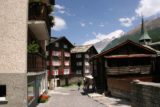 Anyways, when we were done with lunch after 1:30pm, we slowly walked towards the end of town. We still weren't quite sure where we were supposed to see the Matterhorn for the guidebooks and websites stated that it should easily be seen within the town of Zermatt. But so far, this hadn't been the case.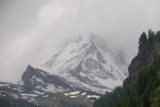 Eventually, Julie saw a part of the Matterhorn starting to show itself through the clouds and when I went over to her, I took what photos I can of what the mountain was willing to reveal of itself. But this part of town wasn't exactly a nice viewing spot of the mountain as lots of buildings were in the way so we went to a road just beyond the gondola station for the Matterhorn Express. Somehow, we missed the funicular station for the Gornergradt Station.
And once we were at a spot where we thought would've been a good spot to see the mountain, we waited for the clouds to disperse. And we waited… and waited… and waited…
Eventually by about 2:45pm, we gave up as the cloud cover seemed to have increased. I guess on this day, the Matterhorn was stubborn about concealing itself. That would make it the 7th straight day without the peak being revealed based on the web cam history at the Zermatt website.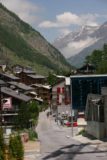 Ten minutes later as we heard the familiar "Three Blind Mice" church bell ring tones, we happened to see a pair of ladies walking two St Bernards. I think that was the first time we'd seen the stereotypical dogs in the country except these dogs were shaven plus they didn't have those barrel collars we used to see in the cartoons.
At 3:20pm, we were back at the Zermatt Train Station. Even though the iconic Matterhorn didn't show itself and we didn't get what we came for, we at least could take comfort in that we tried and played the hand that was dealt to us as best we could by remaining flexible for as long as we were staying in Interlaken (6 full days).
The irony was that the rest of Zermatt had pretty clear weather!
We caught the 3:39pm train back to Visp and were vacillating between sleep and waking up just in time to take a few scenic photos from the train of some cascades or of mountains in the background.
And after catching the busy train bound for Spiez, we finally caught the Interlaken train, and then arrived back at our room at 5:55pm.
This was probably the lightest photo-taking day in a while, but I guess that would give me a little time to do a little catching up tonight and tomorrow morning when we leave for Luzern (Lucerne).