Day 25: CONTRIVED
At 6:30am, I awoke and wrapped up the packing. Outside, it looked very foggy. But actually when I checked once again, it was raining!
Most of the morning was spent just packing, finishing off chores regarding photos and blogging, checking the internet one last time since it won't be free at the next stop, and having another indulgent breakfast involving crispy croissants with nutella chocolate.
By 9:20am, we were at the Interlaken West Train Station with our luggage. My left ankle was stil bothering me so carrying on the extra weight was still uneasy.
Anyways, we caught the 9:23am train to Interlaken Ost, then waited at the Interlaken Ost Station since 9:45am for the 10:04am departure bound for Luzern – our next place to spend the night. The Interlaken West to Interlaken Ost train was once again late. I don't know what's up with the Swiss Precision (or lack thereof) on these weekend trains, but it appeared that here was one instance where the Japan Rail System even surpasses the Swiss one in terms of precision and speed.
We believe that it had to do with the way the Japanese system checks for tickets using turnstiles at the very beginning where the Swiss system checks during the train ride. There was also no queues on the train stations in the Swiss System which could lead to a China-like situation where people would crowd in (though it's nowhere near as bad in Switzerland).
On the way over to the correct platform for the Luzern train, some Asian girl bumped into me from behind. She apologized, but her other girlfriends joked that she did it on purpose, and that she should ask me for my number. That brought a chuckle out of me, and Julie was too far ahead to hear the follow-up dialog.
Finally at 10:04am, the train showed up on time, and we were headed off. I was surprised to see that it would take two hours to get all the way to Luzern (Lucerne in French) considering it wasn't that far away. But we would later learn that this train pretty much stopped at almost all the stations en route. No wonder why this "Golden Panorama Train" took so long!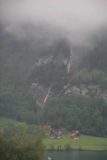 The rain and low-hanging clouds persisted throughout this time. So whatever photo ops were to be had were extremely limited. Though we did spot a couple more waterfalls, which were becoming a dime a dozen whenever we woke up at the right moments after all the napping dominated throughout the train ride that took forever. The waterfall sightings included an unexpected one near Lungern and its neighboring lake.
There were some hard-core punk German backpackers sitting near us who emitted an almost homeless smell. One guy was barefoot and put his foot on the seat. When he went out for a smoke in the rain in Meiringen Station, he was still barefoot. Not exactly very sanitary behavior.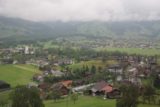 When the ticket ladies roamed the aisle checking to see if passengers have paid their fare, once again we noticed how she greeted everyone with "Guten tag" and then thanked each ticketed passenger with "Merci." Only in Switzerland, I guess!
Anyways at 12:20pm, we finally managed to arrive at the hotel we were staying at right across from the Luzern Train Station. From reading the literature, we had expected a charming small lakeside town exuding all things Swiss. But the train station was pretty big, and one step outside it revealed a pretty busy city.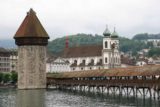 The hotel wouldn't let us get into our room at the time (at least not until the quoted time of 2pm) so we left our luggage (along with hordes of others in their back room), and started walking towards the Medieval bridge that we had read about.
It turned out that we spent quite a bit of time taking photos here and didn't even bother walking the rest of the streets when Julie suddenly decided to go for some Thai food recommended in LP.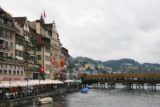 But when we walked outside of the main centrum and over to the restaurant, we found out that it was closed on Sundays. So the detour was for nothing, and we settled for a kebab.
After the lunch, Julie wasn't feeling well again. This time, she was complaining about coming down with a sore throat. And I could see that our city tour might have to wait or be nixed altogether.
By 2pm, we were back at the hotel, where we checked into our room, which was actually roomy (relatively speaking) for once. Outside, it looked like the next round of rain came down pretty hard. And while all this was going on, Julie took a nap. I guess the city tour will have to wait…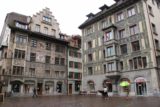 At 4pm, we headed back into the city. The conditions remained cloudy, but at least the rain let up. So we walked towards the city walls on the backside of the city center. And during this walk through part of the city center, we could see what appeared to be more like cobblestone streets lined with shops.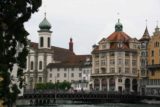 In fact, it felt more like an outdoor mall than something more authentic (albeit still for tourists) that we experienced in Split and Dubrovnik in Croatia. Maybe we were spoiled, but this city felt a little more like a contrived outdoor shopping mall for tourists.
So as we walked further back beyond the bustling part of town, it seemed like the city was dead on that side. It was much quieter and we began to wonder if we were going the right way.
Fortunately, following the city map's walking route was somewhat straightforward and we eventually walked up several stairs and ended up on the backside of the city wall. Then, there was an opening on the right underneath the wall leading to a long series of stairs. And at the end of the exercise, we ended up at the top of a tower providing commanding views of Luzern.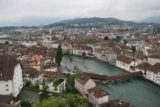 We took a few photos from up here, but with the cloudy skies, I'm sure the snowy mountainous backdrop was missing from what would've been an otherwise alluring vista.
So we headed back down the tower, then along the city walls towards another tower. This time, this tower had a clock on it. While I was busy making snide comments to Julie about how the Swiss love their clocks, I didn't bother to check to see if the clock was accurate.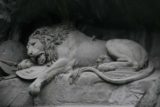 Anyways, we eventually had our fill of the city wall and continued walking down the hill eventually arriving at the lion. The lion looked rather somber and possibly dying, and I guess it was supposed to symbolize some kind of massacre or to honor the fallen in conflicts past.
The lion was actually like it was etched into a cliff fronted by a pool with ducks swimming and lots of coins thrown into it. I didn't know what to expect and I was actually pleasantly surprised by how striking it was.
Unfortunately, that was when it started to rain pretty hard. So we didn't linger here for much longer.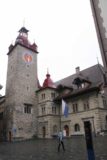 At that point, it was time to go for an early dinner. We figured we saw most of the interesting parts of the city (especially since we felt it lacked the charm we expected from the descriptions in the literature) so it was time to wind things down for the day. And since we had a little bit of a French craving, we decided to go to this place called the Brasserie Bodu.
At first, it was smokey and we weren't sure if we were going to eat here, but eventually, the waitresses led us to some area downstairs (quite rare for Europe we thought since space was a premium). But at least down here there wasn't any smoke and it was quiet. But it was the decor that made Julie beam with memories of Paris, and she kept mentioning how it would be nice for the both of us to go there on our own since I had never been there.
We ordered escargot, sardines, bouillabaise, and entrecote bodu. And when we got the food, we were blown away by how delicious it was. The food was rich and filling, but it was flavorful, and it was everything we thought French food should be.
The only thing this place didn't have was soufflee. But that was OK. We were pretty full even though the portions were just right.
As we left the restaurant, that was when it started to get pretty busy. I guess we beat the rush.
And once we were back outside again, the rain seemed to have come down even harder. So we hastily made our way back to our hotel (bum ankle and all). And we finally got relief from the wet weather at 7:30pm.
The weather got Julie and I wondering about the fairly foul weather we'd been having on our trip even though it should be Summer (or close to it) by now, and we're in temperate climates like at home. But I guess that's just the way it goes sometimes, and timing historically hadn't been kind to us in matters like this where weather counts in such precious times.
We hope things improve for the next three days when we stay in Zurich for the final leg of our AAA trip…