Day 26: CLOCKS
Julie and I slept in knowing that today was going to be yet another transit day lugging luggage from one train station to the next, and then trying to check into a hotel in a different city. So we didn't awake until 8am, but the heavy rains from last night and this morning were real audible. So that was further motivation for us to just take our time.
My ankle was still quite sore making me wonder if I might have done some real damage to it (like tore something or even broke something) since it didn't seem to be getting any better.
Eventually at 10:05am, we went across the street from the conveniently located Hotel Waltstatterhof and were settled aboard a train bound for Zurich.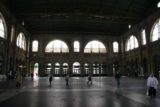 At 11am, we arrived at the Zurich Main Station, which was very big. But unlike the one in Bern, this train station was big in a hangar-like manner. That meant that the area in front of the Tourist Information Office was mostly empty space. It was interesting use (or lack thereof) of open space, but at least that kept the cigarette smoke more dispersed.
Eventually, Julie and I got our bearings and walked over to the Hotel Montana where we were to stay for the final three nights in Zurich – our final leg of our monthlong trip to three countries in the Aegean, Adriatic, and the Alps (the so-called AAA Trip).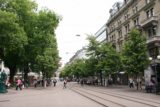 At 11:20am, we were too early for checking into our room so we had to leave our luggage at the reception.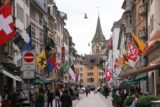 And after lightening the load we were carrying on ourselves, we walked back towards the train station, and then out its southern exit where we walked right onto the Bahnhofstrasse, which was a wide combination of promenade flanked by shops and cafes while centered by train tracks for the electric trolleys serving as the city's main public transportation.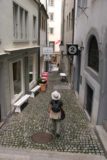 Julie and I were aimlessly wandering around this busy street trying to soak in the atmosphere and the busyness of it all. But then some of the smaller cobblestoned streets off to the left caught our attention and we deviated from the promenade just to see where they led us.
At first it started off like a flag-lined street full of both shops and pedestrians. But soon enough, the streets led to even smaller and narrower cobblestone walkways which seemed quieter. Julie and I gladly walked and explored these little nooks and crannies not really sure where exactly we were going.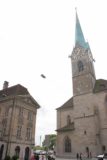 Eventually, we meandered towards the river where we were surrounded by some more clock towers. Again, this was a seemingly consistent theme no matter where in Switzerland we went. However, there seemed to be more clocks concentrated in this city than elsewhere.
After having our fill taking photographs as the weather seemed to have momentarily improved, we then stumbled upon this place called the Zeushauskeller, which was a very atmospheric yet bustling spot for a meal.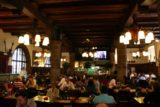 The wooden interior of the restaurant displayed some interesting shield symbols, spears, and even firearms. Of course on the way downstairs to the bathroom, there was yet another large analog clock hovering right above the path in true Swiss style.
The food consisted mostly of heavy sausages and meats. I'm sure Julie and I could've split just one dish, but we thought we mind as well experience as much as we could that were uniquely from this area.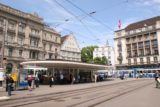 By 1:45pm, we were totally stuffed (not surprisingly). On our way out of the restaurant, we noticed a sign that indicated that smoking was forbidden because this place still contained live shells. Apparently, this used to be an armory. But that would be as good a reason as any to prohibit smoking. Besides, that was especially good for us since us non-smokers wouldn't have to be sucking in any second-hand smoke.
As we proceeded to wander around some more towards the bustling Paradesplatz (a fairly wide and busy square dominated by trolley tracks and surrounded by a mix of old and modern buildings), we found this chocolatier place called Sprungli. We had been looking forward to it since we saw the Samantha Brown DVD and thought this must be the place to have a hot chocolate.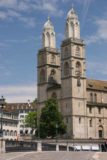 So at 2pm, we had our hot chocolate as well as a tiramisu and a hot tea. But I had to admit that the hot chocolate wasn't as good as I had expected. I guess that was because they focused more on using thick dark chocolate, which I thought was more bitter than the smoother milk chocolate. Even though dark chocolate is supposedly healthier and more expensive, I guess it just shows that sometimes pricier doesn't necessarily mean it's better.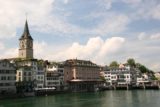 After the dessert and cuppa, we proceeded to try to work off the sugar rush by walking towards the Grossmunster (basically a tall dual-spired cathedral) and then climbing to its top after paying the 4 Swiss Francs per person to go up.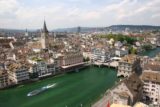 I wasn't sure if it was worth the price of admission, but at 2:40pm we were at the top of the south tower. There were some interesting birdseye views of the city on all four sides of the tower. The climb up the spiral steps in the beginning of the climb was real tight with barely enough room for people to pass each other (depending on how much you're carrying and how much girth you have).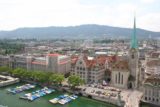 It was breezy and cool up at the top, which made us cool off a little after our long climb up. Eventually at 3pm, we had our fill of the crowded lookout, and we proceeded to squeeze our way down to the bottom. Some impatient folks foolishly took a few steps up as people were coming down to the bottom of the spiral so that made it a bit difficult to pass when they could've waited a few seconds just to take a few steps up unimpeded. They certainly had nothing to gain clogging up the passage when they did.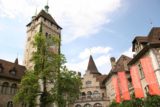 Anyways, that was pretty much the end of our touring of Zurich. We had hoped to make use of our Swiss Pass to visit the museums in town, but the most interesting one in town was closed. We learned it was only open for the World Cup viewings on TV on the premises, and that the museum was only open from 8-12. Given the waterfalling priorities we have for the next two days (despite the foul weather predicted for this time period), it's probably not likely that we'll be doing any museum visits while in Zurich given their impractical times that they're not geschlossen (closed).
At 3:45pm, we returned to the hotel to check-in and get settled. Once again, it was siesta time (the Mediterranean rhythm was still with us apparently) and we could see the weather vacillating between dreary cloudiness and pockets of blue skies as the afternoon wore on.
At 7:30pm, the siesta time was over and we headed back into town. By this time, we could see a warm afternoon glow painting the tops of the multi-story buildings around us. The skies above looked as clear as we had seen them all day long.
Now why couldn't this be tomorrow?
I somehow knew this misfortunate timing would bite us when it came to waterfalling in the next two days as the forecast looked terrible for our last two days in Switzerland.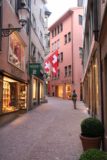 So we walked around town on the other side of the river. And it was on this side that it seemed like the cafes and restaurants were bustling with both locals and tourists engaging in people watching, having a smoke, having drinks, and of course eating.
We ended up settling on dining at some Japanese restaurant. And I knew we weren't supposed to come all the way to Switzerland to have Japanese food, but Julie had her heart set on anything not Swiss and heavy. And what she said went. Period.
And, well, the food wasn't anything near as good as what we're used to back at home (again, no surprise). But at least it was light and relatively guilt free. So after the heavy lunch and indulgent cuppa with dessert that we had earlier in the day, I guess going light on dinner was in order.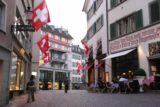 When the dinner ended, we walked around the now-quiet streets we walked earlier in the day. I guess these once-bustling streets during the day time close in the evening. And that made for a relatively smoke-free and low anxiety experience.
Finally at around 9:30pm, we returned to the apartment to call it a day. The weather was still mostly clear over Zurich. I'm hoping for the best but mentally resigned to some real foul weather as all weather networks (even those in Dutch on TV) are suggesting storms the next two days. Not good…