Day 15: DE-SCOPING
As we left the Marco Polo Airport, I decided to rebel against the GPS which had us going directly north over some mountain pass to eventually get us to Bolzano, which was where we were staying for the night. However, I saw that we could've just as easily taken the A4 autostrada and then the A22 autostrada through Trento and ultimately to Bolzano (or Bolzen in German).
The drive on the autostrada was pretty uneventful except the A22 section was very scenic as we were cutting through an area surrounded by exposed mountains that reminded me a lot more of Switzerland than Italy.
We'd eventually get into the city center of Bolzano where we found a parking garage just beneath the main piazza at 1:40pm. We weren't sure how much it was going to cost us, but we knew it wasn't cheap. Surely, there must be a better place to park closer to our hotel, right? By the way, where was our hotel?
As Julie and I got our luggage out of the car, we went up the stairs and we found ourselves right smack in the middle of some cobblestone piazza with a statue in the middle and an attractive-looking church to one side. Meanwhile, the perimeter of the square was surrounded by cafes and shops. One location happened to be a turistic-info office and we used that to get help on where we should be going to check into the Residence Fink.
We also learned at the time that the piazza we were in was called the Piazza Walther, where that prominent attractive-looking church happened to be 15th century gothic. It definitely was different than the other churches or duomos we've seen in the country because it had more swirly things protruding from the spires and other structures rising up from the main edifice. In a way, it was almost reminiscent of the stave churches we had seen in Norway.
So regarding our accommodation, it turned out that the reception was at some other hotel (Adria) where we then got our keys and found out that there was no dedicated parking for the Residence Fink. The receptionist spoke little English so we had to go slow. Actually, I used Italian and she felt much more at home using that language but I did it at the risk of her losing me. But out-of-the-question was German since I didn't know it.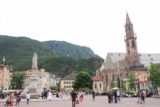 So as pricey as the parking was going to be, I guess that the effective stay rate was the base room rate plus the nightly parking. So that would probably work out to around 120 euros a day instead of the base rate of 100 euros a day. Julie and I couldn't figure out why Bolzano was so expensive if it was not really on the tourist radar (at least as far as our perceptions were concerned).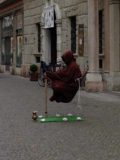 It certainly wasn't the levitating man we noticed on the way to and from the Residence Fink near the Piazza Walther, I'm sure.
Anyways, at 2:45pm we were back in the car. We ended up paying 5 euros which seemed awfully steep for just staying here barely an hour.
So with that, we decided to de-scope our intended activities (we had already skipped Cascata di Salino, which was too much out-of-the-way) as I had originally intended to go waterfalling in the Barbiano area. Instead, we decided to do something easy since it was getting late (and the info center expressed a similar concern about our original plans).
Thus, we decided on going to Cascata di Parcines, which promised to be a short outing for an attractive waterfall plus it didn't seem to require that much driving.
We followed a free autostrada northwest of Bolzano for some 24km, and after passing through a long series of some two or three large tunnels, we finally went through a town and then turned right on an easy-to-miss turnoff for Parcines.
As we were driving uphill on this road, we were awed by the pretty alpine scenery we were ascending into while the Cascata di Parcines was up ahead of us backed by a smaller cascade and some snow-capped mountains.
The road up seemed to get progressively steeper as the rental car was struggling to make the climb. As we passed through the town of Parcines, the streets narrowed even more and the steepness persisted so I was pretty much in first gear the whole way up.
But with the narrow roads, it got tricky when there was traffic going the other way. Because that would break my momentum going uphill, and then I'd have to employ the hand-brake maneuver where I had to pull up the hand-brake and get a head start with the 1st gear before releasing the hand-brake to keep moving up after letting a downhill vehicle pass.
It wasn't good for the rental car I'm sure as I could smell some burning when I'd be in first gear but not moving as I waited for cars to pass.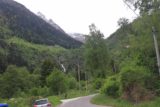 At this point, I stopped listening to the GPS as I started to notice "wasserfalle" signs and kept following those whenever it hit a decision point as I drove through the compact mountain-hugging town.
Ultimately at 3:30pm, I parked the car at what I thought was the car park. There were no signs for it, but I had wondered if I was supposed to park in Parcines and we were supposed to walk up to the falls or not. Certainly the driving wasn't any bit friendlier so perhaps walking was the only way to go at this point.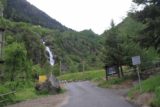 But after some 20 minutes of walking uphill and not seeing the actual start of the hike to the falls, I backtracked and recovered the car and continued the steep uphill drive in first gear until we'd eventually make it to the official car park just past the Gasthaus Birkenwald (or Birkenwald Guesthouse) at 3:55pm.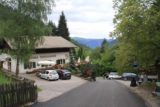 At that point, Julie and I got out of the car and walked towards the guesthouse until we saw a walking path that had other people on it as well. Clearly, that had to be the path for the waterfall.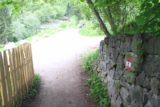 So we walked along that path as it headed towards a road bridge before it ascended steeply up some steps just before the bridge. Then, the trail got onto a grassy area where it branched off in a couple of directions.
We took the lower path initially because it headed right towards the bottom of the impressive Cascata di Parcines.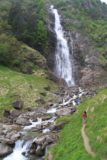 The sun was trying to pierce through the thin layer of clouds that had overcasted much of this area while revealing just enough for us to see some snow high up. When it momentarily revealed itself, the sun was pretty much on top of the waterfall so under clearer skies, this time of day wouldn't have been good for seeing the waterfall.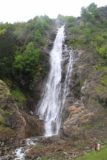 After a few minutes of picture taking from the bottom of the falls, Julie had her fill and headed back to the car. Meanwhile, I kept going up the trail as I had noticed there was an overlook near the top of the falls.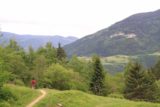 Some ten minutes later, after going through a bush-fringed path while going up several steps alongside some tributary waterflow (not on the waterfall itself), I found myself right at the Gasthaus Wasserfall (Waterfall Guesthouse) where there were some elders and some families that were either here to hike or here to stay at that guesthouse.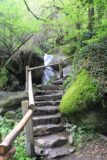 It dawned on me at this point in time that I heard German being spoken pretty exclusively. I didn't recall hearing any Italian while on the trail. Now I had read in my pre-trip research that the Sudtirol, Alto-Adige area had a bit of an identity crisis while also being a disputed area between Austria and Italy.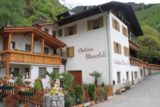 Well whatever the case was, I had trouble whether to say "Guten tag" to people on the trail or "Buongiorno." So initially, I just said "Hi" to everyone we passed by. Unfortunately, German was one language I hadn't bothered to learn yet, and this would make at least the third trip where it probably would've helped.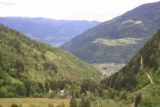 Beyond the Gasthouse Wasserfalle and some statue or shrine by the road, I then walked the last five minutes up a steep sloping trail with railings that ultimately ended almost next to the waterfall's top tier.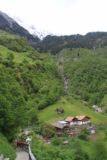 From up at this vantage point, there were gorgeous views downstream of Parcines and what appeared to be either Merano or Bolzano. I couldn't tell. But in any case, the view from up here was grand, and the surrounding snow-capped mountains with cliff-hugging chalets really made me feel like I was in Switzerland as opposed to northern Italy.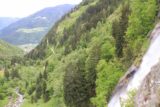 Looking back towards the guesthouse, I could see there was another cascade falling between the snow-capped peaks and the guesthouse itself. The cascade looked like it was modified though as there were terraces over which the creek fall.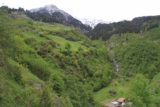 When I had my fill of this overlook, I then swiftly made my way back to the car where Julie was waiting. And at 5pm, we started driving off.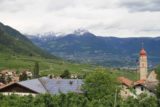 As we were driving through the town of Parcines, we were blown away by the vistas of the developments down below all backed by attractive mountains with snow on them. So I actually spent some time looking for parking in town while quickly walking to where I thought the panoramas would be.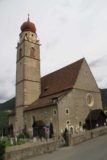 In addition to the pretty vistas from Parcines, there was also a church here that somehow reminded us of something more Russian than Italian with its rounded minaret as opposed to the pointed clock tower we had now become so familiar with and accustomed to.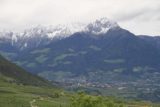 The photo run was pretty much done by 5:20pm and the drive back down the road (all in 1st gear to limit the downhill speed this time) went by uneventfully. Eventually at 6:05pm, we were back at the Piazza Walther parking structure where were about to get pillaged again by their outrageously high parking fees (all in cash by the way).
By 6:20pm, Julie and I were finally back in the room at the Residence Fink. The room was really more like a flat as it was far roomier than anything we had throughout our stay in Italy, but unfortunately, there wasn't a Wi-Fi network that we could detect from the room (as I had feared even though the receptionist said there was supposed to be Wi-Fi in the room).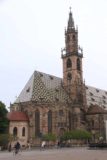 So really, this was just a place to stay based on logistics and nothing more. Julie and I weren't sure what Bolzano was known for, but I guess we now have a bit more time this evening to figure that out while looking for a place to eat.
Anyways, we have one more night of this before we head over to Trento so we'll just have to deal with not Skyping with Tahia for the next two evenings… Hopefully the weather will be as cooperative tomorrow as it was today, because I expect we'll be doing some longer hikes at either Campo Tures or Barbiano or both, depending on how well we do on time…
At 7:45pm, we walked back to the piazza from our flat, which was only a few paces as it was very centrally located. The problem was that the piazza was pretty much dead though there were a handful of restaurants and pizzerias that were open.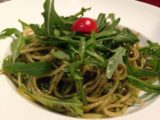 We decided on one random place that had some spaghetti pesto (as pesto was something we didn't see a whole lot of during our time in Italy, which was surprising). There was also some kind of ravioli stuffed with mushrooms dish that we wanted to try out.
So we went ahead and ordered here, had a surprisingly very good dinner (as we didn't have high expectations for eating in Bolzano of all places), and even bought a dessert as takeaway (it wasn't the apple strudel, but it was some vanilla creme with crusty flaky layers that reminded me of this Asian sponge cake with crusty flaky layers that Mom would always buy).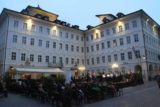 As Julie and I headed back to our flat from the satisfying dinner, we stumbled upon a live performance from an orchestra that was literally just paces from our flat.
After spending a few minutes taking in the atmosphere of this seemingly impromptu performance, the orchestral music here had the feel of a Hollywood Bowl concert (i.e. the orchestra that usually plays before the main event) except it was in a much more intimate setting.
Julie and I went back to the Residene Fink to try to do some internetting at the ground floor (it wouldn't work up on the 3rd floor where our flat was), but the signal was weak and no one was picking up our Skype videoconference requests.
So at 9:15pm, I was back in the room while Julie was downstairs internetting. And I had the windows open so I could listen to the orchestra playing the music. The performance ended at around 9:35pm so I guess that was the end of the enjoyment of this most unexpected of surprises on this trip.
Now, it was time to wind down and get ready for tomorrow…