Day 16: LIKE ANOTHER COUNTRY
It was 7am when we awoke. From looking out of the window of our room, we could see that the skies remained overcast so it was hard to tell if we were going to encounter rain while hiking. And rain would be a bigger deal on a day like today because the plan was to do at least two hikes that were going to be at least two hours long, each.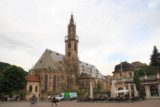 Since we were spending another night at the Residence Fink and there was no brekkie included, it didn't take long for us to get going. So after picking up a pair of croissants as takeaway, we were back in the car at the Walthersplatz car park beneath city center at 7:45am. The price for the overnight parking was 19 euros (ouch!), but we expected that given we pretty much mentally accepted this as part of the room rate.
The city was just starting to wake up as it was pretty dead after the concert last night (though there were the sounds of heels striking the cobblestone as well as some random banter here and there as our room was right above one of the throughfares for pedestrian traffic). And I'm sure the city must've woken up to the clock tower that chimed loudly at 7am (who needs the alarm when you have that church bell tolling crazily nearby?).
The overcast skies were a little light with some sun peeking through from time to time. We could see the clouds were pretty high so we could see the snow-capped mountains looming high over us as we followed the GPS onto the A22 autobahn (which by the way, we came to realize that autobahn was German for what Italians called autostrada).
The drive was pretty uneventful though the scenery was just breathtaking as we passed through valleys flanked on both sides by imposing mountains. So we drove the A22 until the GPS told us to get off where some signs were pointing to Val di Pusteria (somewhere just north of Bressanone).
After paying the toll for using this small stretch of the A22, we then drove the E66, which was pretty much a two-lane highway while passing through towns (read speed traps) from time to time.
And after rebelling against the GPS when she had me turn off at some random town called Chienes, we turned off of the E66 in the town of Brunico and headed north towards Sand in Taufers, which was in the Campo Tures area.
So far so good though the weather occassionally turned from mostly cloudy to some small pockets of rain.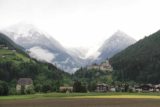 As we drove north past San Giorgio, Gais, and eventually driving into Sand in Taufers, I could see there was an impressive castle looking across the valley as the GPS had us driving through an industrial zone. The weather was still holding up so I was able to take a few photos of the castle nestled beneath some mountains with snow on them.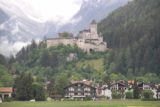 As we got into the Sand in Taufers town, I tried to follow the signs for the waterfall, but at some point, we were driving up a road where it seemed like there were no more waterfall signs to be seen while driving. So I headed back into town and chased for "i" signs hoping that there might be an info place where I can ask about where to find the waterfall in Campo Tures (where we were now in) while also figuring out where we were supposed to park.
After getting a little lost driving through the center of town, we decided to park somewhere right across the street of some supermarket and mall at 9:30am. We saw signs that said we had 90 minutes during the day so we just parked (which was a short distance from the castle of the town) and went right into the supermarket since we were in need of some fruits and more water.
We ended up getting some unique-looking red pears, apples, bananas, and cherries as well as a couple more 1.5L bottles of water (knowing it's much cheaper to buy here than back in Bolzano city center).
When we were checking out, I noticed there was a desk with an "i" for info, but nobody was there. I tried asking the cashier if it was open (after asking her "sprekken zee English?" when "parla inglese?" wasn't working), and she said he should be back in a couple of minutes.
Well, we used this time to go back to the car, put the groceries in, and then go back to the "i" desk to see if the dude would be there. But when we returned, no one was still there and after a few more minutes of waiting, we just went back to the car.
I guess it was a good thing we were back at the car because there was a lady in uniform looking for something on every parked car's dash. She then looked at our car and tried to tell us something in German.
So I asked, "Sprekken zee English?" and then she busted out some pretty coherent English.
She said we were supposed to display some kind of clock sticker on the dash. And that we weren't supposed to park where we were at without it being properly updated. Thus, we were subject to a 41 euro fine. Of course, we pleaded our innocence in not knowing those rules since the sign did say "P" and did give us a time limit, but I guess we were supposed to let the enforcement officers know when we left the car by updating that clock on the dashboard. So THAT'S what those clock things were for!?!
Nonetheless, she didn't issue a ticket (though I wasn't sure if it was just a matter of her making a call to issue the fine so she didn't have to give us a ticket), but then as she was about to go about her business, we went ahead and asked her if she knew where the waterfall was.
She then said to us that it was 3km away and she pointed the general direction it was at. So with that, I at least got some bit of information about where we ought to be going (albeit from an unlikely source). Funny that it came down to the meter maid who was about to fine us that gave us the info we needed instead of the absent info desk employee inside the supermarket.
So we navigated the maze of small streets of Sand in Taufers, and then we saw a waterfall sign that pointed us to go back onto the road through the Industrial Zone. And after a few more minutes of driving on that road, we saw another waterfall sign that had just turn left. Now where was that sign when we first drove this road going the other direction on the way into town? (was it another instance of signage being seen in only one direction?)
Anyways, we then followed this narrow road as the signs were now frequent and obvious. We had to go on one muddy detour (which made me nervous about getting stuck given our low clearance Opel) as there were a couple of guys doing some kind of construction work. And with a little scrape of mud on the undercarriage, we finally found the parking area, which was mostly empty when we arrived at 10:10am.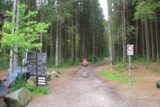 It was 3 euros to park here for the whole day, but I noticed it was 2 euros for 2 hours. Not taking a chance on being here longer than 2 hours, we decided to just pay for the day for that extra euro.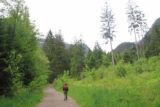 Nonetheless, we were parking next to some cafe and souvenir shop, which I believe was called Winkel. After putting the pay and display ticket on our dash and then using toilet at Winkel, Julie and I were finally on our way to see Le Cascate di Riva (which was also called Reinbachfalle).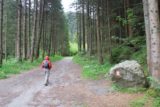 The hike was pretty quiet and naturesque, which was the very reason why we went all the way out this way to experience something a bit different from the rest of Italy. However, Julie noted that touring this place (and the rest of Alto Adige or Sudtirol) felt like we were visiting another country as signs were more often than not in German and the buildings and houses looked more like something out of the alps in Switzerland (or possibly Austria though we'd never been to Austria) than Italy.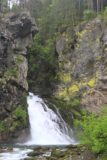 Even when we greeted other hikers, I wasn't sure whether to say "Buongiorno" or "Guten Tag".
At about 10:35am, we made it to the first waterfall, which was short but powerful. Something unique about it was that there was a rock with some carvings showing people struggling to go up it. We weren't sure if the carvings had something to do with the trail of San Francesco d'Assisi, which we noticed was on some of the trail signs.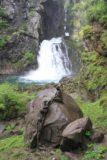 Anyways as we were busy taking movies and photos of this waterfall, we saw behind us that there was a giant tour group that was about to overwhelm us.
So we kept hiking uphill along the waterfall trail. The trail passed by some kind of display of several rock cairns stacked atop a flat rock. We weren't sure what this was all about so we just kept on moving.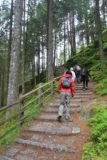 We'd ultimately make it to the second waterfall at around 10:50am.
This waterfall was very nice as there was a small lookout area with a top down view of the impressive and shapely cascade that was significantly taller than the first one.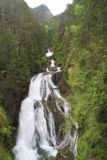 Just as Julie and I had our fill of the falls and were headed back out of the spur trail and onto the main trail, we had to weave our way out of the crowd that was the tour group that had caught up to us.
Even as we left behind most of the commotion from the tour group standing by the second waterfall, Julie and I then followed the frontrunners of the group (there were probably at least 6-8 of them). These folks were walking at a slow pace so Julie and I had to follow behind them.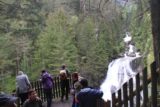 It wasn't until the leader of the group decided to stop and account for people in the group that we were finally able to pass them and be back in peaceful mode for the time being.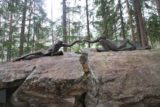 The trail passed by another set of carvings on top of rocks. This time, there were two carvings touching each others' hand. Again, I wasn't sure what this all meant, but I'd imagine it might have something to do with San Francesco d'Assisi since the signs indicated this was supposed to be a San Francesco d'Assisi Trail or something to that effect.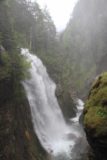 Eventually, Julie and I reached the misty and powerful third waterfall at 11:05am.
There was a very muddy and wet lookout area directly across from the main part of the third falls, but the best views were probably from the bridge spanning the gorge on which the Riva flowed. Even this view was somewhat misty, but it was nowher near as intense as the lookout directly across from the falls.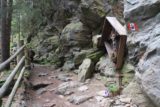 At this point, the weather started to rain a little harder. At first, I thought it was just mist from the falls, but it became clear that it was the weather when we got far enough away from the falls to not confuse the mist with rain from the skies.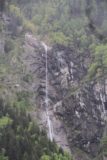 There was still more trail as it climbed beyond the bridge before the third falls. There was even a sign indicating there was yet another waterfall some 5 minutes away.
After passing by a junction next to a statue or shrine, we then got to a bench looking out towards the open, and that was when we realized that there was a fourth waterfall here, but it wasn't on the Riva River. It was about 11:15am.
That fourth waterfall was just a tall and slender seasonal waterfall with lots of trees blocking the view.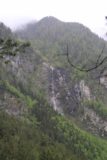 After briefly exploring beyond the fourth waterfall, I was able to see that the end of the trail joined up with a cafe as well as what appeared to be vehicles (so it must've been possible to drive up here).
Still, that was my cue to turn around and so Julie and I were going back down the way we came while trying to enjoy the waterfalls again along the way. That tour group that overwhelmed us was continuing their walk towards those cafes at the end of this trail. So the walk got quiet once again.
Unfortunately, it was raining pretty significantly so we had to don our rain ponchos as we made our way down. We had to mind our steps since there were a lot of rocks on the trail that could be slick when wet (as it was at this moment).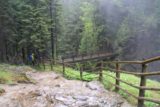 All throughout the descent, we looked to see if there might be some worthwhile panoramas, but with the rain, the cloud cover, and the desire to get back in the car, we didn't linger on this trail longer than we felt we needed to.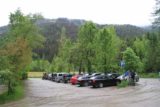 So at 12:05pm, we were finally back at the car park at Winkel. To our surprise, the car park that was once empty when we arrived was now pretty much full! I had no idea that this waterfall was as popular as it was.
Next, we drove towards Barbiano, which in the direction of Bolzano. We were a little confused by the signage when we reached the entry point for the A22, but there were Bolzano signs in blue that pointed away from the A22 entrance. So we ended up following the blue signs and that was when we realized that we had skipped the autoroute.
Well, at least it wasn't going to be that far since we were only some 20+ kilometers from that A22 entry point near Bressanone.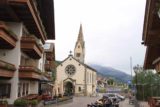 It turned out that bypassing the autoroute wasn't that bad (plus it saved us some money) as we'd eventually get into the town of Barbiano at 1:40pm.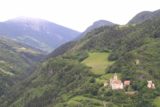 The weather improved the further away from Campo Tures we were. And by the time we found one of those 90 minute spots near the town center and the church with its leaning tower, it looked like the sun wanted to break through the high clouds.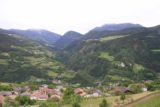 The drive up to Barbiano on the narrow switchbacks was breathtaking because of the panoramas of the mountains across the valley from the town. The imposing granite peaks were really reminiscent of our visit to the Swiss Alps, and the driving on the narrow roads amongst this type of scenery really reminded me of the time we were self driving in Norway.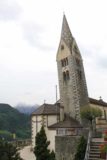 After parking the car near the church (where there was a clock tower that was leaning), Julie stayed in the car while I walked around the main city street looking for a way to photograph the panorama that we had seen on the way up. But it turned out that my walking only made me aware of where the waterfall was as I had walked far enough from the town to start seeing part of the falls behind a very narrow road.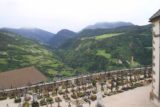 There was no road sign for the falls (suggesting that maybe you can't drive up there or at least be SOL in finding parking), but there were red-arrowed signs suggesting that it was possible to walk from town to get closer to the falls.
So I returned to the parked car at 2:05pm after an unsuccessful visit to the turistinfo center as it had been closed since 12pm. Julie wanted to get a lunch from the place across the street, but it turned out that the kitchen was closed (after some struggles with language as it was clear they were more comfortable speaking in German than neither Italian nor English).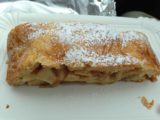 Still, we got some Apple Strudel, which looked delicious, as a takeaway. They didn't take credit card so we didn't want to incur more expenses and deplete our cash supply faster.
And at 2:15pm, we got back in the car as Julie was insistent that there would be parking closer to the waterfall.
So we took a narrow road leading in the general direction where we saw the waterfall up in the distance, and it turned out to be those familiar single-lane mountain roads that we were all too familiar with back in Norway. In fact, it had been a while since I had driven on roads like this.
Nonetheless, the goal was to look for a sanctioned parking spot for Le Cascate di Barbiano (the Waterfalls of Barbiano). The thing was that for Cascata di Parcines that we visited yesterday, we were supposed to drive up the steep road that ultimately led to a sanctioned parking area to minimize the unnecessary amount of walking. But in this instance, I had a strong feeling that we were supposed to leave the car in the center of the town of Barbiano and then do the long loop walk to take in the waterfall, the vistas, and the small town's sights.
The absence of signage that is readable by a driver was apparent the higher up the single-lane road we drove. And after a while, I knew that we had long passed the top of the waterfall (though we did see one deer cross the road and leave behind a sharp rock that rolled onto the middle of the road) so that was when I made the executive decision to turn back and head back down to town against Julie's desires.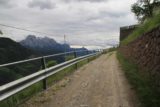 Eventually at 2:35pm, we were back in town as the stressful 20-minute drive up and down single-lane roads (with even a moment where a truck had train of two trucks had to back up around a bend so we could get past each other) proved fruitless.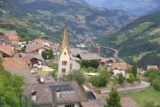 We found a different spot to park the car as there were some parallel parking spaces on the road leaving town towards the falls. I knew the more obvious parking spots closer to the town center had 90-minute time limits and there was no way I felt I could complete the hike in that time.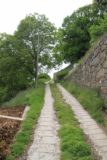 So after stopping the car, Julie decided to stay in the car as she wasn't up for the hike. So with three water bottles, some rain gear (just in case), and my heavy DSLR camera, I was off as I went up the very steep street that said Wasserfallweg 1-6. And there was no way I could think about driving that road unless I was somehow forced to given how very steep and narrow it was (I swore one sign said the road had a 25% grade!).
And with each huff and puff accompanying each uphill step I took, the smell of manure got stronger as I could see that I was passing by some farms raising horses or mules as well as what appeared to be chicken in other properties. Clearly the folks that lived here knew how to farm in limited real estate just like in Switzerland, which further reinforced the notion that the Dolomites were like we were in a different country altogether!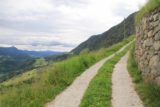 Since I was now walking the steep roads, the signs were a lot more obvious to me as now I had time to read them. So I followed them as the path took me towards some clearings where I could now look across the valley towards the exposed peaks as well as some other imposing mountains with snow on them.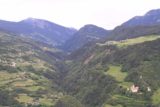 Perched beneath them were towns and some chalets that very much reminded me of Switzerland.
There were even some castles in the distance though I thought the leaning tower of Barbiano was interesting in itself though it seemed difficult to get a clean look at it with the alps scenery in the background.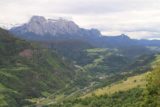 Eventually, the path started to coincide with what appeared to be a driveway with grass growing in between the concrete "rails." There was some construction work going on near a junction here, but it wasn't clear to me if I should continue walking up that apparent driveway.
So I made eye contact with one of the construction workers as I pointed to the driveway and said, "La Cascata?"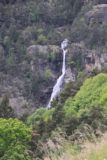 He didn't respond as he sort of gave me a quizzical look. So that was when I decided to bust out my wannabe German and once again pointed to the driveway but this time said, "Wasserfalle?"
"Ja Ja!" said the worker. And that sent me on my way. Again, it was one of those strange moments where I felt like I wasn't in Italy anymore. Julie pointed this out earlier when we noticed that the architecture here beared no resemblance to the red-tiled buildings we saw earlier on this trip. Instead, there were wooden chalets with calligraphy-type font labels on signs that very much screamed Switzerland (or perhaps even Austria). Even the signs were mostly in German with Italian underneath.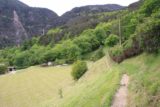 In any case, I continued the long ascent as I was then confronted by another series of confusing signs at a junction as I skirted someone's field. In one direction, there was a tractor blocking the path as there was a sign that indicated it was private property even though there were more official looking signs saying it was 50 minutes to the upper waterfall from this junction going in that private direction.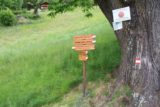 So I continued going straight where I eventually met up with the familiar single-lane paved road. And as I made it to the next hairpin turn, there was a sign that pointed me to keep walking onto what looked to be an unpaved driveway or path behind a "privat" sign.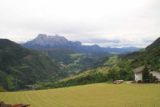 I really wasn't sure if I was supposed to walk this path or not, but as I went around someone's home, I found more signs that then pointed me to go left at the next junction. However, underneath the official-looking signs was another sign with a picture of a dog saying something in German and Italian to the effect of "Beware of Dog!"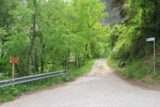 And as I continued on the path, I then saw more infrastructure that suggested to me that I did indeed make the right choice by continuing on despite my reservations about pissing off a local who thought this trail trespassed over his/her own property.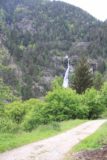 Indeed, I saw steps, benches, and even more signs as the trail left behind the property and continued climbing through dense groves of forest.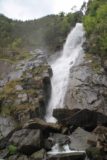 Eventually at 3:20pm, I made it to the so-called lower waterfall. It was hard to get a clean look at this part of the falls as I found myself briefly hopping over some wet boulders to try to get a better look at the main tier (which was still mostly obstructed as well as misty).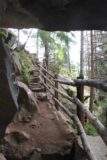 I gave up on trying to improve my views given the risk involved as I wouldn't want to slip and fall here for there were still more drop offs below me as the waterfall kept cascading. There were even other hikers looking down from higher up on the trail, which further convinced me that I ought to be up where they were at instead of down here.
And ten minutes later after going beneath a rock overhang hovering over more steep steps, I was then at the overlook where I saw the other hikers (who had now moved on). And sure enough, the view of the lower waterfall from here was far better than below as I could now see more of the main tier plus some of the upper drops as well.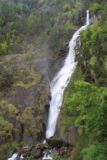 Even though the skies had been overcast most of the day, it was strange that the sun started to break through here just as I was looking against it in order to take photos of the falls (i.e. the one time I didn't mind NOT having the sun). Funny how things tend to work out this way.
To further reinforce that I was in the right place to see the lower waterfall, there were rock cairns piled up nearby as well as a bench for resting. There was also a spray-painted marking that said something to the effect of 1040 meters or something like that (which wasn't that high now that I think about it if they're counting from sea level).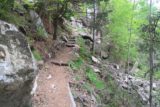 After getting my fill of this falls, I continued up the steep trail. And 15 minutes later, I made it up to what I thought was the upper waterfall. There was a large group of youngsters led by one adult that were chilling out and overtaking most of the vista from up here.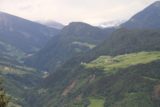 I went around them and soaked in the breathtaking panorama while also getting a partial view of the waterfall tier nearest to here.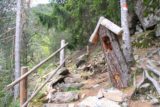 The panoramic view from here was so captivating that I easily snapped dozens (possibly over a hundred) of photos to somehow try to convey the grandeur of the Dolomitic Alps scenery in photographs. And even though it was under gray skies, I could just imagine how much more colorful and grand the views would have been had there been blue skies with the landscape kissed by the sun.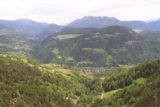 I spent some time here following a faint trail that took me directly in front of this tier of the falls. And after having my fill of this, I then continued up the trail thinking the end of the loop was near.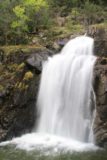 But as I noticed that the trail kept climbing, I started to wonder whether I should turn back and go back the way I came, or to keep going.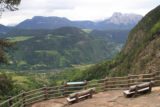 Fortunately, I kept going as I had arrived at a higher panorama with at least three or four benches facing the breathtaking alps scenery without much stuff in the way (at 4:15pm). I could also hear more sounds of rushing water, which led me to believe that this was perhaps the uppermost tier of the Cascate di Barbiano.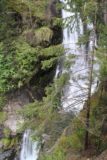 However, with this section of the falls, it was mostly obstructed by overgrowth so the falls up here didn't photograph well. If I called this section of the falls the Upper Falls, then the last clean look at the falls that I got must have been the Middle Falls.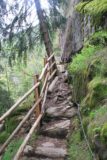 Finally after continuing on the trail beyond this section, I finally saw signs that pointed me back in the direction of Barbiano. Of course, I could have kept walking, but I wasn't sure where the other paths were going.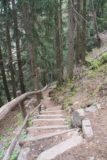 And finally, the hiking was predominantly downhill so progress I'm sure went much faster than on the way up.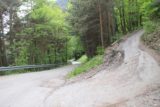 At around 4:40pm as I was walking down what was initially trail and then coincided with the narrow single-lane road, I swore that I started to hear "cuckoo" as part of the harmony of bird songs that filled the quiet alpine air. Could it be concidence or were there really birds up here that made the "cuckoo" sound that would ultimately be used in the signature cuckoo clocks from the Alps.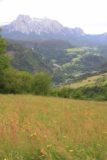 In any case, I continued descending the roads, which were steep and narrow, and they made me wonder how vehicles would be able to stay on the roads without slipping (if it was hard enough to worry about not slipping by foot).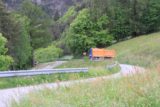 There were more panoramas backing the narrow roads, and even though I tried to rush to get back to Julie as soon as possible, I couldn't help but to keep taking photos to try to capture and convey the mindblowing alpine scenery from the trail.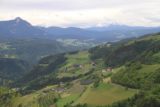 At 4:55pm, after passing by a trio of horses that were unconfined and free to roam around, I finally made it back to the car. The entire hike ended up being around 2 hours and 20 minutes though it probably would have taken longer if Julie and I did this hike together where we'd be on a more deliberate pace.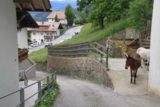 Next, we drove the car back down the steep roads from the town of Barbiano all the way down to the strada statale or SS (the Italian version of State Routes) where we then followed this road as it pretty much paralleled the A22 that we could see up above on causeways as well as through tunnel entrances.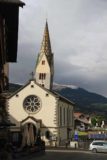 The nice thing about only having to go some 20+ kilometers back to Bolzano in this manner was that I wouldn't have to pay more for the A22 toll. After all, the toll fees plus the crazy parking fees in Bolzano really made me appreciate a little more for not having to spend more money than what was necessary as the A22 wasn't that much faster than going directly on the SS.
At 5:45pm, we were finally back at the Walthersplatz car park, which by now felt very familiar and almost like home (though we were paying 19 euros for the right to park here).
And at 6pm, we were finally back in our room at the Residence Fink after having walked through the square (somewhat self-consciously since we were the only ones in hiking gear while everyone else seemed to be dressed in fashionable city wear) carrying a bunch of stuff we took from the car.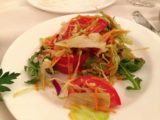 Following a brief rest in the room, we went back downstairs at around 7:30pm to eat at the Residence Fink restaurant. It wasn't open yesterday, but now it was bustling and very busy.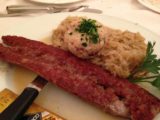 We knew LP made a review of this place, but I honestly didn't recall what they said about it. Instead, we chose to eat here because it was something different and it was directly downstairs from our room. Plus, it gave us an opportunity to try something a little more Austrian besides apple strudel (which we had again, anyways), such as sauerkraut, sausages, etc.
Their cafe area had Wi-Fi so we did that for a few minutes after the dinner, which was pretty good (though a bit on the heavy side as Julie's penne with mushrooms also had bacon bits. Meanwhile, my sausages was more like an upscale hot dog, but it was tender and juicy.
And so by around 9pm, we were finally back in the room to get cleaned up, packed, and ready for the day tomorrow as we looked forward to checking into Trento.