Day 17: FEELS LIKE ITALY AGAIN
It was 6:55am when we awoke. When we looked out the window of our room at the Residence Fink, we could see something we hadn't seen in several days… blue skies and sun!
Sure enough when 7am rolled around, we could hear the tolling of the church bells very loudly (just like yesterday). I find it funny that this was practically like he wake-up call for the entire town. I think they do the same thing at the end of the day at 7pm as well.
Nonetheless, with the bright start to the morning, that kind of gave us hope that we ought to be able to experience some pleasant weather in our waterfalling excursions today. We were also planning on devoting the better part of the afternoon to sightsee the historical center of the city of Trento, which our guidebooks claimed to be one of the prettier towns of northern Italy.
At 7:45am, we left the spacious apartment-like Residence Fink room, took our luggage downstairs to the ground level, and then lugged it all the way back to the Walthersplatz parking garage underneath the Piazza Walther.
After paying the 19 euros, we drove out of the garage, then towards the Hotel Adria where Julie dropped off the keys and then got some pastries for takeaway brekkie. And then we were off on this rather quiet Saturday morning.
We proceeded to take the A22 autoroute and before 9am, we were already within the city limits of Trento. But since we knew it would be too early to check in, we kept driving west of town along some uphill and winding roads past a pair of attractive lakes (Lago di Santa Massenza and Lago di Toblino) and ultimately to Tione di Trento.
From that town, we caught a road heading north (SS239) passing by more picturesque alpine towns nestled beneath imposing peaks (many of which have bright snow when they were lit up by the sun just when the sun managed to sneak by some openings in the high clouds above).
Much of the driving through this region involved a good deal of long tunnels as well as small towns serving as speed traps.
Eventually, we'd get to the town of Carisolo, which was where we saw the signed turnoff for Val Genova. The road on Via Val Genova was narrow though it supported bi-directional traffic. This created a few tricky situations when we had to get by a bus or truck or vice versa.
As we got into the Parco Naturale Adamello-Brenta, I noticed a sign that said something to the effect of Cascate di Nardis e Lares. That indicated to me that there was another waterfall here that might be worth seeing so I kept that in my mind the whole time we were originally intending to just visit Cascate di Nardis.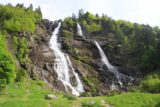 But eventually at 9:55am, we found a car park right in front of the impressive double-barreled cascades of Cascate di Nardis. At first, I thought we were supposed to park in an area 0.7km earlier as there were signs indicating that this was a limited traffic area. But it didn't appear we were going to get busted from driving this far so we didn't bother with trying to find where I perceived parking to be sanctioned.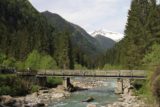 In any case, there was also a biker group sharing the falls with us. But before long, Julie and I momentarily had the falls to ourselves before the next wave of individual visitors trickled their way in.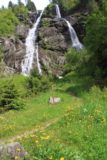 It appeared that they used to let you get right up to the base of the falls, but we could see that the fences stretched to the point that the hint was evident that they didn't want us to get any closer to the falls and the potential for rockfalls or other things that tend to happen given steep terrain like this.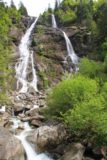 We even managed to bring out the tripod to take that rare couple photo (we didn't often get a chance to do this on this trip) while also taking some long exposure photos despite the sun and blue skies.
It didn't take long to experience this waterfall given the closures, but in hindsight, we probably should've crossed the bridge and look back at the waterfall from the cafe on the other side of the bridge.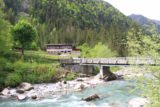 At 10:35am, we were back in the car, but then we backtracked to the larger parking area where I knew there was a map sign that I could study to figure out where I was supposed to find Cascate di Lares.
It turned out that that set of waterfalls was by the Red Bridge (Ponte Rosso) while we were currently at the Green Bridge (Ponte Verde).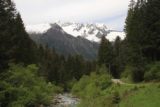 So we turned around and headed back towards Nardis, eventually passing that and going all the way to the Red Bridge as planned. There were a couple of hidden cascades along the drive, but when we stopped the car near the so-called Red Bridge, we could see a pair of tall waterfalls in the distance. And that was what I'd imagine was supposed to the Lares Waterfalls.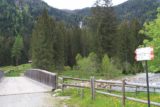 So we got out of the car at 11am, put on our hiking boots, and followed an arrowed sign that indicated that it was a 20-minute walk to the falls.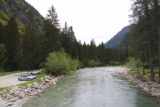 At first when Julie and I crossed the bridge, the local farmer here closed the gate behind us. At first, we weren't sure if we were allowed to park and hike here, but the farmer said in Italian that the gate was only to keep the cows in.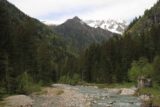 So with that, Julie and I went up a series of steps and tree roots as the trail kept climbing until it reached a viewpoint for the lower waterfall. Along the way, we noticed another path with a sign indicating there was an upper waterfall (another 15 minutes away), but we decided to check out the lower waterfall first (which the sign said was only 5 minutes away).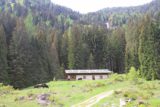 Just before reaching the viewpoint for the lower waterfall, a pair of older Italian males were on their way down. They looked familiar since we saw them over by Cascate di Nardis. So I guess we were kind of on a similar itinerary.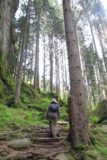 With some time to catch our breaths from the pretty steep climb, we took a series of photos of this attractive plunge of the waterfall. It looked like this part of the falls was hidden from us when we saw part of the falls from the car park by the Red Bridge.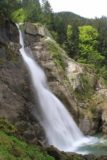 After having our fill of this falls, we then descended the steep path on tree roots until we saw some trails that cut across the hill and even hugged part of what appeared to be a vertical wall.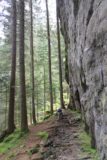 Eventually, we'd go up a long and relentless series of steps until it, too, gave way to more tree roots and formerly muddy steps as we'd get onto a grassy area. Given the silence and relentless uphill climbing, we thought about whether we were going the right way or if "cascata alta" meant the top of the same waterfall instead of the upper waterfall. But fortunately, when we started to hear the sounds of rushing water, we figured we mind as well keep going to see if indeed we were going to the next waterfall.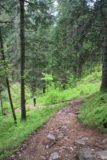 And once again, just as we were about to start to see the waterfall, the same two older Italian males were on their way down.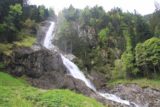 This time, they said, "Bello!" to me. Just before I had a chance to say, "Bellisimo" back to him, he took the words right out of my mouth and I just repeated "Bellisimo! Si, si!"
We both got a bit of a chuckle out of that exchange.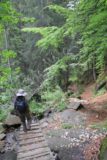 So with that, Julie and I were looking up at the two-tiered upper section of Cascate di Lares. It was a totally unplanned waterfall, and it was a good thing I noticed a sign on the drive into Val Genova that said "Cascate di Nardis e Lares."
Otherwise, we would've just seen Nardis and left it at that.
At 12:15pm, we were back at the car. I took a few photos along the way from the bridge where looking upstream revealed an attractive series of snow-covered peaks with clear water rushing beneath me. I'm sure if the sun came out brighter and less hazier from the high clouds, then the color of the water probably would've been that powdery blue color due to it being sourced by glaciers (or at least what's left of them).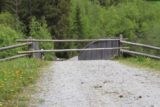 And on drive out just as the one-way road became two-way again, I saw another nice river view towards snowy mountains from the road bridge nearby. That would be the last of the photos I'd take from this area though I could totally see how easy it would be to go crazy taking many alpine photo shots or even go on some high altitude hiking trails for those mind-blowing panoramas.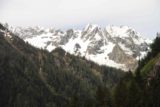 The drive back out of Val Genova was mostly uneventful except for one part where I left a tunnel and a bus was trying to get by us. That was tight as I had to inch past the bus and the bus did likewise without hitting us.
After that, we pretty much followed the signs back to Trento though the skies appeared to be hazier than before once we got to the Two Lakes area. I had hoped to take some photos from here on the way back (since on the way in we were against the traffic and the pullouts were very few and far between). But alas, I guess it just wasn't meant to be on this day.
We'd eventually be in the city of Trento after a little over an hour's drive back. And as we were navigating the city streets, we could see right away that we were in surroundings that reminded us of Italy once again as we could see more medieval or historical structures that were so prevalent in other parts of Italy and less so in the Austrian-influenced Dolomites part of the country.
The GPS led us to the Grand Hotel Trento where we were staying for the night, and we had arrived at 1:50pm. Fortunately, they had dedicated parking so after intercom-ing the reception, we were allowed in, parked the car, and promptly went upstairs to check-in.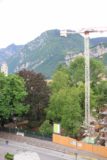 This hotel seemed like a standard hotel except we actually got pretty good Wi-Fi as well as wired internet in our room for the first time in several days. When we looked out the window, we could see some impressive mountains surrounding the city, and we also got an angled view of that waterfall we kept seeing from the highway and autoroute where we couldn't pull over for a better look at it.
I wondered what the name of that waterfall was as I couldn't see anything in the literature we had that identified it. But I guess the lone photos we have of this falls just so happened to be from our hotel room instead of from the road where it was more directly visible.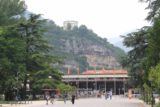 At around 2:45pm, we were pretty much settled in the room so we then headed back downstairs to get a map, get some water and guidebooks, and then walk about in Trento's historical district, which was only a block away from our hotel.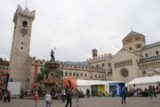 As we walked about the charming cobblestone streets along a flowery path through an arcade of shops (i.e. the outdoor shopping mall part of town), we'd eventually get into the Piazza del Duomo, which was grand and impressive with the large cathedral and clock towers with one minaret-looking tower at the front of the duomo.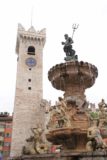 Unfortunately, there were a lot of tents and things that kind of filled in the large empty space of the piazza (as well as annoying signs on the arcade blocking distant views of the buildings of the piazza).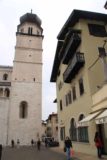 So that kind of took away from the overall experience on this day. Call it bad timing on our part again.
The sad thing was that this so-called Festival Economia Trento was about economics and politics! It was not about a festival that we'd actually want to be a part of.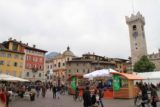 Anyways, Julie and I had a late lunch (at 3:20pm) at this somewhat upscale place called Forst where we had another go at Austrian food mixed with Italian food. And then we gave Grom another shot for our gelato fix, which unlike our Firenze experience, this Groms was actually pretty good and they weren't so stingy with the scoops.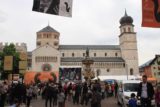 We then aimlessly walked about more arcades and alleyways of the historical center of Trento.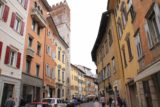 Since Julie was looking to have a lunch (something we didn't have yet), we were on the prowl for a place that would still be open this late in the afternoon. The receptionist at the hotel mentioned only a couple of places that would be candidates.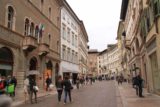 One was a pizzeria, but that place was closed. So that kind of blew away one of the places that could've been a possible late lunch.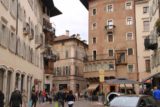 The next place that was suggested was this place called Forst. And when we walked over to where it was located according to our map, we could see that it looked to be pretty upscale. Nonetheless, they did say they were open for lunch.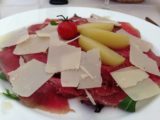 So given Julie's hunger pangs, there was no way we'd skip lunch so expensive or not. So we quickly got seated in one of the many empty tables outside (hopefully not close to anyone so we could avoid cigarette smoke for the most part), and we were momentarily off our feet.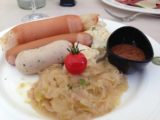 The meal would be another go at Austrian fare with a variety of sausages. Then, we'd complement that would something Italian. This time, we were going to try beef carpaccio (thinly sliced raw beef with cheese) so we were essentially testing whether our stomachs were all the way back from the food poisoning earlier on in this trip.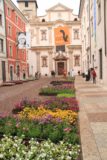 The Austrian dish was a sampler of different kinds of wieners. We know they were like hot dogs so they were probably processed meats to some degree (perhaps not as processed as the American hot dog). And then they were accompanied with mustard and sauerkraut (like pickled veggies with a bit of a sour taste).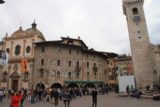 Meanwhile, the carpaccio was actually quite tender, simple, and good. It was a pretty simple lunch all-in-all, and we pretty much left some room for dessert which would only be a few more hours away.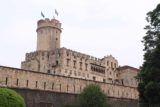 We'd ultimately get to the exterior of the Castello di Buonconsiglio (we didn't feel like spending more money to go inside the museum), and then we ambled back towardst the centro storico where we saw some BMX bikers doing tricks while catching air from a ramp on their bikes all to a crowd of people watching.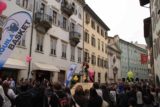 The rain (more like sprinkles) was more on-and-off throughout our tour of the city. I had desires to go up the gondola as I had seen them in the distance on the way back to the hotel, but Julie didn't want to do it. So by 5:40pm, we were back in the room to use the high-speed internet.
We'd eventually Face-time Tahia for the first time in three days. Unfortunately, only one person could be on the network at a time and Julie couldn't log out of her phone connection with the network for some reason so we had to use her dinky iPhone instead of the larger screen on the laptop with Skype.
Our dilly dallying in the room lasted until around 8:20pm when we noticed that it was still somewhat bright outside and the weather looked like it was clearing once again.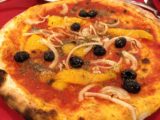 So we went straight to this pizzeria place called Chiste' that was recommended by the receptionist. It was quite busy, but we were seated right away. It was a good thing we came when we did because there were starting to be people having to wait outside for the tables to start clearing.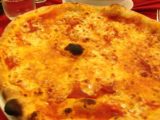 We ended up having a margherita pizza (which was really nothing more than cheese pizza at this place) as well as a siciliana pizza (Sicilian) which was interesting and had flavor.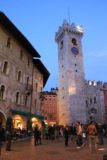 Apparently we realized after the fact that this place specialized in seafood. We saw one person have mussels with the shells on her pizza. But after our food poisoning experience, we weren't going there with the mussels.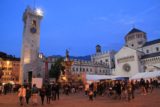 Moreover, Julie noticed that we were the only people eating pizza without using a knife and fork. In other words, we were so used to eating pizza the American way (with our hands) that it never occurred to us that it wasn't the norm in these parts.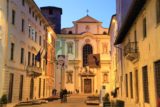 After a short stroll to the happening piazza del duomo, where it seemed like life really centered around this place, we then walked back to the room. And at 9:40pm, we called it a day.
With a very light itinerary for tomorrow, we looked forward to sleeping in, having late brekkie, and even possibly going up the cable car for a view of Trento and the surrounding mountains if the weather holds up tomorrow (we'll see…). And all this would happen before we go to Riva del Garda as well as the Grotte di Varone.