Day 18: LAKESIDE SURPRISES
It was 7:45am when we woke up. Knowing that today was supposed to be a very light day itinerary-wise, we decided to sleep in and ignore our 7am alarms that we forgot to turn off.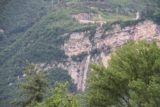 While Julie was getting ready for the day, I took the time to go upstairs to look for a way to get to the roof of the Grand Hotel Trento. I figured there ought to be better views than that from our room.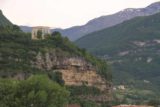 So I did just that and managed to look in all direction around me where I got a sense of where the old historical district of Trento was, where that waterfall was situated (still not knowing its name), and even that mausoleum perched high up on the mountains above the railway station.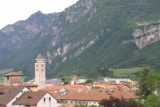 There were also solar panels, a bunch of bus bars, and lots of locked doors up here as well.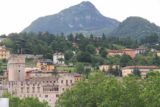 The experience wasn't quite as memorable as the rooftop of our hotel when we were in Athens and could see the Acropolis. Instead, I still had to settle for partial views of the old town, parts of the Castel di Buonconsiglio, and other things with some hideous buildings below kind of ruining otherwise mindblowing panoramas.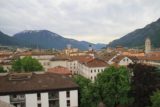 Julie and I then joined the brekkie crowd some time after 9am. And the brekkie consisted of scrambled eggs, bacon, different types of pastries, and even fruits (e.g. sweet pineapples, kiwis, etc.).
This was easily the best breakfast we've had on this trip so we savored the rare quality brekkie before we headed back upstairs to our room to get some last minute packing and internetting done.
During this session, I was trying to see if the web might help me identify the waterfall that we kept seeing right by the city of Trento. Unfortunately, I couldn't find its name anywhere in the literature. However, this search did yield me some other waterfalling ideas since we only had to go lss than an hour's drive from Trento to Riva del Garda.
Well, it turned out that there was another bonus waterfall we didn't consider doing prior to this trip, but then we saw how close it was to Riva del Garda so we decided on going for this waterfall near the town of Tiarno di Sotto called Cascata del Gorge d'Abiss.
So after mnaually putting that waypoint on our GPS, we then got our belongings together, checked out, and got out of the garage at 10:05am.
The first order of business was to hunt down the A22 autoroute, which we'd eventually get on in the southbound direction after a few minutes of figuring out which turns to make and where to get off roundaouts, etc. While autostradas (or autoroutes, which we were accustomed to using when in France last year) were smooth going, the entry and exit points were far and few between (often be at least 20km apart). I guess they had to be strategic about where to put the toll plazas because there'd be no way you can have one of these on freeway exits as frequent as what we have back at home.
So after zooming on the A22, we got off the proper exit near Rovereto, which then put us on a pretty well-used mountain route as we were following a caravan of cars towards Riva del Garda.
Looking over at the opposing traffic, we noticed how long the traffic was on the return. So this would be something to keep in mind tomorrow when we intended to go back this way to get to the autoroute so we could get to Lenno quickly.
Then again, Julie thought it was because today was a Sunday that perhaps tomorrow, the traffic wouldn't be as bad on the way back to the A22.
It didn't take long before we were descending switchbacks towards the town of Riva del Garda. It turned out that there were some beautiful vistas as we were on these switchbacks, but there were either no place to pullover and take panoramic photos of the picturesque town, or the overlooks were too crowded that I wouldn't even have had a prayer to find such a spot to stop the car and enjoy the vistas.
We'd eventually be in the bustling town of Riva del Garda where it felt almost as if the whole city of Trento was here. We knew it was still too early to find a place to park the car while also checking in at this time to so we kept driving as we were now looking for signs that said Valle di Ledro.
As we were trying to leave town, we somehow went southwards and into some tunnels. When I realized that this wasn't the way to Cascata del Gorge d'Abiss, I tried to find a way to turn around, but there were very limited opportunities to do so given the lack of pullouts and the length of the tunnels we were passing through.
After like the third or fourth long tunnel, I was finally able to turn around.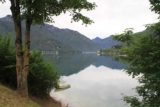 Then, I was able to follow the GPS, which took us up through some tight switchbacks as we were headed to the Val di Ledro. Eventually, we were skirting a small but quite attractive lake called Lago di Ledro, which was actually calm enough to produce some reflections.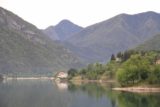 We pulled over into a parking area by Molina di Ledro at 11:30am which allowed us a moment to take some photos of the lake backed by pretty mountains. It was too bad the skies were overcast because I could totally see how blue skies would've really added some color to the scene.
Continuing beyond Lago di Ledro, we were then on our way to Tiarno di Sotto where my last-minute research for Gorge d'Abiss told us to use as the landmark to find the falls.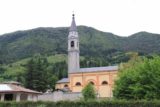 Eventually at around 11:45am, we were passing through the town (on the Via all Sega) and its impressive clock tower attached to the church in town. And we'd eventually find the signs for Gorg d'Abiss as the signs to help lead the way started at Via di San Giorgio.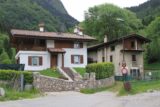 At 12pm, we made it to the dead-end at the end of Via di San Giorgio, and we found an informal parallel parking spot near the cul-de-sac. There was another vehicle with four older Italian people also about to go on this short hike to the falls when we showed up.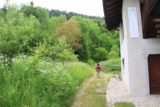 So we walked the short trail between some private residences and some kind of art house (or something like that) before the path was on a more naturesque forest setting. After passing by some abandoned-looking structure and gate, the trail went slightly uphill but was pretty much flat for all intents and purposes.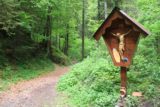 After passing by a shrine, the path then skirted the watercourse that we knew the waterfall would be on. The path narrowed onto a ledge-like walkway right next to the creek, and eventually, it dead-ended at a cove-like grotto where we could see the mostly hidden falls reveal only its lowermost section while there was also a thinner wispier drop falling alongside it.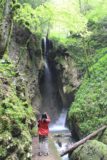 Although the falls itself was pretty small, it was a nice little unplanned diversion. And now that we accomplished our goal of visiting this waterfall, it was time to head back to the car where our hike ended at 12:30pm.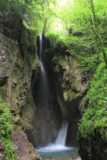 So we now drove back the way we came alongside Lago di Ledro. This time, there were some pullouts where we pulled over to take a few more photos of the attractive lake fronted by some towns and other colorful buildings adding some intrigue to the picture taking.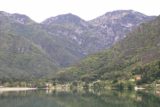 At 1:05pm, we finally made it to the busy car park for the Cascate del Varone. Clearly, this place was quite popular and fortunately there was some spillover parking further down the street from the attraction itself where there were limited parking and I had to back out of there when we realized there were no parking spots closer to the attraction.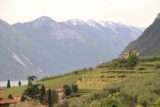 After walking to the restaurant and biglieteria, we paid our 5.5 euros per person and went right past the gate and into the complex.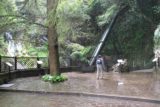 Greeting us in the complex were some gardens as well as signage of the falls. There was also some music accompanying all of this.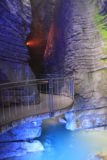 It didn't take long before we were about to enter the lower cave where there was mist flying out of it. We realized right then and there that we probably should've brought our rain ponchos.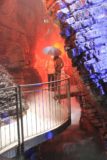 In any case, we allowed ourselves to get sprayed as we went into the source of the mist at the lower cave and made feeble attempts at taking photos and movies of that lower waterfall causing the mist to be blasting out of the floodlit cave.
So with wet clothes and after risking a waterlogged camera in the intense mist, we then continued walking up the ramps through more music and gardens as well as interpretive signage until we reached the upper cave.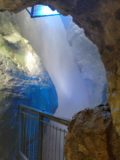 Once there, we had to face yet another intense blasting of mist coming from the taller upper waterfall within the upper cave. This time, picture taking was practically impossible. And even the movie I took once again risked damage to the camera given how crazy the mist that was blasting from the falls was.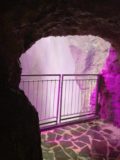 I wasn't so sure even the rain poncho would've helped us much in terms of trying to somehow capture the scene with our cameras, but in any case, we left the cave wet and needing to take some time to try to at least dry off the precious camera itself.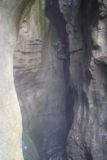 It became obvious why there were hardly any pictures on TripAdvisor showing the falls itself – because it was next to impossible to show the falls!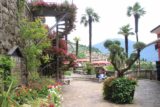 As we left the Cascate del Varone, I actually managed to get perhaps the best photo of the falls that I could get from the road though I was risking becoming roadkill as there really wasn't much space for pedestrians to try to take photos from the road.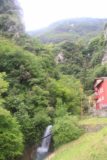 Given the fact that I was the only one doing this probably spoke volumes about the risk I took to my own safety while doing this.
At 2pm, we were back at the car. Next, we drove towards the Monte Oro Car Park which was the nearest parking lot for Hotel Sole, where we were staying for the night.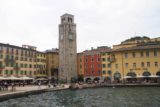 After parking the car at 2:20pm, we then checked in at the hotel 25 minutes later. The hotel then gave us an RFID card that enabled me to park at their own lot for a much cheaper rate than had I kept the car in the public car park.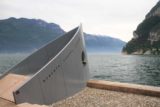 So once we dropped off the bags in our room which featured a pretty view of the lake, I went back to the car park to move the car, and then at 3:10pm, we were finally able to go into town to explore Riva del Garda.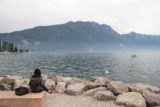 Julie and I pretty much did a short stroll in the immediate waterfront area close to our hotel. We stumbled upon a piazza where there was a stand selling doner kebabs, and we ended up buying a couple of these kebabs for a very late lunch.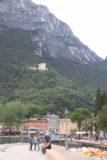 We then took the kebabs over to a jetty where we'd have our late lunch at 3:55pm all while enjoying the gorgeous view of the lake. It was the perfect way to experience the place over a picnic lunch as the sun was trying to break through the thin layer of clouds that persisted over us the entire day.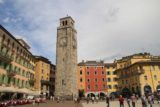 During the picnic lunch, I noticed there was a historical-looking bastione high up on the mountain flanking Riva del Garda. When we were done eating, we went back to the room where Julie decided to stay in the room to do some reading while switched back into my smelly hiking clothes so I could do the 30- to 40-minute walk uphill to the bastione.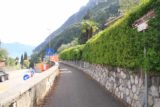 I started the walk at 4:20pm, but I could see straight away that the sun finally did break through the clouds and there were actually sun-kissed colors in my photos of the buildings in the piazza by our hotel as well as along the way up when I started to get views of the town.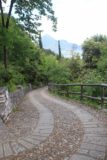 Once I was up at the bastione at 4:55pm, I saw that there was actually a bar as well as a parked vehicle. I don't know how the vehicle made it up here considering how steep and narrow the walkway was, but I guess if you're running this bar and hauling up supplies, you must be used to driving this path.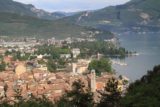 I tried to get inside the bastione, but it appeared that only the lower section was allowed. They gated off the upper levels of the bastione. So I pretty much spent some time just trying to take in the views.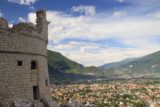 I'd eventually be joined by some mountain bikers (whom I think were Swedish-speaking dudes) as well as a group of German-speaking elders.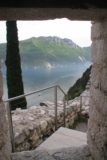 As the shadows were growing with the lowering sun, I decided to head back down into town at 5:10pm. And by 5:35pm, I rejoined Julie in the room where I took an early shower to get cleaned up.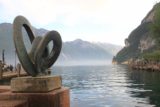 At around 6:30pm, we headed back into town to do a little touring of the main center of town. That was where we saw more shopping arcades and alleyways that have now become pretty standard in just about every town we've visited.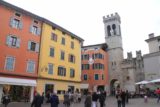 In addition to some of the more familiar blocks that we visited mostly along the waterfront, we also walked a little more inland just to see what else Riva del Garda had going on.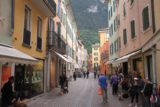 However, after exiting beneath a separate clock tower that also doubled as an archway entrance, there was another intersection acting as a pseudo piazza and we went no further as we started to see more ordinary-looking streets though the shopping arcades kept going on in all directions.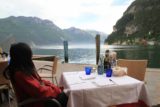 We'd eventually settle on eating at the restaurant on the waterfront where we once again got to enjoy the views of the lake as the light from the sun had already faded behind the imposing mountain to our right.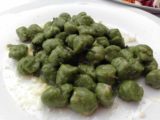 The food was OK as we tried to sample something different than the typically Italian pastas and pizzas we were used to having throughout this entire trip. We knew this place was more about the views than the food so that was kind of expected, I guess.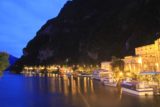 At 8:35pm, we were finally back in the room where we called it a day. Riva del Garda was an excellent start to the Lakes part of our trip, and tomorrow, we were going to make the long drive west to Lake Como. We'll see how that place compares to Riva del Garda, which turned out to be quite the hidden (or at least surprise) gem of this trip so far in much the same way Annecy was that hidden gem to us in France last year.