Day 19: THE FIRST SHORTS DAY OF THE TRIP
It was 7:15am when we awoke. Since we had slept late last night, we didn't particularly feel like peeling ourselves out of bed, but we knew we had a bit of a drive ahead of us towards Lake Como, and we intended to at least visit Bellagio, which was a small town right at the crease of the Y-shaped lake.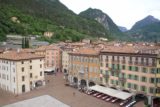 We spent the better part of the next two hours having breakfast (similar in quality to the one we had in Trento though it had slightly less fruits and selection. I also took the opportunity to go up to the roof of the Hotel Sole for some more panoramas of the general Riva del Garda area.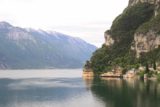 It was nice and quiet up at the roof of the Hotel Sole. I was thinking of that Drifter's song "On The Roof" while I was up here snapping photos of the scenic Lago di Garda as well as some of the mountain scenery backing this attractive town.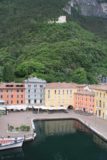 It was amazing how quiet Italian towns get in the morning, but I knew that in another hour or so, this place would be bustling once again.
At 9:15am, we finally were in the car and were on our way out of Riva del Garda.
In the back of my mind, I was hoping for that Rivendell (a Lord of the Rings reference) shot that we saw on the way into Riva del Garda from Trento via the A22 autostrada, Unfortunately, we couldn't pull over at the time because it was just too packed with cars at the viewpoint and I couldn't just halt traffic on the main thoroughfare. So I thought we might try to go back there on the way back to the autostrada (instead of doing what the GPS was trying to get us to do by going along the west side of Lago di Garda to rejoin the autostrada headed to Milan).
Unfortunately, the signage was a little confusing as I didn't know we were supposed to go through the Riva centro, and so we were on the outskirts headed back towards the main route connecting us to the autoroute bound for Modena and Rovereto. And when we did hook up with that main route, I realized that the view was headed back towards town and we joined the route further uphill from where we'd get that view.
So rather than make another U-turn at a roundabout, we just decided to go straight for Lago di Como on the Lenno side, which was where we were going to stay next. I knew it was going to be a long drive so we just kept going (knowing that I might regret deciding not to try to get that view of Lago di Garda looking like a fjord).
The drive on the autoroute was pretty uneventful (as they usually are) though it was a bit expensive to go all the way towards Milan before heading north on a pair of different autoroutes. We'd ultimately pay a couple of more tolls on the A8 and A9 autoroutes before we left the highway not far from the Swiss border (where there was a bit of a traffic jam) and very close to Como.
We didn't realize this, but it appeared that Como was very built-up and was practically a full-on city by the lower left tip of the upside-down Y-shaped Lago di Como. We kept driving on the road hugging the western shores of Lago di Como, but we didn't find any stops (or didn't have the mindset to do it) to try to photograph the lake with the imposing town of Como in the background.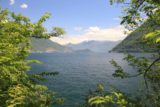 As we were driving north on the narrow two-way road, we noticed that the sun was definitely out and the weather was warm. Julie and I thought this could very well be the very first day of this trip where we were determined to use the shorts we brought on this trip. It had previously been so cold and wet that shorts simply weren't practical.
We'd ultimately make it to the town of Lenno at 1:05pm. Fortunately, the Albergo Lenno was on its own lot with dedicated parking for hotel guests. So that alleviated one source of concern for us regarding the parking situation.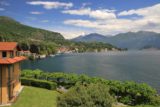 And by 1:20pm, we were checked into our room, which had gorgeous views of the lake. In fact, the skies were so blue (with patchy clouds here and there) and the sun was out in full force that our photos instantly reflected the increase in color of the scenery. Julie and I honestly couldn't recall the last time we had this much sun during the day since the Amalfi Coast.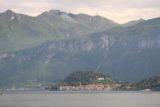 After we got settled in, at 1:45pm we then went downstairs and onto the boat dock in our shorts and short-sleeved shirts. Indeed, it felt pretty warm and we actually had to put on sunscreen to ensure we weren't getting burnt.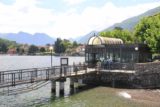 Since we learned that the villa that was featured in Star Wars Episode II (Villa del Balbianello) wasn't open today, we had quite a bit of time to check out Bellagio on this day.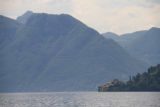 The next boat for Bellagio wasn't until 2:10pm. So we bought the slow boat, which costed just under 20 euros for the two of us on round-trip tickets. The boat ride was said to be 30 minutes so we knew that when we'd get to Bellagio it would probably be during their siesta.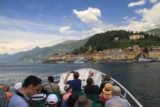 Anyways, around 2:45pm, we finally were in Bellagio. The first thing we noticed were a bunch of pricey restaurants and cafes on the marina facing the boats and docks (one of which we had to disembark on). And so as we ambled along the marina, we were looking for a place to have a late lunch since we hadn't eaten lunch yet.
As we were ambling about the marina area, we started to notice there were some charming alleyways with stairs. And after seeing two or three as we continued along looking for a place to eat, we started realizing that it were these narrow arcades that were the draw of Bellagio.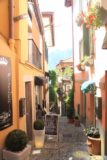 These alleyways were flanked by other cafes, restaurants, and shops (just like most other outdoor shopping arcades we've come to know in every town we've been in throughout Italy).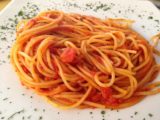 Julie and I eventually settled on this "glam hotel & bar" where they claimed that their kitchen was always open. Since we looked at others whose kitchens were already closed until dinner, we just settled on this spot for some margherita pizza and a spaghetti pomodoro (tomato). It was pretty standard stuff, but at least we were fed and they took credit cards, which helped with our dwindling cash supply.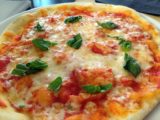 I guess by this point, Julie accepted the fact that Italians weren't as generous with their sauces in their spaghettis as she was used to. Regardless of whether it was ragu, bolognese, pomodoro, etc., there really wasn't much of a concept of sauce as they'd use ground meat in their ragu or bolognese, or just fresh cherry tomatoes for their pomodoro. And that was it. Meanwhile, the pizza was pretty much cheese pizza and despite the menu saying there was basil on the margherita pizza, we actually had to ask for it when it came out without it.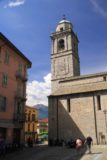 After the lunch, Julie and I explored the town a bit more as we continued up the arcade that contained our lunch spot. And when we reached the top of the stairs, we noticed another bell tower. However, when we got to it, it appeared that there wasn't a real piazza here (or at least one that wasn't being used as a car park as this one was).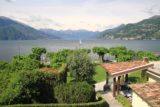 And as we continued walking, we saw that it didn't take long before the interesting arcade section of town was over. But we continued walking anyways as the road gently descended towards a place called La Punta (the point).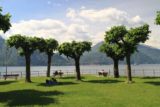 Even though there was a restaurant and bar here by the same name, we walked onto the public jetty where we could see there were views of Lago di Como looking north towards Switzerland as well as parts of the two branches of the lower rungs of the upside-down Y.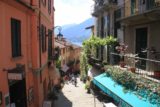 The photos looked a bit flat when faced with long expansive scenery like this so we just took a few people shots, then walked around the small park with a lawn and trees, and then we walked back towards the upper arcades of Bellagio.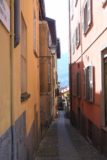 After getting to the other end of the upper arcades, we then picked one of the wider and more attractive narrow alleys with stairs as we pretty much concluded that we had our fill of Bellagio. And indeed, it seemed there really wasn't much to this town besides the arcades and shops, but without that quintessential piazza that acted as the center of the town, there was certainly a dead feel about this place.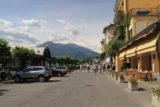 When we got to the bottom, we headed straight for the boat area to inquire about the boat ride back to Lenno. Meanwhile, there was some kind of photo shoot going on where a couple of well-dressed people in bright colors were posing for cameras and one guy managing a big flash device.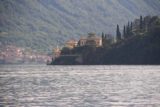 I guess that kept us entertained somewhat as we waited for the 4:10pm boat. And with a 10-minute delay, our boat back to Lenno finally showed up.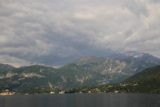 By 5:15pm, we were back at the Albergo Lenno where Julie and I did some internetting in the lobby area (including a Skype call to Tahia, who at this point seemed more interested in doing her thing with the iPad instead of talking to us). Clearly, she was getting away with murder in terms of getting spoiled rotten by the grandparents, but we can't really say anything since they were enabling us to take a trip like this.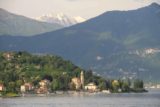 We'll just have to reset the rules and bad habits when we get back. Since Julie and I were missing her dearly, the desire to hold her, hug her, and kiss her again was very strong. We still had at least three more days left on this trip, but we were already feeling homesick for her.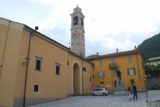 At around 7:15pm, we walked along the waterfront looking for a place to eat. The receptionist recommended Hosteria Plinio, which had local specialties. Unfortunately, they only took cash so even though we decided on eating here to be close to the view across Lake Como as well as having fresh local stuff, we knew that we would be under 100 euros left by the end of the meal, which we were hoping would last us the remaining three days.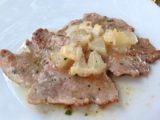 Julie ended up getting some kind of veal with lemon while I got some local lakefish. They ran out of the trout, which was my first choice. By the way, that fish was another test of our stomachs since we suspected it was seafood that did us in earlier in the trip, and this was the first seafood we would try again.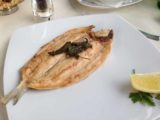 In any case, it wasn't a cheap dinner (for a cash only place), but we came here for the minimal hassle (it was close to our hotel) and the view.
At 8:15pm, we were back at the room after having pretty good gelatos from the Gelato Factory (La Fabbrica del Gelato). And that was pretty much the end of today.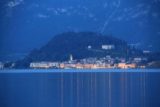 It turned out to be a pretty relaxing afternoon as we really had no pre-determined itinerary, it was warm enough to be a shorts day, and we had a plan for tomorrow to see the Star Wars villa while also heading up to Locarno for our lone night in Switzerland.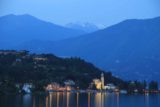 We know that tomorrow promised to be the waterfall highlight of the trip at Foroglio, but we'll have to see whether the weather will cooperate as we could see some dark clouds getting bigger and then dissipating somewhat as we got into the twilight hours.
So it would be a bit of a busier day tomorrow. Perhaps today's slower-paced day to really live la dolce vita would pay off for the rest of this trip…