Day 20: GETTING OUR STAR WARS ON
At 7am we awoke. One look outside and we could see that there were some clouds brightened by the early morning sun. However, there were darker and thicker clouds looming nearby above the mountains flanking Lake Como, and it appeared that they were heading the wrong way (i.e. towards us). That wouldn't be good for the Star Wars Villa (i.e. Villa Balbionello) if we wanted to take photos with sun-kissed colors.
So after having breakfast (pretty decent pastries at this place with croissants that Julie thought were comparable to what we had in France), we then killed some time in the lobby after checking out and putting our stuff in the car. After all, we had until 10am when the Villa Balbianello would be open.
It was easy killing time at the lobby because the Wi-Fi signal was the strongest down there. So we spent time uploading photos to the Facebook account while Julie was also reading up on the latest from her e-novels.
It wasn't until 9:30am when we finally left the lobby and started to walk the 1km path straight to the famous villa known for being a location of Star Wars Episode 2 scenes with the wedding and some other Nabu-related scenes involving Natalie Portman.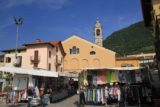 The first thing we noticed when we walked out of the hotel was how crazy the parking situation was right in front of the hotel. Then, we quickly saw the reason for the congestion as there was an outdoor market going on all along the street on the waterfront.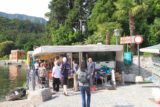 This took us by surprise and totally contrasted with how dead Lenno was yesterday. Perhaps it was no coincidence that they had these bustling markets on a day when Villa Balbianello was open (said to be open only on Tuesdays and Weekends). I guess it was a good thing we were flexible enough with our plans to delay our leaving Lenno for Locarno so we could get our Star Wars on..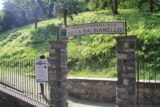 The market stalls were set up right on the street and part of the pedestrian walkways. There really wasn't a whole lot of real estate to walk through as we were weaving between people browsing and others just tending to business or even chatting and having a smoke. It was as if it was by design so you'd slow down and really pay attention to what was on offer at these markets.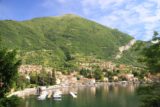 We'd eventually get past the mayhem when we started following the signs which led us through a couple of gates and a few switchbacks as the path went uphill. While we were climbing the path, we could look across a bay-like part of Lake Como towards Lenno as well as in the distance in the direction of Bellagio.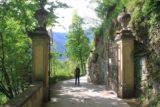 We were following a large group of schoolchildren (probably on a field trip to Villa Balbianello), and we'd eventually get to the biglieteria at a little after 10:05am. Just when we arrived at the villa, it seemed like the sun was concealing itself behind the thin layer of upper clouds that stubbornly remained and kept th sun's warm light muted.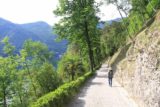 It was too bad this place wasn't open yesterday afternoon when the weather was gorgeous.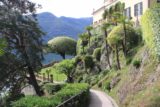 Anyways, we paid in cash our admission fee, and then headed right into the garden area where we went straight down into a terrace area with a mushroom-shaped tree as well as some statues perched atop some pretty concrete railings adorned with flowers.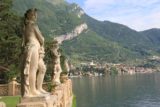 Julie thought there must have been a Star Wars scene shot here, and I honestly didn't recall exactly when and where in the movie this particular spot was used. Still, we imagined ourselves pulling a Padmei and Annikin and took photos freely to try to somehow capture the elegance and extravagance of this isolated and upscale villa's gardens.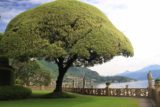 Next, Julie beckoned me to pass through the villa and onto another terrace with a small pond with plenty of shade as well as more flower-adorned railings as well as a statue or two perched atop the railings.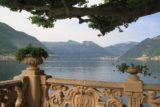 From this spot, we could look across Lake Como towards other towns and developments across the lake on both sides. However, I didn't think we could see far enough towards the city of Como on the far lower right tip of Lake Como.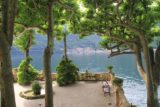 We met a British couple where (upon learning that we were from Los Angeles) the husband told us that he worked for a few years in Cypress, California. We knew the streets he was talking about, and indeed, it felt like a small world.
Anyways, we helped each other take couple shots of each other. And then we went our separate ways.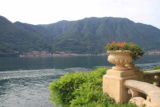 Next, we went down to a lower terrace where there were some more benches and more adorned railings. There was what appeared to be someone with a name tag just chilling out down here so we spent a few minutes here before we left her in peace.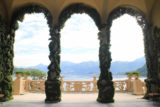 Then, we walked back up some steps (upon seeing that the villa door was now closed so we couldn't cross back the way we came), and we noticed there was a building with arches as well as panoramas on both sides.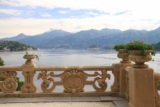 I was pretty positive that there must have been a Star Wars scene shot somewhere around here. And even though the sun's light remained muted, we still got pretty decent shots with the arches and landscape by playing tricks with the DSLR camera (though Julie's iPhone couldn't do the same as it seemed to be very bad at letting you select the subject and control the lighting exposure).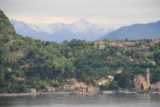 By about 11:05am, we finally left Villa del Balbianello. Now, we could totally see why they filmed Star Wars (and apparently Casino Royale as well) in this villa. It was definitely beautiful, and it was certainly worth the trouble we took to make it here.
As we were walking back through the bustling marketplace on the waterfront, we noticed some big and sweet-looking cherries, so we spent a little more cash to pick up those cherries, and then we were finally at the car at 11:45am.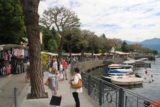 Julie was eye-ing some table cloths as well as possible clothing to buy for Tahia. However, the prices of the merchandise just didn't seem to be justified as we could easily go to Target or some other chain store back at home for much cheaper than any artigianale products in Italy.
So at that point, we drove off.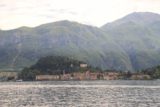 We rebelled against the GPS, which suggested that we return to Como and then take the A22 to the Swiss border. So we continued north as we passed through the town of Tremezzo while also making a few random stops to take in more lakeside views from the town's waterfront.
After going up some switchbacking mountain roads, then passing through a series of tunnels, we went through a pretty loose Swiss border patrol where we were able to get across without much hassle. Sometimes I wonder what they're looking for in order to warrant pulling someone over for additional checking.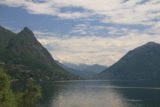 At 12:30pm, we were in a TamOil gas station for some benzina (i.e. Italian for unleaded petrol). After filling up the car, I then went to the restroom on the facility, and that was when I noticed that the toilets were besides a very scenic terrace with nice views of Lake Lugano. I swore this might have been one of the most scenic gas stops I had ever made!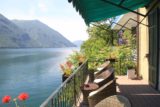 After taking a few shots under the sun from this terrace, we then continued heading north into the town of Lugano itself (where on the lake, there was a large mounded mountain that essentially reminded us of Rio de Janeiro (even though we had never been to Rio before).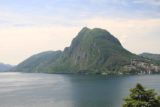 We then followed the signs as we passed through town. And I had to get over adjusting to the Swiss system as yellow lights preceded both red lights and even green lights. Moreover, the speed limits seemed to be 10km/h slower than that of Italy. So if we expected 130km/h, it was 120km/h. If we expected 110km/h, it was 100km/h. Even the 90km/h became 80km/h and the 70km/h became 60km/h. The only speed that seemed universal for built-up areas was 50km/h.
I had this strange sense of deja vu as I had to make a similar adjustment when we were driving in Switzerland for a day on our France trip last year.
Before long, we were back on the autostrada and we'd follow this non-tolled highway through a few more tunnels and pockets of hot sunny weather before we got off somewhere east of Locarno. We then had to take a pretty long drive on rural streets and roundabouts as we were in the midst of a long train of cars probably aiming to go to Locarno or something.
Anyways, as we were weaving our way through the city, we could tell right away that Locarno was indeed a big town as well as very modern. We couldn't see anything immediately obvious where we could say we knew exactly where the centro storico was or what other happening spots around town existed.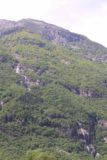 We'd eventually get to the Hotel Ibis Locarno at 1:40pm, where we put our luggages into the room, and then we were ready to be heading out with a significantly lighter load to carry. However, we were forewarned that parking on the premises might be difficult because the lot downstairs was full and the lot immediately before the lobby was prone to be full as well.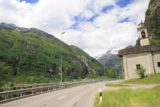 So at 1:55pm, we left the Hotel Ibis locarno and drove straight into Valle Maggia. Then, we followed the signs for Bignasco.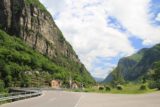 It turned out that there were some interesting waterfalls seen on the drive alongside the route taking us to Foroglio. So Julie and I used some of the informal pullouts or parking spots to get some shots of a cascade near Cevio as well as another one by the town of Bignasco.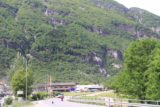 We made a brief stop in a couple places to try to photograph the Cascata near Cevio. We weren't sure if it was significant enough to warrant a name, but it was interesting nonetheless (albeit thin).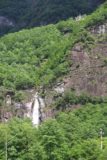 For the Cascata di Bignasco, at 2:45pm we took a turnoff that looked like it was heading closer to the falls, and our hunch was correct as we found a little parking area and walkway that took us right to the base of Cascata di Bignasco.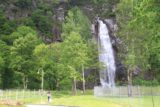 Julie and I took what photos and movies that we could of this waterfall, which I understood would be typically dry due to regulation. But on this particular day, it was flowing quite well.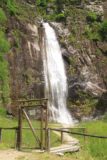 There was also a gate before the falls, which we opened so we could get very close to the base of the falls. I couldn't tell if the gate was meant to keep livestock in or out of the falls area, but it turned out that there was no lock on the gate.
Thus, I presumed this gate was largely asking tourists to keep the gate closed so no livestock could get in or out of the area.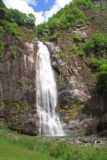 As we were busy taking photos, we also noticed how hot it was at the falls. I believe the car's thermometer indicated that the temperature was around 26C. And on a trip when we were used to temperatures below 20C, this was turning out to be yet another shorts day.
After having our fill of Cascata di Bignasco, we then continued on as we were now following Val Bavona signs (instead of Bignasco signs, which we were following earlier).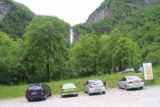 The roads were narrow pretty much throughout as we passed by a handful of hamlets (including another waterfall just as we were passing through Mondada before finally reaching the hamlet of Foroglio and the impressive waterfall overlooking the scene (at 3:10pm).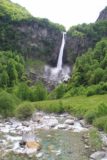 I guess it was a good thing the clouds were out because we were pretty much looking right into the sun whenever we looked directly towards the falls.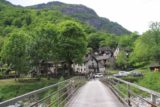 Julie and I took a few people shots with our tripod as well as hand-wielded shots of the waterfall as well photos from within the charming hamlet as well.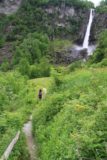 As we were busy taking a plethora of photos and movies from both the bridge and the punto panoramico path (which was flanked by beautiful wildflowers), I couldn't help but wonder how I recalled one person took a Webshots photo of this waterfall but from a perspective that was a lot higher than where we were at.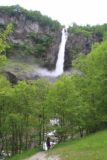 And from what I could tell, there wasn't a hiking path that would've taken me higher up the valley wall opposite the waterfall for a better elevated view of the falls and its mountain context. In fact, there was a boulder field containing some pretty giant rocks so that led me to believe that the Webshots that was etched in my memory of the Foroglio waterfall were pretty much bogus (there was no way we'd risk our lives scrambling up that boulder field for that shot).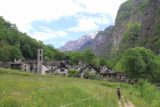 When Julie had her fill of the waterfall, she headed back to the car. However, I decided to keep exploring beyond La Froda Restaurant.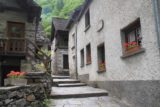 As I was exploring the hamlet of Foroglio, I noticed there were signs indicating that the falls was another 10 minutes away!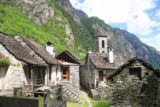 How could it be that Julie and I didn't have to walk 10 minutes to see the waterfall and yet there was another path through town that would take another 10 minutes more to get to?
Anyways, I went ahead with the walk, which steeply rose behind the Foroglio hamlet.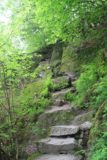 As I eventually made it to the base of the main plunge of Cascata di Foroglio, it was very misty and difficult to go all the way to the end of the trail, which was right besides the turbulently spray-assaulted base of this tier.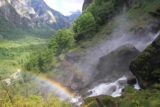 I took what movies and photos that I could, but just as I was about to leave, the sun came out and I noticed there was an attractive rainbow at the base.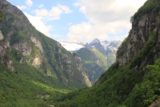 There was also a nice panoramic view of the sharp V-shaped valley backed by snowy mountains as I looked downstream from this misty spot of the trail. So indeed, I thought it was well worth the effort to get to this alternate view of Cascata di Foroglio.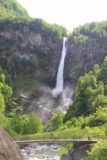 When I got back to Foroglio, I decided to investigate the immediate area to see if there was indeed a more formal trail that might take me higher up the opposite side of the Val Bavona for that more contextual view of Cascata di Foroglio.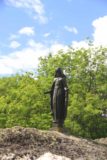 But all that effort yielded me was some statue of a madonna in offering gesture perched atop a large boulder by the road near Foroglio. Indeed, I couldn't see any trail or something worth paying attention to other than some sketchy-looking boulder fields that would need to be scaled to go high enough above the tree line to get that view of the falls that I recalled seeing in Webshots. I just felt that there was no way that was going to happen on this trip as tempting as it might have been.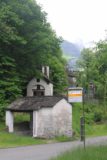 Eventually at 4:25pm, I returned to the car and the awaiting Julie. By this time, I had given up on looking for that Webshots view (or at least a somewhat safer way to achieve that view by hoping there was a trail to get up above the tree line).
On the way out, we tried to get a better look at the impressive cascade by the town of Mondada.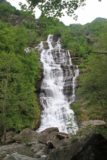 We parked next to a bus stop, and then I walked down an obvious path until it appeared to reach the front yard of someone's property. So I took what photos and movies that I could of this waterfall (which I'll call Cascata di Mondada) before heading back to the car and now continuing on to Locarno in earnest.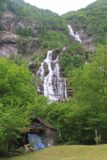 I had mixed feelings about mentioning this waterfall since I'm generally uncomfortable with trespassing to access a waterfall. And I was a bit surprised that there wasn't more infrastructure to at least steer tourists towards a view without having to intrude on someone's property.
Anyways, after Mondada, we drove towards Locarno. However, on the way out, we tried to see if we could get a closer look at the waterfall by Cevio. So far, all the views we had of it were rather distant. Perhaps there was a more sanctioned way to get closer to this tall and intriguing but thin cascade that we noticed from the road earlier on.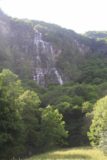 The best we were able to achieve was a rather ho-hum view after taking a small road that led us as close to the base as possible. However, there were no official stops or pullouts and we pretty much blocked a small rural road to take a photo of just the bottommost tier of the falls.
Since we had driving a fair bit on the narrow rural roads to get this view, I didn't feel like backing up for a long distance to regain where we made the detour in the first place. So against Julie's wishes, I went ahead and went forward knowing this road would eventually swing us around and back to the main road again (at least that was what I assumed).
Julie didn't like my decision and she let me know about it throughout this detour. And while all this tension was in the car, there was a lady who was pulling out of her driveway but didn't see us. She nearly hit our car as we both stopped just in the nick of time.
I could see in the opposite car that the lady was terrified that she nearly hit us. She gave a relieved expression then put her hands up to essentially gesture "I'm sorry." However, I thought nothing of it and insisted that she go ahead and keep driving in front of me. I figured she knew these roads better than me so why not let her take the lead.
And so we'd eventually make it back to the main road (albeit in a rather roundabout way), and while Julie also freaked out about my decision that she said was why we almost got into an accident with the rental car, it eventually became water under the bridge as I just concentrated on the road and tuned out the backseat driving.
By about 5:45pm, we made it back to the Ibis Hotel in Locarno. There was a bit of a traffic jam in town to get to this hotel, but in the end, we made it just fine. However, inside the hotel, it appeared that there weren't any available sanctioned parking spots (just as we had feared earlier). So we just parked on the far right side of the small lot and hoped that would be kosher with the hotel.
We spent some time using FaceTime with Tahia (as Skype kept dropping for some reason). We could see that she tried to impress us with being able to identify different shapes and colors on this videoconference call. We really couldn't wait to get home and be face-to-face with our little precious after all this time away from her.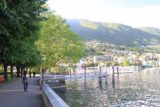 It wasn't until about 6:55pm when we finally returned into town looking for dinner and perhaps a little twilight exploration of the interesting parts of Locarno. Plus, we decided to go down into town in shorts since it was yet another warm and sunny day.
So at first, we walked along the waterfront until we found a restaurant called Sensi. Since the receptionist recommended it (which was also corroborated by TripAdvisor), we went ahead and ate there. The important thing was that they took credit cards since we didn't have Swiss Francs.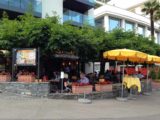 However, the place was very pricey. We knew that eating here would hurt, but then again, they had quite a bit of fusion stuff on their menu so we welcomed the change in cuisine since we were already getting too saturated with Italian food on this trip.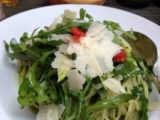 As we were eating dinner, it dawned on me that even though we were in Switzerland, this place felt like we were still in Italy as the predominant verbal language was Italian and the signs were mostly in Italian. So I found it quite ironic that we were in a part of Switzerland that spoke more Italian than the Alto-Adige region of Northeast Italy where German was predominantly spoken.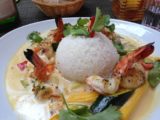 Anyways, our dinner consisted of 1L of water, a salad, a Thai curry with prawns, and a pesto spaghetti. It was a pretty typical Italian fusion dinner we thought, but then we saw the bill for 82 Swiss Francs (probably close to $100 USD), and we knew that this wasn't a cheap dinner by any stretch of the imagination!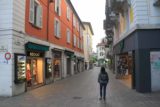 At 8pm, we were done eating, and then we decided to walk from the waterfront towards the Piazza Grande and the historical center of the city.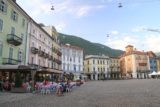 It didn't take long before we reached the wide open cobblestone Piazza Grande, which was surrounded by colorful buildings with some cafes and restaurants lining the piazza. However, this place seemed dead and it was nothing like the bustling happening piazzas encountered throughout Italy.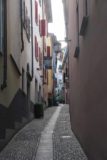 As we were strolling about the quiet piazza, we then found a Bellagio-like sloping arcade. However, this alleyway was also quiet and dead, and it made Julie a little uneasy about exploring such narrow quarters (even if it was Switzerland) when it was dead and getting dark.
After a few minutes of seeing what the Centro Storico was all about (and from what we could tell, there wasn't much to see), we then went back down into the piazza and eventually back to the Hotel Ibis Locarno.
Julie kind of hit the nail on the head when she described Locarno as very business-like and modern, and it was probably for that reason that it lacked the life and charm of Italy's towns.
When we were back at the Ibis at 8:45pm, we asked the receptionist if it was OK to park where we had left the car for most of the day. However, she said that spot was meant for bikes. So we had to leave the Ibis lot and look for parking on our own.
She did say that we might be able to find street parking, which would be free for the night until 8am. So as long as we were out of here by 8am, we should be able to save ourselves 16.2 Swiss Francs!
The worst case scenario would be to park in the covered car park at Stazione Centrale at the same 16.2 Swiss Francs for the night. And given how expensive everything was in Switzerland, we weren't going to mess with that.
Anyways, we found parking just under a couple of blocks away. Sure enough, the sign at the meter said that the fees only applied between 08:00-12:00 and 14:00-19:00. So we were good.
And at 9pm, we were finally back in the room. So much for seeing Locarno at night. At least tomorrow, it would be our last day of driving as we head into Milan. I'm sure there would be a bit of a night life and atmosphere over there as opposed to Locarno…