Day 21: THE LAST SUPPER
It was 6:30am when both Julie and I awoke. I guess with the sense of urgency to get to our car before the 8am enforcement of street parking takes effect plus the logistics of staying by the Malpensa Airport in Milan with an evening flight tomorrow, there were certainly things on our minds that we were preoccupied with.
One look out the window of our hotel in Locarno showed that there were much more clouds over the mountains surrounding the north side of Lake Maggiore than yesterday's beautiful weather. So whatever aspirations we had of taking beautiful pictures while driving along the west side of Lake Maggiore were probably dashed. Instead, it seemed like we'd be back to the same old overcast days with the threat of rain.
With no breakfast, we were packed up and ready to go in an hour. During that time, we discussed some of the possibilities regarding the complicated logistics we forced ourselves into when planned out this part of the trip. I guess this is what happens when you assume you need to fly from Milan to Rome while assuming there were convenient train or shuttle services between Malpensa and Milan. The problem was that flights tend to be inflexible, and so tomorrow's evening flight will mean tomorrow would be a day of probably doing nothing other than to wait out our evening domestic flight.
We actually thought about a couple of options to see if we could tip the logistics in our favor even if it might cost us a little more money. Option 1 was to get to the Malpensa airport and talk to the Alitalia ticketing office to see if they could change our flight to something earlier in the day so we'd be chilling out in Fiumicino with convenient access to Rome Termini Station instead of waiting in Malpensa all day long tomorrow.
Option 2 was to just swallow the cost of the domestic flight and ditch it in favor of taking the train from Malpensa to Milan Central, and then from Milan to Rome, followed by a train from Rome to Fiumicino. We'd have to see what the costs and time logistics would be for that, but in hindsight, we really should've stayed in Milan Central today, then take advantage of the convenience and flexibility of the high-speed train service.
Of course, the last option was to just do nothing at all and just swallow the fouled up logistics we put ourselves into (caused by perhaps overthinking the last part of the trip). But in the mean time, the plan was to drive all along the western shores of Lake Maggiore while stopping in Cannobio as well as any photo stops that might catch our eye while driving along the lake.
By 7:35am, we were at the car. No ticket. No tire boot. Saved 16.2 Swiss Francs. At least something good (that wasn't outrageously expensive or dead) came out of our limited time in Locarno.
So we drove out of the quiet streets of Locarno (though the traffic and activity was picking up), and we were on the narrow highway following the western shores of the lake as expected. It didn't take long before we crossed back into Italy (so no more yellow lights preceding green lights or funky 10km/h less speed limits).
When we got past the border, we saw there was a huge line of trucks going the other way (but not moving) as they were waiting their turn to get into Switzerland. I wasn't sure what that was all about, but it sure looked like it would be tough to get into Switzerland if you were just driving on your own and you found yourself behind the huge queue of trucks that wasn't moving!
At 8:10am, we followed our GPS towards the L'Orrido di Sant'Anna (which was a church with a waterfall according to some web descriptions as well as our DK book). We'd get there after passing through the center of town, then taking a signed route that was pretty much 40km/h (with some radar traps) the whole way on the southern end of the Traffiume Gorge.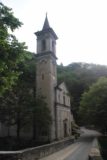 The last turnoff to get there was a bit confusing as there was a brown sign that pointed left but it wasn't clear whether we should've gone straight or taken the narrow descending road on the right. At first, we went straight, but then it appeared that the road was taking us away from the church. And we'd eventually make the sharp turn to get down on the way we didn't take.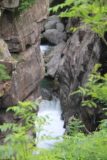 It was a narrow single-lane road, and I saw someone going up the road from my higher vantage point so I waited for her to pass before we made our way down to what appeared to be a car park right besides the small church of L'Orrido di Sant'Anna.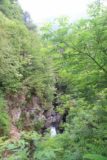 The church was said to be 14th century, I believe, and there was also a medieval bridge next to it. We could hear the sound of rushing water, but we couldn't see a clean view of a waterfall from anywhere around the church.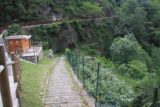 I did notice some cascades on the main stream below, but it looked like I had to get into some bar that wasn't open in order to see more of the cascades. In any case, I had to settle for a partial view of the lower tier of the cascades, which might be nothing more than rapids. It really wasn't clear to me if that would've been the waterfall that was being talked about.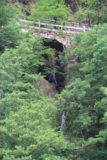 Then, both Julie and I went down a path to the rocky "beach" besides the Traffiume Stream with some reflective waters fronting the dark gorge while being overwatched by the church above all the action.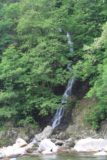 I could see there was a small waterfall besides the road bridge as well as another one that was a bit more substantial but covered up in foliage further downstream. Indeed, I got the sense that this place was more of a quiet swimming hole than waterfall attraction.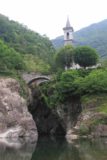 So based on what we saw, it looked like the literature oversold the waterfall attraction here. But if anything, it was really an excuse to see the church and perhaps for us to talk about the Lake Maggiore or even Lake Lugano and Lake Como on our website.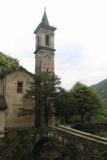 At 8:40am, we were back at the car. We then drove back towards the main town of Cannobio where we then went looking for public parking, which we found at 9am at a euro an hour very close to the old town center.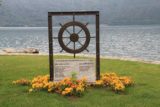 With the overcast skies and the rather quietly dead feel of the place (mostly because we were too early), we probably didn't go into here with the same kind of attitude employed when we were visiting places like Florence, Siena, Venice, or even Trento. So given that, we only put in one euro in the machine so we had an hour to get back to the car, which I hoped wouldn't feel too rushed.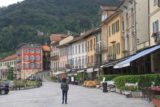 Nonetheless, we immediately headed downhill towards the waterfront where we saw that the immediate area was actually pretty charming with a church at one end and a bunch of colorful buildings fronted by cafes and restaurants stretching until an ascending walking path led into a different walking street containing some charming arcade of shops and restaurants.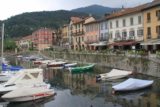 Given the dead feel of the place due to how early we arrived, it felt like the atmosphere was missing, but we could totally imagine this place would be bustling later in the day.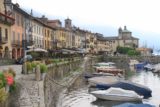 In the mean time, we meandered around Cannobio letting the charm of the place slowly sink in to us.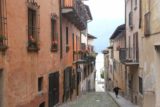 We'd eventually go north of the town's main cobblestone section of road cutting through town, and then continue walking up the arcade as it was now towered over by a bell tower.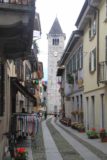 Ultimately, we'd reach a point where the arcade stopped being interesting, and this was our cue to turn back.
So we went back down the same route we took to get to the turnaround point. And by now, the main road was a bit busier than before, more restaurants and shops were opening their doors, and we were starting to see a few more people on the charming pedestrian-only streets of the old town.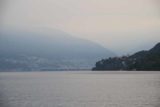 When we returned to the waterfront, we saw there were a bunch of people waiting to board a boat. Apparently, there must've been some places to explore or visit throughout Lake Maggiore in much the same way people boat across Lake Como or Lake Garda.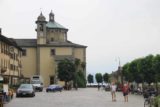 However, in our case, we just returned to the car at 10am and proceeded to continue driving along the western shores of Lake Maggiore.
For the next hour or so, the drive was pretty much more of an experience than a photo-taking tour. Even when we saw some attractive parts of the lake, the pullouts or sanctioned viewing spots were limited and not signposted. So we only had mental pictures of what we saw, but no photos to prove it.
In any case, the skies were hazy and the clouds were persistent despite there being some sun when we got closer to Stresa.
We did see there was an island that was known for having a fancy villa there (perhaps Lake Maggiore's version of Balbianello on Lake Como), but we just kept following the signs for Milan.
At some point, we perhaps followed the signs a bit too closely because we left the lakeshore drive somewhere before Stresa and then ended up on the autoroute, where we'd ultimately zoom our way through several tunnels and then ultimately to the Malpensa Airport at 11:35am.
At first we went to Terminal 2 not sure which car park we were supposed to be at.
The attendant for Europcar told us we should be parking in terminal 1 since it was apparently not convenient to get between the two terminals.
So we did what the attendant said and went to Terminal 1. Fortunately, the parking for rental car returns at this airport was far easier than it was for returning the car at the airport by Firenze.
So by around 12pm, we were finally free of the car and we took our luggage into the airport where it was now time to see how our logistical options might work out.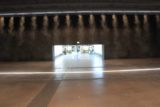 So we first acted on option 1 which was to try to change the flight time from evening to morning tomorrow. And after a bit of walking around the airport and going back-and-forth through that "magic portal" (which was nothing more than a large empty room with some floor lighting and some mist being blown downwards from the ceiling; kind of eerie as it reminded us of a gas chamber or something), we'd finally find the place at 12:25pm.
That was when the ticketing agent said we couldn't change our flight time as it wasn't that type of ticket.
So there went option 1. Next, we went downstairs to the train station. We then looked at the ticket machines to see how we might work out the logistics of the train ride to Milan Central, then to Rome Termini Station, and finally to the Fumicino Airport. But that was when we found out that just the ticket from Milan to Rome was 96 euros per person. Plus, it was another 10 euros per person to get from Malpensa to Milan. I'm sure Fiumicino would be something similar. Thus, the grand total was something on the order of 120 euros per person, which was something on the order of $300 USD total for the two of us.
That was an awfully steep price to pay for a four-hour train ride surrounded by nearly an hour train ride on both sides of the long train ride (with a connection). That would mean nearly 6 total hours of train riding and we wouldn't be counting the wait times necessary between each train transfer.
So in the end, we canned option 2 as well. We basically just defaulted back to option 3, which was to hermit ourselves in Malpensa tomorrow (especially given the rather complicated logistics to get to Central Milan and back with a flight looming tomorrow so visiting more of Milan outside of this afternoon was out of the question).
And now with that out of the way, we next had to find the free shuttle bus to get to the Holiday Inn Express, which we were supposed to check into tonight. We at least needed to check-in so we could drop off our luggage, and only then could we return to the airport and look for transport to get into Milan's city center so we could finally do some final sightseeing on this trip.
So at 1:15pm, we boarded one of the scheduled shuttles (which was actually a van shuttle as opposed to a bus), and we were eventually checked into the Holiday Inn Express room at 1:35pm.
It was warm enough to be a shorts day, but we decided to just wear jeans and actually look a little more acceptable than going around the city in hiking clothes. In any case, I'm sure we don't come close to any Italian's notion of bella figura, especially in the fashion capital of the world (Milan).
So we came as we were and unabashedly were in tourist mode.
The next shuttle back to the airport from the Holiday Inn Express wasn't until 2:05pm so we waited at the hotel lobby for the shuttle to show up. However, when we saw a van pull up to the lobby, it merely swung around and didn't stop! WTF?
By the time Julie and I were outside, the van had already left the parking lot. That meant we had to wait another hour for the shuttle to come by and take us to the airport since it was only once an hour at this time of day!
So Julie went back inside to have the receptionist call the shuttle to come back. And after nearly 10 minutes, the shuttle eventually came back and picked us up.
And once we were at the airport, we caught a 2:20pm shuttle bus headed to Milan Central Station. We ended up paying for round trip tickets (at 16 euros per person instead of 10 euros in each direction per person) and forsaking the train ride, which we didn't realize at the time would've been shorter by about 10-20 minutes though it left less frequently than the bus, it seemed.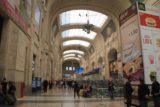 In any case, we finally arrived at Milan's Central Station at 3:30pm. When we were looking around the train station for an info center, both Julie and I were struck at how large and grand the train station was. We swore it was probably the scene of some movies as it was very much in the spirit of New York's Central Station, except this one seemed to have a lot more activity and old-school grandeur. The Italians sure knew their aesthetic architecture.
Eventually, after wasting time looking for the info center, we finally just decided to go to the metro underground and just buy a day pass. We figured that the metro would take us everywhere we needed to go. The LP map wasn't as detailed as a city map would've been, but we figured we had enough info to start exploring town.
At 3:55pm, we were going to use one of the machines to buy a pass. One girl was standing next to a machine that was already set up for English mode. She was insistent on us using that machine. I knew she was a scam artist and we probably should've chosen a different machine (even if it was in Italian), but I wasn't in a mood to make things harder on ourselves as I just wanted to get exploring finally.
Anyways, we was quickly pushing buttons anticipating what we were going to push. I really wanted to tell her to buzz off, but she always seemed to be one button push ahead of what I was able to process when I saw what was on the screen. Obviously, she'd been doing this for quite a while and she knew the machine well.
At first, we were going to buy a day pass for 2. The total was 4.5 euros x 2 = 9 euros. So we inserted a 10 euro bill into the machine, and at the last minute, she reduced the quantity to 1 (instead of 2) so there was 5.5 euros in change.
I wasn't happy she pulled that slight-of-hand as clearly she wanted to touch the coins and hang onto some coins. Anyways, she inserted the right amount for the 2nd individual day pass ticket. And once that came out, she said, "1 euro for me, OK?"
And before I could say anything, she took off. Then, Julie noticed there was still 50 cents in change. Could it be that she ran off with 50 cents instead of the full euro we were owed?
Well whatever the case, we got scammed some miniscule amount. The feeling that left me with was rather bitter, and it put us on our toes that indeed in big cities, scam artists abound as well as pickpockets and bag snatchers.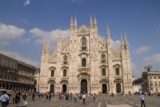 Anyways, with that little escapade over, we then took the metro directly to the stop for the Duomo. That was really the must-see sight for Milan as far as we were concerned.
And when we got out of the stop at around 4:15pm, we walked up the stairs and we found ourselves directly right in front of the impressive gothic structure, which was bathed in the warm glow of afternoon light.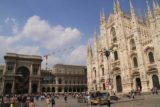 Clearly, the piazza here was bustling with lots of people and was certainly full of energy. It contrasted mightily with the dead feel of Piazza Grande in the center of Locarno.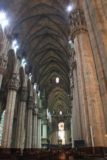 So we spent some time taking photos of the impressive Duomo, then we went inside the grand structure, where we took a few more photos, did a quick round of the interior, and then exited the dimly lit interior for the bright and warm exterior of the Piazza del Duomo.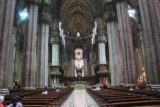 Next, we then went into a grand hallway that was really a mall. That hallway was called La Galleria. It was basically an upscale mall with all those familiar name brands like Louis Vitton, Prada, Gucci, etc. as well as some other Italian brands we had never heard of. Plus, we knew that the prices of these goods were in the "not in our lifetime" category so it was strictly to soak in the atmosphere and energy of the place as well as shake our heads at the sticker shock of all the stuff on display.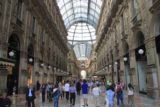 Julie and I then had some overpriced gelato inside the galleria to offset the warm weather before we then went down into the metro again to do a little more exploring of Milan. Personally, I could only take so much of shopping malls before I get exhausted and antsy about doing something else.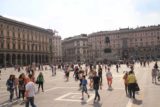 After taking a few more photos of the Piazza del Duomo and that irresistible Duomo building itself, we started to wonder if there would be a little more to see of Milan than just this piazza.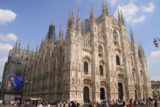 So next up, we followed an LP recommendation to visit Villa of Campiglio or something like that. We wondered if it would be like a Balbianello in the middle of Milan, but when we finally showed up to the place before 5:15pm (which we thought was before their last admission), the ticket lady said the villa was closed.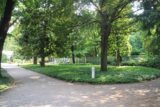 So we briefly strolled through the garden and really got the sense that this place was nothing more than someone's lavish property with really not much to see. Perhaps the LP author was into the arts (because the #1 sight was said to be the Last Supper painting), but that wasn't our thing so we didn't feel like we missed out on anything here.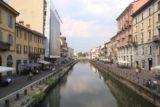 Next, we made good use of our Metro day pass and quickly went to Milan's canal area, which was known as Navigli. Supposedly, there was a lively bar scene as well as a flea market so perhaps that was an opportunity for us to soak in some atmosphere in a part of the city that wasn't as obvious as the Piazza del Duomo.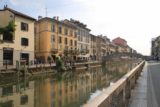 So we found ourselves outside of the Navigli area when we got off the closest station. And after walking a block through a wide arcade, we then found ourselves by the old grand canal, which was now nothing more than a polluted moving body of green water splitting a pair of pedestrian walkways alongside this canal with at least 3 or 4 bridges.
Julie didn't seem to like this area too much given the quantity of graffiti both around the train stop as well as along the grand canal. However, we did envision how this place could have been a pretty charming place for a stroll or to soak up some atmosphere.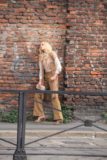 However, we didn't see the flea markets nor did we particularly feel like eating at the places near this canal since we feared none of them would take credit card. It felt too much like a locals' hangout and we just weren't in position to do that on this last full day of touring of our trip to Italy.
Once we walked from one end to the other of the main promenade area, we then headed back onto the Metro to return to the Piazza del Duomo where we went looking for a place to have dinner and people-watch. Just before leaving Navigli, however, we noticed a model being photographed for what appeared to be some magazine shoot. It seemed like the scruffy graffiti-laden brick walls were the perfect backdrop for this particular photo shoot (whatever was being sold). So I guess that was our bit of a memorable moment while strolling through this place.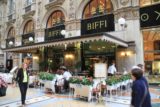 At 6:40pm, we were back at Piazza del Duomo and Julie decided to walk into the Galleria to have dinner inside. I was hoping to eat outside where we could watch the world go by around the Duomo, but she thought the people watching would be just as good inside the galleria (I begged to differ since the gallery was more closed in and the Piazza del Duomo was very wide open).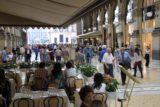 In any case, we ate at this place called Biffi's, which was claimed to be around since 1867. I found that hard to believe, but we figured perhaps we mind as well splurge on this last day since this would ultimately be the Last Supper of this trip as far as we were concerned (airport food tomorrow doesn't count).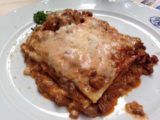 So I had some osso bucco, which we didn't realize was Milanese. Julie had some lasagna, which she hadn't had since Rome.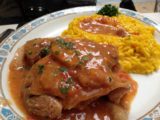 The food was good, but our bill was rather outrageous (69 euros). It turned out that there was a 6.5 euro cover charge (13 euros in all) plus 7 euros on the 1L water. So you add all that together and we paid 20 euros (almost $30 USD) on just cover charges and water alone! What a rip off!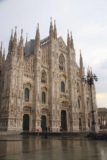 When we were done eating dinner, we headed back to Piazza del Duomo, but that was when we realized that it had been raining pretty hard in the square. I guess that was one way to empty the square of people.
So with that, we headed back downstairs to the Metro and took it back to Central Station.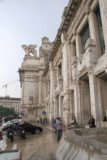 I wanted to take a few more photos of the grandeur of the Central Station, but we saw that our bus was waiting to leave for the Malpensa Airport so we exercise our round-trip ticket and got on the bus. And sure enough, it left at 7:50pm as scheduled.
I wondered about our Holiday Inn Express Shuttle as it was supposed to shuttle from the airport to the hotel at 8:45pm. I knew it was going to be tight given how long the bus typically takes.
When we were back at the Malpensa Airport, we saw the Holiday Inn shuttle as soon as we left the bus. So we ran for the shuttle, and that was when the door closed and the van was about to take off.
Julie and I caught up to the van, knocked, and the driver kindly let us in. Whew!
At least now, we wouldn't have to worry about waiting another half-hour just to go to the hotel, which was around 10 minutes drive away.
And finally at 8:55pm, we were back in the room. So for all intents and purposes, this was the end of our trip. Tomorrow was going to be the feared inefficient logistics day, and the day after would be the day we finally get to leave Italy, come home, and see our daughter once again.
Despite Italy being a country full of "wow" sights, there were things we missed about home as the trip wore on. So with Best Coast's song "Only Place" ringing in my head, I couldn't help but think about how spoiled we were with the good weather, the diversity, and the laid-back open-mindedness of people (for the most part) at home.
Indeed, we don't need to be asked, "Why would you live anywhere else?"