Day 22: ADVENTURES WITHOUT SEEKING THEM
It was about 8:30am when I finally awoke. Julie had already long been awake. But since I knew we'd be pretty much cooped up in Malpensa for almost the entire day while awaiting our scheduled 7:15pm flight, I really had no sense of urgency other than not missing out on the included breakfast (which was supposed to be done by 10am).
So I quickly got ready while Julie did likewise. We'd end up being in the brekkie area at around 9am, and it turned out that they had pretty good boiled eggs and bacon (though we refrained from having the bacon) as well as the usual pastries like croissants and some kind of pie (which we also refrained from having).
The brekkie also included cereal, bread, and even some fruits (including kiwi). It was a pretty satisfying breakfast, and very much welcome since we didn't expect to being very well-fed for most of this day.
Towards the end of the breakfast, there was a couple from Michigan who came to our table and commented to us that the way we were eating kiwi was ingenious. Basically, we scooped up the green stuff with a spoon after cutting the kiwi in half. It was far cleaner and more satisfying to eat, and it had been the way we ate the fruit ever since Julie first introduced this method to me several years ago.
Apparently, it inspired that couple to do likewise, and it ended up being a conversation starter as we learned that the wife was teaching, and that they were headed to Turin to do some hiking with some the wife's students.
The conversation turned to hiking because they noticed the attire we were dressed in was pretty much decked out in REI/Ex-officio/North Face-type clothing. So we told them about our hiking escapades, and they seemed pretty well aware of the identity crisis in the Dolomites where this part of northeast Italy felt more like Austria.
I'm sure this conversation could've gone on longer (it's always pleasant to learn from other people, including travelers), but we left them to enjoy their brekkie while we returned back in our room at 9:45am. So that basically began the next couple of hours of internetting and doing whatever it was we felt we needed to do on our computers (or iPhone in Julie's case).
At 11:10am, Julie called the next accommodation we were to stay at because we were concerned about the transportation situation. No TripAdvisor review nor Booking.com description said anything about how to get from the airport to the Fiumicino Airport B&B.
So Julie made a call to them on her iPhone, and that was when Julie had trouble speaking with the lady at the other side of the phone because she couldn't speak English while Julie couldn't speak Italian.
After the call dropped, Julie placed the call again, but this time she put the phone in front of me so I had to bust out my best Italian.
I think my attempts at Italian somewhat comforted the lady on the other side of the line, but it also put a little more pressure on me to really understand what she was trying to tell me in Italian.
Fortunately, she knew that I wasn't fluent so she was going real slow for me. After telling her we had a booking for today as well as informing her of the booking name under Julie's name, then she basically said to call a particular number when we would arrive at the airport in Fiumicino.
When asked about our flight time, I told her when we would arrive at 8:40pm.
So with that, it appeared that the transportation situation was in order. It was a somewhat stressful call as I was totally out of my element while only having my 4 months of learning Italian on my own with some limited practice with an Albanian co-worker who knew some Italian as well as the three weeks of having been in the country.
Still, when the call was over, I felt relieved and even empowered that we were able to pull that off.
Anyways, after that bit of an unexpected adventure (without even going anywhere), we then killed some more time internetting and working on blogging until it was around 12pm. Julie had this idea to walk over to the Crowne Plaza for some lunch after having seen their menu, which included brasato (that mysterious Tuscan dish we had at our wedding in Whitianga, New Zealand).
After walking a few blocks on unsigned streets (wondering if we were going the right way all along), we finally found the place, got seated, but then found out that the menu stuff was not on the menu for lunch (only for dinner, as I kind of suspected).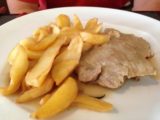 They actually had a buffet lunch, but we were allowed to order stuff off a different menu. So we ended up with veal and ravioli. Unfortunately, the fries that came with the veal was soggy and looked more like apples than potatoes. The veal also tasted like it came out of the freezer. Plus, Julie said her ravioli was missing something. The bottom line was that this was probably the worst meal we had on the trip, and all along I kind of knew that last night's dinner in Milano was pretty much the last supper so to speak on this trip.
At 1:40pm, we were back in the room. We then spent the next couple of hours in the lobby area after checking out at 2pm. Actually Julie told the receptionist that we were Ambassador members with the IHG group (starting with the Intercontinental resorts in Tahiti) and that actually saved us 9 euros on internet costs plus the extra two hours delay on check-out time.
Finally at 4:05pm, we got our stuff together, boarded the just-arrived shuttle, and then went to the Malpensa Airport.
With all the formalities of checking in and dropping off our luggage out of the way, we had ourselves one last dinner of airport food. We'd end up eating pasta pomodoro (tomatoes) and penne alla bolognese (basically ground meat) since they didn't have pesto, and that was the end of eating at this place. We also shared a 1/4-wheel of pepperoni pizza, which was the very first time on the trip that we had actually seen pepperoni pizza that was so common back home in the States but practically non-existent throughout Italy.
Anyways, our flight was delayed and finally took off some 30 minutes after the scheduled departure time. We were worried about the expected 8:40pm arrival time that I had promised the lady based on our flight schedule. But there was nothing we could do about that.
When the 55-minute flight ended, we then had to wait another 15 minutes or so for the stairs to show up so we could de-plane and take a bus to the main terminal area.
After we had finally reclaimed our luggage, we then placed the call as instructed earlier. I would end up speaking Italian with a guy on the other line, and it turned out that he was already in the airport!
We were so relieved when we met up with the guy, and when we went to the car, there was a younger guy at the wheel who actually spoke pretty good English. Anyways, they quickly took us to the accommodation (it turned out that everyone was in the same family as this was a family-run business), checked us in, and by 9:40pm, we were finally in our room to spend our very last night in Italy.
We Skyped Tahia and that further added to our anticipation of seeing our daughter and being back at home after being away for three weeks. Indeed, as cliche as this sounds, there really is no place like home. Now, we just have to get some sleep before a very early wake-up at 5am to wrap up our packing and catch our 9am flight. We were to meet with our transport at 6:15am. By the way, that transport costed us an additional 35 euros round trip, which probably offset whatever cost savings we hoped to gain by going with this B&B in the first place.
In any case, the end of the trip was pretty much last night, but even on a do-nothing day like today, it seems like adventure finds us even when we're not seeking it out. Home, here we come…