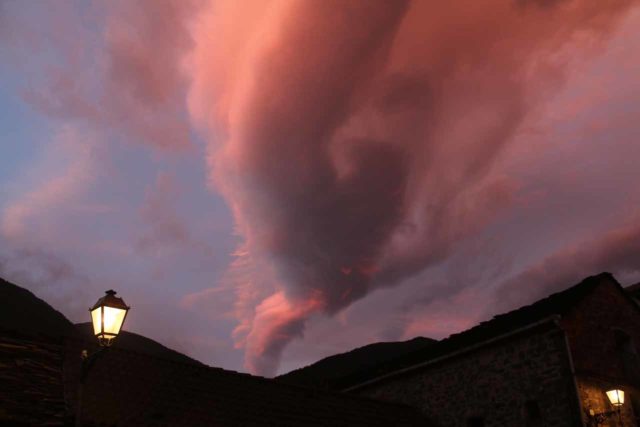 15-June 2015 to 23-June 2015:
…we pretty much spent the next few minutes arguing with this guy as he wouldn't let the issue go.
When we tried to explain to him that we had already done what he advocated that we do this instant only to be ignored by the taxis for several minutes, it seemed like he wouldn't accept our answer. Indeed, he kept pushing the argument when I knew neither of us were going to change each others' minds. Finally, I asked, "Sir, are you looking for a fight?" (which was probably not the wisest thing to ask), and that really amped things up as if the semi-senior guy was ready throw down as well…
Day 1: NO ALARMS, NO SURPRISES
It was 7:45am when I awoke. I had the intention to sleep in on this day, but with the traffic noise from the outside, it seemed like there was no need for any alarms. Julie was also already up and not long thereafter, Tahia herself was also up.
The bummer was that as we looked outside it was pouring rain. We knew that the bad weather would put a damper on Tahia's aspirations to be playing at the beach. But first and foremost was to try to take care of the rental car situation. So Julie was using the hotel phone to try to place some local calls to roadside assistance then to the rental car company. I don't think the phone calls were getting anywhere so we ultimately decided to just drive to the Europcar office and explain our situation on the spot.
It seemed like a lot of trouble to try to replace a couple of really worn front tires, but given our history with flat tires and rental cars (e.g. Buffalo, NY; Iceland; UK last year; etc.), we didn't want to take any chances. This was especially the case since we'd be leaving for the Pyrenees tomorrow, and the wet weather was forecast to continue.
So it wasn't until 9am when we bit the bullet and finally headed out. We managed to navigate to the Europcar in the Arco Plaza at around 9:35am. Once again, they had a tight parking garage, and I guess we were fortunate to have a lady already down in the garage to talk to. So we showed her the situation and she told us to go upstairs to talk to the front desk so we could work with our rental contract.
But when we went upstairs and were stuck in a pretty long queue, the lady eventually made her way up to the front desk herself where she then helped us out. And as expected, we had the option of either renting an alternate car (without the same nav and other things) or just change out the tires. We opted to do the latter, but it didn't seem like they'd be done with doing the tire change until some time later this afternoon.
It was a good thing we would be in San Sebastian all day today. But we still had doubts in the back of our minds that the car wouldn't be ready when they come back from siesta later this afternoon.
Anyways, once we were done with the lady and dropped off the keys with her, we then went outside at 10:10am where it was now pouring rain. We were told to go to the nearest bus stop, where we then could catch the #26 bus back to the old town, and walk to our hotel from there.
When the bus finally showed up, it was very crowded. Clearly, the mass transit was in much more use on rainy days like this. And it wouldn't be until about 10:30am when we were dropped off at the San Martin and Ubixeta intersection. There was another man who was very kind in telling us he was getting off at the same stop so we knew exactly when to get off.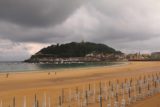 Then, we walked straight back to the hotel, getting there at 10:45am to pick up the camera and then perhaps go for a tour of the main part of town. But Julie still wanted to have a breakfast at 11am at the Cafe de la Concha, where we had a couple of croissants, a yogurt, and a freshly-squeezed OJ.
As we looked outside from the window of the cafe, the rain was still going on and off. When we left the cafe at 11:30am, it was pretty much sprinkling again, but we were surrounded by dark clouds. We knew it was only a matter of time before the next squall would come over us.
Once Tahia and Julie were done going back to the room to use the toilet, then were then back down at 11:35am, and only then could we finally be in tourist mode.
So we then walked the same walk we did last night as we approached the old town again. This time, our aim was to visit some pintxos bars to see what the vaunted San Sebastian food scene was like. Eventually at 12pm, we'd do our tapas crawl though Julie's most desired bar was closed. But at least the other bars weren't nearly as busy and so we wouldn't be overwhelmed by the crowds.
The first place we went to was the Cafe Urola. They had some basic tapas on display, and we had a few pintxos for a total of about 9 euros.
The second place was called Egostari. There were nice creative seafood tapas here, and perhaps it was the best pintxos that we ended up having. We spent about 19 euros here, and this included about 8 or 9 different pintxos as well as a couple of cups of cider.
Finally, the third place was called Beti-Jai. Julie was lured in by some seafood cocktail she saw on display. And so we had ourselves a couple more seafood pintxos as well as couple of glasses of sangria. This place had the most ordinary pintxos and it costed the most at 23 euros (probably due to the sangrias).
At 1:05pm, we were finally done bar hopping. In doing this experience, we really didn't sense there was that much difference from the tapas scene in other places we've been to and the pintxos scene here.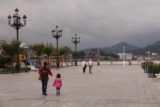 That pretty much affirmed to us that pintxos hopping was really more about locals socializing and enjoying the company of friends and family than about the food. That was the only way we could explain the phenomenon where bars would be packed with people but no one would be having any of the food! It was pretty much locals having a smoke, a drink, a few tapas here and there to hold themselves over, but it was all socializing.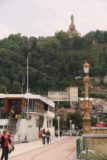 It was really only the Americans, families, or American families like us (or other foreigners) who came to these bars for the food and to sit down. None of the locals were really trickling in to any of these establishments until we started to leave at 1:05pm. And even then, we knew that it wouldn't get busy until siesta time at around 2-3pm when people working would be on their arvo breaks and get into the food and drinks scene at that time.
So now with the sun piercing through the thick clouds, the pavement and the sand was blindingly bright. It seemed like the calm before the storm because we were still surrounded by ominously dark clouds. But with both Julie and I woozy from the sangria, we headed back to the room to nap at 2pm. That didn't please Tahia since she wanted to be at the beach to play.
And play time wouldn't happen until about 3:30pm…
Sure enough, Tahia and I went downstairs to play in the sand. The tide was high so I didn't feel comfortable letting Tahia get in the water. It was pretty quiet out on the beach on this day at this time.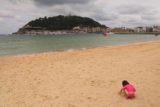 Not only were there still dark clouds hovering over the town (seemingly always threatening rain), but it was also siesta time. So Julie stayed upstairs to continue her nap. Meanwhile, Tahia and I were just scoping out spots so Tahia could find tiny shells (this was Shell Beach after all) as well as trying to build a sand castle by hand.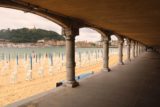 This lasted for about 45 minutes. I stood by watching her do make her sand castle masterpiece or trying to collect tiny shells while I was under the arches beneath the boardwalk trying not to be sunburned from the UV rays despite the overcast skies. Actually, it seemed like the clouds were thinning somewhat so the sun's diffuse rays were still making things quite blindingly bright at this time.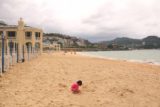 Julie eventually summoned us at 4:15pm. At this point, Julie had said that she tried contacting Europcar by phone but no one answered. We knew that their office was so busy that no one would have the time to pick up the phone. So we just made the executive decision to take the bus over to their office again and hope that the car had new tires.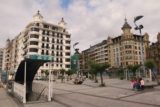 So we walked over to the bus stop and took the 26 bus. By 4:50pm, we were back at the Europcar, where not surprisingly, there was a pretty long queue. Eventually, it got to our turn, and fortunately, the car was ready. We got the keys and the keycard to get out of parking lot, and by 5:30pm, we were back at the Hotel Niza to park the car.
Finally, with the rental car drama over for now, we could finally enjoy the rest of our time in Donostia until tomorrow morning when we'd be continuing on into the Pyrenees.
Once we were back up at the beach area, we decided to just walk over to the funicular up to Mount Igeldo. That walk took us quite some time and it wasn't until about 6:25pm when we were finally about to board the funicular. Of course, we took our time on the walk as we were taking photos of the beach though there wasn't a whole lot of sand in the beaches since it was high tide.
At least it wasn't raining. In fact, the sun was breaking through the clouds enough to make the sand glow gold in some spots while the buildings on Mount Urgull were also showing some color. Even still, there were dark clouds all around so we knew that the weather wasn't about to change anytime soon.
Anyways, after the funicular ride, we were atop Mt Igeldo at 6:35pm. We then meandered about the premises where we managed to get majestic views over Donostia and La Playa de La Concha. We also noticed there were quite a bit of kid-friendly things to do up here, but they were closed. In fact, it felt like this hill was pretty carnivaled out.
Tahia was quite bummed about not being able to do any of these things. She had such a longing look, but such was the nature of these things. You can't control these open and closing times, but at least we knew there was a playground we could default back to when we return to the Old Town.
At about 7:15pm, we were back at the funicular. I was running out of gas and ready to doze off. And so we looked forward to taking the Bus 16 back to the Old Town, especially since we had seen one of these buses pull up to the funicular just before we had purchased the tickets to go up the ride.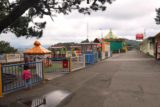 We managed to make it to the bus stop at 7:20pm, and a few minutes later, we got on the bus. The bus driver said that she was actually driving all the way out to the western outskirts of town before returning to this stop. But we didn't care. We were just content to have a seat and allow ourselves to doze off for a bit.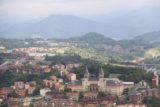 It wouldn't be until 8:05pm when we were dropped off near the Old Town. And after walking for a little bit through the familiar happening streets here, we finally settled on having dinner at this place called Ubarrechena. Julie was only fixated on this place after a couple other restaurant fails as noticed some pretty delicious paella on other peoples' plates.
Anyways, we managed to get seated at 8:25pm, and it was quite a busy place. We noticed pretty quickly that most of the people eating here were American or other foreigners. Clearly, the Spanish locals were still enjoying aperitifs while having a smoke and a chat. We knew they wouldn't be eating until 10pm at least.
The food turned out to be pretty basic, no frills dishes, but they were quite good. Even though we knew Donostia was known for good food, we were actually down with having something basic instead of something creative and fancy. And our entrecote, langostinos, paella, and pasta pretty much hit the spot. Even the desserts were basic but good. And the 42 euros for it all was reasonable compared to other dinner prices that we had paid throughout Northern Spain.
After dinner ended at 9:45pm, we then just slowly meandered back to the hotel with a little playground time along the way. There were nice twilight views over the beach as a sliver of orange sky was way in the horizon just as lights were starting to turn on.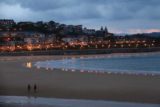 We'd eventually be back at the room at 10:05pm, which was just in time as the rain was starting to come down once again. And so ended this "rest" day that ended up being anything but. Tomorrow, it was time to drive once again, but at least we had the piece of mind that the tires should grip the road better rain or shine as we would be driving mountainous roads once again…
Day 2: EYE CONTACT
It was 6am when we awoke to Julie's alarm. Once again, it was raining outside. I guess our San Sebastian experience would pretty much be a rained out one even on the morning that we're leaving. It was a pity because this place really was beautiful and happening. And it seemed like it was poised to become a cultural capital in 2016 as seen on some sign on a government building.
Anyways, we had a long drive ahead of us as we were going into the Pyrenees, but I was concerned that the bad weather we were seeing in San Sebastian might carry over into the mountains of the Pyrenees. And if the weather's foul there, who knows how that would impact the hiking and the views?
That said, we took our time to savor the San Sebastian experience one last time by having breakfast downstairs at the adjacent restaurant to the Hotel Niza (Norra?). We did this after I loaded up the car with our luggage down the deep parking garage. We'd finally have our brekkie at 7:35am even though we could've had brekkie earlier at 7:15am.
The brekkie was actually better than expected as it had some eggs, sausages, pastries, lots of fruits, and the usual assortment of hams. It also had freshly-squeezed OJ. We pretty much stuffed ourselves thinking that we might not be having a lunch on this day while in the boonies of the Pyrenees.
So by 8:25am, I recovered the car and drove up out of the garage and onto the hotel's temporary parking across the street. Ten minutes later, after returning the garage key to the hotel, we then were on our way out to Torla.
It was still raining, but at least we'd be in the relative shelter of the car. Plus, the new tires we got from yesterday was certain to come in handy in this weather as well.
The drive was long and I was starting to get road fatigue when we went far enough east of Pamplona that it seemed like we had reached the boundary of the storm or something like that. Because it was very sunny and I didn't see much of those clouds that had produced the rain (though they were indeed there, just that they were stuck on the mountains and we were in the foothills at the time).
As we were getting closer to the town of Torla, we had to drive the familiarly tight and curvy mountain roads to get there. However, there was also a lot of road work going on. And so this final stretch of road (some 20km or so) was slow going, especially around a pair of tunnels.
In one instance, there was one guy driving some kind of heavy-equipment vehicle dumping road debris in front of us. We weren't sure if it was ok to keep going since he was doing work on the other lane. So I gingerly kept going, but then he was backing up (not knowing we were there), and I floored the gas to try to get by him before he'd hit us.
Fortunately, we made it, but that was a close call.
Julie was lecturing me about making eye contact with whoever's in that vehicle before proceeding. I guess that eye contact wasn't made, and I had made a dangerous assumption about proceeding.
But with that bit of drama out of the way, we would finally make it to the Russell Apartments in the tight alleyways of the charming stone village of Torla at 12:15pm. When Julie went up to check in, she was told by the lady working there that the apartment we were in was still being occupied. So we'd have to come back at least after 2pm or so.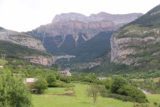 That pretty much meant that we were going to continue onto the Ordessa National Park portion of the Pyrenees and do some hiking there. And do all this while our car was still loaded with our luggage and other things. That always makes us nervous (leaving stuff in the car like that), but I knew that both Julie and Tahia would be pretty much around the car while I'd be out and about doing a more difficult hike.
As we drove into the Ordessa National Park, we were on a somewhat narrow cliff-hugging road when we reached a pullout that we spontaneously decided to stop and pullover for at 12:30pm. At this pullout, we looked down below and saw a pretty impressive waterfall in the river. However, this viewpoint also had impressive mountain views looking further to the east. We were glad we made the stop, but we still had work to do.
Eventually at 12:45pm, we had arrived at a large car park, which I believe was called La Pradera de Ordessa. There were a handful of tour buses here as well as a lot of other vehicles already parked. I guess this meant that indeed this place was quite popular. And we could see this was for good reason as we were flanked by beautifully-shaped cliffs and mountains (almost Yosemite-like) while the dark ominous clouds still hadn't obscured them yet.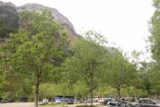 We took our time using the toilet, getting a map, talking with the info center near the trailhead, and loading up on water. It was a good thing that we had taken some breads and cured hams to go from the brekkie this morning, because that turned out to be my hiking snack. I was also stocked with three small bottles of water.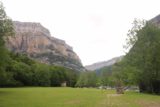 The hike that I was about to do was to the Cascada de Cotatuero, which I knew was the shorter but steeper hike up to a cirque pretty high up on the cliffs. Tomorrow, I'd target the Cola de Caballo waterfall, which was said to be 18km round trip, but it would pass by at least two or three other major waterfalls along the way.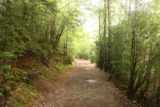 It wouldn't be until about 1:30pm when I finally started hiking alone. Julie and Tahia would do a more tamer hike in the valley itself after they'd grab a bite to eat. Meanwhile, I expected that my hike would take about three hours as I was so informed by the info center.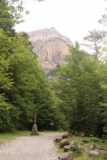 And with that, I was off. I had my rain poncho at the ready as well as a pair of waterproof pants just in case.
The hiking trail was pretty well-signed and straightforward. Once I got to some lamp-post-looking thing, I took the narrower trail through a canopy of trees to the left. Then the trail started to climb. It wasn't too bad of a climb in the beginning, but as I kept going, the climb got progressively steeper. Plus, there were a lot of smooth rocks that were wet on the trail (it must've rained here not long ago), and those rocks made things a bit slippery.
I probably saw about 3 or 4 couples coming down. It seemed like I was the only one going up at this time I was also able to see through the trees parts of the Cotatuero Creek cascading down the slope before joining the Rio Arazas.
At 2pm, it seemed like it was starting to rain. Fortunately, I was sheltered by the forest canopy of the tall trees and their leaves. However, when I got up to the shelter at 2:40pm that was near the Cascada de Cotatuero and the bridge over its stream, it seemed like the rain was really starting to come down.
It seemed like from down here, the views were never totally clean, and I'd imagine that the best views of this falls would be from much higher up. So I did what I could do to take movies and photograph the falls against the onslot of mist and raindrops, and then I crossed the bridge to see if there'd be a way to get a cleaner look at the falls. For sure, the bridge itself wasn't the best place to view the main part of the falls.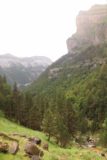 I decided against going left since I thought it would take me to the top of the falls. With the incoming bad weather, it seemed to be a bad idea.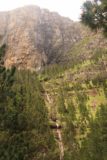 Anyways, I would continue climbing while donning my rain poncho to ward off the rain. There were some crazy-shaped cliffs surrounding this trail and falls, and I believed these cliffs to belong to the Cirque of Cotatuero. These cliffs were hard to photograph (especially with the rain) largely due to their size.
Eventually at 3:15pm, I'd get to a point on the trail where it looked like it was moving away from the falls and was starting to descend. So I decided against my principles to do an off-trail scramble to see if I could get high enough above the trees to get a cleaner look at the main drop of the falls. Normally, I don't do this because I knew it would have a negative impact in an area that doesn't need me to blaze new trails. But I felt like I came this far, and I needed to at least try to get that satisfying view.
I picked a spot to leave the trail where I could see there was a bare area mostly devoid of trees. As I was doing the scramble, the slope was severe enough that my calves were burning from trying to maintain balance while being upright. I definitely felt bad for going through areas where it seemed clear that hardly any mammals had passed through. Fortunately, it was a fairly short (albeit steep) scramble where I finally did get a decent (albeit awkward) view of the falls.
The sun was momentarily out but it was still sprinkling on and off while I was up here. I really wished I could somehow capture the surrounding cliffs around me because they were every bit as impressive and imposing as the Cotatuero Waterfall.
At 3:15pm, my scramble ended and I headed back down to the main trail. It wasn't easy to find where I could rejoin the main trail, but I think someone else had done this scramble because I noticed there was a rock cairn set up to help scramblers identify the main trail (I think).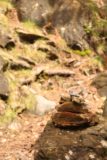 Once I was back on the main trail, I then explored a little further away from the falls to see if there was some sanctioned trail further along to a better view of the falls. But when I crossed a rock slide and saw that the trail descended and kept going further away, I knew that there was no such sanctioned trail. That said, the rock slide area was devoid of enough vegetation in the immediate area that I was able to get a view down into the valley with some imposing cliffs on the opposite end.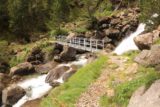 I decided that this would be my turnaround point at 3:30pm, and now it was time to head back down as I had promised Julie earlier that I would only be gone for three total hours (so 4:30pm was when she would be expecting me).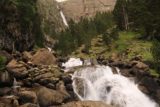 At 3:55pm, I had made it back to the bridge. And similar to how it was when I first showed up, there were plenty of rain drops or mist drops (from the falls perhaps?) that conspired to make it difficult to take photos or movies without the risk of water damage. So I did what I could to document the experience (now with more sunlight than earlier) before continuing on the descent back down to the car park.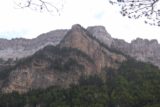 The descent was mostly uneventful though there were plenty of wet rocks that conspired to make the footing slippery. But aside from those spots here and there where I could've slipped and fell if I hadn't paid attention, I'd ultimately make it back to the car at 4:45pm.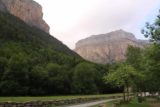 Julie had said that she saw a nice waterfall high up on the cliffs with Tahia, and that the trail they were on was wheelchair accessible. That was all that they did before they turned back, and Julie was kind of reveling in the possibility that the waterfall they saw was the very same waterfall that I saw – Cascada de Cotatuero.
At 4:55pm, after taking our toilet breaks, we were finally headed back to town. The weather looked like it was still getting progressively worse, which made me wonder whether the hiking weather tomorrow wouldn't be any good.
At 5:10pm, we were back at the Russell Apartments. Julie was busy checking in while Tahia and I were waiting at the gate where we knew we should be able to enter the car park area. Given how long it was taking for them to address the garage, I figured that Julie wasn't happy with the room initially assigned to us.
Anyways, it wouldn't be until around 5:40pm when we were finally able to park the car and drop the stuff into our apartment room, which was very spacious. Now this would be the kind of place we wouldn't mind spending the extra night!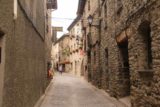 At 5:55pm, we were enough settled in the room that we then went downstairs to check out the quaint stone village of Torla. There were a handful of other tourists out and about at this time. Indeed, this town was quiet, but it was still charming nonetheless.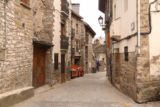 During this short tour of town, Julie and Tahia did some grocery shopping as well as scoping out the menu at El Duende, which was the recommended restaurant by the receptionist. I also took some time to check out the church in town those its interior was closed. The views were further to the south as opposed to the impressive cliffs looking north, but the clouds were already obscuring the uppermost reaches of the cliffs anyways.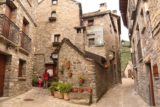 We ended up back in the room at 6:30pm, and we chilled out for a bit before heading downstairs at 7:55pm. We wanted to see if we could eat at El Duende without reservations, but it turned out that the restaurant was still closed (as it was probably closed on Tuesdays).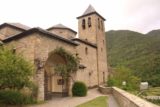 So as a plan B, we ended up going to this place called El Taillon at 8:15pm, which just so happened to be practically next door to the parking area for the apartments. This place ended up being busy probably because El Duende was closed.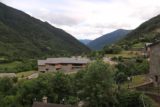 We thought the food here was a bit hit and miss. The mushroom and truffle risotto was ok, while Julie thought her Caesar Salad was probably the best one she's had.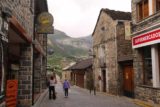 As for the mains, I got trout and Julie got beef cheeks. These seemed to be pretty no-frills but decent. Then, when it came to dessert, I know Julie didn't like hers, which consisted of what seemed like canned pineapples. Meanwhile, I got a chocolate crepe with whipped creme, which seemed fairly decnet considering we weren't in France (though quite close to its border).
When we left the restaurant at 9:35pm, we were treated to a really crazy sunset (or at least the last rays of the sun painting the clouds overhead certain hues of gold, orange, and pink. The clouds were in a formation that almost seemed like a high-altitude tornado wanted to be formed.
It was definitely a sunset that we had never seen before. And when the restaurant employees went outside to check the sunset, they too were taking photos. And one of the employees (when I asked him) said he had never seen the clouds like this either.
So I was happily taking photos of the pinkish clouds curling in an almost tornado or conical shape hovering above the mountains to our east. Part of me was wondering whether this weird weather formation was due to Global Warming.
At 9:55pm, we had returned to our spacious apartment to call it a day. The rain was starting to come yet again and the winds sounded like they were blowing pretty strong. Tomorrow will be a long day of hiking, and I certainly hope that the weather forecast seen earlier this morning would be true to faciliate the hike…
Day 3: THE COLA
It was 7:50am when I awoke. Julie actually encouraged me to sleep in when I had woken up to her 7am alarm. In any case, with my late wake up, I quickly got ready. I could see and hear the winds were howling as they had been all last night.
It had been a while since we had a self-cooked breakfast because it had been a while since we last stayed at an apartment. But on this day, Julie made some poached eggs along with toasted bread, and we also added an Iberico ham to our toast as well. It was a satisfying and quick brekkie, and eventually by 8:50am, I was ready to go.
So after hugging and kissing both Tahia and Julie, I was in the car and was quickly out the door. Even though the winds were strong on this morning, the sun was out and the skies were clear. It was the first time we had seen this kind of weather since perhaps Segovia. It seemed like forever, and we were bummed that we couldn't have had this weather while we were in San Sebastian.
At 9:05am, I had arrived at the trailhead. It was mostly empty except for the far eastern end near the info center and the trailheads. I managed to stake my claim to a spot under a tree hoping it would be shady enough to keep the car from heating up too much throughout the day.
Five minutes later, I started the hike. Since most of the scenery was still in shadow except for the highest cliffs, I was zooming along. While it was windy in Torla, down here along the Rio Arazas it was calm but chilly. Since I was moving, I didn't bother putting on a jacket as I felt pretty comfortable moving without the jacket.
At 10am, I made it to the lookout for the Cascada de Arripas. It was producing a lot of noise as it was on the Rio Arazas itself. The falls was probably 15-20m or so. The sun had definitely hit this falls so it was bright.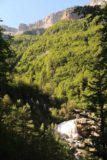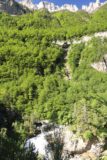 And while I was busy capturing this falls, other folks came and went. So I knew that I clearly wasn't one of the first on the trail though it kind of felt like it up to this point.
The trail was already starting to climb before I got to the lookout for Cascada de Arripas, but the trail was climbing even more beyond this lookout. As I continued on, I would reach a junction where it looked like I had to choose between continuing onto the Cola de Caballo (the waterfall goal of this hike) or do a spur trail to the Cascadas de la Cueva y Estrecho.
Naturally, I descended on the path leading to the two closer falls. I also noticed that there was another junction where the trail continued to descend towards the Bridge of Arripas as well as ultimately returning to the car park. So I mentally made a note of this as I might go back this way.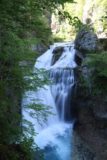 It was only 10:20am when I took a spur trail that led me to a mirador of Cascada de la Cueva. Contrary to the name, it didn't look like there was a cave here (la cueva = the cave). However, it was yet another falls on the Rio Arazas, and the whole scene was in shadow so I could take long exposure photos of it.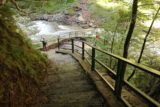 After having my fill of this falls, I then continued onto the next spur trail leading to Cascada de Estrecho. I ended up at the bottom of a spur that turned out to be one of several lookouts for the falls at 10:30am.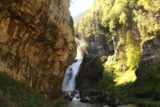 At this first lookout, I managed to get direct views of a very impressively tall tier, which also happened to be merely one of several tiers. When I had my fill of this viewpoint, I was about to return to the junction, but then I noticed an unsigned trail that climbed steeply and persistently, and I knew that this would ultimately connect me up to the main trail again.
Sure enough, at 10:45am, I made it back up to the main trail and its wide lane (as if vehicles could still be driven on this road). Yet just as I thought I could get some momentum on the hike, I almost immediately saw a few more spur trails leading down to other lookouts of other tiers of the Cascada de Estrecho.
With the bright morning sun on the falls, it was proving quite a challenge to photograph (the photos would keep coming out dark), but as I would get up to the uppermost of the lookouts, I noticed a nice rainbow appearing from the wafting mist of Cascada de Estrecho's upper tiers.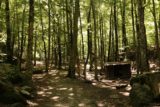 When all was said and done, it was 11:05am when I was finally done with Cascada de Estrecho. Five minutes later, I saw a shelter (similar to the one I saw near Cascada de Cotatuero yesterday), and then ten minutes after that, I saw a trail junction where the trail I had partially taken yesterday (past the base of Cascada de Cotatuero) joined up with the trail I was on.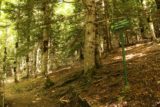 I had entertained thoughts of going up this trail on the way back out (to hopefully get those valley views that were conspicuously missing on this main trail), but I'll see how I do on time since I knew that I was on an 18km round trip hike (about 12 miles).
At 11:40am, I noticed a small falls by a footbridge. It was tall but hard to photograph. It probably gained some vigor from yesterday's rains, but I'd bet it wouldn't last much longer than a few days without rain. In any case, there was noticeably less shade here than there had been throughout the hike. So it was time to finally start wearing my hat.
At 12pm, I finally made it up to the Gradas de Soaso. It was basically an attractive series of cascades. But in order to get a better look at the falls' front including its lowest tiers, I had to take a spur trail along the river to get it. There was also someone who had parked a jeep nearby this falls, though I suspect it was the rangers.
I didn't take this spur all the way to the falls as I wasn't sure if that meant I'd have to go back the way I came for much longer. So I was just content to get a good photo and movie before moving on.
At 12:20pm, I was on a spur trail that took me to the brink of the lowermost of Soaso's drops. Not only was I able to look down (precariously) at the lowermost drop of Soaso where I could also see another rainbow in its mist, but when I turned around, I was also able to get a frontal look at the stairstepping upper tiers as well.
When I finally had my fill of this falls at 12:30pm, there was a group of folks chilling out at the falls now. And I could clearly sense how popular this hike was. Funny how it seemed like everyone was catching up and passing me. Maybe I was taking too much time taking photos of each falls? Or maybe, I'm getting old and slow?
After the last of Soaso's cascading drops, the trail hit a bit of a lull where the cliffs slowly revealed more of themselves but there wasn't a whole lot of action from a waterfalling standpoint. But that all changed as the trees were thinning out and the cliffs became even more prominent.
I was also spurred on my a couple of peaks in the distance that still had a bit of snow on them! And as I continued getting closer to the mountains, it turned out that they were at the Circo de Soaso. And I was certain that the Cola de Caballo was at the bottom of this cirque.
Meanwhile, there were a slew of cascades coming down from the northern cliffs on the approach. I kept being captivated by these cascades because it wasn't often that I'd see some half-dozen cascades coming down at the same time in disjoint segments. It wasn't easy to photograph in any meaningful way, and I'm sure all this captivation slowed my approach to the Cola de Caballo.
Still, it was the cirque that kept drawing me closer to the end of the trail, and I was reminded of the Cirque du Gavarnie experience in France some three years ago.
Adding to the atmosphere was the strange juxtaposition of cows grazing on the lands alongside the river. I suspected that if the river would be unsafe to drink, this would probably be the main reason why. Besides, this idea of a National Park allowing for cattle grazing was also a bit of an oxymoron. Nonetheless, hearing the cow bells clanking with the sound of rushing water and the gentle breeze kind of just helped to etch the sights and sounds into my memory as far as Ordesa y Monte Perdido is concerned.
At 1:15pm, I finally made it to the Cola de Caballo (Horse's Tail). There was actually a rocky mound that kept this waterfall mostly hidden on the approach to the base of the Soaso Cirque, but now that the falls' inverted wine glass shape could be seen, it was finally time for me to sit for a bit, have a picnic lunch (of toast topped with Iberico ham), and just bask in the scene.
There were dozens of other hikers who have made it here. Many more who were about to show up and a handful of others who were leaving. There were even other hardier hikers continuing on the hike to go even higher!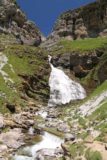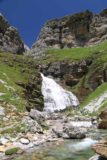 Now, patchy clouds were starting to show up so it wouldn't be the totally cloudless skies that I saw this morning. Still, it was mostly dominated by the sun so blue skies and bright scenery was the rule at this time.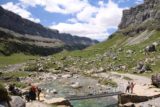 At 1:40pm, my lunch break was over. And as I was leaving the cirque, I saw many more people approaching the cirque. I suspected that now the tour groups and hiking groups were starting to show up. There were even kiddie groups starting to show up too! Boy was I glad I was outta there before the sea of humanity would start to inundate the Cola de Caballo.
The hiking was brisque as I pretty much got most of the shots I had wanted. So I was making good progress as I was passing a few hikers, and then I'd eventually get back to where there was more shade at 2:40pm. So now, I could finally take off my hat and be a little less sweaty.
The big groups continuing to come in droves as I was approaching the Cascada de Soaso. But after leaving this falls, it seemed like that was the last of the big groups.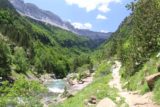 By 3pm, I made it back to the Cascada de Estrecho. There was noticeably less shade on the main trail here than there was this morning. And five minutes later, I was now on the main trail part that I had skipped earlier for doing the Cascadas de las Cuevas and Estrecho spurs this morning.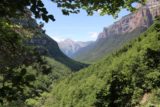 As I was descending on the main trail, I was disappointed that there weren't any openings in the foliage that would've afforded me views of the valley below. It was a pity because this valley had all the makings of that Yosemite-like view that I was very familiar with. That's too bad, because I could see between the trees that the view was divine. But with all the foliage in the way, it wouldn't photograph well.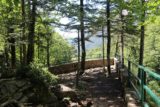 At 3:15pm, I was back at the junction, where I went down to the right earlier (for Cascadas de la Cueva y Estrecho spurs). But this time, I would continue the downhill hiking as I crossed the Puente de Arripas, then saw a sign for Mirador de Bucardos. So I followed that spur trail (which didn't seem to be that well-defined), and I'd ultimately get to the railings marking the mirador at 3:30pm.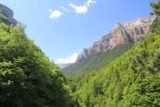 I wasn't sure what bucardos meant, but the view I got looking downstream was of the wrinkled cliffs near the Circo de Cotatuero. Unfortunately, it wasn't the valley shot I was hoping for though. Meanwhile, there were also views of other cascades downstream from the bridge of Arripas.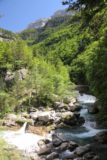 The downhill hiking persisted back on the main trail until I got to a mirador of the Cotatuero Waterfall in the distance. Given that this lookout was on what seemed to be a stroller or wheelchair-friendly path, this must've been the route that Julie and Tahia took yesterday.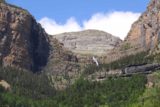 This mirador was near another bridge that crossed the Arazas River so I could've crossed it and returned the way I came. But instead, I wanted to stay on the path that Julie took yesterday because it seemed like it was more open and it afforded me more views of the beautiful cliffs on the northern side of the river.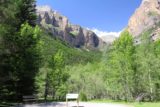 In fact, if I had to do it all over again, I would've hiked this side of the trail instead of the northern side. And on the return, time permitting, it might've been worth going back to the Circo de Cotatuero. But hindsight's 20/20.
At 4:10pm, I reached something called the Stone of 7 Faus. I don't know what the significance of this stone was, and I made a mental note to look it up when I get the chance.
At 4:25pm, I would eventually make it back to the car park. And on that last stretch of trail, I happened to get caught in a kiddie group. Sometimes I get a bit tired of hearing "Konichiwa" over and over again as if all Asians that European kids meet are all Japanese or something. So I was definitely glad to be back in the car and let them inundate the aseos near the tourist info center.
The drive back went pretty smoothly though there was a deer that managed to skip by the road. Since I was cognizant of their presence and the road itself was pretty bumpy to begin with, I had plenty of time to react and let it go by. I certainly didn't want a case of deja vu where in Utah I had totaled my Dad's mini-van by hitting a deer.
By 4:50pm, I was back at the apartment, where I could finally shower and unwind. But along the way, I took a few more roadside photos given the beautiful weather we were having on this day.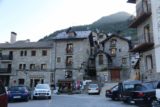 So we chilled out in the room as we each exchanged stories about how our day went. Julie and Tahia were busy exploring the town of Torla and they managed to get post card shots of the town's church with the signature cliffs of Ordesa y Monte Perdido backing the town. Meanwhile, I told her of the cirque of Soasso, which reminded me of Gavarnie.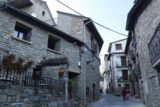 It wouldn't be until 7:05pm when we finally headed back downstairs again. However, our dilly dallying took way too long so by the time we showed up to the visitor center to try to get that post card view that Julie was bragging about was closed. So I was stuck getting somewhat subpair views away from where the best views were, which were within the museum compound accessible only during opening hours.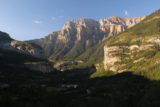 So at 7:35pm, we wound up going up to the playground so Tahia could play there. I have to admit that this was probably the most scenic playground we had been at given that not only could Tahia play with the apparati that was here, but we were also able to look over the town and towards the majestic cliffs that just commanded our attention.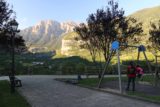 Even though there were long shadows, the view was still sublime.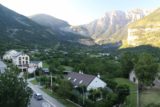 Eventually at 7:55am, we left the playground and headed around the corner towards El Duendo Restaurant. So we'd finally be eating here given all the hype surrounding his place. However, it would still take some time before we could see what the hype was all about because even though we were the second party to show up (mostly because we unnecessarily waited outside until 8pm), we were probably one of the last of the 8pm arrivals to order our food.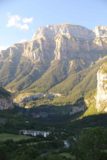 In any case, the food was pretty good, but it wasn't knock out top quality food like what we had in St Savin, France a few years back. Indeed, we had ourselves a duck confit (which Julie liked very much), a deer, a dozen prawns, and a seafood rice. When all was said and done, it was about 10:15pm when we left the restaurant.
At 10:20pm, we were finally back at the room. I was a bit drunk from drinking too many glasses of wine (our bottle was included in our meal), and Julie wasn't really drinking her wine. So I ended up drinking most of the bottle, and I was quite woozy on the way back to our room.
And so ended this day, which by all means was a very successful one despite the calamities of our nightcap. Tomorrow, we're headed to Espot, but we'll see whether it would be worth spending some time in Ainsa along the way knowing that we still had the following morning to check out Aiguestortes at Estany i Sant Maurici.
Espot was our last overnight stop before Barcelona. Julie and Tahia were homesick, and they couldn't wait…
Day 4: WHIMSICAL ITINERARY
It was 7:45am when I awoke with a little bit of a hangover after having had too many glasses of wine last night. I had woken up to Julie's alarm at 7am earlier, but I just needed a little more time to recover this morning.
We did the usual routine of packing to get ready though Julie also poached some eggs and toasted some bread so we could have another self-made brekkie together.
So it wasn't until 9:30am when we were in the car. It was yet another cloudless morning so we knew it'd be a beautiful day in the Pyrenees as we were driving due east eventually to Espot.
The majority of the driving on this day was on mountain roads, and many of them were quite narrow while being shared with large trucks. Since we really had no sense of urgency on this day, we didn't mind being behind the large trucks since we knew that they'd force the oncoming traffic to respect its size and slow down or stop for them.
This made it so I didn't have to react as much as I normally would if I didn't have the truck acting as a "battering ram" so-to-speak on these narrow mountain roads.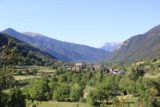 We made a few miscellaneous stops whenever we saw some interesting valley or town. One such stop was to Broto, which was quite close to Torla when we headed south on the N260.
We also decided to make a stop in Ainsa just to check out the well-preserved medieval town. The original itinerary on this day was to drive north towards the source of the Rio Cinca so we could check out both the Cascada de la Larri and the Cascada de Cinca.
But now that I have a better feeling for how challenging the mountain roads could be as well as how much time you really have to allow yourself to get there safely, I opted to leave out these falls in lieu of spending more time in Ainsa. Besides, I also wasn't sure how long of a hike we'd have to partake in to get a view of Cascada de Cinca.
At 10:35am, we parked the car in the Casco Historico part of Ainsa. Right off the bat, there was a pretty atmospheric walk between former castle walls as we left the car park and went up to the ramparts of the initial square we were in.
It was quiet here, but we had some nice panoramic views of the Plaza Mayor as well as the mountains in the distance that still seemed to have retained their snow. There was also another impressive cliff formation kind of in the same spirit as the cliffs we had seen backing Torla.
We then walked in and around the Plaza Mayor as there were some charming narrow alleyways that begged to be explored. The sun was in a hideous spot (we were pretty much looking against it) so it was hard to capture the fairly large plaza backed by the church's tower.
The town itself was quite dead. There were also a handful of cars parked in the square, which also took a little away from the overall charm and character of the place. But in any case, it was quaint and it really brought us back to the Middle Ages. In fact, it seemed like the further north we went in Spain, the more medieval the theme was (as opposed to the Muslim themes in Andalucia).
It didn't take long before we got the flavor of the town. The church had its lights off in the interior, and the tower wasn't open. So by 11:30am, we had some pizza at an outdoor pizzeria right on the Plaza Mayor. It was such a perfect day to just chillax, and perhaps we did the right thing by not forcing the issue to go to Cascada de Cinca and La Larri when we still had another three hours of driving to get all the way to Espot.
By 12:40pm, we were back in the car. It was such a chill visit, but now I had to avoid road fatigue as we'd be on more mountainous roads leading to the eastern end of Aiguestortes National Park.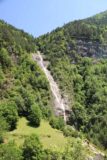 The drive was pretty atmospheric as the N260 wound its way through a narrow gorge (where it just seemed like the road was practically touching both sides of the canyon walls even though there was also a river running just beneath the road.
When we got onto the N230 due north, we then found ourselves in the Valle d'Aran, where we started noticing some waterfalls tumbling down from the high cliffs. We made one such stop at 2:10pm for a waterfall that we spotted just north of the Bono Tunnel. Unfortunately with this pretty tall and fairly voluminous falls, there were power lines in the way.
Ten minutes later, there was another pullout that we stopped for (which seemed to be more for trucks or something because of how big this space was), because we noticed a tall falls in the distance as well as a fairly voluminous one nearby except that falls was mostly blocked by trees.
The drive continued as we followed a caravan of cars following some slow semis. This included 5km tunnel that seemed to be even longer since we were going pretty slow inside it thanks to the trucks.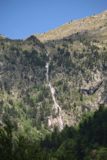 Meanwhile, the Valle d'Aran was indeed a scenic valley as far as seeing it from the road was concerned. For there were really tall mountains that still had blankets of snow or ice (glaciers?) and it kind of made me wonder what might have been had we stayed around this area. For it all had that Swiss Alps feeling given the tiny buildings and villages at the foot of these imposing peaks towering overhead.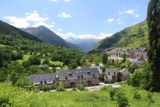 It turned out that most of the caravan of cars were headed to France, and when we entered the town of Vielha, we saw just how big and resorty the town was. We thought this place would be bustling during ski season, but there was still quite a bit of activity in this town even in this shoulder season as I'd imagine there was a lot of hiking opportunities.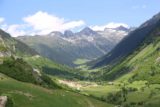 So we left the caravan behind as we then headed east of town. The road would climb steeply past a handful of more villages until we'd reach the Bonaigua Pass at over 2000m high. Being up at this pass felt like we were on top of the world as across the valleys, it seemed like the mountain peaks were nearly at eye level to us.
Eventually as we were twisting our way down from the pass, Tahia had woken up from her siesta and pointed out that there was a big waterfall. When I snuck a glimpse of it, she was right. And now, we started looking for legitimate pullouts to see if we can could improved (and sanctioned) views for it.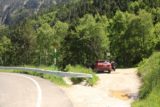 At 3:25pm, we'd eventually find a pullout at a hairpin turn for what turned out to be the Cascada de Gerber. There looked to only be room for two or three cars at the most, and it turned out that just as we pulled in, there was just enough room for the previous party that was just here to back out onto the hairpin turns on the main road.
The signs here confirmed that there was a path leading to a mirador of the waterfall. And after a few quick minutes of doing this short walk, we'd then reach the mirador, which was very wet from the spray of the Gerber Falls.
I knew getting clean looks at the falls from the sanctioned lookout would be uncomfortable thanks to the intense spray. I was especially concerned about what all those droplets would do to the SLR camera.
So I did a little bit of a scramble in parallel with the sanctioned trail itself. After all, I had observed that there were dry areas of ground so I took advantage of those drier spots despite how steep this scramble was.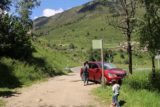 After getting my fill of the closeups of this falls, I then continued a little further down the trail to see if there would be a close but satisfying view of the entirety of the Gerber Falls. Unfortunately, I only managed to see parts of the uppermost tier and the lowermost tier, but the in between tiers we harder to see.
At 3:50pm, we were back in the car. Given how this mirador wouldn't let us take the majority of this falls, I knew there had to be a better roadside spot to look directly at the Gerber Falls just like how it was shown in the National Park sign.
Finally at 4pm, we found the pullout that we were after (except it was on the opposite side of the road). Unfortunately, there were power lines in the line of sight of the falls from the road. So I took it upon myself to scramble down into what appeared to be cattle pastures full of their dung.
Eventually, I'd be beneath the power lines and I'd start to get much more satisfying views of the falls without those hideous contraptions in the way. So I snapped away and documented the experience. Then I scrambled back up to the main road, where we would continue our journey once again at 4:10pm.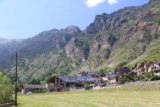 Ultimately at 4:35pm, we'd finally make it to the Rosa Blanca Hotel in Espot. Some twenty minutes later, we would finally be in our room, which was spacious enough to allow for Tahia to sleep on her own in her own room.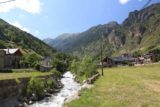 So we'd spend the next couple of hours just unwinding for a bit while also asking the really helpful keepers of this hotel about the logistics of doing a hike around the Estany i Sant Maurici as well as figuring out the 4×4 jeep taxi system, which we'd have to be taking to even get within walking distance of the lakes and waterfalls.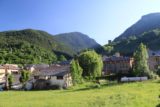 They made a real helpful suggestion of doing a one-way hike from the second lake down to the main taxi stop, but there needed to be a minimum of six people for that option to happen. I was hoping we might get lucky with that one because it would take in the mirador of the Ratera Lake, then allow us to do a one-way hike to the Ratera Waterfall before skirting the northern side of the lake back to the main taxi stop.
We'll have to play it by ear to see how this will work out.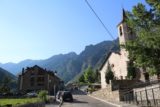 Meanwhile, at 7pm, we went into town to scope out the restaurants as well as stopping for a quick grocery run. We also saw where the taxi stop was so we knew where we needed to be tomorrow after breakfast.
Then, at 7:30am, we would eat at the Juquim Restaurant, which was said to be the best one in town. The food was tender and the service was quite good (unlike the pretty crappy one we had at the El Duende last night). Plus, the somewhat earlier start for dinner was a blessing so we could be back in our room earlier in the evening as well.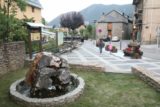 When we were done with dinner at 9:15pm, we did a brief walk in town though there really wasn't a whole lot to see. The town itself was also pretty dead, so it was about 9:30pm, when we were back in our room to unwind for the night.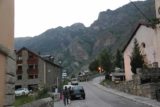 Julie was still having taxi anxieties, especially since we were supposed to be checking into an apartment in Barcelona at the end of tomorrow. And we didn't want to be spending too much time in the Estany as we knew there would be at least a three- to four-hour drive in front of us on the way to our apartment in Barcelona.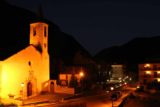 We'll just have to see how that goes. But in the mean time, we felt like we had a pretty satisfying day, despite not adhering to our original plan. I guess sometimes, you have to be willing to be flexible to get the most out of a trip like this. And I'm sure there'll be a little more of these spontaneous rearrangements in our itinerary for the rest of this trip as we'll wind this down in Barcelona before flying out from Madrid on Wednesday…
Day 5: ESTANY ECSTACY
It was 7am when we awoke. This was the first time in a while that I was actually able to get up to the alarm and not feel so groggy. Perhaps it was because I was anticipating a busy day of hiking with some jeep logistic anxieties for visiting Estany de Sant Maurici, which was said to only be allowed by jeep taxis unless one had the time and energy to walk there and back.
So we did what we had to do in terms of packing up and loading up the car. By the time we had put what we needed in the car, it was about 8:30am, and so we then had our brekkie downstairs at the Hotel Roca Blanca.
It was already busy down here, which I guess underscored the fact that we weren't the only ones thinking about trying to get up to the lakes as fast as we could. Plus, there really wasn't that much space between tables in the brekkie area so there had to be some tricky maneuverings to get to and from our table.
The hotel owner was also down there helping to get things set up, and when he saw me, he went out of his way to explain what the meats and cheeses were to me. Indeed, I felt the warmth and friendliness that seemed to be on par with the TripAdvisor reviews, and I must say that it's probably becoming a legendary trait amongst foreign travelers to the town of Espot.
Even though we were only staying the one night, I did feel like we could've stayed more if our itinerary allowed for it. But we also knew that we'd have the next four nights in Barcelona before heading for home from Madrid on Wednesday. Thus, we had devoted the first half of today for the hike and the jeep taxis, then we'd do the long drive to Barcelona.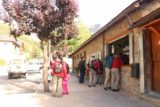 When we were done with our brekkie, we quickly walked into the main area of town where the taxis were, and by 9:20am, we were there. We had to use our Spanish to communicate with the taxi operators there (there was a lady at the ticket window with limited English so it was better to just use Spanish), and we ultimately found out that there was another couple that wanted to go all the way up to the third lake.
Upon further deliberations between the lady and the ticket window guy, we'd eventually have a car load of people. Basically, five of us (including Tahia, Julie, and I) would stop at the second lake at Estany de Ratera. Meanwhile, three others (to fit in the maximum capacity of eight people) would be dropped off at the first lake at Estany de Sant Maurici.
And so the uncertainty of not having enough people to do the one way hike from the Ratera Lake to the Sant Maurici lake was solved. And we wouldn't have to go to the default option of doing the out-and-back hike from the first lake to the Ratera Falls and back.
It was partly cloudy when we were whisked away on the jeep from Espot. The drive out to the first lake was quite tame. Actually, I'm sure private vehicles could've made it there, but there was a car park and check point a short distance up the road from Espot, and no private vehicles were allowed beyond that point.
We noticed that the first lake was actually man made as there was a dam holding it up. There were also cows grazing near the drop off point for the first lake, which made Julie and I wonder what this National Park was actually protecting if they allowed cattle grazing (thereby impacting the ecosystem in a very artificial way).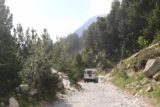 Anyways, after the three folks being dropped off at the first lake, we then were taken on a rough and rugged 4wd road that eventually got us up to the second lake at 9:55am. Unlike the warmer semi-sunny weather in town, up here at the lake, it was misty and chilly. Julie and Tahia definitely had to don their winter jackets, while I kept mine in my pack knowing that I'd be moving quite a bit even though I did feel the somewhat biting wind chill.
I was concerned about the weather since there were some low clouds obscuring some of the impressive peaks surrounding the Ratera Lake. It was a shame since I was looking forward to the kind of lake views that would typically only be attained from high country adventures in the Eastern Sierras in California where we'd have to don heavy packs, hike up for several miles (typically with climbing) in high altitude and thin air, and then not shower for at least a couple of nights.
Nonetheless, our first order of the itinerary was to do the 0.5km walk to the mirador from our dropoff point. By doing that hike and moving around, the wind chill wasn't as biting as I had figured. And by about 10:15am, we were at the mirador, which was over the Estany de Sant Maurici (i.e. the first lake).
Since we were kind of looking against the sun, the views from up here weren't as colorful nor as photogenic as we would have hoped. Still, we seized the moment, got our shots (including people shots), and then we headed back to the original drop off point (arriving there at 10:40am).
As we were moving around one side of the Ratera Lake, it seemed like the low clouds were less abundant than they were earlier on. There was also a large kiddie group (and the usual random "Konichiwa!" chants) that was headed up the opposite direction as our descent.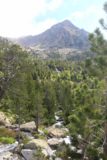 Ratera Lake was shallower than the Estany de Sant Maurici (the first lake), and we figured that natural lakes like this one was more of a function of the size of the glacier that would have depressed the surface thereby forming the lake up here.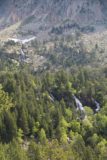 There was also a cascading waterfall mostly hiding itself between trees, but it was compelling enough to draw some camera clicks from us as it was also backed by some pretty jagged peaks.
At 11am, we would finally leave the 4wd jeep road and descend on the rocky path as we were making our way towards Cascada de Ratera. Given the somewhat rough and rocky nature of the signed trail, we had to keep an eye on Tahia and the potential of her hurting herself.
At 11:25am, we would eventually get to a point on the trail that bent right near the main drop of Cascada de Ratera. Not sure if there'd be a better view of the falls, I scrambled on the wet and slippery rocks a short distance to try to get a somewhat cleaner view of the falls. However, the mist was too intense to properly take a photo, and I was content to take a movie to communicate the turbulent behavior of this falls.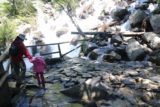 When we realized how futile it would be to fight the mist and try to document the falls from here, we then continued further down the trail. And at 11:40am, we'd find ourselves at the mirador of the Cascada de Ratera. There were wooden railings essentially demarcating the lookout, but the stream seemed to be running a little high so the lookout was also slightly flooded (though it was never above our ankles).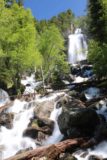 We had to keep an eye out on Tahia getting her feet wet though.
In any case, this mirador was where we managed to get the best views of the Ratera Falls, and by 11:50am, we continued the downhill one-way shuttle hike to the taxi meeting place near Estany de Sant Maurici. We still had time on our side so we took our time as we started to be presented with more open scenery of the Estany de Sant Maurici backed by attractively jagged peaks (some with still some residual snow on them).
Eventually at about 12:45pm, we were at a shelter with interpretive signs as well as a very large group of Israelis. We figured they were also waiting for a taxi ride back to Espot. So Julie and Tahia were chilling out in the shelter.
Meanwhile, as I was taking a few more photos of the lake (now the man-made dam could clearly be seen from here), I was also walking in the direction of the 4wd jeep track. That was when I saw one lone jeep parked near the place we could've been dropped off.
So I asked him in Spanish if he was the taxi to bring us back to Espot, and he told me that he was the 1pm shuttle back upon our original request. He asked me if I was traveling solo or not, but when I told him that my wife and daughter were waiting here, that was when it seemed like we were the party that he was looking for.
When I summoned Julie and Tahia over to the jeep, we were quickly into the jeep. Then, the rest of the Israeli group started to show up, and one vocal guy was trying to get our driver to radio for more jeeps. Apparently, something must've gotten lost in translation (probably language barrier) and they were either waiting in the wrong place all along or the jeep operators didn't know when to pick them up.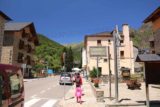 Anyways, our vehicle was occupied by five more people (making it a full load), and by 12:50pm, we were driven away. A few more jeep vehicles started showing up just as we had left so it seemed like the big Israeli group was being taken care of.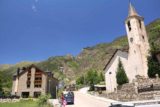 By 1:10pm, we were back in Espot. We took a few moments to buy a bocadillo sandwich on the go as well as some groceries (especially the dark cherries since we had a taste of them on the trail and they were very sweet).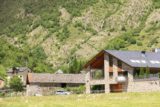 By 1:30pm, we were back in the car, which was hot from the greenhouse effect. We noticed that the skies had really cleared up now, which was in serious contrast to the misty weather with low clouds that we had encountered at the start of the hike. Oh well, that's how things roll sometimes.
At 1:35pm, we were leaving, and now we were to embark on a long drive to Barcelona, which was the last destination as far as the driving part of our itinerary was concerned.
It was a mostly uneventful drive as we were winding our way through the Pyrenees before we'd finally reach the E9. The N260 road seemed to have taken us on a couple of mountain passes, but I guess it was necessary as there didn't seem to be an easy and fast way to get to Barcelona from Espot.
Eventually at 5:25pm, after going through a slew of toll roads (we probably spent between 20 to 30 euros in total on tolls in this stretch alone) and passing near some really shapely (almost Patagonia-like) jagged peaks, which appeared to belong to Montserrat (which we anticipated doing tomorrow), we would eventually be in the city center and navigating the busy streets as we were in search of the parking lot closest to the Estacio Sants.
The Estacio Sants was a strategic location for many reasons. It was very close to our apartment. It was also well connected from at least three different metro lines. Moreover, it was where a Europcar office was, which was where we'd be returning the car for good either tomorrow evening or Sunday morning. Finally, it was where the AVE trail to Madrid was as well.
Anyways, we emptied up the car, navigated the train station for a bit before we'd finally find Calle Riego, where Raquel from the apartment met us. And by 5:55pm, we were finally settled into our spacious apartment (once again affirming to us that staying in apartments while on holidays was a smart choice), and now we were in position to start doing a little research for places to eat at on this evening.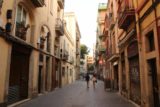 Eventually, Julie let Tahia pick between having shrimp (i.e. seafood) or pizza. Tahia actually picked shrimp so we decided to go downstairs at 7:45pm and scope out the Carrer Riego, which happened to be where both our apartment and the restaurant were locatd. The restaurant was called La Peradata, and Julie was attracted to this place due to TripAdvisor reports and the fact that you get to see the seafood live before eating the live catch of choice.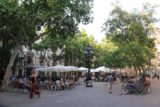 We were a little bit too early for the restaurant so we scouted out Carrer Riego for a few minutes and found out where the markets were. We then returned to La Peradata at just before 8pm, and right away we made the seafood order from lobster to shrimp (big), and langostines. It was good that we were early because not long after we were seated, there was a large queue that was starting to form and head outside.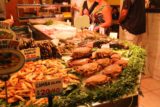 It was a pretty simple affair of you pick your moving seafood, then pay, then sit at a table and let them cook it for you. So we pretty much spent all our time getting at hard-to-reach places for the lobster and langostines. The shrimp was the easiest to eat.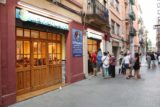 So it wouldn't be until about 9:15pm when we were finally done. Indeed, by that time, the line was well out the door and we had to squeeze our way out of the restaurant.
The funny thing was that it seemed like only tourists would come here given that I didn't hear a whole lot of Spanish or Catalan here. In fact, the real tell-tale sign that locals don't come here is the fact that it got so busy so early (well before 10pm). We knew that hardly any other establishment in Spain would be even crowded closer to 8pm like this place was!
Anyways, at 9:35pm, we went back to the room because both Julie and Tahia had to use the restroom. And while we were back there, we once again heard those loud boom sounds that had been going on every so often. We didn't know what it was and the police didn't seem to be too alarmed about them.
At 9:45pm, we finally went back downstairs so we could do our grocery run. It was recommended that we should do our shopping at Carabro (sp???), but that place was closed. So we ended up doing some smaller market in Carrer Riego right near a happening square where it was mostly locals it seemed. And by 10:05pm, we had dropped off our stuff back in the apartment again.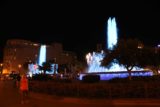 Finally after doing that grocery run, we then headed to the metro, where we'd finally find ourselves at the Placa de Catalunya at 10:35pm. Up on the plaza, there were dancing fountains and a lot of people out and about walking. It was strange to hear just as many American voices as any other language, and I guess that just went to show us that Barcelona was indeed one of those international destinations where the touristy parts probably distorted what the real Spain (if you can call it that at all since Catalonians don't really consider themselves Spanish) is like.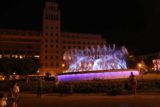 It was a good thing we had spent several weeks in Spain (especially both on and off the beaten paths) so we could get a proper sampling of Spanish culture as well as its myriad of sights that were both on the guidebooks (very popular) as well as those that weren't (many of the waterfalls).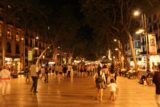 We had some trouble finding where the Ramblas promenade was, but after seeing where the pedestrians were headed, we'd eventually figure it out. Then, we pretty much just ambled for a few blocks on the very happening and crowded Ramblas (crazy considering it was already 11pm) just getting a flavor of the place and taking mental notes as we were getting oriented about the city.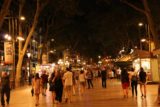 We also spent some time getting some expensive gelatos and macarons at some very busy spot near the start of the Ramblas. And eventually by 11:20pm, we were back in the Metro as we were getting tired and it was well past Tahia's bed time.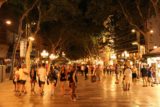 Inside the Metros, it was stuffy while the ground was much cooler. I guess that was something we'll just have to deal with for the next three days.
Finally at 11:40pm, we were back in the apartment. Indeed, even as we walked Carrer Riego from the metro stop to our apartment, you wouldn't know it was almost midnight just walking these streets given how packed and happening it was. I guess it was also Friday night so that further amped up the festivities.
Oh well, we were all exhausted. And we strategically did our timed showers (since there was only about 14 minutes of hot water every two hours) where we wet ourselves, then turned off the water to soap up, then turned on the water to rinse, then turned it off to shampoo, then turned it back on to rinse. It was inconvenient, but the more we thought about it, the more it was actually efficient in that it used less water and we still managed to get the job done.
Eventually we all were out some time around midnight while the rest of Barcelona was still quite the happening place…
Day 6: MONASTERIES OF CHAOS AND PEACE
It was 7:30am when we awoke. Given how late we had slept last night, we very easily could've slept more. However, today we intended it to be the last day trip outside of the immediate city center of Barcelona, which meant that it would be the last car day before we'd return it.
After having breakfast of eggs and toast, we'd finally be in the car within the Estacio de Sants at 9:25am. The big shocker was that the overnight parking costed us 30 euros, which seemed like a major rip off. That further fueled our intentions of dropping the car off after today's day tripping to avoid yet another 30 euros for parking another night.
And given that tomorrow's waterfalls (which was originally planned to be for Salt del Grill and Salt de Sallent) were projected to be dry, I figured it wouldn't be worth the effort to sacrifice a full day without a car while touring the city center of Barcelona. In other words, it was time we finally got to be like the rest of the tourists focusing only on the city's famous sights without our own wheels.
The original itinerary was to visit the monastery at Sant Miquel de Fai before visiting Montserrat. However, Sant Miquel de Fai wouldn't open until 10am and Montserrat had a 9am opening. So Julie suggested that we go for Montserrat first since it was more famous. Then do Sant Miquel de Fai later.
Anyways, we drove out of Barcelona under pretty quiet Saturday morning traffic. However, when we got closer to Montserrat (some 38km northwest of the city center of Barcelona), we could see there were a lot of cars headed in the same direction we were. And when we got up to the car park at the top of the hill before the main part of the Monastery of Montserrat, there were already a bunch of cars parked and we'd have to do a little bit of a hike from one of the further spots.
It was 10:25am when we got here, which made me lament that we didn't get here earlier since they were open at 9am. Oh well, now that we were finally here, we managed to get up to the main area by 10:40am. Of course, we didn't go right into the monastery (or basilica) directly. We had to pause and take a bunch of photos as this monastery really brought back memories of what Meteora in Greece was like.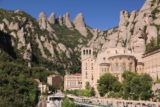 However, in this case, we were inundated with large tour groups. Clearly, this was a major attraction, and it was something that we didn't anticipate being such a big ticket attraction.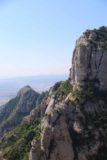 Indeed, with the finger like cliffs (very Kolob Finger Canyons-like in Zion National Park), the brownish river running way below (like the Colorado River), and the mesa-like cliffs like Canyonlands and the Grand Canyon, it was as if we were in the American Southwest mixed in with some European charm and religion (aka the Meteora-like feel).
Adding further fuel to the congestion and chaos from the overwhelming number of people here, there were also gondola rides here, a funicular, even mass transit trains let alone the tour buses, individual drivers like ourselves, and even cruises!
Once we were done with the Mirador del Apostros (sp???), which afforded very nice views of both the monastery fronting the finger cliffs as well as way down below, we finally went up into the monastery area itself. We had no intention of doing the museum.
Inside the atmospheric monastery complex, we first checked out the archways and the courtyard fronting the main basilica itself. When we went inside the basilica, we were greeted with no photo signs, which was kind of annoying because this particular basilica had a bit of bling to its decorations.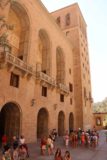 However, there were two guards patrolling to ensure no one would take photos or videos, and while all that was going on, mass was also happening. So it kind of felt like we were intruding on something going on.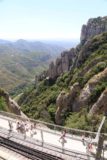 Nonetheless, we wouldn't be able to capture any memories of at least this part of the visit. Now, when we left, we did make a short detour to a small partial-alcove corridor where there were lots of candles lit up. I guess that was a homage to St James as apparently this monastery was also part of the Camino de Santiago.
It was about 11:35am when we were pretty much done with the monastery. I guess the visit was shorter than we had anticipated, but we pretty much got the flavor of this place. With all the ways they could monetize visitors at this place, the only additional monetization coming from us would be from the cafeteria, where we had ourselves a quick salad and cured-ham sandwich.
At 12:20pm, we were finally back at the car. Meanwhile back at the monastery, it was a zoo. Indeed, I generally associated monasteries to be sanctuaries of tranquility and peace, but this experience was anything but. So our brief visit here was pretty much enough to satisfy our curiosity about Montserrat, but I personally was looking forward to checking out Sant Miquel de Fai, which was next.
By the way, Julie's suggestion of doing Montserrat first on this day actually paid off because there were a lot of people still looking for parking as we were walking to our car. I can't imagine how hard it would be to park had we been here later.
The drive out to Sant Miquel de Fai was pretty uneventful. The drive itself once we got on to the BV road was pretty atmospheric as the road was cut into the cliff with glimpses of the deep gorge containing the monastery itself.
I was worried about this experience being subdued due to lack of water as I was expecting both waterfalls here (Salt de Tenes and Salt de Rossinyol) to run dry. But this was our waterfalling excuse to talk about Barcelona so we had to visit this place regardless of whether there would be any water or not.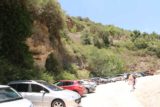 At 1:35pm, we'd finally make it to the Sant Miquel de Fai car park. Indeed, there were only a few dozen cars here, and it was definitely quieter than Montserrat. Already, I was looking forward to this visit as I knew I'd be getting the peace and quiet from a monastery visit instead of the chaotic one obtained at that other more commercialized monastery.
As we took our time walking from the car park to the entrance of the monastery, it was 1:55pm, when we caught our glimpse of the first waterfall here, which was I believe the Salt de Tenes. It actually had higher flow than I expected even though it was low overall, but it still showed up on our photos and movies. The other waterfall (closer to the monastery itself), however, was a total trickle.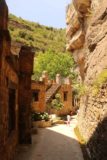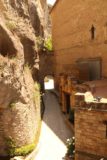 Once we were finally inside the monastery complex (we paid 20 euros total as Tahia was charged 4 euros), we checked out the terraza for more panoramas as well as a church, a swan pool, and some ditches or water channels beneath the alcoves.
Upon reading (somewhat) the Catalan signs here, I gathered that these alcoves were indeed formed naturally from a waterfall that was once here in full force. But then, they built the monastery within the alcoves as well as some water diversion tactics for flood control and erosion control. So now, I could clearly see that the second waterfall was pretty much done unless its stream was in flood. However, that first waterfall further away from the monastery was definitely natural (unless it was somehow diverted up top).
We then noticed some stairs that went down to an interesting cave with stalactites and stalagmites. That pretty much underscored the nature of the rock and the water being mineral rich here. Now while the travertine or limestone formations weren't immediately obvious from the outside, it was definitely apparent within the tiny cave we were in.
There were also precipitous views of both the lowest tier of the natural waterfall as well as the Tenes Valley below as the stairs leading to the cave was literally clinging to the cliffs so it definitely made us aware of how high up we were against the dropoffs.
After the cave, we then continued walking until we got behind the natural waterfall. By now, Tahia was quite freaked out of caves, and treated the alcove behind the falls as if it was also a cave. So while we were enjoying the backside of the uppermost tier of the Tennes Waterfall, Tahia was also busy complaining. I guess that was a shame because we noticed that towards the end of the walk, there was a childrens play area that looked quite extensive.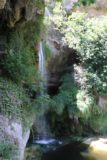 I guess Tahia would miss out on it because Julie was also ready to go. Meanwhile, after getting our fill of the falls, I then continued walking on my own to the hermitage at the very end of the trail, which also had a spur trail leading down into a cave. It appeared they had some help-yourself helmets to explore the cave, but since Julie and Tahia were waiting for me, I didn't bother going all the way down the steps to check it out.
After checking out the interior of the hermitage (which had an apparent shrine), I then followed the other path descending past a cafe and picnic area before stopping its descent at the aforementioned playground. And indeed as I had suspected, it was pretty extensive and Tahia would have enjoyed the various spring horses as well as the two big slides. And we could've let her be herself while we'd be chilling at the picnic area with a view down at the playground.
Anyways, we would eventually get back at the car at 3:45pm. On the way to the car, we noticed another one of those yellow snakes with black markings on its back. And like the one we saw in Segovia, this one didn't seem to be moving either. Nevertheless, we weren't going to get near it since you can never really tell if it was playing possum and waiting to strike. Plus, we don't even know if it's poisonous.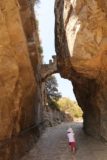 As for our visit to Sant Miquel de Fai, I guess we pretty much milked the 20 euros of entry fee that we had paid. But nonetheless, the peace and tranquility of this place was definitely the antidote for the chaotic atmosphere of Montserrat. Indeed, sometimes the most well-known attractions don't always deliver on the real purpose of what monasteries were supposed to deliver (i.e. peace and quiet). But in the case of Sant Miquel de Fai, it did.
Now, we were driving the rental car back to Barcelona. But this time instead of parking at the Parking de Sants, we went looking for the parking for Europcar so we could avoid paying another 30 euros. And luckily for us, we finally managed to find it near the Estacio Sants and drop off the car at 5pm.
Once we emptied out the car and made sure we didn't forget any of our belongings, we then walked a very sunny and hot stretch going by some interesting metal dragon before skirting some garden with fountains fronted by columns alongside the sidewalk we were on. There was also a round tower-like structure, but it wreaked of homelessness as there were several mattresses set up here with a few homeless folks sleeping in them.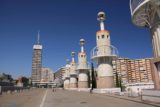 At 5:25pm, we were finally back at the apartment. Now, without the rental car, we have one less thing to worry about for the remainder of this trip (of three full days not counting the rest of today). Not that I'm complaining as I could finally be a typical tourist strolling the streets of Barcelona and Madrid now.
After unwinding for a little bit at the apartment, at 6:20pm, we then headed back into town. Upon reading that there was a pizzeria that served up the best Italian food in Barcelona (allegedly) and that it was open continuously so we could have an early dinner, we made sure to take the metro there.
By 6:35pm, we were finally in position to wait for a train to get to the blue line leading to the Diagonal stop, but we walked quite a long distance underground to get there. Then, at 6:55pm, we finally managed to make it to the Margherita Pizzeria. Not surprisingly, we were the only ones (or one of the only ones) eating dinner at this time.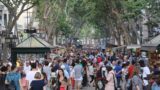 Our dinner consisted of a very different and tasty fish ravioli, a margherita-like pizza, and veal in marsala sauce. That was topped off with tiramisu as well as washed down with water and a pretty large glass of sangria. Although the dinner was 80 euros (somehow we must've mistakenly gotten two orders of the ravioli), we then left the restaurant at 8:05pm and took the metro once again back to the familiar Placa de Catalunya.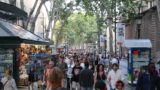 At 8:15pm, we were back doing our second try at the Ramblas walk. And this time, we pretty much walked the entire stretch of the pedestrianized street flanked by narrow streets on either side of it. It was amazing that even at this time, the place was quite happening. However, Julie and I wondered if this was really where locals went, or if this was more dominated by tourists given how much English, French, or even Chinese that we managed to notice while in the sea of humanity.
At 8:30pm, we finally found this market called St Josep La Bouqueria. It was pretty much dominated by fruit stands and a few dessert places as well as the odd tapas or pintxos bar. However, most of the stands here were closing up or were already shuttered. But we took a mental note to perhaps come back here and try to visit it when it would be a more happening place than it was now (as if it wasn't already).
At 8:45pm, we had our fill of the half-open market. Then, we continued on in our Ramblas ramble, and pretty much walked through the more southerly parts of the promenade, which was now flanked by more tented cafes as well as more tented souvenir stands. There were also the usual folks trying to sell neon-colored slingshots as well as painted folks posing like statues. I swore there seemed to be these guys in just about every famous European city center whether it's Paris, Roma, Madrid, and now Barcelona.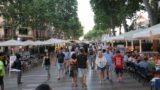 At our stopping point of the Ramblas walk, we'd ultimately get to a tall statue at a roundabout. There was the port further on, but we didn't go any further than this statue. In fact, Julie and Tahia spent more of their time shopping at a nearby market.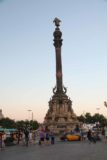 When all was said and done, it was 9:30pm when we were at the Drassanes station, where we'd take the L3 green line all the way back to Estacio Sants.
After slowly making our way through the train station there (noting where we were supposed to buy our AVE tickets from Barcelona to Madrid; which didn't look cheap at around 110 to 131 euros per person), we'd eventually make it back to our room at 10:10pm.
It felt like we were unwinding from the day at a time when the rest of Barcelona was just getting the party started. There even seemed to be some kind of street concert going on near the movie theater not far from our room. Meanwhile, there were random firecrackers going off that were set off by kids in dark corners of the nearby square between our apartment and the Estacio de Sants.
Even as we were unwinding, we still heard more of those loud booms from what I'd imagine to be M-80 fireworks (the type that could set off car alarms). When Julie looked it up on the internet what could be the reason for these booms, it turned out that there was an upcoming Feast of Sant Joan festival. That said, it would appear that we might be missing out on the actual festival since we'd be heading to Madrid and then heading home when the festivities were supposed to happen.
So I guess we'd be a little missing out on being a part of the craziness in Spain. And I guess that's the drawback of traveling with a toddler, who can get tired or disinterested quite easily. Nonetheless, we were looking forward to tomorrow, where we'd finally get into doing some of Barcelona's more signature attractions for the next two days…
Day 7: POORLY CONNECTED
It was 7:30am when Julie woke me up. It appeared that she had been up for several minutes as I thought I had heard her attempting to make breakfast. But when she told me that she wanted to see one of Gaudi's houses called the Casa Batllo right when they opened at 9am, then we would have to leave no later than 8:15am from the apartment.
I think once she realized this fact, that pretty much killed any thoughts of doing an egg and toast breakfast before we'd take off. So we woke up Tahia (who was cranky as usual whenever her sleep was interrupted), and by 8:25am, we were finally out the door.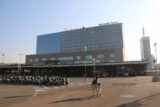 It turned out that we were supposed to take the blue line towards the green line before getting off at Passeig de Gracia stop. However yesterday, we had made such a long underground subway hike from the Placa de Sants station at the west end of Carrer de Riego that I made a mental note that perhaps it might be easier to get on and off the Estacio Sants depending on what line we needed to take. And so this time we went east towards the Estacio Sants and caught the Metro in there.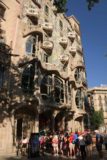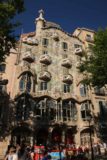 Eventually at 8:55am, we showed up at the Casa Batllo, which already had a queue waiting to go inside. While we waited for the opening, we took turns holding our place in line while taking photos of the curvy exterior of the modernisme-style house.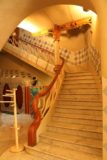 And pretty much at 9am, they opened like the hours had said during our internet readings. So immediately, we followed their numbered self-guided tour, and went room to room, floor to floor until we had concluded our visit at 9:45am.
It looked like this house was operated as a museum and it wasn't a real living house. While the verbage on the signs said that Gaudi was into practical designs despite his curvy designs, I wondered how efficient the living quarters would actually be given how inefficient some spaces could be if they were left for curves.
At 9:25am, we were on the roof. With the hot early morning sun, it was both bright and warm on the roof. But overall, I thought our Batllo visit was ho hum. But we knew that this was merely a taste of Gaudi's other famous works in Barcelona.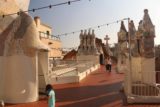 Eventually at 9:45am, we were done with the Casa Batllo, which was now really busy with people queueing up. I personally found the most compelling rooms of this exhibit to be the grand living rooms as well as the corridors and stairways.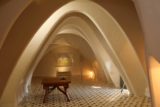 Anyways, we ambled back towards the Placa de Catalunya, where we'd eventually find ourselves a tourist-info site, where we bought a 1 euro map over Barcelona that ultimately helped us figure out where the metro stops were as well as where the attractions were in relation to them.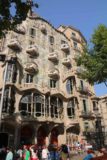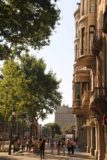 It wasn't until about 10:25am when we were waiting at the bus station for bus #24. When the bus showed up, it seemed like we weren't the only ones going to Park Guell because the bus was packed. Fortunately one guy let Julie and Tahia take his set because it wouldn't be pleasant otherwise had they been standing amidst the crowd where people were trying to squeeze through to get further back in the bus or out of the bus when it was time to leave.
We also saw someone else use the T-10 card that we had been using for the Metro so we also did the same for the bus. Julie thought we had to pay for Tahia so she validated the ticket an extra time, but it turned out that a local said it wasn't necessary when he noticed I was studying a sign in the front of the bus and wondered if I was trying to figure out where to get off. We've had many instances where local Spanish (or in this case Catalan) person volunteer help, which was very appreciated.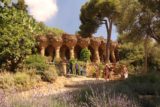 Mercifully at 11am, we were finally at the Park Guell. Indeed, this place was pretty far out of the main city center of town. Yet when we got off, the whole bus emptied out. Not only that, but at the bus stop, we saw many other tour buses there, and once we got into the public part of the park, we saw that there were many more people (especially tour groups) wandering around the partially tree-shaded complex.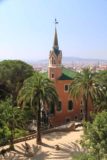 At first, we tried to figure out where we were supposed to make use of our purchased tickets for the 1pm time slot. But it seemed like we were forced to get through the public part of the park so we mind as well enjoy it.
There were several stone structures containing arches within them (almost liked they were ribbed) where you could seek shade inside them, but they also were compelling photo subjects themselves. Some of these structures had upper walkways that also served as miradors over the city of Barcelona, where you could also see the ocean in the distance.
There was even one of these structures that curved, and it did so in such a way that the walkway was curving onto itself. And after seeing the house at Batllo, I could already get the sense that this mind bending, no straight-lines. whimsical architectures were pretty much the MO of Gaudi and Guell. It kind of made me wonder why there wasn't more of this around the world if the map we were given says that Gaudi also wanted this to be practical. It seemed like this modernisme style was pretty much a Barcelona (hence a Catalan) thing.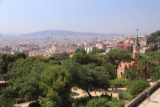 With the heat of the day really amping up, we took our time ambling about the public part of the park though in the back of our minds, we wondered if we managed to miss the place we were supposed to somehow use our paid ticket near the entrance where people were buying tickets. But after asking someone at the museum (which wasn't included in our ticket), he was helpful in confirming that we were supposed to keep walking past the public part of the park.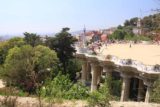 Not long after we had our fill of the park, it became apparent when we got to a very crowded area with an outdoor catina as well as people lined up that this was indeed the controlled access point. There was a large open placa called the Plaza of Nature (at least that was what I gathered from the Catalan) where there were curvy tiles adorning the frontal periphery overlooking the city and apparently other signature buildings of the monument part of the park.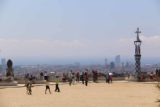 There were more things that seemed to lay hidden beneath this plaza as well. So indeed, we had found our place, but the workers there said that we couldn't go in until our allotted time of 1pm. It was only 11:55am at the time. So we spent the remaining hour pretty much finding a table beneath one of the umbrellas, then having some pretty subpar lunch of a Stouffer's-like baguette "pizza" as well as a pretty decent bocadillo of cured jamon.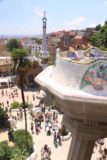 Aside from breathing the second-hand cigarette smoke from European tourists next to us, it was otherwise pretty relaxing and helped to give us a second wind to our visit. I was even starting to get sleepy from this big beer mug of sangria that Julie bought with our lunch.
Eventually at 12:50pm, we were done eating. Then we waited in the line for our time to get in. Unfortunately, that line wasn't in the shade so it was a pretty hot affair. Then, when we were finally let in at precisely 1pm, we first spent time in the Nature Plaza where it was also a pretty unshady and hot affair. But I knew that if we skipped this, we wouldn't have the energy to go back to it later on so we also joined the crowd and were opportunistic about getting our shots as well as our people shots in.
Then, we went downstairs and right into the Mezquita-like Hypostyle, which was a series of columns that really reminded us of the atmospheric mosque that we had visited in Cordoba. Of course, this was done Gaudi style yet this was probably the lone geometric straightline spot in any of Gaudi's works we had seen so far, and that was only if you counted each of the scalloped columns as linear when viewed from a 2-D perspective.
So we spent quite a bit of time in here (mostly because it was nice and cool and shady), but then when we had our fill of this spot, we then competed with a bunch of other tourists to try to get our shots of the curvy steps right below the Hypostyle. On the steps were a couple of fountains of tiled lizards and dragons I think.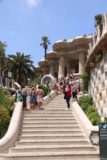 I think there was a scene on Covert Affairs (a spy show we used to watch) that was filmed at this very spot. In fact, even a chase scene through the souks of Marrakech was also on there as well. Probably worth another watch on Amazon Prime time permitting.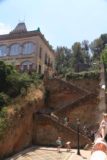 At the very bottom of the stairs were a couple of buildings that I swore could've been something out of Candyland (that board game) where it seemed like (from a distance at least) the buildings were made of candy.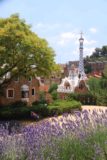 The building on the left that was blue had a large line, and we eventually opted to skip out on it because it was a museum with entries every 30 minutes just showcasing the interior of a typical "humble" residence of Gaudi or Guell (not sure). Since we had already done Batllo and will do La Pedrera tomorrow, we decided we didn't need another dose of this.
Meanwhile, after a pretty lengthy restroom trip between 1:50pm to 2:15pm (the women's line was ridiculously long), we then checked out the Austria gardens where lavendars were abundant (Julie always loved those kinds of flowers) and the assortment of other flowers made it seem like we were in a mini Flower Fields like the one in Carlsbad. Though this one was more compact with better views and atmosphere, of course.
After the garden, we crossed through the plaza, and then went into another ribbed and arched stone walkway curving around the western perimeter of the monument part of the park (passing through the Nature Square to get there). This time, the arches were leaning, and it kind of reminded me of the shape of an ear for some reason.
And once we were done with this whimsical archway, we then left at the bottom of the monument area between the candyland buildings. The time was now 2:40pm, which was apparently the same time as many other tourists were done with the Park Guell. And so when we got to the taxi area, there were already a lot of other people waiting.
However, it seemed like there weren't any taxis coming around at the time. But when they finally a few minutes later, most of them were already full and they passed by us. So a lot of the crowd ended up dispersing and looking elsewhere. Meanwhile, as we were about to do the same, we spotted a couple of taxis that came by, but there were locals or other folks that beat us to the punch in hailing them.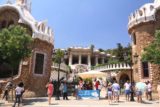 And after a few more minutes of being beat out by folks who were there after us (and not even waiting in line), we started to try to do the same (i.e. standing in a spot and trying to hail them and get their attention).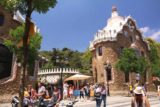 It was pretty annoying and it made me wonder why the Park Guell was not better served by mass transit. And this frustration and tension started to hit a climax when there was all of the sudden a very large crowd waiting for taxis back at the "line" we were at earlier when we were being ignored.
Suddenly, there was an English middle-aged tourist man (at least from what I gathered from his accent) who got in our faces saying we should be waiting in line pointing at that large crowd behind us.
I don't know if it was timing or if he was being racist seeing we were Asians and probably targeted us (not that I blame him quite frankly since I know of many instances where pushy and rude Chinese folks give us a really bad name), but we pretty much spent the next few minutes arguing with this guy as he wouldn't let the issue go.
When we tried to explain to him that we had already done what he advocated that we do this instant only to be ignored by the taxis for several minutes, it seemed like he wouldn't accept our answer. Indeed, he kept pushing the argument when I knew neither of us were going to change each others' minds. Finally, I asked, "Sir, are you looking for a fight?" (which was probably not the wisest thing to ask), and that really amped things up as if the semi-senior guy was ready throw down as well.
Anyways, to make a long story short, the thing that ultimately did the trick was that Julie told him that we were here long before he was and that we were waiting here much longer than he was. I don't think he liked our answer, but that seemed to get him back to the front of the "line" while we were simultaneously hailing taxis again (i.e. the original positions that we were in before this confrontation started).
So whatever insinuations he was making that we were cutting in line were finally de-fused somewhat. And eventually the next line of taxis came by, and we'd ultimately take a pair of taxis at the same time, and that pretty much ended this utterly unnecessary situation.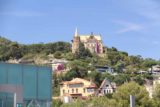 Next, we took the cab to Cosmocaixa, which was a Science Museum. This was basically an out-of-the-way visit for Tahia since we pretty much did all the adult things for practically the whole time we were in Barcelona. However, this was the kind of thing that we wound up doing only because we had a child. I'm sure if it was just Julie and I, we wouldn't be "wasting" time doing this as there really wasn't any "sightseeing value", especially given how out-of-the-way it was.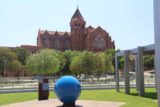 In any case, it was 3:15pm when we were finally at the Cosmocaixa entrance. But it wouldn't be until 3:40pm when we finally got our tickets and entered the museum and displays once the delays in processing these tickets was over (there was only one lady working the entrance and the line grew pretty long after we started lining up).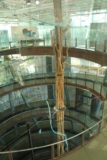 And we pretty much spent the next two hours checking out this large hanging tree, an amazing Amazon rainforest re-creation with large freshwater fish (some were huge like the catfish as well as some other large fish we didn't immediately recognize) in a see-through glass beneath as well as a climate controlled jungle at the top with seemingly real fig trees and other foliage containing turtles, birds, and other organisms thriving in that habitat. I don't think we had ever seen something like that before, and it was quite impressive.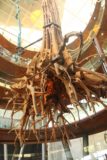 Then, we checked out some other exhibits throughout the -5th floor from fractals (something I knew Tahia would appreciate given her obsession with Disney's Frozen) as well as other interesting displays demonstrating Newton's laws.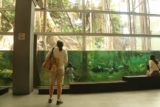 But we were also captivated by another early man display that clearly showcased evidence of how ape-like species evolved into Neanderthals and some other early species of man, who figured out how to make fire then sharp objects by splitting rocks. And it even showed how a grieving man over a dying comrade in a hunt demonstrated self awareness.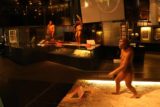 It was pretty an amazing and brutally honest depiction showing very clearly the artifacts (like burn marks from making fire or sharp rocks for cutting, etc.) that gave rise to these theories so we could see for ourselves whether we buy these theories or not. And it was the second time in Spain (the first was in a museum in Madrid) where we saw a display like this, which was amazing since Spain was a deeply religious country yet it seemed like they didn't let religion get in the way of telling the facts like they are.
I couldn't imagine something like this happening (or without being tampered with) back at home, where we're supposedly "secular" (i.e. church and state are supposed to be separate).
Anyways, I digress.
As we explored the upper floors (thinking there was something more to this exhibit), we saw that there really weren't anything of interest unless we paid for tickets in addition to our general admission. So we eventually went back down to the -5th floor, where we checked out other displays that we missed on the first go around (including a pretty depressing but unsurprising and brutally honest "experiment" about predicting what the future would be like in the year 2100).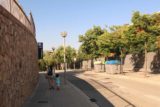 It wouldn't be until 6:10pm when we were finally done with our visit. But now we had to hike to the nearest metro station (not wanting another taxi fiasco; though it didn't seem like taxis come out this way that often anyways). And after about 30 minutes of hiking towards the Penitents station (with a wrong detour following signs that wound up taking us through a hospital complex), we'd eventually make it to the metro station at 6:45pm.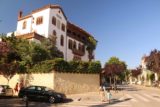 In hindsight, when we had the car, we should've visited this place on our own since parking was free for two hours, and it was attached to the complex. Public transport was definitely not serving the Cosmocaixa. I guess hindsight was 20/20.
Julie decided that we should immediately go to dinner at this place called Arume. It had good TripAdvisor reviews, and it was open at 7pm (though she thought it was open at 7:30pm). Anyways, after getting off at the obscure Sant Antoni stop, we walked to the Arume restaurant and got there at 7:20pm.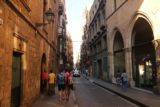 However, we were asked if we had reservations, and when we said no, we were then told to wait a few anxious minutes to see if they could seat us. Eventually, they said ok but that we had to be out by 9pm. That wouldn't be a problem for us, and it was really more of a function of how quickly we could be served than how long we would be taking.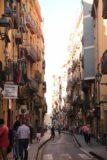 It turned out that the food wasn't cheap, but it was quite fresh and good (though the portions were of the fine dining variety). We had a really good scallop (notice it wasn't plural), some king prawn tempura that Tahia liked, a couple fall-off-the-bone lamb shoulder pieces, and a very fragrant seafood paella with a very Galician seafood flair to it. We also had two blackberry mojitos, which were said to be very recommended though admittedly they were full of ice and quite sugary as we could literally see the sugar granules at the bottom of the glass (I guess pretty much all cocktail drinks are like this).
One of the waiters told us (upon us inquiring about the Galician slant of the menu) that two of the five owners of this establishment were Galician. We told him that we didn't want to do the octopus since we had that back when we were in Santiago de Compostela. But it was interesting to note nonetheless.
Still, we were pretty satisfied with our meal when we left at 8:55pm. The restaurant was very busy (practically crowded) as we squeezed our way out. And judging from the amount of American English spoken, it was pretty obvious that this place was popular from TripAdvisor reviews. I wondered if they even knew the different between Galician food versus Spanish food versus Catalan food…
Then, we took the mass transit back to the Estacio Sants station where we once again studied the machine and even asked the info desk about Tahia's ticket. But it seemed like the machine wasn't being cooperative about her 40% discount (told by the lady at the info desk) so we ultimately decided that we couldn't make advance purchases this moment, and that we'd have to make our attempt tomorrow during the hours when the advance ticket offices would be open between 10:00-20:00.
At 9:55pm, we were finally back in our room. Exhausted from this very busy day of walking, we all fell asleep pretty quickly around midnight after the usual showering, dental hygiene caring, etc.
Tomorrow, with the booked timed excursions like Sagrada Familia and La Pedrera, it was going to be yet another long day; yet a day that we really looked forward to…
Day 8: ELVISH
It was 6:30am when I naturally awoke. No alarms were necessary on this morning. During the time I got up, Julie also got up. However, she did just enough to get us a breakfast croissant knowing that we had a 9am entry time to get into the Sagrada Familia, which we knew would be ultra busy and touristy. So our morning schedule pretty much revolved around that.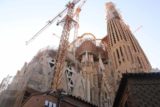 It wasn't until about 8:20am when we left the apartment. And after going through the familiar metro system from the Sants Estacio station, we got out of the Sagrada Familia stop and when we first got up to the street level, we saw some pretty massive cranes and scaffoldings above us as we found ourselves in the rear of the cathedral.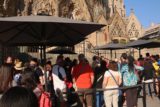 It wasn't exactly the greatest first impression one could have of this most famous of Barcelona sights, but we knew that we had to get right to the front of the Sagrada Familia and its queue, which we promptly did at 8:40am. Unfortunately, there weren't enough umbrellas to shelter everyone in line so it was already heating up quite quickly on this morning.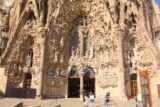 That said, we took what photos we could from the queue. It was a shame that we couldn't take photos from across the street this early in the morning given the time situation. Yet the light on the facade of the Sagrada Familia was quite soft and pleasant. I knew that by the time we'd come out of the Gaudi-architected cathedral, the lighting we be much harsher, and I'm sure there'd be an even bigger crowd than there already was at this time.
Meanwhile, we also paid more attention to the invasive scaffolding and cranes around the structure. We knew that it was a work in progress (i.e. it was unfinished). Plus, all those scaffoldings brought back memories of our Santiago de Compostela visit where almost the entire front facade was covered in scaffoldings; thereby ruining its appearance. Fortunately with the Sagrada Familia, the scaffolding face was facing to the west, which was opposite where we were currently at (which was facing to the east).
Finally at 9am, we were allowed in. We had about 30 minutes before it was our turn to go up the Nativity Towers. Yet inside the cathedral, it was relatively empty so we managed to peacefully get the shots we wanted though it seemed like almost everywhere we went, there was a photo opportunity.
Now, this was pretty much like all the other cathedrals we had been to on this trip. So we were always tempted to look up as the cathedrals tended to make you do. However, this modern cathedral (since 1909 I believe) also had a lot of stained glass windows that was bouncing lots of incident light off the walls and even creating some color to parts of the otherwise white cathedral itself.
For this reason alone, it made this place one of the better cathedrals we had done, and it was like the Leon Cathedral but brighter, more crowded, noisier, and seemingly whimsically "elvish". In fact, I kept playing in my mind the music that would be played in the Lord of the Rings whenever they'd show shots of Rivendell or some other majestic Elvish scene, and the Sagrada Familia somehow seemed consistent with the imagery that the movie planted in my mind.
In fact, the OG version was probably the Sagrada Familia itself since it preceded J.R.R. Tolkien and definitely preceded the direction of Peter Jackson. So we probably had Gaudi to thank for this modernisme style that somehow influenced later works even in fiction.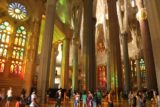 Eventually at 9:30am, we all headed to the Nativity Towers entrance near the east side of the cathedral. And once we were showing the ticket to the lady controlling the queue, she told us that Tahia wasn't allowed to go up since she was under six years old. So Julie and I would have to take turns visiting the Nativity Towers.
First up was Julie. Tahia was bummed since she couldn't hang out with mommy for several minutes. So in the mean time, I tried to keep her pacified by letting her draw and by tickling her. Eventually by 9:50am, Julie came down, and now it was my turn.
A few minutes later, I went up the elevator with four other tourists and the employee, and when we left the elevator, we went up some steps where we then got onto a bridge with nets all around it, and that was our first taste of how high up we were as well as getting a closer look at the elvish architecture of the exterior of the Sagrada Familia.
We then followed some steps down a wide spiral on the periphery of a tower before getting to another bridge. At that point, it was almost like you get to choose your own adventure (going up or down it seemed though it did get tight when there was bi-directional traffic). It seemed like I was in one of four towers, but I was never sure which of the four I was in. Plus, it seemed like the viewpoints were generally in the same direction (east).
At some point, I either got lost or disoriented, and I swore each tower was either the same thing, or I was in a twilight zone where I kept getting deja vu in terms of the sights I was seeing (yet somehow they were slightly off from my memory). In any case, I felt like after a while, things started looking the same.
So after going down even tighter spiral steps (looking like a snail shell when looking straight down), I'd eventually get to the bottom of the other eastern tower. On the way down, there were a handful of sneak peaks into the upper parts of the interior of the Sagrada Familia and its stained-glass windows with incident lighting.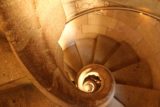 And by 10:30am, I rejoined Julie and Tahia. Then, after a few more minutes of taking photos of more of the Sagrada Familia's interior (especially the colorful incident lit portions thanks to the stained glass windows), we then went to the exterior of the Sagrada Familia at 10:55am.
That was when we could see just how many people around the Sagrada Familia were gawking at the structure. Indeed, there were city tour buses as well as lots of people on foot in all directions of the cathedral all looking in our direction. I guess this place was just that kind of camera-clicking magnet most probably due to its uniqueness.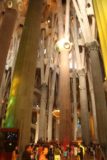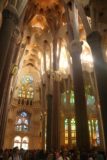 At 11:15am, we'd eventually make it to the far eastern side of the cathedral where there was a pond that I had noticed from the Nativity Towers earlier on. I knew it would be a good place to photograph the entire context of the Sagrada Familia as well as get some reflections in the pond below. And sure enough my hunch was correct.
But as Tahia was getting antsy about not being able to do anything that interested her (sightseeing was definitely not a child-friendly thing to do), she noticed a playground opposite the pond, and that was immediately what got her to be more cooperative and happy.
It wouldn't be until about 11:45am when we were finally back on the L5 line, where we'd take it back to Estacio Sants to purchase advanced train tickets for our long-haul to Madrid tomorrow. We had been having problems with the machines because they didn't properly handle Tahia's discount. And when we tried to buy these tickets online, it seemed like they didn't let us do a one-way journey.
So in the end, we decided to work with a live person. And now that we were finally here at a time when the ticket windows were open (it was 12pm when we were finally there), we grabbed a number (E329) and waited patiently for our turn (they were on E230).
So during this time, Julie got some skewers for lunch, which held us over during our wait. Meanwhile, I also went back to our apartment to fill up some water so we'd have more ice cold water for this afternoon's touring.
And eventually at 1pm, we worked with the ticketing agent and managed to secure a first-class train spot with a table and seats facing each other for a slightly higher price (we paid for four seats) than if we paid for three seats in a lower class seat. I guess that would ensure that our ride to Madrid would be comfortable.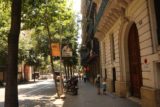 And now with that errand out of the way (again one less thing to worry about), we could now take the metro back out to the main city center to check out the Casa Mila, which was also known as La Pedrera. We'd eventually get there at 1:30pm after a little roundabout walking as we had gotten off the wrong exit (correct stop though) and walked a few blocks backwards eventually overshooting the attraction before finding it. I was surprised by how few signs there were regarding this house when we went looking.
But at least we finally managed to find it. Now, it seemed like even though our tickets were for 2pm, they let us in not long after we had showed up at 1:30pm. And it didn't take long after that before we went up an elevator that took us right up to the rooftop.
Once we were up there at 1:40pm, we could see immediately that we pretty much cut right to the chase. Up here, we could clearly see the wavy lines contouring the walkways with some weird almost abstract Tiki-like figures watching over us throughout this rooftop.
There seemed to be a zillion different ways to compose a photograph here, but I also came to the realization that twilight touring of the rooftop up here would probably be best when things are lit up in their different colors. Nonetheless, it was a nearly cloudless blue-sky day so that contrasted well with the cream-colored exterior of the roof.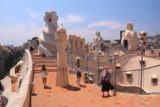 Even though the sun was shining bright and it was quite hot up here, we still spent nearly an hour before heading down. I overheard one tourist say that this place seemed to get better with each passing minute of the visit, and I'd have to agree that his assessment was pretty close to how I was feeling about it (at least from a photography standpoint).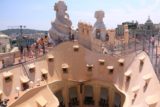 Once we were off the roof at 2:35pm, we then went into some exhibit showing models of Gaudi's various works, including the ones we had visited on this trip – Casa Batllo, Sagrada Familia, Park Guell, and now the Casa Mila. There was also other works, including Palau Guell, and some others that I wasn't even aware of in Barcelona. We could see that there was quite a bit of Catalonian pride with the Gaudi exhibition as it seemed like the city clearly embraced this guy as their own.
Next, we then went downstairs into the apartments, where they exhibited various furnished rooms showing us how people here have lived in the 1920s I believe (though I swore some of the things looked more modern than that). Indeed, walking through these rooms was almost like taking a step back in time.
When we were done with the apartments at 3:15pm, we then skipped all the way down to the bottom floor by elevator (though we could've exercised and done the descent with stairs) before walking up one flight of stairs to some exhibit of works of art by Leopoldo Pomes.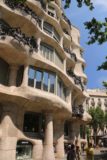 Here, we saw modernisme art in various advertisements and photography, which kind of took us to the Cold War era when it seemed that Barcelona was becoming more like a consumerist society gaining in standard of living and thus self-confidence.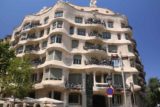 Eventually at 3:25pm, we were finally done with our visit. And we then took the metro back towards the Ramblas de Catalunya again.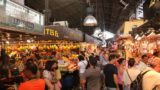 It was 4:05pm when we had returned to the familiar Ramblas. And once again, we got some of those yummy Italian Gelatos nearby before continuing on down the Ramblas into the market La Boqueria. Once in there, we went meandering around the various food stalls though the fresh fish market part of it seemed to be long gone now (probably active early in the morning).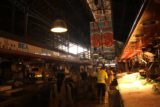 At 4:25pm, we'd eventually settled in on having some seafood at this place called Quiosc Modern de la Boqueria. And even though the food was cheaper than the stands out in the really busy Ramblas-facing side, I guess the quality of the food just wasn't there.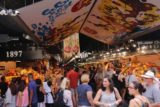 When the seafood tapas run was done, we then picked up some juices and fruits from amongst the various stands all pretty much selling the same things but with various prices and quality. Our sampling was pretty random, and I don't think that there was anything particularly standing out amongst the crowd.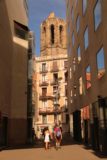 At 5:15pm, we were pretty much done visiting La Boqueria. Julie wasn't particularly impressed with the tapas selection here, and she much preferred the Sant Miquel market in Madrid.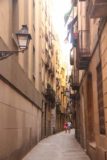 Next, we then meandered into what we thought as the Barri Gotic. We pretty much made it as far as a particular cathedral (I think it was Santa Maria), but it wasn't particularly anything special in our minds. But on the way out of this area, we stopped into this place that was recommended for tapas called Irati.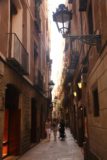 The tapas that were on offer here were creative with a bit of a seafood slant, but Julie wasn't particularly hungry (thanks to the seafood) and Tahia was napping on my shoulder. That made it a bit difficult to tapear on the standup counters here.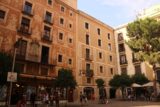 When all was said and done, we paid about 14 euros for seven different tapas. Then, we walked back up towards the start of the Ramblas near Placa de Catalunya, where we then went into La Poma for some pasta, which Julie had a craving for. It would also serve as a place where we can have a seat and try to get Tahia to lie down so she could finish her nap.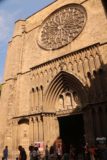 Well, we'd eventually get there by 6:10pm. That momentarily relieved the tired feet of both Julie and I. It also relieved our shoulders momentarily as well as Tahia could now lay down on a bench seat that was part of our table. However, her nap didn't last much longer after that because I guess she had her mind set on coloring and drawing over dinner.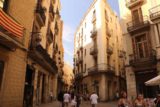 The pasta here was actually pretty good, especially since this was kind of a random stop for us. It seemed like Barcelona had quite a bit of Italian joints, and I swore I heard quite a bit of spoken Italian during our travels in this city.
Still, this was really a meal for Julie and Tahia since I had already had my lunner. I was just there to clean up on the stuff that neither Tahia nor Julie would finish.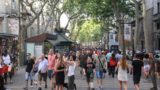 By 7:15pm, we were done with the restaurant, then we walked back south on the Ramblas de Catalunya. Along the way, there was quite a bit of commotion going on at a theater, where it looked like a labor dispute was getting nasty as chants were getting louder and cops were frantically blowing whistles to try to control the demonstrators.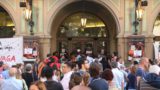 It seemed like the same demonstration that we saw yesterday though today seemed a lot livelier and more closer to violence. We didn't stick around as we didn't want to be caught in any hairy situation just to find out whether our hunches were correct or not.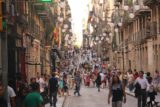 Then, some of the side streets (I believe it was Carrer de Ferran) caught our attention as it was a wide street that seemed to be pedestrian only. So on a whim, we just followed this street until we'd eventually show up at Placa de Jaume, which seemed like a poor man's Puerta del Sol in Madrid.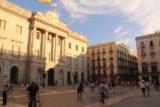 There were also other plazas and hidden alleyways along the way, which got us thinking that sometimes when you're not looking for something, you wind up making more discoveries. This contrasted with how we approached doing Barcelona up to this point as we had agendas for doing one sightseeing attraction after another that we had totally planned on doing. And perhaps that mentality tended to put blinders on so any peripheral thing that might've caught our eye would often get missed since we wouldn't be looking for them.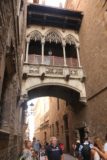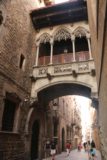 Once we left the Placa de Jaume, we then followed an alleyway that had an interesting bridge going across it. After passing through this bridge, we then found ourselves by the remnants of some aqueduct, and then we found ourselves in a very large square where we finally managed to find the Cathedral of Barcelona at 7:55pm.
Unlike the Sagrada Familia, this one was a classic cathedral that we had been seeing all throughout Spain. But with the shadows getting longer, it wasn't easy to photograph properly. So we soaked up the ambience a bit before returning back to the Ramblas.
And on the way to the Ramblas, Julie managed to buy Tahia a Hello Kitty T-shirt with a Gaudi theme on it, but I guess there was some snafu in the credit card processing so we wouldn't be out of that store until a half-hour later.
At 9pm, we'd eventually make it past the Mirador de Colon at the far southern end of the Ramblas de Catalunya, and then we were on a floating gangway that was called Ramblas de Mar. We only walked out here just to see what we had been missing, and really this ramblas just ended up at some shopping and fooding area on the harbor.
After having our fill of this breezy walk (where we also noticed Montjuic for the first time), we then headed back to the Drassanes station. And eventually by 9:55pm, we were finally back in our apartment to end this very long day.
Tomorrow, it would be our final full day in Spain though it would be a travel day as we were trying to position ourselves closer to the Madrid airport so we could take the direct flight home to LAX the following morning on Wednesday…
Day 9: ON THE WAY HOME
It was 7:30am when we awoke. We had a lot to get done on this morning, but we at least knew that our train wouldn't be taking off until 11am from the Sants Station, which was only a few minutes walk from our apartment. Most of the morning started off with trying to finish off all the groceries that we had bought throughout the trip that we still managed to have at this time. So in addition to eggs and toast, we also had avocado, serrano ham, pickles, and even tomato "jam".
The stuff we couldn't finish (i.e. the gazpacho we got for free, one yogurt, and a few slices of bread) we left for the staff that will come in here and tidy up the room for the next people to stay here.
When that was done, we then packed up all our stuff to make sure it all fit in the luggages as if we were traveling by airplane. That took a while, but eventually by 10:15am, we were out the door of the apartment.
By 10:40am, we were aboard the AVE train from Barcelona-Sants to Madrid-Puerto Atocha. It was nice that we had first class seats facing each other with a table between them. We had bought four such seats because it was deeply discounted at around 74 euros a pop. Buying four of these was marginally cheaper than buying two adult tickets at about 110 euros then another one at around 68 euros.
The lady at the entrance control noticed that we were only three passengers for four tickets. But she got the idea after seeing all the stuff we were carrying plus having a child. In any case, we had plenty of space between us, and the first class was a nice touch as there were complementary drinks and afternoon snacks.
The train ride was quite smooth as it went about 300km/h from time to time. It made one stop in Zaragoza. Other than that, I got my nap in there as well as some laptop work done (though the latter wasn't easy for me as it started to induce some mild motion sickness).
Eventually the train arrived at the Atocha Station on time at 1:45pm. It took us a little time to hike from one side of the exit of the Atocha Station to the Mediodia Hotel pretty much right across the street from the station next door to the Reina Sofia Museum. And so by 2pm, we got to the hotel, and ten minutes later, we were in our room getting settled.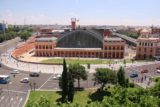 Our room had a nice view over the big roundabout by the Atocha Station, and we gladly took photos from up here. However, the sunny skies and hot temperatures made the balcony a bit hot. So I just got my photos then retreated to the AC in the room.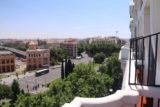 We had high hopes of getting a lot of things done today – from checking out the palace or greenhouse at the Retiro Park to doing the Prado Museum for free. And we wanted to do all this while still having tapas at the San Miguel Market as well as having Brittany crepes and ciders from the Comptoir de la Crepe as well as the Napolitano Pizza at Reginella. But the reality was that some of this stuff would have to be sacrificed as it was too much to do in too little time.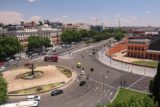 After running errands checking into our international flight for tomorrow, we then headed back down at 3:15pm and across to the Atocha Station to try to figure out how we were going to get from here to the international airport. Eventually after doing some asking around (it wasn't very obvious how we were supposed to buy train tickets for the airport), a sarcastic info center guy (sarcastic at Julie's expense when she asked him if he spoke English) pointed us somewhere further into the train station.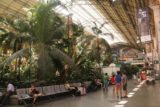 Eventually after getting to a different area where there were ticket sales windows, we asked a random lady where we were supposed to buy train tickets for the T4 aeropuerto line, and she pointed us to a ticket kiosk in red. That meant that we didn't have to deal with the Renfe machines (which didn't have the T4-aeropuerto in any of their menu options) nor the live person method where you had to grab a ticket and wait forever for your number to be called.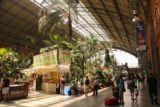 Sure enough, once we got to the correct ticket machine, we pushed the buttons to get to the point we had to put in money, but seeing that there wasn't a time table for these things, it seemed like we could just buy a ticket and go as needed.
So once that was out of the way at 3:35pm, we then walked out of the Atocha Station and finally started hunting down a lunch spot. The Atocha Station always fascinated me because there was a pretty extensive greenhouse in there with a lot of indoor green space right in the middle of the main hallway on the station's far eastern side.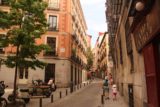 After a few minutes of walking the familiar streets of the eastern part of the city center, we eventually found the familiar Comptoir de la Crepe. Unfortunately, it was closed. The sign said they were closed on Mondays and Tuesdays, and with today being Tuesday, we were SOL. Julie said the TripAdvisor review for this place was wrong.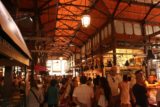 So the plan B now was to go back to the San Miguel Market and go for the tapas one last time while we were in Spain. So we took the familiar metro over to the Opera stop, then walked some quiet streets like the Mirror Street and Milanese Street (instead of the familiar streets inundated with tour group traffic), and we wound up back at the tapas row of San Miguel at 4:40pm. Indeed, with this being the third time on this trip we've been to Madrid, it seemed like we're proving that we were getting pretty good at knowing the streets here.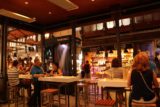 Well, it was a late lunch, but we figured that once we had our tapas fix (as well as sangrias and mojitos), we could then have chocolate con churros at San Gines one last time as well. Of course, seating was always hard to come by here, but we managed by grabbing a table and a single chair so Tahia could use it while Julie and I stood. Julie was always on the prowl buying up the food and drinks while Tahia and I held the table.
At least our lunch was reasonably priced again (unlike Northern Spain which was noticeably way more expensive than here in Madrid). In fact, we noticed that Madrid was far less busier than the craziness of Barcelona. We figured that Barcelona must be more touristy, and hence it was more expensive as well as feeling less relaxed.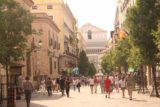 At 5:35pm, we were done with our tapas fix, and then we were back at San Gines. It was a quick stop, but we got our chocolate con churros fix as well for our last full day in Spain. By 6:05pm, we then were back at the Puerta del Sol Station again.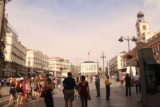 Eventually, we wound up taking the train back to the Anton Martin station, where we then walked towards the Prado Museum. It was 6:25pm when we were inside the complex, but at least the visit was free. However, Julie had to leave with the consigna her selfie stick so we'd have to come back to the southern entrance of the Prado in order to get it back.
Inside the Prado, it was basically one work of art after another. Most of the stuff were paintings and tapestries. Julie seemed like she was on a mission to see the most famous paintings by Picasso, Goya, and Rafael. Plus, she was even looking for Salvador Dali, except the Dali works were somewhere northeast of Barcelona near the French border.
This museum had an overwhelming number of art works, and I'm sure for those interested in art history, it could easily consume an entire day to check this place out. But since I wasn't that into this stuff, I was glad that we didn't have to pay for this excursion like we didn't have to pay for the Reina Sofia Museum.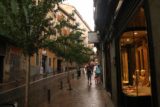 At 7:35pm, we were done with the visit. However, a thunderstorm was producing thunder and lightning as well as some moderate rain by the time we left. So we crossed the street and headed towards the Anton Martin station for shelter with some canopy shelters along the way. There were moments of squalls where we had to wait out the heaviest rains, but eventually at 8pm, we would make it to the shelter of Anton Martin Station.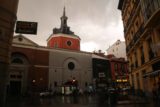 Next up for us was to get our Napolitano pizza fix at Reginella, especially given our pleasant experience the last time we were in Madrid a few weeks ago. And so we took the subways all the way to the Nuevos Ministerios station. Then, we walked onto the surface where it was raining once again.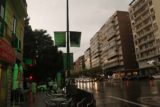 But eventually by 8:35pm, we would finally arrive at Reginella. We happened to get window seats here this time, so it was easy to be entranced by the frequent flashes of lightning. I guess this storm had some teeth in it.
Once again, the pizza here was amazing. And for the amount of food that we had bought (2 pizzas, a salad, a tiramisu, and 2 bottled waters), we wound up paying about 46 euros, which was far less than the 60+ euros we were paying throughout much of Northern Spain. Barcelona was especially expensive.
Indeed, it seemed like the further north we went in Spain, the more expensive things got. But in Andalucian Spain, the prices seemed to be much more reasonable.
At 9:55pm, we were done with dinner and back at the Nuevos Ministerios stop at the metro. We had contemplated paying Corte Ingles another visit (though we had never been to this one in Madrid by the Nuevos Ministerios station) in search of truffle oil or some other gourmet goodies that we had encountered throughout our culinary experiences in Spain. But since it was getting late, we eventually decided against it.
It seemed like a long ways to get from Nuevos Ministerios to Atocha Station, but we'd ultimately get back to our room at 10:40pm. It was too bad the fountain at the roundabout wasn't lit up, and neither were the buildings like Atocha Station, as well.
And with that, our last full day in Spain concluded. Tomorrow would be the continuation of our travel to home after six weeks. With just about everyone being pretty homesick by now (especially Julie and Tahia), we were really looking forward to it though at the same time I was lamenting the return to life and reality…
Visitor Comments:
Got something you'd like to share or say to keep the conversation going? Feel free to leave a comment below...
No users have replied to the content on this page