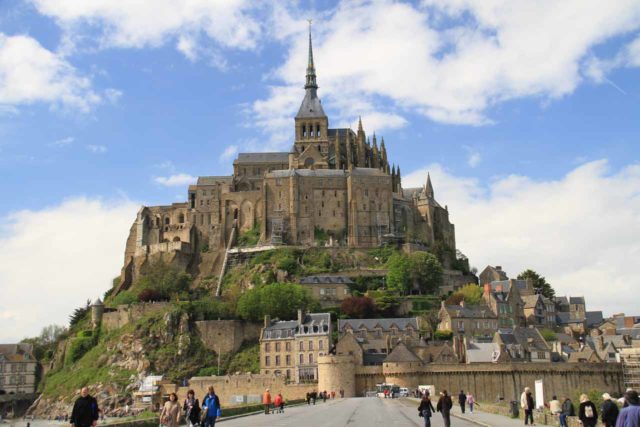 3-May 2012 to 9-May 2012:
…as we were loading up the car with our stuff, we were dismayed to see that the car charger for our GPS was missing! I swore it was in my bag when we left home, but it was conceivable that it was forgotten in the hectic hours we were trying to get ready for the trip while at the same time tending to Tahia as well as some other errands that were going on at about the same time.
In any case, c'est la vie. We were now in damage control mode…
Day 1: FAMILIARIZING
Julie and I left for LAX somewhere close to 6:30pm. By this time, we had already given Tahia her milk and she had yet to have her dinner. But we knew that leaving her for the next three weeks wouldn't be easy.
So both Julie and I each gave her many kisses and a long embrace. I don't think Tahia knew what we were doing; actually, she probably thought more about getting out of our hugs and onto the freedom of walking around.
In any case, we made it to the airport with no problem. In fact, it wasn't crowded at all on this Wednesday evening. We had plenty of time to eat a quickie dinner, watch as much of the Clippers-Memphis game that we could, and then get right on the pretty packed Air France plane to Paris.
We both looked forward to this trip as it would be the first time both of us would be there together (let alone do a completely independent trip like we used to of just us two since Tahia's birth). And given how tired we were from the hectic day of packing, doing work-related stuff, and taking care of Tahia all simultaneously, we were hoping the red-eye flight might help somewhat.
Unfortunately, we rarely ever sleep well on planes and this 11-hour flight was no different. Mercifully, we departed and arrived on time in Paris on Thursday afternoon at 5pm.
Even though the airport here didn't make us fill out a bunch of immigration and customs forms, it still took quite a bit of time to finally collect our bags and then try to find our way towards Paris city centre by train (putting their mass transit, or at least our ability to learn it, to the test).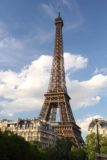 It wasn't until about 7:50pm when we finally arrived at our hotel, which was within walking distance from the Eiffel Tower. It was my first time seeing it live and I must say that it was impressive. However, Julie had reserved dinner at this place called Chez Dumonet, which was authentic bistro food for 8:30pm and we were in a bit of a rush to get out the door to meet our reservation. So we left at 8:05pm, which was barely enough time for us to get changed into something a little more decent by Parisien standards.
Of course that also meant getting familiar with the metro system. And when all was said and done, we finally made it to Chez Dumonet at about 8:45pm. Fortunately, our place was still reserved despite us being 15 minutes late.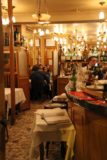 And when we got seated, we could tell right away that this was an authentic place. After all, the menu and wine lists were completely in French. Fortunately, I spent the last 6 months brushing up on my French while on the train commuting to work so it put my acquired language skills to the test.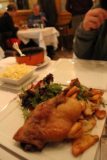 Nonetheless, Julie knew what we were having. Duck Confit, Beef Burgognon, and Souffle for dessert. The dining experience lasted about 2 hours, which wasn't surprising given how busy they were but also given how seriously the French take their food and wine and the dining experience as a whole.
In other words, nobody's in a rush when it comes to dinner.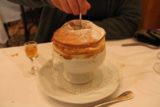 The food was excellent. It was no doubt the real deal. Even the Grand Marnier Souffle was excellent (it had an eggy texture) and not like cake, which some restaurants back at home would try to convince you of.
Although the meal was pricey for bistro food, we knew Paris wasn't cheap. Plus, getting to talk to the waiters in French felt empowering. In fact, we found out that attempting to communicate in French when we were asking for directions to get here helped a lot as well, especially when we bought a 3-day Paris Metro pass in which case the lady seemed more receptive to me for trying than when Julie initially tried to ask her questions in English.
So I told Julie with a wide grin on my face, "It feels good to be needed, because you're gonna need me a lot on this trip…"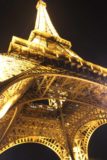 It was about 10:45pm when we finally left the restaurant. Getting pretty familiar with the metro system, we made it back to the Eiffel Tower area pretty quickly (less than 15 minutes or so).
We could've returned to our room to sleep right away and try to adjust our body clocks to Paris time, but with the weather kind of cooperating this evening (with rain in the forecast later this weekend), we tried to seize the moment and check out the Eiffel Tower under the lights.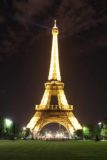 So we did that, taking what photos we could with me struggling with the night portrait shots (the EOS 7D didn't have a night portrait macro mode like the EOS 20D, which really annoyed me). I guess I'm just not good enough with the camera to set it up for night portrait on the fly.
Anyways, it was finally 12:25am when we got back to our hotel. Julie meant to shower and brush before sleeping, but she just crashed onto the bed. Indeed, our difficulty in sleeping on the plane only spilled over to now when we finally got to catch some zzzs in a bed.
Despite our jet lag, we couldn't wait to see the city together for tomorrow's full day. Better set the alarm to ensure we don't oversleep…
Day 2: TOURIST MODE – ON
It was 9:15am when I awoke. I was very surprised to notice that our alarms didn't seem to have done the job to wake us up. It was either that or we never heard it go off at 8am. Still, I was groggy as I forced myself into being alert. I also woke Julie up to ensure we wouldn't spend today in our hotel room sleeping!
In any case, the skies looked ominously darker than yesterday. Even though the forecast called for partly cloudy skies, it was looking like it might be raining today.
It was 9:55am when we got out of the room. Now it was time to flip the switch. Tourist mode – on…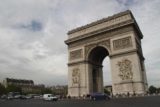 First and foremost, we were getting onto the Metro and got off at the Charles de Gaulle Etoile stop. When we got up out of the subway and onto street level, there was L'Arc de Triomphe right before us.
It was hard to get photos as cars would zoom on by the big roundabout. There was even some stairs going back under the road then re-emerging right underneath the four-sided archway.
We wasted no time snapping a few photos and getting underneath the structure. It seemed like the morning sun managed to show itself so we had some glowing sunlight shining right on one of the south faces of the structure.
Way out north, we saw La Defense, which was a big squarish-looking arch.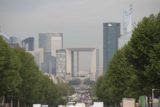 After getting our fix of the structure, we proceeded to walk south along the Av. de la Champs Elysee. There was some patisserie that Julie read about that she wanted to try called Laduree. It was known for macarons. I guess who needs a Thomas Keller restaurant when you can have the real thing here in Paris?
In any case, we got ourselves a few mini-macarons, and I guess Julie set her expectations a bit high so it wasn't as good as the trouble it took to get here. Apparently, the main store was also being renovated so it looked like they were operating out of some portable structure just across the sidewalk from the main shop.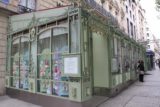 The place left a bad taste in her mouth when she tried to take photos of some macarons in the shop, but then someone in the store made her delete the photos she had just taken. We weren't sure what the big deal was, but I wondered what would've happened had Julie just left the photos on there and left. What would they do?
Next, we walked back to the train station and started to go on the yellow line 1, which seemed to following along the Seine River on the north side while stopping at all the main attractions bordering the river's northern banks. Julie picked up some croissants as our breakfast on the go.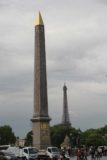 At 11:40am, the next stop we arrived at was the Place de la Concorde when we realized that we overshot the Grand Palace. We took a few street level shots of the Egyptian obelisk here as well as some fountains. We then briefly checked out the Jardin des Tuilleries before hopping back onto the Metro to backtrack to the Grand Palace stop.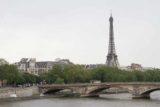 Once we got off the Grand Palace stop, we saw what appeared to be a pretty famous bridge over the Seine River fronting the Eiffel Tower. There was some lady using a tripod filming herself doing some kind of reporting. She seemed to have found a pretty choice spot so I took a few photos from the same spot but I tried not to disturb her work.
We walked towards the Grand Palace as we went past a couple of museums it seemed before crossing the Seine and seeing the Grand Palace before us. However, street level photos were lacking and it started to rain as we were about to leave the area and head back to the metro. It was about 12:35pm when we left.
Next, we took the Metro line 1 to the Louvre Museum stop. As we were passing amongst a bunch of high end fashion stores, Julie saw there was a food court.
In a bit of a surprise, Julie wanted to eat at this food court, which I thought was strange considering there was so much better authentic French fare than this food court.
Not surprisingly, we had a quick lunch at some Spanish paella and tapas stand and not surprisingly, the food was worse than some of the Spanish places we've been to at home.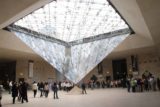 When we were done with the meal at 1:10pm, we proceeded towards the Louvre underground entrance where we got to take a few photos of some upside-down pyramid that reminded me of something we saw from the Tom Hanks movie on the Da Vinci Code.
Once we were done with that, we headed up to street level where we could see the glass pyramid before us surrounded by some architecture that I believed was the Louvre itself. By this time, the rain had stopped again and the sun was coming out.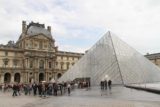 Since neither Julie and I were museum buffs, we didn't feel the need to queue up behind the hordes of other people waiting to get in. So we snapped a few fun photos of Julie putting the pyramid down to size before walking along the Seine River in the direction of the Notre Dame Cathedral.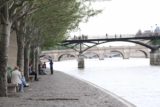 At long last Julie and I were having a little stroll alongside the Seine, but it didn't seem to be as laid back and as romantic as I had anticipated. Perhaps it was the grey skies and the fact that the river seemed wider and the sights at this part of the river not as interesting that we didn't linger at river level for too long.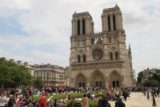 We continued walking alongside other tourists and cars as we finally made it to the front of the Notre Dame Cathedral. When we finally saw the grand facade of the cathedral, I couldn't help but be reminded of Royce Hall at UCLA, which was obviously a bite off of the real deal here in Paris.
The lawn area right in front of the Notre Dame Cathedral was quite crowded so we took our photos and continued heading in the direction of the L'Ile Saint-Louis. This time though, all the walking we did plus the appearance of the sun made us have a little craving for some ice cream.
It turned out that a handful of my coworkers recommended us having ice cream at this place called Berthillon. One gave us very good advice about not falling for a bunch of joints that were selling Berthillon ice cream but they weren't the Berthillon shop themselves.
I guess it was a good sign that the further east we went, the more people we saw holding cones in their hands eating the ice cream. It must've meant that we were getting closer to the real deal.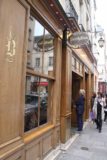 It wasn't until about 2:55pm that we finally went right to the Berthillon Ice Cream Maker's (Glacier) shop. We treated ourselves each to a cone of two scoops. I got two scoops of French vanilla bean while Julie got a couple scoops of a mango and a strawberry sorbet. She wasn't as happy with her ice cream, but she definitely liked mine as it was definitely authentic French vanilla. However, it was a bit pricey as each scoop was tiny and at least 2-3 euros I think.
It was a good thing we got our ice cream when we did because then the next wave of customers showed up and inundated the front of the shop.
Next, we got off the L'Ile de Saint-Louis and walked along the Rue de St-Germaine since it seemed like the road that was near a creperie (called Little Breizh) that she wanted to check out as well as another bistro restaurant (Chez Rene). Those food indulgences were going to be for this evening, but at least we scoped out the area and knew where to go.
By about 4:35pm, we finally made it back to the Mercure Hotel. Even though it had been a pretty long day of walking and sightseeing, we still hadn't done any touring of the Eiffel Tower during daylight. So that's what we had set out to do next.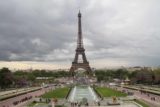 By 5:25pm, we left our room and proceeded to walk the familiar streets towards the base of the Eiffel Tower. Despite the non-optimal weather, there were still heaps of people lining up to go up the elevators reaching higher up the steel structure. Thankfully, we weren't going to be one of them.
After a few more minutes of walking, we followed the crowd towards some overlook in front of some palace-like building with a view over some fountain and towards the Eiffel Tower. So we were killing some time checking out the place and taking photos, but we figured perhaps a night photo from this spot later in the evening would be the way to go.
It was about 6:10pm when we left the Eiffel Tower at the Toscadero Metro stop and headed back down along line 6 towards line 10. Then we headed east on line 10 towards the Maubert stop where we would have to hoof it towards Chez Rene.
We got to Chez Rene a few minutes early so we just killed time by walking towards a view of the Notre Dame Cathedral from across the Seine River. But it didn't take long before we had to get back to Chez Rene.
Once inside, we were promptly seated and had another round of Duck Confit along with Coq au Vin. After having this meal, I think I was starting to get bistro'ed out, but at least it was another chance for me to practice my French with the waiters as well as not get hit in the wallet as hard as last night as this meal was more on the order of about $55USD or so (yesterday's was closer to $120USD).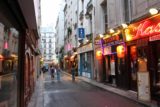 We were done eating at around 8:30pm, and at this point, Julie was determined to go to the Little Breizh for some crepes. When we finally got there, the place was crowded. We didn't have to wait long to get seated, but the seating was tight. I was basically squeezed between a lady behind me and the table right up against my gut. My camera was off to the side around my shoulders and for short while I was obstructing traffic of the waitress' thoroughfare.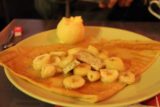 In any case, Julie and I split a crepe called the bananec, which was kind of like banana flambee though we added on a scoop of yummy French vanilla ice cream plus we also tried some Breton Apple Cider. Apparently, crepe and apples are big in the north of France (especially in Brittany) so I guess it wasn't surprising that I think Breizh had something to do with being from Brittany. I had also heard that Normandy was known for crepes and apples as well, and that's the first department we're visiting once we leave Paris' Ile de France Department and start touring the rest of France.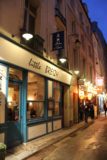 One of the waitress' shirts had an interesting saying on it that said something like "why learn American when tomorrow everyone's speaking Breizh?" Funny. I tend to like regional or international T-shirts, but I don't think I'd pass for being a Breton.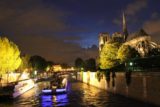 After leaving the Little Breizh, we walked back to the Seine River for a night view of the Notre Dame Cathedral across the river. Now with the night lighting, the scene took on a different flavor. Still, it was picturesque and colorful.
Then, after having our fill of this part of town, we took the Metro back to our familiar hotel where we could use the toilet before going back out for one last look at the Eiffel Tower on the north side.
However, as we were leaving the station where Line 10 connected with Line 6, we saw some young men in the act of doing graffiti. Yet I didn't think these were the typical troublemakers trying to deface stuff just for kicks. After reading some of what they wrote, it seemed like they were making political messages about banks, nuclear power, etc. It definitely seemed like they were trying these tactics to dissuade voters from voting for Sarko (Sarkozy) in the runoff elections coming up.
In any case, I was a bit amused by this bit of so-called "creative intervention" where someone does something to confront or motivate others to act about a particular issue.
At 11pm, we were back on the town for that last bit of night photography of the Eiffel Tower's north face.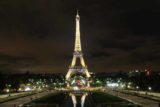 We took the metro to the Trocadero station where we were right at the viewing area of the fountain as well as the lit up Eiffel Tower. We were too late for the 11pm sparkly lights, but we stuck around for the midnight one.
It was too bad that I didn't bring my tripod for this trip in the interest of packing light, but maybe it was a little too shortsided on my part. Taking photos in the dark without a tripod was difficult. It was also not easy for Julie and I to take couple photos.
At 12:25am, we finally made it back to our room where we'd spent the next couple of hours taking a shower, brushing our teeth, and deciding whether or not (and how) to visit the Versailles Palace tomorrow…
Day 3: UNFORESEEN EXPENSES
On this morning, both of our alarms woke us up. Today, Julie was keen on getting an early start and visiting the Chateau de Versailles so she saw to it that we were out the door as soon as possible.
It turned out that by 7:30am, we had left the hotel. Then, we promptly headed to the RER station, which happened to be accessible from the familiar Bir-Hakeim station we'd been using a lot on this trip.
And it looked like we had caught the 7:40am RER train just in time as it was departing. From yesterday's research, we looked for the train with "VICK" across its front, and even though the TV monitor at the RER C station suggested a different quai or platform, it was a good thing we saw those letters. And once we hopped on and saw the next stop when it got there, we knew we were headed in the right direction.
The train ride was pretty quiet and uneventful. Before we knew it, we were already at the train station for Chateau Versailles-Rives Gauche by about 8:10am. But that was when we realized that our 3-day pass wouldn't let us out the turnstiles as it was apparently outside Zones 1,2, and 3.
The lady behind the window seemed annoyed that we would be all the way out this way with invalid tickets, but we were perfectly willing to pay for the tickets if someone was manning the window. Otherwise, us and a few other people were stuck.
Julie was even stuck between one of the aisles as gates on both sides wouldn't open for her.
Eventually, the lady behind the window just opened the door and let us through.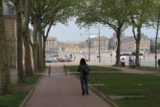 By that point, we hastily walked looking across the street for a ticket window that would sell tickets to the Versailles, but no one was open at the time.
So it wasn't until around 8:30am when we made it into the entrance area for the Chateau Versailles. There were already quite a few tour bus loads of people along with others waiting along with us to purchase some tickets. Unfortunately, the ticket window wasn't open until 9am and so it was a long wait considering that more and more tours were parading onto the queueing up entrance line. Note that the entrance line and the ticket line were two separate things so that meant we'd have to wait in line twice.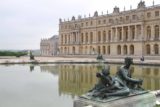 Both Julie and I took turns taking photos of the garden behind the Versailles castle (so one was left behind to hold our place in line). But as grand as the scene was, for some reason it didn't really do it for me. Perhaps it was my bias towards natural things and not ways people can misspend public money towards extravagant things.
Pretty much by around 9:15am, we had gone through the metal detectors, and rushed our way into the main chambers of the castle.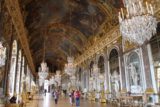 We pretty much bee-lined it towards the famed Mirror Room, which was really a long corridor of sparkling chandaliers hanging beneath frescos as the hall was flanked by mirrors on one side and windows on the other. I'm sure this wasn't the most optimal or relaxed way of visiting this attraction, but for me, I certainly didn't mind the abridged visit. However, I did mind the price being paid for something so contrived.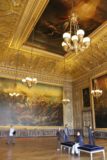 Eventually after going through all the main chambers, we made one last loop going through the Dauphine area. This area was also gaudy but not quite to the same extravagance as that of Louis' ones.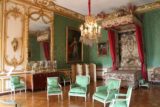 Eventually we were done with our Versailles visit in something like around 1 hour. But I was kind of glad we got this place out of Julie's system (by the way, her first visit to a chateau wasn't Versailles as she had originally thought). I couldn't talk her out of this, but at least we were at the train station at about 10:25am.
Unfortunately, we happened to have taken the wrong train so we had to get off at Porchefontaine a few minutes later. So there we were waiting for about 17 minutes at Porchefontaine, which really spelled like piss. I had never known that an outdoor train station like this could be so smelly, but I guess derelicts or homeless (which I believe are consequences of social problems) here could be anywhere whether it's a rich country or poor country.
So mercifully at 10:42am, the Juvisy-bound train showed up and we proceeded to ride this train all the way back to Champs de Mars where we returned to our room by 11:15am. There, we used the toilet and noticed that the Mercure staff finally fixed the clogged bathroom sink that we had been dealing with the past couple of nights.
By 11:40am, we returned to town. This time, Julie and I took the metro and went hunting for a place to have authentic and good escargot for lunch. Julie's first choice was this place called L'Escargot Montorgueil.
We spent about a solid 40 minute or so on public transport taking multiple connections before finally showing up in front of its facade at 12:30pm. The commuting included what seemed like the sardine line on Line 7, which was always packed with people. It was probably as crowded as we've seen the trains in Paris so far. Perhaps it was because today was Saturday?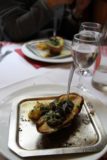 In any case, the desired escargot restaurant was closed. In talking to a worker at a neighboring restaurant, from what we could understand, that restaurant was either closed for three months or had been closed for three months. Whatever the case, we weren't eating at this place today so we had to find another escargot alternative.
Julie eventually settled on this place called Au Bistro Rue de La Marche St Honore. This cozy little cafe served up some escargots in baked potato, which apparently was the way it was originally done in Bordeaux. We learned about this place from TripAdvisor, which Julie consulted on the previous two bistros as well.
Roughly some 15 minutes later, we arrived at the bistro.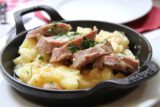 We each enjoyed the escargots in potato, but I think Julie was still bummed about not having the escargots in a shell with lots of garlicky butter and a lemon kick (Julie's preferred way was apparently the Burgundy-style escargots). There was also some kind of Lyonnais Sausage over potato that we had as well, which was pretty good.
However, the 4 euro (almost $6 USD at current rates) water was a bit of a shocker. Maybe asking for l'eau plat doesn't necessarily mean tap water. Either that or they don't do tap water here.
At 1:35pm, we were sated and proceeded to take the metro towards La Cite, where we would check out the St Chapelle Cathedral. We had seen some pictures of the impressive stained-glass windows in the interior of the cathedral so we figured we mind as well get this last bit of sightseeing in.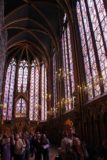 After waiting in line to buy tickets at 2:05pm, we were finally done photographing St Chapelle as we were back at the metro at 2:50pm. Unfortunately, there was scaffolding from restoration work in one section of the stain glassed windows inside of the high chamber while the outer facade also had some ugly shrouds around it as well.
It was a bit of a bummer, but despite that, the cathedral and its sheer scale of stained-glass windows were pretty interesting.
Once again, we were back at the room at 3:25pm. This time, we took out some balm to get for Julie's mom who contended it was sold in the Paris Chinatown somewhere. And so 20 minutes later, we left the room despite fighting a bit of fatigue. We still had some "errands" to do regarding getting Julie's mom's wish list so off we went.
After some pretty extensive metro hopping, we were at the Tolbiac stop at 4:20pm. The area looked bad, and I guess it shouldn't be a surprise considering everywhere we've been where there's a Chinatown, it tended to be in some of the city's worst areas.
Nonetheless, after taking a bad detour and costing us some 40 minutes, we finally got back on track and into the Chinatown area (13th Arrondissement). That was when Julie and I were busy looking for apothecaries specializing in Eastern medicine, but we couldn't seem to find any. And after asking several people (it definitely helped speaking Chinese since my French has plenty of room for improvement), Julie's mom's requested balm was nowhere to be found.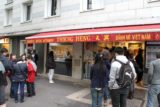 The weather started raining in earnest almost the whole time we were in Chinatown, and it seemed like the skies couldn't decide whether to just commit to rain or sun. Nonetheless, after striking out on our errands, we did try some delicious Vietnamese banh mi.
In fact, I wondered aloud whether the Chinatown here was more like Little Saigon in Garden Grove, CA. Perhaps it was because there were many Chinese-Vietnamese refugees who ended up in France. Julie's relatives, whom we didn't have time to visit on this trip, are residents of Paris and were probably one of those who found their way here by way of Southeast Asia.
After about 6:15pm, we made it back to the Tolbiac station where we waited to catch the train back to our room so we could unload then make a beeline for some Christian Constant bistros that Julie was itching to try out.
It was 6:40pm when we left the room, but we made a bit of a miscalculation taking mass transit instead of just walking past the Eiffel Tower. The direct walking route would've been much faster, but it turned out that we didn't arrive until about 7:30pm.
By then, Les Cocottes (Julie's first choice) was busy and we'd have to wait for 30 minutes before we got to try out the food.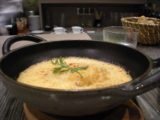 We had some different fare like Langoustine Ravioli and some kind of sea bass with clams and thyme dish. It wasn't filling, but it was pretty good. We were even exchanging foodie recommendations with a pair of Americans who happened to be sitting next to us.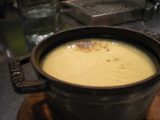 After finishing off Les Cocottes, we then headed back in the pouring rain towards the hotel, but not before Julie decided to have a second dinner at some place called "Dome" or something like that.
Unfortunately, we were blindsided by another 6.5 euro of 1.5L Evian water in a glass. Once again, we'll have to figure out how to just insist on plain water (or maybe they know it but it's a way of ripping off unsuspecting tourists?).
In any case, we did have escargot as well as French Onion Soup – two more classics we hadn't really had on this trip so far.
It turned out that the food at this place wasn't great, and perhaps we should've known better considering its menu was in all sorts of languages, which often times means tourist trap. Moreover, we had spent another 27 euros or so (think $40 USD) on top of what we had already had at Les Cocottes.
So when we were done eating, we paid in cash, and then walked back to the Mercure Hotel. The whole time I was wondering whether the weather might let up a little when we get to Etretat tomorrow.
Both of us really looked forward to going to France's countryside, but the question still remains whether the wet weather we'd been having will persist…
Day 4: FATAL FAUX PAS
We awoke to our 6am alarm. Although we probably could've easily ignored it and kept on sleeping, I found that getting up at this hour wasn't as difficult as the previous two days despite us sleeping after midnight last night. Perhaps the effects of jetlag were wearing off with this being the start of our fourth day on this trip.
Today was the day we were supposed to say farewell to Paris until the very last night of the trip.
But at the same time, we wanted to videoconference back home with the internet connection so maybe we could see Tahia and she could see us. We were starting to get concerned that maybe she wouldn't recognize her parents anymore given her short attention span at this age.
So we managed to get the Skype set up and were able to connect with them at around 6:15am. It was about 9:15pm back home at the time so Tahia was sleeping. Instead, we spoke to both our moms. It was fun to see how my mom reacts to Tahia's behavior especially when compared to my brother's son. They're definitely two different individuals, but my mom indicated that Tahia and Joshua seemed to be learning more habits from each other! They were even baby talking to each other in which no one else could understand.
The call lasted roughly 30-45 min. We told them that perhaps we could try again some 12 hours later or so. See if we could finally see Tahia again, but that would be contingent on whether we could get internet at our next place, which was Etretat.
It was about 7:45am when we were done packing and left the hotel. It was now drizzling and wet, but at least it wasn't showering like last night.
When we got to the Bir-Hakeim station, our 3-day metro pass no longer worked. I guess they don't go by a 72-hour time period. Instead, they go by calendar days.
Oh well, we bought another one-way metro pass at close to 4 euros for the both of us. Still not bad considering how far we had to go.
As we were moving further and further away from the Eiffel Tower as seen from the line 6, and I guess that was sort of symbolic that we were about to leave the stereotypes of France (especially this notion that Paris is pretty much France) and really start to see the rest of the country.
We ended up going up to the Etoile stop which we had expected to transfer on Line 1 to link up with Gare de Lyon train stop. Unfortunately, Line 1 was closed until 10am (apparently they've been doing this on this line for all Sundays this year based on what I was able to translate from the closure signs).
Fortunately for us, there was an alternate train we were able to take, which was the RER A4 line from Etoile to Gare de Lyon. That pretty much saved us for this morning.
At 8:20am, we arrived at the Gare de Lyon, then we started walking around looking for the car hire place, which was supposed to be within or near the Gare de Lyon.
We'd eventually find it (a Hertz office) and got our rental car at 8:55am. But as we were loading up the car with our stuff, we were dismayed to see that the car charger for our GPS was missing! I swore it was in my bag when we left home, but it was conceivable that it was forgotten in the hectic hours we were trying to get ready for the trip while at the same time tending to Tahia as well as some other errands that were going on at about the same time.
In any case, c'est la vie. We were now in damage control mode.
How would we be able to navigate through Paris to get out of the city and then out into the countryside without our GPS to aid us?
So after a bit of tense moments trying to figure out on the fly what to do, we decided to just swallow the cost for this 3-day rental and use the Hertz GPS at some 20 euros a day (almost $30 USD). Thus, we at least wouldn't be flying blind. However, the interface on that GPS was different than ours (even though they also use Garmin Nuvi). So that meant I couldn't upload waypoints from my laptop onto their unit nor could we try using their cable for our GPS so we would have a way to download our trip log and any additional waypoints we would've marked. Oh well, at least we still had the all important feature of navigating.
So with that out of the way, we finally left in the rental car at 9:50am.
The drive out of the urban jungle of Paris wasn't trivial, but at least the GPS did help us navigate out of it. Apparently, this Hertz GPS also gave us a heads up if there were mobile speed cameras (something I doubted our own GPS would be able to do).
The drive out into the countryside was a bit of a pleasant surprise as there were more trees and lots of farms. It contrasted mightily with what we were used to seeing for the last three days in Paris.
The roads were quite smooth. They were so smooth that it was pretty easy to doze off and be lulled to sleep. Julie was trying to keep me propped up with some French radio, but I don't think we were able to pinpoint the same station on SNCF's website that Julie liked when I was researching train schedules.
Another thing that I was already starting to realize was that in addition to the high gas prices (something on the order of close to 2 euros per liter), there were also numerous autoroute toll stations. I'm sure these would add up pretty quickly. I guess the smooth roads were a result of paying back into it for its use (something we could certainly learn and borrow back at home).
At 12:05pm, we were near the city of Le Havre. We didn't go all the way to the city and opted instead to head straight for Etretat. Under the partially rainy skies, we were wondering if our experience here would be marred by bad weather.
Whatever the case, it was 12:45pm when we finally arrived at the tiny beach town of Etretat, which was known for its majestic cliffs with three notable natural arches.
Unfortunately, free parking wasn't easy to find and we ended up parking on some inclined road on the western side of town then lugging all our stuff back down the hill towards the Hotel d'Angleterre (the walk probably took at least 5-10 minutes with some non-paved pebbly stretch of trail which meant they beat up on the luggage wheels).
And even the suboptimal parking spot we had required us to get lucky with someone else leaving. We saw other places that were our first choices like Hotel Dormy and the Detective Hotel, but the former was too expensive compared to the one we chose while the latter one was fully booked.
Well, at least I didn't expect to be driving while we were in town.
Our arrival was still too early for check-in. The proprietress was quick to point out that we should go see the cliffs right now because the sun was out. Apparently, her suggestion seemed to indicate that there hadn't been sun for a while.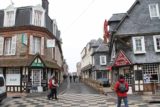 So we heeded her advice and got to it. I wouldn't say it was totally sunny as it was still quite overcast, but we could see that the skies were lightening up.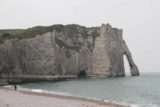 And in a few minutes, we passed through the quaint and charming town center of Etretat before finally getting right at the beach where we could see the grand Falaise d'Aval. We also saw a smaller one looking in the other direction (Falaise d'Amont), but we could see that it was currently high tide so walking under these arches or even getting close to them wouldn't work.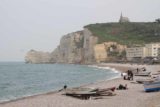 When we were done with our quick photo orientation of the lovely beach and cliffs at Etretat, we went back into town for a lunch at this place called La Flotille. We knew that it was another one of those local joints since the menu was entirely in French and the workers didn't seem to speak much English. But that was OK since I once again had to put my French lessons to get by.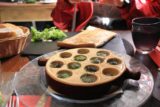 The food was pretty good (the escargot was definitely the kind Julie looked for in Paris but couldn't find). We also tried a salad, which also included foie gras as well as smoked duck, ham, and some other stuff including the greens. Meanwhile, Julie got a salmon crepe. We didn't have any room left for their delicious-looking dessert crepes, however.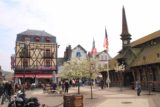 We then walked around the town seeing some of its more charming spots. The place was quite picturesque and happening, but it wasn't chaotically busy like in Paris. Julie appreciated breathing the clean air though you still can't say you couldn't smell the smoke of cigarettes.
After our brief town orientation we returned to the Hotel d'Angleterre at 3:10pm where the proprietress showed us to our chambre (room) while indulging me on practicing French.
Julie napped until about 4:30pm. At that time, we took our laptop back down into the petit dejeuner (brekkie) room of Hotel D'Angleterre where it seems to be the only place there was internet in the accommodation (actually, it seemed the whole first floor and even the front garden area were ok). When we finally connected to Julie's mom, we had just missed my mom (hence no videoconferencing with her iPad) and so we missed yet another opportunity to see Tahia and for her to see us.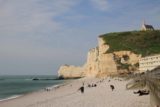 So by around 5pm, we went back into town. The weather seemed to be improving though still hazy and overcast, but we could see the sun was trying to break through. The temperature was still chilly though so it required jackets.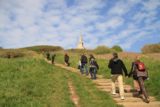 We ended up walking back through Etretat town and then go up the stairs to some kind of small church or something at the top of the cliff overlooking Falaise d'Amont. At this time, the tides looked like they were low so I was looking forward to getting a closer look at the smallest of the three arches in the area.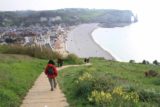 The views of the town from up the top of the cliffs were dramatic. We could see the attractive Falaise d'Aval as well as the context of Etretat town and the stony beach fronting it. The sun was still trying to break through, but it gave me hope that the weather for tomorrow would improve.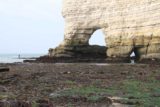 After taking a bunch of photos up here, we then walked on the pebbly beach past some lovers unashamed of their PDA (public displays of affection) while marveling at the white cliffs and some of the erosion on display. We even noticed a section of the cliff that looked like it had shed a real big chunk.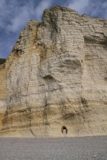 We also noticed a pair of what appeared to be man-intervened entrances. At the time, we weren't sure if they were there to discourage tourists from going in or if they had some kind of historical value to them (it turned out that they were probably there during World War II as bunkers or hideouts). Whatever the case, we weren't going in.
Eventually, I made it to an exposed rocky section fronting Falaise d'Amont. Unfortunately, the wet and jagged rocks here were too slippery and wet. Plus, they were covered in both algae and seaweed that I knew that I'd be unnecessarily risking damage to body and equipment if I had kept going just to get the full frontal view of Falaise d'Amont.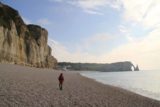 So after snapping photos from this vantage point, Julie and I walked back into town, grabbed an ice cream, and then were back in our room at 6:40pm. I decided against pushing my luck at going towards Falaise d'Aval even though now was low tide. I guess I'll try tomorrow first thing in the morning when the low tide should be around 7:15am.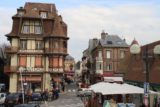 Now, we were going back into town for dinner. I lazily decided not to bring my camera but that would be a decision I would later regret.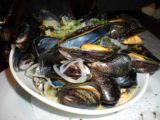 Anyways, we had dinner at La Bicorne, which was an interesting meal in which each of us got a different fixed price menu. It turned out that my limited French prevented me from realizing that in my fixed price menu, I had mussels (moules) for both appetizer and main so I was totally musseled out. Julie's selections were delicious as her fish dish was fresh and tasty and her salmon spread appetizer was different and delicious as well. We were both stuffed and tired when we were done eating at this restaurant at 9pm.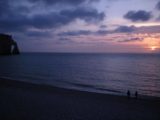 With the sun still out, we decided to check out the beach one last time this day. That was when we saw that there was a pretty sunset that was happening. It was cold this evening so we didn't stay for the full sunset, especially since it looked like the sun was hiding behind the clouds in the distance. However, I was kicking myself for not bringing my DSLR to dinner and hence to this event. Who knows what the weather would be like tomorrow?,br>
We were back at the room at 9:30pm where Julie continued to research some places to eat tomorrow (that was when we figured out that the garden area had a decent internet connection) while I was busy unwinding and composing this entry to the travel journal. And yet despite the relaxing pace to Etretat (especially when compared to Paris), it still wasn't until midnight when we went to bed…
Day 5: ETRE EN ETRETAT
I awoke to my 4:30am alarm, but it was still dark outside. So I took my time quietly getting ready to take advantage of the morning low tide to get close to both of the biggest and most scenic arches in Etretat – Falaise d'Aval and Manneporte. I was being discrete so as to not disturb Julie, who needed some sleep as I believe she was sleep deprived (as was I) from a combination of jetlag and sightseeing in Paris late into evening up to this point.
After dilly dallying a bit in our room, I finally left at 5:20am.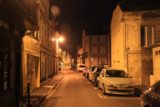 The very first thing I heard were the gulls outside. I guess when it's quiet like this, the sounds of Nature take over.
It wasn't until I got past the town when I finally heard the mixing sounds of gulls added with waves. There were also a fisherman or two dragging their boats across the pebble beach and onto the frigid English Channel.
I had to don my headlamp given the low light, and I was a bit concerned about walking on the slippery rocks covered with algae and seaweed. When I was confronted with such terrain en route to get closer to the arch, I wasn't sure if I should continue. I'm sure the fisherman must've wondered what this crazy tourist is doing.
Eventually, after some ginger walking, I ended up inside a large cave-like alcove at 5:55am. The first thing I noticed was that there was a metal ladder leading up to a ledge with some signs. Normally you don't put signs somewhere unless there was some indication that the area is accessible. So I decided to go up the ladder and get up to the signs to read them.
The signs were pretty much warning signs though one that did catch my eye said that this ledge atop the alcove was high ground in case one got stranded due to high tides. I could only imagine how harrowing it would be to be caught up there at high tide, especially since it would be nearly 12 or 13 hours before the tides get low enough that you could probably make your escape.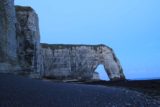 Next to the signs was a tunnel, which I took. Good thing I had my headlamp with me because it would've been pitch black without it. On the other side of the tunnel, there were a pair of openings with a view of an enclosed beach as well as the second arch called Manneporte.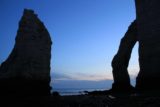 As I held onto some railings on my descent into the enclosed beach, I realized that with the low light, it was hard to take photos. However, I did manage to get some moody shots from beneath Falaise d'Aval.
En route to the backside of the underside of Falaise d'Aval, I noticed a little tunnel. I wasn't sure if it was another tunnel that would get me closer to the arch's belly, but it turned out that the tunnel got smaller and smaller even though I could see an opening. I didn't feel like crawling.
One thing that was interesting in this tunnel was a bunch of molluscs clinging to the tunnel walls. I wasn't sure what these organisms were, but I'm sure they were abundant due to the fact that few people come in here.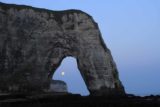 As I got out of the tunnel, I continued along the enclosed beach. That was when I started to notice that there was a full moon through the span of Manneporte.
Are you kidding me?
This was one of those rare moments where you get to witness a pretty rare event when a celestial body can be seen through a natural arch.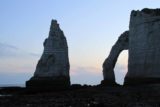 Of course I took heaps of photos of Manneporte and full moon as well as turning around to shoot Falaise d'Aval.
As the morning continued, there was more light becoming available. So that made photography a little easier.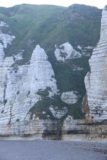 Continuing along the pebble beach, I noticed there was a ladder at the base of the white cliffs that seemed to lead up a very steep "trail" probably to the top of the cliffs. I wasn't about to take it though as I saw up ahead there was a ladder and railings that took me under the massive span of Manneporte.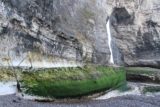 As I got closer to the opening of Manneporte, I took advantage of the railings which kept me from slipping on the slippery algae-covered surface leading to a dropoff. Once I was within the span of Manneporte, I took as many photos as I could of the Falaise d'Aval through the span of Manneporte. The wide angle of the lens I had was helpful here.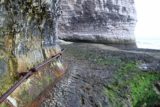 On the other side of the arch, there was another ladder, where I descended onto another enclosed but small alcove. It appeared there was a trickling waterfall, but I wasn't sure if it was the one I had read about previously.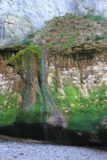 In any case, I took photos of it, and I tried to proceed further up another set of precarious railings. However, it appeared that further progress was non-trivial. I decided I would turn around here and start heading back to Julie so I would be at the room by 8am as promised. The time was 7am.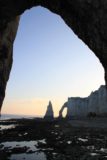 As I carefully made my way back, I started to see the warm glow of the morning sun start to strike parts of Manneporte. I couldn't wait for it to fully glow so I took what photos I could before moving on. The same could be said about the spire behind Falaise d'Aval.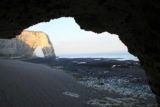 Eventually, I got back through the tunnel, noticed there was an arrow pointing me towards the ladder (further proof that this is a pretty accessible area), and took advantage of the morning light to take more photos of the front side of Falaise d'Aval, which was starting to lose its warm glow as the sun was getting stronger by the minute.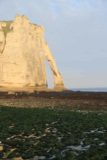 At 7:55am, I was back at the hotel. Julie was still in bed, but she told me that she had gotten up early to make a Skype videoconference to home. So she got to see Tahia, finally. However, she was doing this while the breakfast room was closed (she did it in the garden) so it was too dark for them to see Julie. That meant Tahia still hadn't seen her parents for the past 5 days or so. We'll have to try again when we get to Lyon perhaps.
We spent the next couple of hours having breakfast takeaways from a local boulangerie before doing some research taking advantage of the brekkie room being open so we could surf the web. We were particularly looking for info on Darty shops in both Paris and Lyon, and apparently there was one near the Gare de Lyon Part Dieu. Hopefully, they have the mini-USB cable that we need. Otherwise, we're pretty screwed.
Meanwhile, Julie was looking up some TripAdvisor reviews about restaurants in Etretat. It appeared that there was a creperie that she was interested in called Le Lann Bihoue though she also looked at other establishments and their rankings. Apparently, that would be the lunch crepe place to look forward to after our excursion today.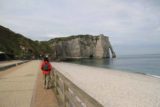 We started the clifftop hike at 10:10am. Julie had read in LP that Monet was from Le Havre. So that probably explained why his works were so popular in this area. After all, it was said that Monet came to Etretat in his time and painted the arches that were here, especially Falaise d'Aval.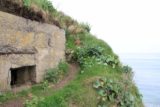 It wasn't until about 10:25am when Julie and I were ascending the cliffs on the Falaise d'Aval side. We noticed a handful of bunkers that were here, and we figured they were probably remnants of World War II when there was a lot of fear of invasion on the beaches here.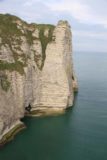 I guess that made sense since we had read on a sign in the town centre that one of the old-looking buildings that is now a souvenir shop was once an American hospital for the wounded personnel in both French and American militaries.
By about 10:30am we were pretty much above most of the stairs. Now it was a routine of walking along the scenic cliffs with some overlooks and spurs leading to overlooks that would slow us down and make us take more pictures.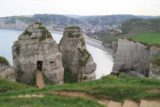 We had to be careful around the cliff edges because they were unstable and there weren't guardrails in most spots. In fact, some of the trails seemed like they were for daredevils (I recalled one where the trail went onto a very narrow ridge to get to the edge of one of the arches). I know for sure in the States, they wouldn't have half these trails due to fear of law suit.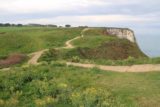 In any case, that golf course right next to the trail and cliffs seemed a bit out of place here. Now I heard that Pebble Beach is said to be one of the most scenic golf courses in the world, but after having been there and now this one in Etretat, I'd have to say that Etretat's has definitely gotta be up there and perhaps even better than Pebble Beach.
Perhaps now we could better appreciate why the Scots invented the game of golf given a similar climate to what we were experiencing here in Etretat, so there was no shortage of water for the greens.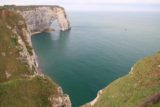 So we continued on along the cliffs at a very leisurely and relaxed pace. It was so relaxing that Julie and I were either holding hands or walking side-by-side most of the time.
There were also plenty of other people on the trail as well. There were even women who weren't properly equipped for such muddy (given the wet weather) and rugged walking as they'd wear dress shoes for outdoor purposes. It was reminiscent of what we observed in some parts of China.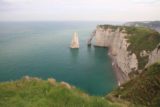 In any case, we took in an overlook right above Falaise d'Aval, which offered a majestic view of Etretat, its beach, the hidden beach behind it, and even a frontal view of Manneporte. There were some birds almost posing for some of our landscape photos, but we didn't mind. After all, they were here before us.
The next major overlook was atop Manneporte, and this offered some fine views of Falaise d'Aval. We stopped for a few more photos while showing to Julie how far I went in this morning's low tide scramble.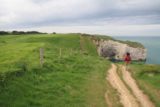 After leaving this overlook, there was one gully section where the trail descended pretty steeply before ascending in earnest. The ascent was especially muddy and slippery.
It wasn't until about 11:40am when we were right at the junction for the last cliff cutting out to the ocean was when it started raining again. Fortunately, we had our rain ponchos though just as we were getting used to having them on, the weather stopped raining.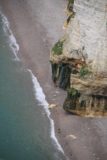 As we walked further out onto this cliff, we could see there was a waterfall with dual plumes coming out of the base of the cliff on an isolated beach well behind Manneporte.
After seeing this, I was kicking myself for not going far enough as all I had to do was to get through the difficult scramble (which was now a rocky outcrop due to high tide) during the pre-dawn morning hike. Oh well, at least I still had it documented and now I had my excuse to talk about the arches here in the context of waterfalls!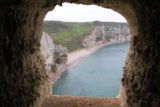 There was also a little hole near the end of the cliff where we could get a fair view of some people on the beach as well as the beach and cliffs themselves. I believe this hole was probably partially or totally man-modified due to its seemingly strategi position to scout incoming enemies or allies on the beach during war times.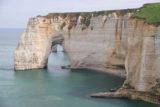 Unfortunately, it seemed like I also had to brush through some poison ivys in order to descend to the "window," which seemed to have left a fairly annoying pain in my shin even though it was covered. Well whatever the case, it wasn't severe enough to make me stop what we're doing and head back to the town.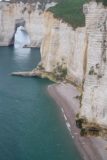 This was the end of the line for us and we would eventually leave at 12pm. We opted not to do the entire loop around the golf course as we just wanted to get back to town and try the crepe place that ranked top on TripAdvisor reviews concerning this town.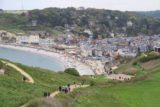 At 12:40pm, we made it back into town, which now looked alot busier. In fact, the trail that we were on was also crowded and perhaps most of the crowd was from a particular tour bus since I heard German spoken amongst this group.
Continuing towards the quieter northern side of town, we finally found Le Lann Bihoue, which at the time we arrived still had empty seats.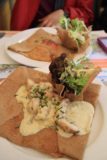 The menu was completely in French and I wasn't quite sure what all the menu items stated except for a few recognizable words. It kind of reminded me of how I might have trouble ordering from a Chinese menu containing only chinese characters since I could only make out bits and pieces of the vocabulary used, but it was still hard to figure it out the full meaning.
So I ended up asking what the speciality of the house was and so after she pointed out a particular scallop crepe (or galette which I think are savory crepes), I went ahead and got it. Julie didn't know what was in the other specialty of the house (named after the restaurant) so she ended up with a salmon crepe. Once again, the lack of English in a place like this forced me to utilize my self-taught French stuff to take educated guesses at our orders.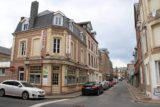 The dessert crepe of hot chocolate with chantilly cream and pear (the dessert was called Le Caiq) was divine! I don't think I ever had crepe as good as this. And I don't think I ever will. Still, the restaurant all of the sudden got busy when we were done with our meal. It was kind of amazing considering this place was way off the thoroughfare going through town yet it was so busy yet so good. Good thing the TA reviews were spot on about this one.
As we left Le Lann-Bihoue, we walked past another souvenir shop near the restaurant looking at photos from post cards, and it was at this point that I had an aha moment!
You see, the aerial photos taken on many of these works were probably from hangliders seen earlier in the day or yesterday. I could imagine how disruptive to the area planes or choppers would have been.
At 1:55pm, we made it back to our room. Both Julie and I were tired and now it was time to siesta or nap and perhaps get caught up a tad on some sleep.
When we awoke from our invigorating slumber, it was 4:55pm (a three hour nap). We ended up spending the next couple of hours in the petit dejeuner room doing stuff on the internet. Julie was busy checking out restaurants in the Mont-Saint-Michel (MSM) area since we knew internet would be limited and slow. We also get some TA recommendations regarding GPS-related electronic shops in addition to Darty. Apparently, there was also FNAC as well as a couple of auto shops which seemed more like long shots.
In any case, they both were at the Commercial Centre in Gare de Lyon Part Dieu, which was perfect for our logistics. The only area of uncertainty now was whether any of those vendors carried car charger cables a la carte.
During the time we were researching, we saw that it was raining hard outside. I guess it was a good thing that we took advantage of the good weather when we did. The weather was obviously changeable here.
The proprietress told us that this year was a wet year for this area. She said that this time of year was usually fairer. She offered up a guess that perhaps the rain had to do with change; as in Sarkozy losing the runoff election kind of change and perhaps hinting at an analogy with the change in the weather.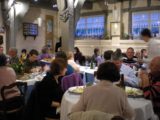 We arrived at our dinner spot at 7:05pm. We made good on our 7pm reservation at Le Galion (like the ship galleon), which was the highest rated restaurant in Etretat according to TA.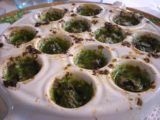 We ended up getting fish soup, oysters (now I finally knew what huitres meant) from Brittany, escargots Burgundy-style, duck confit, and escargot.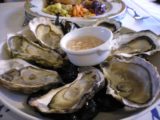 The creme brulee for dessert was very tasty and light as well. Though it did take at least an hour for just that dessert to come out. I guess the restaurant got really busy at that time.
They had a waiter there who spoke pretty good English and when we conversed with him (after revealing to him we were from LA), we learned that he lived in Phoenix as part of a foreign exchange program for business school. That explained a lot.
By 9:15pm, we were out of the restaurant and by 9:25pm, we were back in our room.
All in all, today was one of those days we'd remember as being a surprising highlight of the trip. Julie was pleasantly surprised considering that we went here for Nature, but the overall charm of the town and the food experiences were better than she expected.
Now it was time to pack up and get some rest. Tomorrow, we were getting an early start for MSM. We hope that it won't be as rainy over there as it had been for most of the trip so far.
Day 6: THE MAGIC KINGDOM
We awoke to our alarms at 5am. Today's early start was motivated largely in part by the long drive to the abbey of Mont-Saint-Michel, which was the main destination for today.
We had paid for our room yesterday so we were able to get our stuff together and out the door while everyone was still asleep. It was about 5:55am when we left Etretat.
At first, the drive out was a little confusing since we weren't sure if the GPS was pulling our chain again taking us on unconventional roads in the interest of shortcuts. But we'd eventually get onto the A29 while getting through a bunch more peages (toll booths).
Julie and I passed the time on the road noticing some signs and getting into discussions about France in general. Of particular interest was a sign indicating the Battle of Normandy.
That started a discussion between us of how the US invasion on D-day was really what prevented Nazi Germany from taking over Great Britain and ultimately most of Western Europe.
Instead of Hitler finishing the deal on Great Britain, I recalled from history class that Hitler thought the west was won and turned his sights onto the eastern front against Russia. But I think knowing what I know now, it could have also been that Hitler was running short on oil and had to turn to Russia to replenish the needed energy. Ultimately, that meant Germany had to fight a war on two fronts when the US invaded Normandy Beach.
Julie wondered how Germany got so powerful in the first place, and I speculated that perhaps they took resources from Jews within the country before killing them, which enabled them to build up their military, then acquire more resources after conquering other countries, and ultimately almost taking over all of Europe.
I saw parallels to how the Romans probably had no choice but to expand out of Italy after they probably deforested and depleted much of their needed resources which couldn't keep pace with their population growth. So they probably had to spread out and conquer others to keep the scheme going until corruption and being spread too thin opened the door for Vikings, Ottoman Turks, etc. to do them in.
This then got into a discussion about Japan constantly invading China. But when viewed in light of the fact that Japan itself didn't have a whole lot of resources, it made sense why they had to use force to expand. After all, no one was going to feel sorry for them so they had to do what they felt they had to do.
Of course, when killing people and the pain of loss occurs for the opposing side, that's when you have generational animosity. I'm sure there are parallels that can be drawn here and our involvement in the Middle East over oil.
I guess the takeaway from this discussion was that there are always haves and have nots. And one can't expect the have nots to sit idly and let their misfortune or circumstances get the better of them. So sometimes they take matters in their own hands and often at the expense of haves. Perhaps this is the crux of all conflicts in human history and it takes a real sense of respect of other people and other sides in addition to the systems that yield resources that sustain all of us to pre-empt degeneration into all out conflicts.
In addition to all this history talk (being that we're in Normandy and all), Julie would see something on a sign and ask me what they meant (since it was all in French). So I supplied her the answers with my limited French. I guess it was also a good test for me.
In the end, all this talk kind of took our minds off the rain for the most part. Yep, when we got close to the Mont-Saint-Michel (let's call it MSM for short), it was raining pretty hard and we were concerned about having to bring our stuff within the city walls while being exposed to the rain walking the causeway.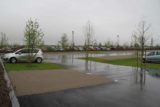 So all that was on our minds when we were told to park in one of the lots before the causeway leading into the island upon which the abbey sat. It was 8:55am when we arrived at the car park, which was a three-hour drive and exactly the duration that the proprietress at Hotel d'Angleterre in Etretat said it would be.
We had a little trouble figuring out where we were supposed to park since we had booked to stay a night within the walls of the abbey of the MSM. However, a parking attendant helped us out by talking over the intercom, where we ended up in P5, but then he told us to call the hotel once inside the car park and get the access code for car park P3, which was closer to the front.
Eventually we did all that, got our access code, and finally parked in P3 at 9:05am. We knew that it would probably be unwise to bring all of our belongings to the MSM so we went lean and brought just our PJs, toiletries, and valuables. We also donned waterproof gear given the rain. So we left the rest of the luggages behind.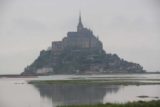 When we locked the car, we saw a shuttle bus before us and made a run for it. It turned out that it was a courtesy shuttle for accommodations within the MSM walls. So since we met this criteria, we were let on.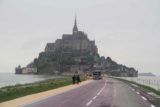 And then, we were shuttled to the MSM. It was high tide right now, but I managed to get a few shots of the impressive medieval structure from the causeway from within the bus. I wondered when the weather would let up so we could take our photos with a little less stress and when it's more photogenic.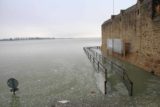 We were finally inside the walls of the MSM at 9:35am. However, since it was high tide, we noticed there was a walkway that was submerged. So we took a more direct way to get within the walls.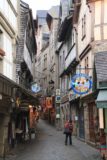 And right away, the narrow pedestrian streets with gothic arches and spires way above us totally reminded us of the type of environment we were treated to in Dubrovnik and Split in Croatia. Moreover, it was kind of like something out of the Lord of the Rings movies in places like the Tolkien-imagined Helms Deep or Minas Tirith.
We wasted no time finding the reception of our accommodation at the Auberg St Pierre. Not surprisingly, we were told that we were too early, but that was ok. We packed lean and we only left behind a black bag of our toiletries and clothes. Julie and I would be spending the morning touring the abbey area with my day pack. We would have plenty of time as the receptionist told us the room would be ready at around 13:30 or 14:00.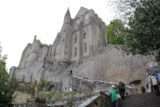 As we continued to ascend higher up the Grande Rue, we'd eventually get to the part where they offer tours of the inner abbey. It seemed like the logical thing to do so we went ahead and paid to do it.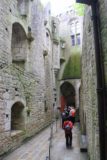 That was when we were on a bit of a walking tour from chamber to chamber; from hall to hall. It was kind of cool seeing how we were literally exploring quite a bit of the interior of a well preserved medieval abbey. There were so many nooks and crannies that I'm sure could tickle the fancy of anyone wondering if there were any dungeons and dragons in some of the hidden corners of the place.
I'd bet that a lot of the designers of role playing fantasy games were either inspired by visits to these places or were influenced by Tolkien and contemporaries who themselves must've visited such places like this. It was almost like fantasy role-playing come to life.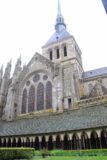 Anyways, we walked through numerous archways, monasteries, mess halls, etc. We could see how fortified the abbey would be as it was full of slits or holes to make it easier to snipe intruders or catch enemies off guard down below.
The tour didn't go up the uppermost spires of the abbey so we could only imagine what it would be like up there.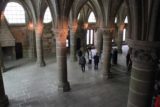 Julie and I also talked about Black Death given how close the quarters were here and how we could easily imagine how gross it was when people would dump their sewage right out onto the street.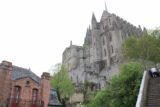 When we were done with this tour of the inner abbey, we then walked the ramparts which gave us a different perspective of the Grande Rue as well as different views of the upper abbey whose main spire went in and out of passing clouds.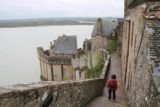 We were fortunate that the rain stopped for the most part the whole morning we were within the walls. However, when we were in the reception lobby at 12:05pm for internet researching places to eat, it was raining again when we left the building.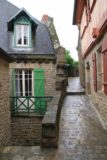 After having crepe at one of the joints just down the slope from our hotel, we finally checked into our room at 2pm. We had to walk up quite a bit of stairs while negotiating tourist traffic along the Grande Rue, but since we packed lean, it wasn't a big deal.
Plus, since it was raining outside, we figured we'd have a bit of a relaxing afternoon.
Then, at around 3:15pm, we got back on the web in an attempt to Skype home again. And unlike all the other times we've tried to do this during our trip, we managed to catch both our mums at home at around 6:15am. In fact, we also saw Tahia who had just woke up when mom tried to point the iPad at her so we could see her.
Indeed, it was the first time all trip that Tahia saw us while we saw her. It was such a happy and fun moment that the 30 minutes of trying to get Tahia to acknowledge us and respond to us happened very fast.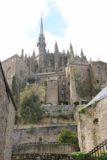 During the call, we also noticed that the sun came out at 3:45pm. When the call ended, we quickly left the room to try to take advantage of the window of good weather.
At 4:20pm, we were on the causeway. There was massive foot traffic at this time – most of it going away from MSM. We tried to get far enough on the causeway to see if we could get reflections of the abbey, but the low tide ensure that wouldn't happen.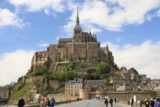 So we turned back and got back to our room at 5:25pm. En route to our room, we got hot trying to explore the last bit of the abbey. It turned out there wasn't much more to see.
After another hour in the room with Julie taking another nap, we were back in town at 6:50pm.
We went for a dinner at perhaps the most reputable dining spot in town called Le Mouton Blanc (the white sheep). I didn't have much expectations considering MSM is pretty touristy and the food in here was expected to be a rip off and subpar.
But this place exceeded our expectations and was even better than one of the places we ate at in Etretat (Le Bicorne). We didn't feel like splurging at Le Pre Sale, which meant having to go across the causeway again.
Each of us got a reasonably priced fixed price menu at 25 euro and 22 euro, respectively. Of course, we shared our stuff so we could each try as many different foods as possible.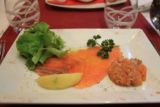 We ended up sharing an excellent salmon salade (a combination of salmon tartare and smoked salmon with greens in balsamic vinegar and olive oil), seafood soup, roasted leg of local lamb, local omelette, an apple sorbet drenched in heavy alcohol, and a chocolate sponge cake (more like a lava cake).
We also had one last go at the traditional apple cidre local in these parts. We're probably never going to view apple cider again when we get home. It's certainly NOT the Martinelli's soft drink you get at a local supermarket and drink with turkey at a family Thanksgiving dinner.
The portions were right, and for once we didn't really feel like we were overstuffed with heavy food (though that's not to say that this meal wasn't heavy either). It wasn't cheap, but it wasn't a rip off.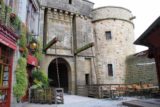 Even the service was faster than expected. It was so soon that we were out of the restaurant by 8:30pm. That meant that it was still pretty bright outside and we'd have to wait for a while before we could see the MSM in lights reflected in the tidal lagoon.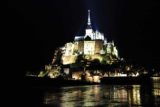 However, after taking a few photos of the eerie quietness of the town at his time of day, we went back into the causeway area again at about 9pm. That was when Julie and I witnessed the incoming high tide start to inundate the adjacent car park just flanking the end of the causeway. We also saw menacing clouds heading our way.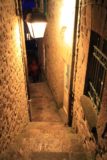 By about 9:30pm, we got back into the room to perhaps get some waterproof gear and still wait out the place to get dark. It definitely started to rain.
At 10pm, with rain ponchos and waterproof pants, we were back into the ville again. It started off sprinkling so we donned our rain ponchos.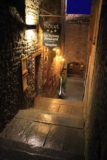 The lighting was low enough that we started to get those charming shots of empty narrow stone passageways with moody lighting. And when we got down to the causeway, we could see the Mont-Saint-Michel lit up and looking like the Magic Kingdom medieval style.
We tried walking down the causeway until the causeway itself wasn't in the way of photos, but with the low light, it turned out to be a useless exercise. So we headed back to the MSM. Fortunately, it looked like the tides were retreating again. So that meant that we were able to walk onto wet pavement where we probably got about as good a reflection shot as we were going to get on this trip without risking muddy legs and possibly getting stuck in quicksand.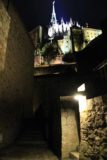 So at 11:10pm, we were back in the room, but not before taking a few more moody shots now that the ville was quiet again and all the restaurants were closed.
And so ended a pretty long and eventful day in France's second-most visited attraction.
Day 7: PART DIEU
Even though both Julie and I slept at around midnight last night, we still awoke to our 5am alarms knowing that we had a long travel day ahead of us.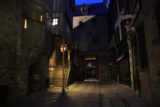 Once we got all packed (we really didn't have to take long for that since we were very lean for this night), we then went downstairs to the Auberge St Pierre entrance to their lobby. However, their front door was closed. I thought the lady yesterday said the reception was 24 heure sur 24 (i.e. around the clock). But I guess it really only pertained to dialing 9.
So we went back up to our room, dialed 9, and had a somewhat awkward though productive conversation with the receptionist who didn't speak English. What it sounded like he did was call up the shuttle to pick us up at the gate so we could get back to the car park. I guess we just left the key in the room since we had already paid for the night via booking.com.
We'd eventually get to the car park at 6:20am, but it wasn't until 6:35am when we left because we finally figured out that we had to pay 8.5 euros for the night of parking.
Once that was squared away, we finally embarked on a long drive back to Paris.
The drive was pretty uneventful as it started off with on and off rain with some patches of sunlight (a rare sight for almost this entire week in France) plus a pair of gas stops for brekkie and to try not to fill up too much since we pre-paid for the gas at the start of the driving part of the trip three days ago.
It was mostly smooth until we got closer to Paris. There was some slight slow down at Caen, but it seemed that the closer we got to Paris, the more traffic there was. I guess relatively speaking, it wasn't as bad as the traffic we get in LA, but the difference here was that we weren't quite sure where we were supposed to go. At least in LA, we knew exactly where we had to go so the traffic wasn't as worrying as it was here in Paris.
Although the GPS predicted we'd be at our destination by 10:30am, it wasn't until about 11:15am when we finally made it back to the Hertz lot at Gare de Lyon. Indeed, most of that delay was the embouteillage (traffic jam) on Paris' autoroutes plus a little bit of confusion on their local streets.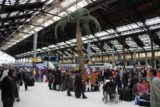 Inside the Gare de Lyon, which was a very busy hub of trains (kind of like a Grand Central Station in New York), we were hoping to catch the 11:53am train for Lyon. Unfortunately, the queues were too long for that train and so we settled for the 12:57am train instead. C'est la vie (that's life).
Hopefully, we'd still have time to run a bunch of errands that loomed over our heads since we had forgotten several things going into this trip – namely, the GPS charger as well as Julie's sunglasses. We even needed to pick up our rental car today.
Our TGV (train de grand vitesse or high speed train) was 10 minutes late. In any case, after having our subpar baguette sandwich lunch, we boarded the long train in the correct car and seats, and then were taken to Lyon. It was a scheduled two-hour train ride in which the GPS map indicated it would've been more like a 4-5 hour drive had we self driven.
Both Julie and I were able to get caught up on sleep a little bit on the TGV.
It didn't take long before we arrived at Gare de Lyon Part Dieu where we found out that our accommodation at Mercure Gare de Lyon was right next door. That was very convenient and so we were able to check into our room by 3:15pm (merely 10 minutes after disembarking the TGV).
Twenty minutes later, we went back down into the Part Dieu area where we crossed through the massive station (which for some reason reminded me of Kyoto's modern metro station), and we headed into the Commercial Centre, which was basically a massive shopping mall.
We went in there looking for a Darty where we were hoping to get the much-needed Garmin GPS charger. It turned out that we finally found one after wandering through the maze of people and stores.
Once that was done, we then tried to get Julie's sunglasses, which she had also forgotten back at home. It took nearly an hour for her to make up her mind (further reminding me why I HATE malls) before we were finally able to leave at around 4:45pm and walk right over to the neighboring Hertz kiosk adjacent to the Gare de Lyon Part Dieu.
It took a while to get the car since the person helping me with this rental was new. But once we got the keys to the car at around 5:30pm, we went straight to the Hertz lot and gave it a try.
The first thing that caught my mind was how big the car was. Apparently, we were upgraded, but I was thinking how bigger was not always better in Europe. To make matters worse, the AC wasn't working and I couldn't figure out how to release the parking brake in the car. Well, at least the car charger for our Garmin GPS worked so that was a big relief for us.
But clearly, this car wasn't going to work for us if we were going to be stuck with it for the next two weeks. So we went back to the Hertz kiosk.
After a little bit of a discussion with the senior staffer at the Hertz office, we finally managed to convince her that we'd rather have a smaller car in a lower rental category even though we had paid for a higher rental category as alternate cars in the category we paid for were all rented out.
In the end, we ended up with a brand new economy car, which it turned out was smaller but was still able to hold our luggages. Moreover, the trunk was covered and it was a compact diesel so we knew it was going to be fuel efficient.
Finally at 6pm, we were able to verify that the AC was working, the car charger was working, there was adequate trunk space, and that Julie's GPS was now keyed into our current location. We locked up the car and left it in the Hertz lot expecting to be able to start driving it first thing in the morning tomorrow.
Now with that ordeal out of the way, we walked into the Metro area. But apparently, there was no manned booth that was able to sell us two-day passes or something like that concerning the city's metro. In fact, we didn't even have enough coins to purchase two unlimited day passes. And no one seemed willing to give us petit monaie (small change) so we actually had to buy something in the Gare de Lyon Part Dieu before finally having enough change to buy the tickets to ride the metro here.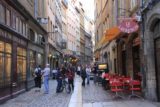 Indeed, at 6:35pm, we finally hopped onto the Metro and headed over to the Vielle Ville of Lyon (Old Lyon). We weren't sure what were the major sights in Lyon, and the town was really more of a base for us to explore outside the city than to explore the city itself though I did allocate one whole day to Lyon in our itinerary.
Well, it turned out that Julie's desire to see Provence for another day pretty much forced me use that full day in Lyon towards doing a long day trip to Cascade du Rey-Pic and Pont d'Arc. That would've freed up another day to do Provence as Julie was really keen on doing.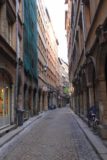 Eventually after about 7pm, we got out of the Vielle Lyon station and walked along the Rue St Jean, which apparently harbored a pair of publicly accessible traboules (passageways).
But what we didn't expect was the charming pedestrian dominated streets in this area along with an impressive cathedral frontingg one end of it.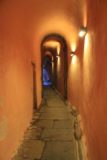 As we were walking the road in search of traboules, we realized that we missed them when we walked all the way to the end of Rue St Jean. But when we backtracked, we finally understood the layout of the area and then proceeded to find the pair of traboules in this quartier.
The traboules were very unassuming and easy to miss. But once you open the doors concealing their existence to casual passerbys, you're immediately entering a world of dingy tunnels an some residenes here.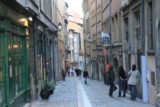 It was very atmospheric, but I guess it meant more because we read about the history behind this area and how the traboules were convenient or even secretive routes originally used by silk traders and then utilized by La Resistance during occupation by the Third Reich.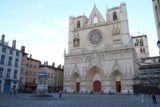 We wished we had a little more time to enjoy this surprisingly charming series of markets and cafes. We even heard quite a bit of english while walking this area. We had thought that Lyon for the most part was off the tourist radar. But all the english speaking people that were here proved otherwise.
Our hurried hour-long tour of Rue St Lean concluded with a 7:40pm boarding of the metro allowing us to catch another connection which would bring us closer to a Lyonnais bouchon we had read about.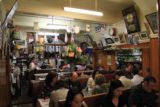 After getting off the correct stop at Hotel de Ville, we walked towards this place called Cafe des Federations, but a grand square with the front facade of Hotel de Ville as well as a large fountain next to an outdoor cafe really got our attention.
This place, which reminded me a lot of Zagreb in Croatia with its electric trolleys and large central square, captivated us. And we knew that after dinner when the lights would be on would be the time to linger in the square longer for night shots.
At 8:30pm, we fulfilled our reservation for Cafe des Federations. The street it was on was charming.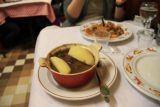 The Lyonnais buchon experience was definitely different than what we experienced in the bistros in Paris, Etretat, and Mont-Saint-Michel. It seemed like that highlight was the greens we were offered as a starter, which included lentils, dijon mustard dressing on salad, etc.
The fixed price menu had some common stuff within appetizers and dessert, but it also had a pretty invnentivev menu.
We finally left the cafe at 10pm. This place was packed when we left.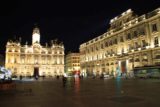 And as expected, the night lighting was charming so we spent some time taking night shots of the grand Hotel de Ville and the fountain. Eventually at 10:55pm, we finally returned to our room.
There were quite a few derelicts around the Part Dieu area as well as heaps of security personnel to ensure traveler safety. I guess the security personnel was a little reassuring. There were even security measures being taken at the Mercure Hotel, which kind of reinforced the notion that Lyon's Part Dieu area was a bad area.
It was 10:55pm when we finally got back to our room. It wouldn't be until midnight when Julie finally slept and until 1am when I finally tried to sleep. Nonetheless, it finally looked like our plans weren't lost and were finally looking up as our GPS scheme was finally back on track.
And so ended the first leg of our trip into Northern France. Now that we're more towards the south of France, we're sure to be embarking on the second stage of our Tour de France. And, oh yeah, the weather was sunny. Certainly that has to count for something in the coming couple of weeks, right?
Visitor Comments:
Got something you'd like to share or say to keep the conversation going? Feel free to leave a comment below...
No users have replied to the content on this page